15 Best Deep Conditioners For Natural Hair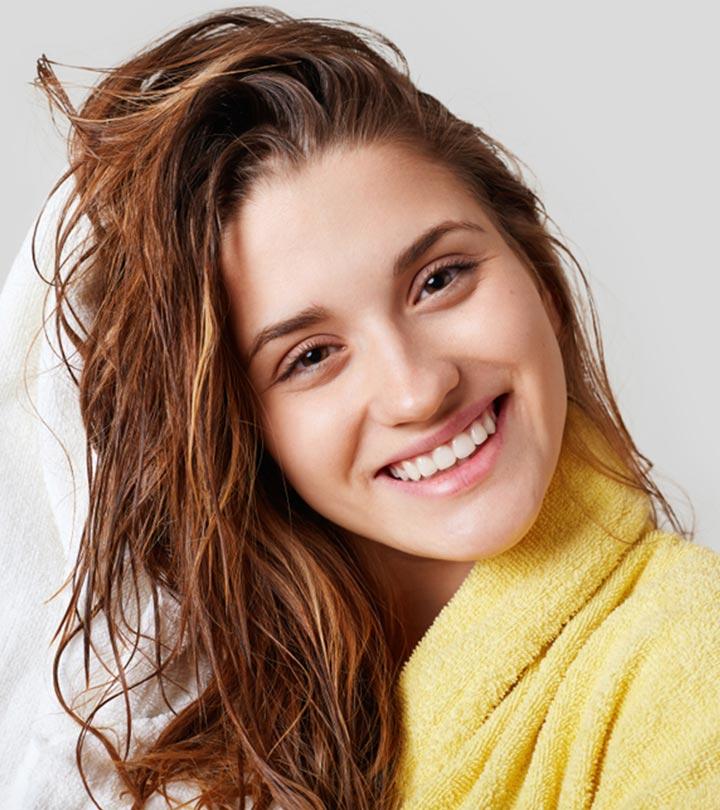 Deep conditioning of hair has been an age-old practice but has gained high popularity of late in the hair care procedures. However, it was earlier considered as an indulgence, a type of small treat given to yourself and your hair. It was not considered as a necessary practice, akin to body massage or facial treatments, which needs to be followed regularly.
Deep conditioning has numerous benefits like prevention of damage being the most important one. It helps revive the moisture and the essential proteins existing in the hair shafts and is essential for brittle, damaged, or color-treated hair. Now that we know most of the benefits of deep conditioning let's look at the 15 best deep conditioners to get healthy natural hair.
15 Best Deep Conditioners for Natural Hair
Here is a list of the best deep conditioners to regain the beauty and luster of your hair.
It's a 10 Keratin Collection is an excellent deep conditioner that helps promote shinier, stronger, and smoother hair. It penetrates deep into the hair shaft to restore the depleted keratin along with the structure, seal, and cuticle, thus enhancing the shine of your hair. It contains keratin amino acids and hydrolyzed keratin along with Chinese tea leaf and sweet almond oil to provide deep conditioning.
Pros: 
Helps lock in moisture
Protects against humidity
Restores smoothness of brittle or dry hair
Makes hair healthier, smoother, and shinier
Cons:
Aunt Jackie's Quench leave-in conditioner is another right choice to try for deep conditioning. This product provides long-lasting moisture. The key ingredients of this conditioner include shea butter, marshmallow root, and extra virgin olive oil. It is entirely safe for use on skin as it is sulfate and paraben-free. It is ultra-hydrating to provide deep moisture for dry and damaged hair.
Pros:
Eliminates dryness without feeling heavy on the hair
Provides long-lasting moisture
Perfect for natural curls, coils, and waves
Easy to apply
Cons:
Not suitable for curly hair
This natural hair conditioner is explicitly crafted to treat dry and damaged hair. It invigorates the scalp and provides sufficient nourishment to the hair shafts, thus making them softer, shinier, and healthier. This deep conditioner contains a perfect blend of botanical pomegranate, hibiscus, keratin, and green tea. All these ingredients work to prevent hair loss, breakage, and frizz.
Pros:
Suitable for all hair types
Provides complete nourishment from root to tip
Natural conditioner for dry, damaged, and frizzy hair
Free from chemicals
Treats dandruff and other scalp issues
Cons:
May not moisturize the scalp
The Neutrogena Triple Moisture Silk Touch Leave-In cream easily spreads through the hair strands to provide smoother and more easily manageable hair with no frizz and fly-aways. The cream gets absorbed quickly, thus providing instant smoothness to extra dry and overly damaged hair shafts. Ingredients like Meadow-foam seed provide moisture, olive penetrates deep into each layer of the hair, and sweet almond covers the surface of the hair shaft.
Pros:
Soft, smoother, and shinier hair
Makes hair bouncy
Provides complete nourishment
UV filters protect the hair from damaging rays of the sun
Every use makes your hair softer and healthier
Cons:
A little heavy on your pocket
The PURE Biology Revivahair Conditioner is an excellent hair growth conditioner packed with keratin, biotin, coconut oil, and argan oil. It is also infused with essential vitamins like vitamins B and E. It enhances the natural growth of hair and helps prevent hair loss and breakage. This special formula helps strengthen, add volume, and thicken the hair by providing intense moisture to thin hair prone to breakage and split ends.
Pros:
Repairs and strengthens damaged hair
Provides deep moisturizing and conditioning
100% sulfate-free
Rosemary oil, a crucial ingredient, helps treat alopecia and thinning of hair
Prevents hair fall by reducing the process of follicle aging
Suitable for both men and women
Suits all hair types, including color-treated hair
Cons:
The All Nature Lush Hair Restore Treatment is an excellent hair mask that contains natural oils and natural nourishing compounds. This honey hair mask contains a lot more than just a blend of unique ingredients. The formula features organic and natural ingredients that particularly boost root health. The hair mask also features a soothing fragrance.
Pros:
Perfect for strengthening weak, brittle, and damaged hair
Reduces frizz
Static reduction to provide soft and shiny hair
Suitable for color-treated hair
Does not contain mineral oil, parabens, or harmful chemicals
Suitable for all hair types
Cons:
The Curly Kids Mixed Hair HairCare works very well on curly and wavy hair. This deep conditioner provides moisture to make your hair tangle-free. To apply, take a generous amount of this cream and apply it on damp hair. Leave in for about five minutes and then rinse off with fresh water.
Pros:
Infuses hair with essential moisture and nutrients
Makes hair softer and healthier
Affordable
Cons:
Contains sulfates or Parabens along with petrolatum and mineral oils
The company doesn't offer a return policy
The Original Sprout Worry Free Luxury Deep Conditioner helps treat hair damaged from hard water, wind, sun, and pollution. All these factors may dehydrate your hair, thus leaving it dull and lifeless. This excellent conditioner turns frizz into ringlets and flyaways into silky and smooth locks. This is a safe and effective choice of deep conditioner to suit all hair types.
Pros:
Makes the hair soft and shiny
Prevents the hair from getting dried by restoring moisture
Reduces tangles
Features a nice smell
The larger bottle also contains a pump that makes it easier to dispense it
Cons:
Light for curly texture
The Rizos Curls Deep Conditioner is a formula designed especially for curly hair. This excellent conditioner lets you celebrate your curls naturally and wear them naturally. It is an all-time favorite among girls with frizzy hair. Besides, it also leads to reduced use of gel, hairspray, and straightening irons.
Pros:
Moisturizes the hair from inside as well as outside
Strengthens and nourishes the hair
Promotes hair growth
Improves hair elasticity
Doesn't contain harsh chemicals like parabens, silicone, or sulfates
Cons:
Not suitable for dense hair
Dr. Addison's Moisture Therapy Nourishing Conditioner is a professional grade deep conditioner that contains all-natural botanical extracts required to retain the strength and elasticity of damaged or color-treated hair. To apply, dilute a small amount of this conditioner with an equal amount of water. Put the mixture in a spray bottle and apply it.
Pros:
Retains moisture in dry and brittle hair
Suitable for all hair types
Adds volume to the hair
Helps control dry and itchy scalp
Penetrates deep into the hair shafts for maximum hydration and strength
Cons:
The only limitation in buying this product is the cost.
The Hairfinity Advanced Haircare Strengthening Amino Masque is an excellent deep conditioner with all-natural ingredients including jojoba oil, sweet almond oil, and coconut oil. It works as an excellent moisturizer for your scalp and hair. This fantastic deep conditioning hair masque is known to reduce hair fall and breakage by 90%. The amino acids in this product fortify each strand and fill in the gaps to make the hair stronger, less frizzy, and smoother.
Pros:
Suitable for all hair types
Sulfate-free serum
Doesn't contain harsh chemicals like parabens, silicone, petroleum, or mineral oil
Safe and effective for both men and women
Moderately priced
Cons:
Not suitable for extremely dry hair
This Christine Moss Naturals Hair Mask is a powerful deep conditioner that works to add volume to the hair and smoothens it by reducing frizz and dryness. This restorative hair mask deep conditions without drying, stripping, or leaving any build-up. It works well on any hair type – including color-treated hair, curly hair, natural hair, dry hair, and damaged hair.
Pros:
Doesn't contain any harmful chemicals
Works well as a daily conditioner
Botanical formula
Repairs, nourishes, and softens the hair
Cons:
The Professional Series Hydrating Argan Oil Mask is a professional salon treatment that instantly transforms the hair texture to make it softer, silkier, and easier to manage. It works to repair, restore, and strengthen, weak and damaged hair and retain a healthy look while simultaneously promoting natural hair growth.
Pros:
Enhances the texture of hair
Deeply conditions, hydrates, and revives dull and dry hair
Improves hair manageability and elasticity
Adds a beautiful shine to the hair
Nourishes deeply
Moderately priced
Cons:
May leave your hair greasy
The Curls Professional Curl Ecstasy Hair Tea Deep Conditioner is a fantastic choice to deep condition dry, brittle, and damaged hair. This deep conditioning mask makes your hair tangle-free and smoother with ingredients like shea butter, chamomile extract, organic calendula extract, soy protein, and organic green tea extract.
Pros:
Deep conditions dry and damaged hair
Improves hair shaft elasticity and flexibility
Contains vitamin B complex to add strength and volume to the hair
Reinforces and strengthens hair
Pocket-friendly and moderately priced
Easy return policy
Cons:
Packaging is not very good
Grow Bar Organics Rejuvenating Conditioner enables a thorough yet gentle cleansing of curly, coiled, coarse, wavy, and straight hair while simultaneously providing deep moisture. The perfect blend with olive oil along with lightweight, soothing oil absorbs instantly to enhance the shine and softness of the hair shafts.
Pros:
Organic formula
Smoothens and seals the hair shafts to restore bounce
Doesn't contain harmful chemicals, like sulfates and parabens
Suitable for all hair types
Pocket-friendly
Cons:
Well, nowadays deep conditioning of hair has gained high popularity. It is considered more as a necessary practice rather than an indulgence. This is because of the increased use of styling products and excessive exposure to heat styling instruments. Most of the damage to your hair occurs from heat and styling tools. The above-mentioned 15 best hair conditioners will help in retaining the shine, strength, and health of your hair. Let us know which one you liked best and can't wait to try! Reach out to us in the comments below.