8 Best Deep Conditioners For Transitioning Hair In 2022
It is time to give your darling tresses the hydration and nourishment they deserve.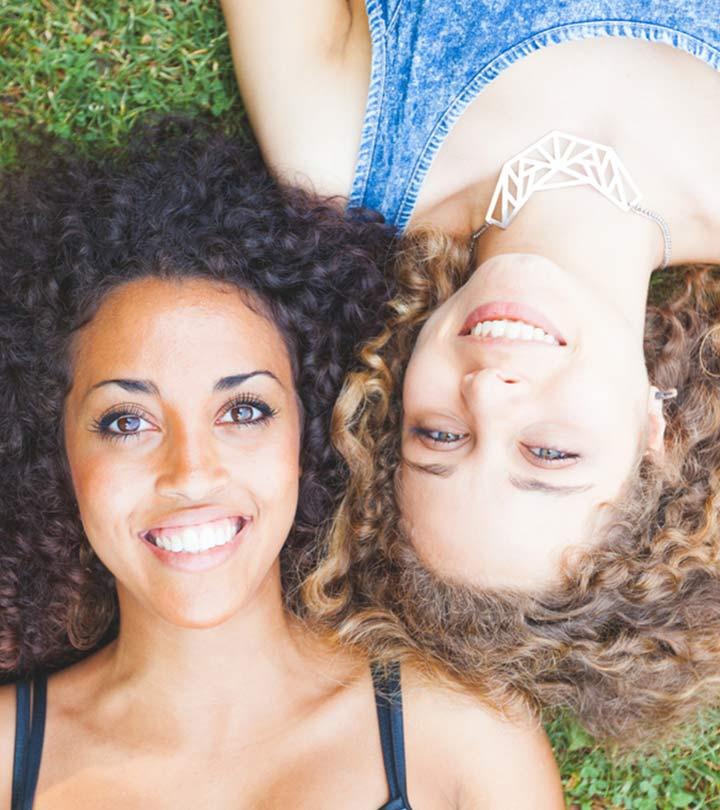 If your hair is transitioning back to its curly self after a chemical hair process like a perm or smoothening, we're sorry to break it to you. You're in the long haul trying to save them from damage. But not all is lost in vain, as you can use the best deep conditioners for transitioning hair to revive them back to life and ensure they stay protected and healthy.
These deep conditioners will hydrate and nourish your tresses and prevent further damage caused due to the extreme heat damage that leaves hair in splits and full of frizz. It also encourages hair growth and improves the texture of your newly forming curly hair as well. If you're unsure about what conditioner to bring home, don't fret, as you're in luck. Simply dive into our list of the 8 best deep conditioners for transitioning hair and find a perfect one to help shower your hair with love. We're sure you'll be flaunting gorgeous, thick coils that are on everyone's wishlist in no time.
Our Top Picks Of 2022: 8 Best Deep Conditioners For Transitioning Hair
Truly a blessing from the hair Gods, this honey miracle hair mask will help you transition smoothly into your beautiful curls. Enriched with raw honey, olive oil, and jojoba oil, it provides moisture and adds nourishment to your tresses while locking in shine and gloss. It contains vitamins A, D, and E, all of which help heal and repair hair strands from root to tip and prevent breakage. With no harmful additives like parabens, sulfates, petroleum, or artificial colors, it penetrates deep into the hair shaft and hydrates your hair, leaving it soft, silky, and manageable. This video will give you a better insight into the product.
Pros
Enriched with raw honey, olive oil, and jojoba oil
Contains vitamins A, D, and E
Paraben-free
Sulfate-free
Petroleum-free
Cruelty-free
No artificial colors
Suitable for a dry, itchy scalp
Suitable for colored hair
Cons
Dry and brittle hair keeping you from having a good hair day? Well, not anymore. This deep conditioner with the goodness of argan oil, jojoba oil, shea butter, and aloe vera will strengthen your weak and brittle hair from the roots, bringing it back to life. Loaded with vitamins such as vitamin C, D, E, and B12, it shields your hair from damage and split ends. Need some gloss and sheen? No problem! Infused with keratin and collagen, you will have a glossy, sleek finish with every wash. Suitable for all hair types, it does not contain parabens, sulfates, or formaldehyde.
Pros
Contains argan oil, jojoba oil, shea butter and aloe vera
Infused with keratin and collagen
Contains vitamins C, D, E,F, B1, B2, and B12
Suitable for all hair types
Suitable for colored hair
Paraben-free
Sulfate-free
Formaldehyde-free
Cruelty-free
Cons
Some may find the scent too pungent.
If your hair needs extra care, you can count on this conditioner. The active ingredient in this conditioner is Morrocan argan oil which contains Omega 9. It helps repair damaged hair follicles and works great for those with transitioning hair. It also contains honey, aloe vera, and olive fruit oil, which removes frizz and ensures that your hair is left smooth and soft. This conditioner is well-suited for dry and damaged hair and is your solution to revitalize hair and provide moisture instantly. 100% free of sulfates and parabens, it is safe for colored hair. Watch this video for a thorough understanding of the product.
Pros
Enriched with Morrocan argan oil and wheat protein
Smoothens hair with honey, aloe vera, and olive fruit oil
Suitable for dry and damaged hair
Suitable for colored hair
Free of sulfates
Free of parabens
Cons
It has be left on for 10-15 minutes.
A miracle in a bottle, this praised formula will help you achieve soft, luscious curls in just 3 minutes. Fortified with Australian sea kelp, aloe vera, and jojoba oil, getting a boost of hydration is no longer a struggle. It provides deep conditioning from root to tip and prevents breakage, and reduces frizz even in humid environments. With no traces of sulfates and parabens, this rich, creamy formula is suitable for dry and damaged hair. An added benefit is its luxurious fragrance derived from California orange, grapefruit, and lime. Click here to check out a detailed personal review of this product.
Pros
Fortified with aloe vera, seaweed extract, and jojoba oil
Provides deep conditioning
No sulfates
No parabens
Suitable for dry and damaged hair
Luxurious scent
Cons
May not suit people with oily hair and scalp
If natural ingredients take priority on your list, you should consider this one. Made with shea butter, hemp, grapeseed, green tea, honey and more, this deep conditioner is all things nourishing and moisturizing. Packed with vitamin E, it provides a nurturing base for hair growth by shielding the lipid layer of the scalp. Thinning hair? No problem. This conditioner also contains algae as an active ingredient, which is rich in proteins and amino acids and fortifies hair, preventing it from thinning and breakage. The mango butter in this product ensures your hair never lacks hydration by locking in moisture with every wash. Another convenient benefit is that it can also be used as a pre-shampoo conditioning treatment.
Pros
Enriched with shea butter, hemp, grapeseed, and more
Packed with vitamin E
Prevents hair thinning
Mango butter provides moisture
Can be used as a pre-shampoo conditioning treatment.
Cons
It's no secret that shea butter is a phenomenal ingredient that moisturizes and conditions dry and damaged hair. Formulated with raw shea butter, it preserves the scalp's lipid layer and transforms dry and damaged hair into healthy, luscious locks. Other botanical ingredients like castor seed oil and olive oil moisturize the hair and repair the damage caused due to straightening, braiding, curling, etc. Free from harsh chemicals like parabens, sulfates, silicones, phthalates, mineral oils, and petroleum, it is safe for natural hair, colored, and transitioning hair.
Pros
Formulated with raw shea butter
Paraben-free
Silicone-free
Phthalate-free
Free of mineral oils
Petroleum-free
Cruelty-free
Ethically traded, sustainably produced ingredients
Suitable for dry hair
Cons
May not work for certain types of thick and curly hair like 3A curls
May not provide enough moisture for thick and overly damaged hair
Pamper your hair with botanical extracts of honey and sage. This nutrient rich conditioner penetrates deep into the scalp and nourishes the cuticles. While honey promotes hair growth and binds in the moisture, the sage powder reduces thinning by fortifying the hair roots. The powerful combination of aloe vera juice, olive oil, silk amino acids, rice bran oil, and eucalyptus leaf oil ensure that hair is left looking more healthier, youthful and radiant. 100% natural and 90% organic, it is suitable for all hair types.
Pros
100% natural ingredients
90% organic
Reduces thinning
Paraben-free
Silicone-free
Phthalate-free
Cons
The scent maybe overpowering
Last on our list is the hair masque treatment from EDEN BodyWorks. With an unbeatable combination of shea butter and coconut oil, it moisturizes the hair and prevents breakage. Enriched with aloe vera leaf juice, a natural conditioner, leaves the hair looking shiner with a silky gloss. Considered as one of the best deep conditioners for transitioning hair, it contains ingredients like cetrimonium chloride – it strengthens hair and reduces frizz. A great addition to your hair care regime, it is sulfate and paraben-free.
Pros
Provides moisture and prevents breakage
Reduces frizz
Sulfate-free
Paraben-free
Cons
The formula may be slippery
Now that you've taken a look at the eight best deep conditioners for transitioning hair, learn more on how to pick up the right kind of deep conditioner, with the help of our buying guide.
How To Select A Deep Conditioner For Transitioning Hair?
There are many things one must consider when buying a conditioner for transitioning hair. Here are a few tips you should keep in mind:
While picking out a good-quality deep conditioner for your transitioning hair, it is crucial to look at the ingredient list. While harmful chemicals such as sulfates, parabens, and petroleum are a big no-no, natural, moisturizing ingredients are great for reviving damaged, transitioning hair. Ingredients like raw shea butter tackle dried and damaged transitioning hair, whereas argan oil contains Omega-3 repairs damaged hair follicles. So look for these to help soften and nourish your transitioning hair.
Sebum is a natural oil that is produced by your glands. If there is excess sebum production, it can lead to hair looking oily and greasy. You need to pick a conditioner that compliments and works with your hair. If your hair tends to be more oily and greasy due to the constant use of conditioners, masks, oils, and hair butter, we recommend you clarify your hair. Clarifying is a process where you use a purifying shampoo and conditioner to remove extra product buildup with either and invest in a conditioner with hydrolyzed protein. On the other hand, if your hair requires less hydration and tends to be dry, use a deep conditioning mask or conditioner to help your hair get the moisture it needs.
Hair usually falls into 2 categories – protein-rich and protein deficit. If your hair is in the former category, it is likely to feel spongy and soft, without definition. Over-processed hair will lead you to this type of hair, and we suggest you go for protein-rich conditioners. This conditioner will include hydrolyzed soy protein, hydrolyzed wheat protein, silk amino acids, keratin, etc. All of them will work towards rebalancing the moisture content. If you fall in the latter category, i.e., protein-rich, your hair is likely to be dry, brittle, and damaged because you might be protein-sensitive. This type of hair means that too much protein isn't good for you, and you need to steer away from strengthening conditioners and move towards one that provides ample moisture and hydration.
How often should you deep condition transitioning hair?
The frequency of deep conditioning is different from person to person, and their specific hair conditions and concerns. If you have thick, coarse hair dry and lacks moisture, you should stick to it once a week. Otherwise, most people use a relaxed hair deep conditioner 2-4 times a month.
Chemically-treated hair transitioning back to its natural state requires extra attention and care. Shackled by hair concerns such as split ends, dry and brittle hair, an excellent deep conditioner is the only escape. Deep conditioners are a great way to revive them and help this transformation without losing out on natural hair's texture or vibrancy. Used effectively, they can lock the moisture in and provide the hydration your hair needs and deserves. Not only this, but they also make sure the newly growing curls too are nourished from the root to the tip so that you can have luscious curls after every wash.
Why Trust StyleCraze?
Kirtana Divakar, the author of this article, is a haircare enthusiast. She likes to stay updated when it comes to haircare solutions. To help her readers purchase the best deep conditioners for transitioning hair, she conducted thorough research and curated a comprehensive list of the best-rated products. These products are safe for the hair and helps prevent damage.
Recommended Articles