10 Best Deep Fryers – Reviews And Buying Guide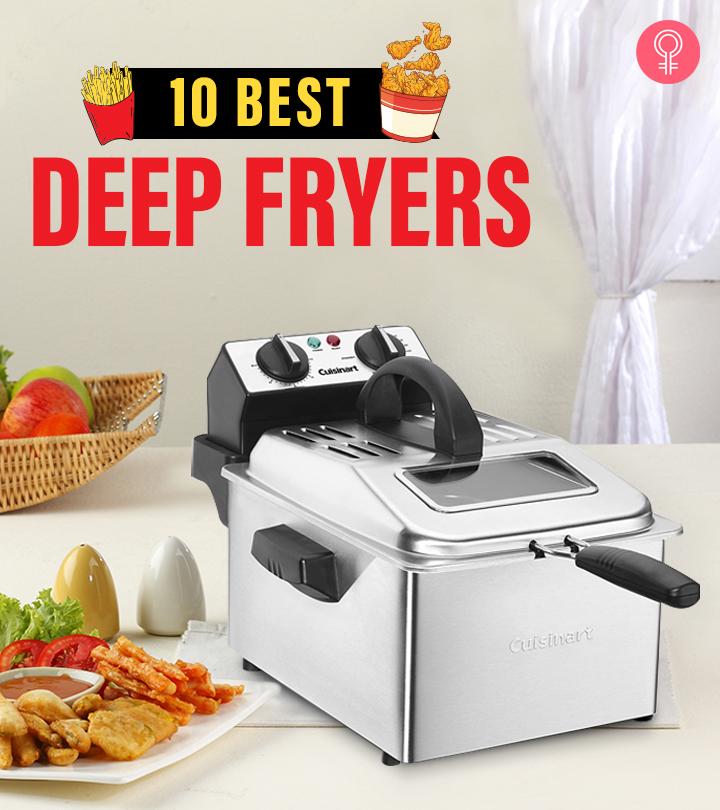 Are you looking to add something valuable to your kitchen? Do you like cooking those mouth-watering foods like French fries orcrispy chicken? Then a good quality deep fryer is what you should gift yourself this year. There are a plethora of deep fryer options available. They come in all sizes and features. Here, we bring to you the 10 deep fryers that are tested and reliable. They are among the best on the market. Check them out. 
10 Best Deep Fryers
This deep fryer comes with certain smart features like the automatic oil filtration and drainage system. This feature gives you the option of storing the reusable oil in a separate container. With T-fal, you will not have to worry about the unpleasant oil smell and painful cleaning up once the food has been served. The deep fryer also comes with an advanced EZ Clean Oil Filtration System that allows for simple oil storage.
Features
Size – 18.3×13.7×14.8 inches
Food Capacity – 2.65 pounds
Weight – 12.4 pounds
Wattage – 1700 watts
Voltage – 110-120 volts
Pros
Dishwasher-safe
Patented oil filtration system
Handles for easy transportation
Two-position basket
Cons
Inaccurate temperature readings
This high-quality product boasts on its capacity and versatility. It is used to fry, steam, cook, and almost do anything. The heat control is amazing and self-regulates with accuracy. In terms of quality and performance, it is attractively priced, thus making the product appealing. With its excellent performance, the Presto cooker makes frying a pleasant exercise. It can be used to deep fry around six servings and is thus very ideal for a mid-sized family. The post using cleanup also becomes easy as it is completely non-stick and very safe with the heat control wholly removed.
Features
Size—11.5x9x8.5 inches
Food Capacity — 2.5 pounds
Weight – 8 ounces
Wattage — 1200 watt
Voltage — 120 volt
Pros
Multiple functions
Good capacity
Very cost-effective
Temperature regulation accurate
Cons
Durability
Metal used weak
The Secura Deep Fryer is easy to operate, fries a variety of foods, and is convenient to clean. The adjustable time is up to 60 minutes. The deep fryer comes with three baskets included that can be used for preparing different foods at the same time. The tank is removable and can be cleaned efficiently. It also comes with an extra set of odor filters. The lid has a see-through window. The automatic timer shuts down the heating element after 60 minutes.
Features
Size – 15.5×14.5 x 9.5 inches
Weight – 11.65 pounds
Food Capacity – 3 pounds
Wattage – 1700 watts
Voltage – 120 volts
Pros
Timer/temperature adjustment
Odor filter
See-through lid
Three separate baskets
Quick oil temperature recovery
Convenient to clean
Cons
None
The Cuisinart Deep Fryer comes with a strikingly impressive design and remarkable durability. It is built with high-quality stainless steel that lasts long. It is easy to be cleaned. Its cool-touch handle allows for easy usage. It has a specially-designed small window over its lid that allows you to watch the food being fried. It has a capacity of over 2 pounds and will serve the needs of an average family.
Features
Size – 12.75 x 18.25×12.5 inches
Weight – 11.5 pounds
Food Capacity –2.3 pounds
Wattage – 1800 watts
Voltage – 120 volts
Pros
Two temperature sensors
Compact design
Special viewing lid
Durable
Cons
Very short electrical cord
The Presto Cool Daddy Deep Fryer has a wonderful design that fits even in relatively smaller spaces. It also can be ported outdoors. It has an adjustable thermostat that makes it easy to reach the desired temperature. The top-view window ensures you monitor your food at regular intervals without having to open the cover.The fryer has a charcoal air filter that absorbs odors. It also has a handy indicator light that indicates when the oil is ready for frying. You can remove the frying pot for easy cleaning.
Features
Size – 15x10x9 inches
Weight – 3.42 pounds
Food Capacity – 6 ups
Wattage – 1500 watts
Voltage – 120 volts
Pros
Adjustable thermostat
Indicator light
Food-viewing window
Charcoal air filter absorbs odors
Easy to maintain
Cons
Inaccurate temperature readings
The Hamilton Beach Deep Fryer is known to function at a rapid speed. It could be the ideal product for house parties and family gatherings. You just need to adjust the desired temperature and wait for the alert light to signal that your meal is ready. The outer material is made of high-quality stainless steel that is durable. The surface retains its shine for a longer duration. The lid and basket of the deep fryer are dishwasher-safe. The fryer's vented lid allows for splatter-free frying.
Features
Size – 16.3×8.9×10.2 inches
Weight – 8.6 pounds
Food Capacity – 8 cups
Wattage – 1500 watts
Voltage – 120 volts
Pros
Large serving capacity
Splatter-free frying
Dishwasher-safe
Adjustable temperature
Light indicator
Cons
Healthy days are back with the Dash Air Fryer. It enriches the flavor of your food but also makes sure you eat less fat with its AirCrisp technology, which reduces added fat by almost 80%. Its auto-shutoff function prevents overcooking. The fryer basket is non-stick and dishwasher-safe. It is simple and easy to operate. It comes with a recipe book.
Features
Size – 14.2x10x9.8 inches
Weight – 7.2 pounds
Food Capacity – 4 pounds
Wattage – 1000 watts
Voltage – 120 volts
Pros
AirCrisp technology
Reduces fat intake by 80%
Auto-shutoff feature
Dishwasher-safe basket
Comes with a recipe book
Cons
None
The Oster Deep works quicker than most rivals to give you tasty fried foods and snacks. It consists of a 30-minute timer with an auto-shutoff feature. A signal bell tells you when the dish is ready. You can use the fryer conveniently to make a variety of fried recipes. The fry basket is removable and dishwasher-safe.
Features
Size – 16.40×8.89×10.10 inches
Weight – 7.7 pounds
Food Capacity – 8 pounds
Wattage – 1500 watts
Voltage – 110 volts
Pros
30-minute timer
Auto-shutoff feature
Dishwasher-safe basket
Signal bell indicator
Cons
The NuWave Air Fryer is among the highest-rated in terms of customer satisfaction. Along with a quality deep fry, it also gives you the options to bake, grill, and roast your food. Its stainless steel drip-tray and racks are dishwasher-safe. It has a special airflow design that evenly infuses flavor to cook your food. The deep fryer can also cook frozen foods – you do not have to wait for defrosting. Its high food capacity makes the fryer a great choice for larger families.
Features
Size – 16.5×15.1×13.1 inches
Weight – 19.11 pounds
Food Capacity – 6 quarts
Wattage – 1800 watts
Voltage – 120 volts
Pros
Smart airflow design
Highfood capacity
Dishwasher-safe tray and racks
Can cook frozen foods too
Cons
The IKICH Air Fryer boasts of its touchscreen option that makes usage very easy. The fryer reduces over 85% of the fat content in the food. It also captures excess fat. It also includes a 360o hot air circulation and an auto shut-off feature. It also insulates itself automatically when the heating time ends.
Features
Size – 16.5x15x15 inches
Weight – 16.3 pounds
Food Capacity – 6 quarts
Wattage – 1700 watts
Voltage – 110-120 volts
Pros
Reduces fat by 85%
Captures excess fat in food
360ohot air circulation
Auto-shutoff feature
Auto-insulation feature
Great customer service
Touchscreen function
Cons
These are the top 10 deep fryers online. In the following section, we have discussed what you need to look for in a deep fryer before purchasing one.
What Should I Look For Before Buying A Deep Fryer?
Size–The size of the deep fryer can impact food capacity, portability, and ease of cleaning. While it is advisable to go for smartly built, compact deep fryers, you should also ensure the smaller size does not impact function. Whatever the size you choose, make sure the food capacity is a minimum of 2 to 3 pounds. This can keep you ready for unexpected gatherings. However, do not go for deep fryers that are too large if you do not have the need – they tend to occupy a lot of space in your kitchen and could be difficult to clean too.
Capacity – This is dependent on the usage of your deep fryer. If you have a small family, you can go for a good quality deep fryer with a capacity of about 8 to 12 cups. If you have a slightly larger family, you can go for a deep fryer with a 15-cup capacity. You may want to avoid fryers with a capacity of lower than 8 cups as they may not serve many purposes.
Oil Disposal – Cleaning and disposing oil after you have deep-fried your food can be hectic. Most modern deep fryers come with advanced cleaning mechanisms and also have separate draining baskets. They will be convenient and hassle-free to use. The variant you choose should have a smooth oil disposal mechanism.
Wattage And Temperature – Most of the high-quality deep fryers have 1500 to 1800 wattages. This range is standard and should meet most of your needs. Regarding temperature, most fried meals can be prepared with 200o to 375o However, do ensure the temperature is adjustable, and the deep fryer you choose has an accurate digital temperature reader.
Ease Of Cleaning –This is another crucial feature that you should take care of. Go for a deep fryer that is not very heavy and easy to assemble. You will need to clean it up from inside too. Separate draining baskets and advanced cleaning solutions will make the job easier.
Timer– A deep fryer with an attached timer is a great option. It ensures that even if you are caught up with some work or forget about the food, it does not over-fry or burn. The self-regulated timer will ensure the items inside the fryer are taken care of. You can even monitor the frying level while pausing the timer and have your choicest recipes cooked to perfection.
Oil Filter – Your deep fryer oil will degrade in both quality and taste after being used. This means that using it again may not ensure the same freshness. It may also impact your health. It is better to use an oil filter to ensure the reused oil is free from unwanted contaminants. Modern deep fryers come with all accessories, including oil filters.
Weight– A smaller deep fryer can weigh 2 to 4 pounds. Bigger ones can weigh 8 to 12 pounds. Lighter deep fryers are better as they are easy to clean and portable.
Usage Frequency – Like every other utility product, deep fryers also have a fixed life. The ones good in quality work well for many years, even if used almost every day. Hence, it always is better to go for a deep fryer of a higher quality. You will save money on maintenance and accessory replacement.
Warranty – Most deep fryer manufacturing brands will give a warranty of 1 to 2 years. However, if you get the right quality product, it is likely to work well for a long time, even with frequent usage.
Deep fryers are available in different types. Let us explore them in the following section.
Types Of Deep Fryers
Electric Deep Fryers –Electric deep fryers run on power and not traditional fuel. They are safer alternatives. The temperature is regulated through a thermostat button. The oil does not spill out as the lid closes to prevent the outflow. They also have timers to make sure the food is cooked the way you like it. Air fryers are an advanced variety of electric deep fryers that do not use oil for frying.
Turkey Deep Fryers – These are specifically designed to deep fry turkeys. They also come in two variants – electric and traditional (that run on fuel, such as propane). Though traditional turkey fryers can fry large amounts of food, they may not be as safe. They may not have the safety and digital features like a timer or a thermostat. Fuel-based turkey deep fryers are typically used in outdoor activities like family picnics or camping.
Conclusion
A deep fryer is a piece of convenient equipment that allows you to prepare your favorite snacks in no time. Whether it is a family gathering or a picnic, a deep fryer can do wonders. Choose your favorite device from this list and start using it today!
Expert's Answers for Readers Questions
What deep fryer is best for home use?
For use at home, you may go for a modern electrical deep fryer. You can choose any of the variants we discussed above. Make sure your deep fryer has advanced features like a timer, temperature regulation, etc. Also, draw a balance between size and capacity. Go for a device that is compact and has a food capacity of 2 to 3 pounds. It also must be portable.
How many times can you reuse oil in a deep fryer?
It is recommended to reuse the deep fryer oil not more than once or twice. Ensure the fryer has a good quality oil filter. This will ensure the oil used again is healthy, and food made from it tastes fresh.
Does air fried food taste as good as that which is deep-fried?
The two variants could taste slightly different. Air fried foods could also be a little crisper. Air fried foods also present a healthier alternative as they contain very less unhealthy fat.
How long can you keep oil in a deep fryer?
You will need to consider certain factors, such as the food cooked, quality of the oil, etc. The oils used to cook meat can turn bad sooner and must be kept in the fryer for a shorter duration. Oils used to cook vegetables could be kept a little longer.
How much electricity does a deep fryer use?
This depends on the wattage and usage time of the deep fryer. The wattages of most deep fryers range from 1200 to 1800 watts. The more the wattage, the more the electricity that is used. Using the fryer for a longer duration can consume more electricity too.
Recommended Articles
The following two tabs change content below.

Latest posts by Harini Natarajan (see all)

Harini Natarajan
As Chief Editor, Harini sets the tone and editorial direction for StyleCraze to deliver engaging, interesting, and authentic content revolving around women's health, wellness, and beauty. She has over 14 years of experience in content writing and editing for online media. She specializes in the areas of Beauty, Lifestyle, and Health & Wellness and is proficient in Medical Sciences (Biology, Human Anatomy and Physiology, and Biochemistry). Her background in Biomedical Engineering helps her decode and interpret the finer nuances of scientific research for her team. Harini is a certified bibliophile and a closet poet. She also loves dancing and traveling to offbeat destinations.