11 Best Deep Pore Cleansers To Remove Pore-Clogging Debris
Say goodbye to breakouts and get clear skin by purifying your pores from deep within. In today's world, you are constantly exposed to several agents such as pollution, chemicals, and smoke that clog your pores, making your skin oily and dull. Even though cleansing may seem like an unimportant task, trust us, it is one of the most important tasks in your skincare routine. The solution to the problem is to clear your pores up by using the best deep pore cleanser. This is an amazing product that removes impurities dirt, dead cells, and oil from your pores and keeps your skin clean. While facial cleansers might be your go-to option, there are several other things you can rely on. These include toners and face masks which act as an exfoliant and slough away all the grime from your skin. When choosing the cleanser of your choice, look for one that contains salicylic acid, charcoal, clay, or retinol. These chemicals not only clear your skin up but keep it hydrated and glowing. To help you out, we have compiled a list of the top deep pore cleansers that will leave you with cleaner and brighter skin. Scroll down for more information!
11 Best Deep Pore Cleansers To Care For Your Pores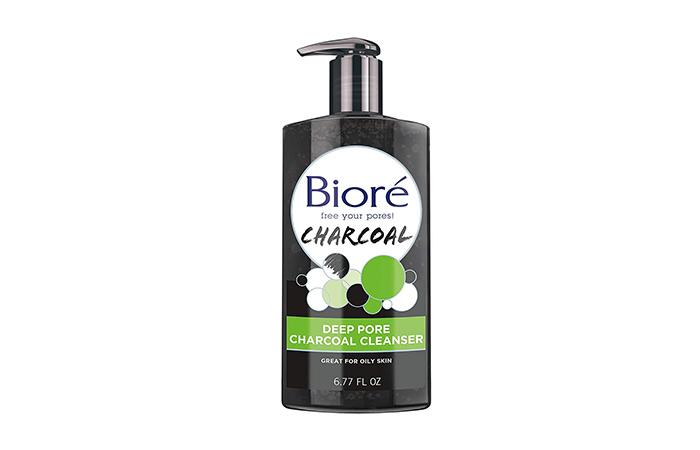 Give your skin what it exactly needs with this Deep Pore Charcoal Cleanser from Biore that draws out all the acne-causing oil and bacteria from your pore and reduces breakouts. This daily deep pore purifying cleanser is charcoal-infused and promises deep cleaning without irritating your skin. And since the clarifying formula is non-comedogenic, you don't have to worry about the charcoal clogging your pores. Made with Japanese skin purifying technology, the cleanser targets dirt and oil without stripping your skin of its natural moisture. So, what's stopping you? Get this deep pore facial cleanser and say yes to tingly smooth and clearer skin. To know more about the benefits of the Biore Deep Pore Charcoal Cleanser, have a look at this reviewer's experience video.
Pros
Oil-free
Non-comedogenic
Dermatologist tested
Infused with Japanese skin purifying technology
Cons
Contains parabens
Contains fragrance
Price at the time of publication: $6.87
If the biggest bane of your life is acne that keeps coming back, this deep pore cleansing face wash is the answer to your prayers. Formulated with salicylic acid, this facial cleanser helps get rid of excess oils and dirt while also clearing acne and blemishes. Salicylic acid is also known to prevent future breakouts and blemishes while also providing blackhead and whitehead treatment. A little different from the conventional pore-refining cleansers, you can moisten a cotton pad with this cleanser and cover the area with blackheads and acne around 3 times a day and let the deep-cleansing action take place. The tried, tested, and trusted original formula prevents problematic skin. And with that, walk your way to having clean and smooth skin with confidence!
Pros
Minimizes acne and blackheads
Paraben-free
Sulfate-free
Vegan and cruelty free
Suitable for all skin types
Cons
Contains parfum
Contains red and yellow coloring
Price at the time of publication: $11.85
If you're dealing with acne from oily skin, you need to make a quick switch to this dermatologist-recommended deep pore cleansing face wash that is formulated to reach the corners of your enlarged pores to get all the accumulated oil and dirt out. People's experience shows that using it on a regular basis helps reveal cleaner, smoother, and supple skin. On days when you wear heavy makeup, this deep pore cleanser for sensitive skin also helps clean it off without leaving a hint of makeup on your face. Formulated without oils, soaps, and AHAs, it is non-irritating and works equally well for all skin types, including combination skin. If you've been looking for a non-drying deep pore face wash that gives your skin a mattifying effect, this has to be your pick.
Pros
Oil-free
Vegan
Soap-free
pH-balanced
Great for daily use
Suitable for sensitive skin
Cons
Contains sulfates and parabens
Contains Dimethicone
Contains Fragrance
Price at the time of publication: $30
If you have sensitive skin and are dealing with acne, you need a deep pore cleanser that reaches deep into your pores while respecting the ecosystem of your skin. And that's exactly what the Osmoclean Gentle Deep Pore Cleanser does. It is formulated to absorb elements that dull the complexion. All you have to do is massage the product onto your face and see how it makes way for radiant and smooth skin. made with cellular water and skin balance system, it is made to suit every skin type.
Pros
Grain-free texture
Gentle formula
Suitable for sensitive skin
Does not alter skin's balance
Cons
Contains artificial fragrance
Not vegan
Price at the time of publication: $43
If you believe that natural deep pore cleansers are not cut for the job of getting all the oil and grime off the pores, this cleanser is here to prove you wrong. Formulated with bamboo charcoal and grapefruit seeds, it not only cleanses deeply and balances oil production but also helps diminish acne while preventing blemishes from occurring. Rosehip oil and MSM mineral offer anti-aging benefits by minimizing pores and firming the skin. Other noteworthy ingredients in this cleanser are tea tree oil, burdock root extract, wild geranium extract, and dandelion extract among others. This thoughtfully-formulated pore cleanser also boosts collagen, thus keeping your skin young. It efficiently pulls out toxins and when you use it consistently, it can also soothe redness of the skin.
Pros
97% natural
70% organic
Gentle lather
Sulfate-free
Vegan formula
Improves skin tone
Enhances skin's elasticity
Blade approved
Cons
May not be suitable for dry skin
Price at the time of publication: $22.97
Oily skin that is prone to developing acne demands a maximum-strength cleanser like the Origins Zero Oil Deep Pore Cleanser. Formulated with skin-loving ingredients such as salicylic acid, cooking mint, and saw palmetto, this deep pore cleanser for blackheads penetrates deep into your pores to clean it while also eliminating acne-causing bacteria. It has a proven efficacy of improving pore visibility in just 1 week of regular usage. It reveals a shine-free, fresh looking and amazing-smelling face.
Pros
Minimizes pore appearance
Clinically-tested
Vegan
Gel formula
Gentle
Has a pleasant scent
Cons
Some may not like the tingling sensation.
Price at the time of publication: $39.9
If you're looking for a deep pore cleanser that helps care for the skin while cleansing the pores, your search comes to an end here. This blemish-clearing facial pore cleanser is enriched with good-for-your-skin ingredients like Indian ginseng and fructose that keep the skin safe from environmental stressors while energy complex— a combination of green tea and vitamin B enhance the natural metabolism of your skin to rejuvenate it. Additionally, lactic acid and salicylic acid help gently exfoliate your skin to complete your face care routine. With these benefits, it proves to be extremely useful for acne-prone, oily skin. And being a cruelty-free brand, this deep pore cleanser is also good for the planet and your conscience.
Pros
Cruelty-free
Vegan
Gluten Free
Paraben Free
Talc free
Mineral Oil Free
Petrolatum Free
Lathers well
Sulfate-free
Exfoliates gently
Antioxidant-rich
Contains Niacinamide (Vitamin B3) to improve the appearance of skin tone, and helps minimize the look of pores, fine lines and wrinkles
Contains Green Tea, Ginseng, and Vitamin B a complexion-boosting blend of invigorating ingredients help address signs of premature aging while helping renew the skin's appearance
Blade Approved
Cons
Some may find it expensive.
Price at the time of publication: $24
This deep pore cleanser is a powerhouse of nutrients with star ingredients like kaolin clay, salicylic acid, and laminaria saccharina extract that help drive excess oil and bacterial agent out of your pores, promising intense cleansing. In addition to that, vitamin E oil keeps the surface of your skin smooth while nourishing it as well. When you start using the Clinique Blackhead Solutions 7 Day Deep Pore Cleanse & Scrub, you no longer have to deal with blackheads, whiteheads, or clogged pores, only luminescent skin and clean pores. You can also use this allergy-tested product as a mask once or twice a week for blackhead control. The product displays proven efficacy in diminishing the appearance of blackheads by 94% in 6 weeks when used twice daily. Check out the review of the Clinique Blackhead Solutions 7 Day Deep Pore Cleanse & Scrub for the tester's experience and more information.
Pros
Multi-functional
Allergy-tested
Fragrance-free
Makes skin softer
Cons
May not be suitable for extremely dry skin
May not be suitable for active acne or sensitive skin
Not suitable for inflamed rosacea
Contains coloring agents
Price at the time of publication: $25.98
This cult-favorite pore cleansing face wash from Australia can be a game changer if your biggest skin woe is enlarged pores that welcome all the dirt and debris to settle in them. Infused with a magical ingredient that is Australian pink clay, it evicts all the dirt hiding away in your pores while balancing the pH of your skin. Other skin-loving ingredients such as Australian finger lime that are rich in antioxidants, AHAs, and vitamin C, witch hazel, and macadamia oil rich in squalene ensure that your skin gets its daily dose of nourishment to stay healthy and supple. What's more? It has a fresh and invigorating scent that is bound to leave you feeling energetic as you wash your face every morning. All you need is a teeny amount of this pore cleanser in pretty pink to work its magic on your face!
Pros
Gentle
Free of parabens
Free of glutens
Dermatologically-approved
100% vegan
Cruelty-free
Suitable for sensitive skin
Blade Approved
Cons
Some may not like its earthy scent.
Price at the time of publication: $29.9
It is when dirt keeps accumulating in our pores that they get enlarged. With ingredients sourced from the mouth of Amazonian River, this deep pore cleanser from Kiehl's helps in skin detox and exfoliates your skin gently while removing dirt, excess, oil, and toxins from your pores, thus minimizing their appearance. Made with Amazonian white clay, aloe vera, salicylic acid, and oat kernel flour, it also buffs away dead skin cells, while leaving your skin feeling soothed and supple with its hydrating properties. All you have to do is use this pore minimizing and cleaning face wash twice a day and wash it off with lukewarm water to reveal fresh and clean skin.
Pros
Does not dry the skin out
Delivers quick results
Minimizes the appearance of pores
Climate pledge friendly
Cons
May not be suitable for those with sensitive skin
Price at the time of publication: $28
Breathe life into your dull and acne-prone skin with the Alba Botanica Acne Dote Deep Pore Wash that helps remediate and prevent future acne with its natural and organic ingredients. Formulated with 2% salicylic acid, bergamot fruit oil, parsley extract, witch hazel water, peppermint oil, orange peel oil, and willow bark extract, this zit zapping dermatologist-tested face wash reaches deep into your pore to get rid of acne-causing agents and excess oil to leave your face feeling squeaky clean. The product is clinically-tested with a proven efficacy of 70% in 7 days. If you love and care for your skin, there's no better way to pamper it other than using this all-natural deep pore cleanser, especially because when you use it, you're keeping your skin safe from questionable ingredients and only providing it with natural and organic ingredients.
Pros
No parabens
No phthalates
No synthetic fragrance
100% vegetarian ingredients
Does not test on animals
Cons
May not be suitable for sensitive skin
Price at the time of publication: $15.7
Buying a deep pore cleanser that does its job right for your type of skin can be a daunting task. There are too many options, and to know exactly what factors to consider when buying a cleanser is very crucial. To help make it less of an ordeal for you, here's our comprehensive guide that will help you make the right purchase.
How To Choose The Best Deep Pore Cleanser
While most deep pore cleansers are formulated to address skin issues as faced by those with oily skin, those with dry skin may also have clogged pores. And if you either have a dry or sensitive skin type, you should carefully go through the list of ingredients and the product label to check what skin type it is formulated for.
If you have dry skin and are looking for a deep pore cleanser, it is best to steer clear of products that contain high concentrations of salicylic acid and AHAs. It is because these ingredients can be extremely drying. You can start with a patch test to avoid any potential reactions. However, they are well-suited for oily skin as they get rid of excess oil. A deep pore cleanser with aloe vera and various types of non-comedogenic oils do good for dry skin. While they flush out acne-causing oil, they make sure that your skin stays hydrated and supple.
When buying any type of face cleanser, make it a point to go through the list of ingredients to check if there's a potential irritant or an element that you're allergic to. Besides that, you can also look for a product that contains ingredients that have so far been miraculous for your skin type to have that added benefit in your cleanser as well.
Most deep pore cleansers are formulated to address various other skin issues besides the clogging of pores. If you have mature skin and are looking for a cleanser that helps prevent or diminish fine lines and wrinkles, go for a product that is loaded with antioxidants. If you want a good dose of hydration, you can shop for a cleanser with aloe, green tea extract, tea tree oil, among others. And if your skin feels dull, it is a good idea to incorporate a deep pore cleansing face wash that also contains vitamin C, which helps brighten your complexion and minimize blemishes.
It is always wise to stay away from harsh chemicals and preservatives such as parabens, phthalates, and alcohol. If you have dry and sensitive skin, you should also avoid sodium chloride as it may dry your skin even more.
Now that you know what to look for in your pore cleansing face wash, here's a little guide on how to use a deep pore cleanser to derive maximum benefits out of it.
How To Use A Deep Pore Cleanser?
Step 1: If you have makeup on your face, it is a good idea to first use a cleansing balm of oil to first get rid of all the makeup. For those prone to developing acne, double cleansing can help in intense cleaning.
Step 2: You can now use your deep pore cleanser. Take a pea-sized amount or as indicated by the brand and apply it to your wet face. Massage it all over so that the cleanser reaches deep into your pores to evict excessive oils, dirt, and bacteria.
Step 3: Pat your skin dry after washing your face cleanser off with lukewarm water. After cleansing your face, you can go ahead with your normal skincare routine.
Why Trust Stylecraze
The author of this article, Kirtana Divakar, is a skin care aficionado. She loves to explore various products used in skin care and brings the best compilations for the readers. She curated the list of the best deep pore cleansers after thorough research and reading many user reviews on trusted online forums. She suggests investing in a good pore cleanser to maintain overall skin health. These pore cleansers contain salicylic acid, clay charcoal, and retinol, which deeply cleanse the skin and offer a bright complexion.
Frequently Asked Questions
Is deep pore cleansing good?
Deep pore cleansing can be a game changer for those who develop acne from clogged pores. The best deep pore cleaners comprise ingredients that make their into pores to get rid of dirt and oil. However, these agents are non-comedogenic so you can expect deep cleansing of the pores as a process that leaves your pores clean.
How can I deep clean my pores at home?
The easiest way to deep clean your pores at home is by using products that are formulated to the job. Besides a good deep pore cleansing face wash, you can also use a face mask or other products that are designed to clean the pores.
Is it normal for my skin to turn red after using a deep pore cleanser?
If your pore cleanser has exfoliants in it, there are chances that your face turns slightly red right after washing your face. However, if you experience redness that lasts even as you wash your face with a gentle cleanser with a gel-like or cream-like consistency with no exfoliating beads, you might want to stop using the product as it may contain some potential irritant.
Can I use a deep pore cleanser to remove eye makeup?
Some brands indicate that their deep pore cleansers are not to be used around the eye area as it may cause irritation. And if that is the case with your deep pore cleanser, you can simply use a cleansing balm to dissolve all the makeup and then proceed to use a deep pore cleanser, ensuring you're not using it around your eyes.
How often should I use a deep pore cleanser?
Use a deep pore cleanser twice daily to get rid of clogged pores, blackheads, sebum, and dirt.
Is deep pore cleanser good for acne?
Yes. Deep pore cleansers help get rid of clogged pores, blackheads, oil, and dirt from the face. This removes excess sebum and reduces the chances of acne breakouts.
Recommended Articles