11 Best Deep Tissue Massagers Of 2023 To Relax Yourself
Ease and relax your muscles and improve blood circulation with massages.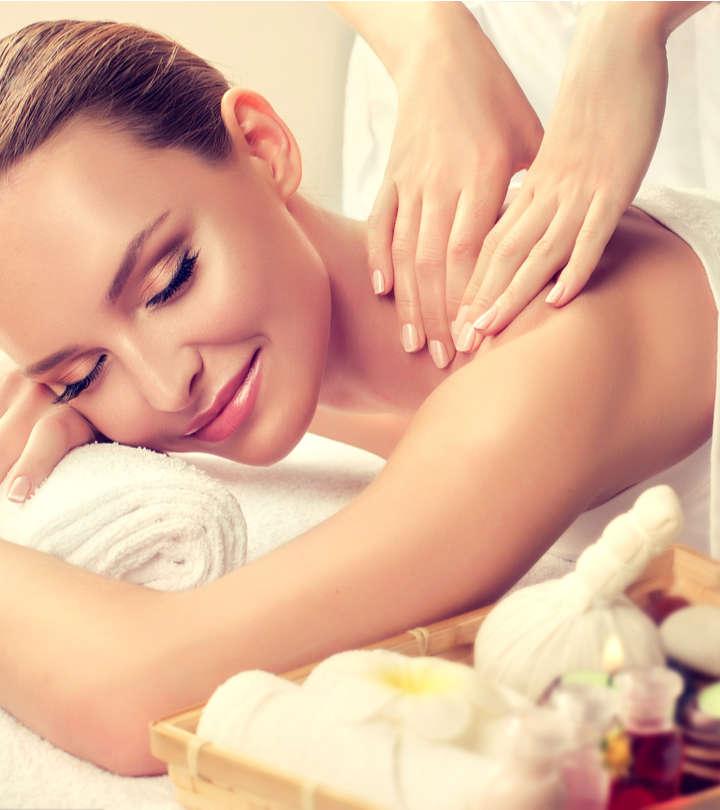 The best deep tissue massagers use percussive therapy to ease your muscles and help you relax. These massagers help free knotted muscles and break down the lactic acid build-up in your muscles. They remove stress from your muscles and improve blood circulation. With these, you do not have to visit a massage parlor and spend a lot on bills and tips. You can take care of yourself at any time you want.
There is nothing more comfortable than a good massage session after a long, hectic day of work. Unfortunately, most of us may not have the time or the budget to get professional massagers as regularly as we would like to. But, comfort is now made possible with these deep tissue massagers that you can use at your own home all by yourself.
The market now has multiple brands that manufacture different types of these massagers —from those that target localized areas to those that provide full-body massages. To help you select the best one for yourself, we have made a list of the top-rated products available on the market right now. So, go ahead and check out the best deep tissue massagers and pick your favorite now! Find out more about a deep tissue massager in the section below.
What Does A Deep Tissue Massage Do
Deep tissue massage is a unique and specific massage technique that is applied to musculoskeletal areas to relieve pain, stiffness, sports injuries, strains, and offers other health benefits as well. Using deep, slow strokes, sustained pressure is applied to the targeted areas of your muscles and connective tissues to gradually reduce stress and tension around those areas. These handheld massagers also reduce injury pain and tension in tissues and muscles by breaking up any scar tissue that may have formed. Deep tissue massage equipment is used to hasten healing by stimulating blood flow and preventing inflammation.
Relax And Unwind With The 11 Best Deep Tissue Massagers Of 2023
Enjoy a deep tissue muscle massage at home in comfort without burning a hole in your pocket! You can monitor the intensity of your percussive massage and feel yourself being relaxed with this massager as the pain, knots, stress, and fatigue of your muscles, tissues, and joints fade away. It also improves flexibility with its 4 different head attachments— flat disc for better coverage, acupoint head for targeted tension relief, 4-finger flex that replicates your fingers while massaging, and a deep muscle ball head to relax you. This deep tissue massage device features a long, sleek handle and a 9-foot long power for better flexibility and to reach difficult places. This electric massager promises you a therapeutic and professional massage by boosting circulation and reducing soreness, pain, stiffness, and inflammation. Watch an honest review of this massager in this video.
Pros
Spiral lock attachments
Ergonomic design
Up to 3,350 pulses per minute
Can increase oxytocin levels
Cons
The percussive threaded shaft is made from nylon which may not last long.
Price at the time of publication: $39.99
Surrender to the pleasure of this deep tissue massager as it gently relieves pain and fatigue, reduces the build-up of lactic acid, and enhances the circulation of blood with a good deep tissue massage. This cordless muscle massage gun features 20 levels of speed depending on the intensity of massage you desire and 10 changeable massage heads to cater to every part of your body. It has an upgraded LCD touchscreen that displays the power and speed level. It's easy to operate with a powerful and quiet motor, and the sound level doesn't cross 40 dB. This percussion deep tissue massage gun features a silicone handle that's easy to grasp and has a non-slip texture. Make relaxation a part of your routine as every part of your body feels at ease! Check out this video to understand the full potential of this massager.
Pros
Lightweight design
Easy to store and carry
Ergonomic design
3200 rpm deep percussion
12 mm stroke length
High torque brushless motor
Includes a carrying case
Cons
Some feel the cord could be longer for better reachability.
Price at the time of publication: $99.99
Sore and stiff muscles can be a real bummer, so why not try a product that promises to take care of it. Equipped with 6 massage heads and 30 adjustable speed levels, this percussive body massager gun is especially good for your arms, neck, back, and shoulders. It reduces the buildup of lactic acid in muscles and stimulates blood circulation while targeting different muscle groups. This cordless deep tissue massager features a 2400 mAh lithium rechargeable battery which, at a low speed, holds its charge for 8 to 10 hours. The power and speed levels are displayed on an LCD touch screen so outages are never a worry. The powerful and effective motor of this percussion massager offers deep penetration for a deep tissue muscle massage that offers relief from aches and pains and you are relaxed enough to take on the world.
Pros
Ergonomic grip
Carry case included
Super quiet
High torque brushless motor
Automatic heat dissipation
1,800 to 4,800 pulses per minute
Convenient single hand operation
Ideal for athletes, men, and women
Cons
May require frequent recharging
Price at the time of publication: $89.99
Whether you are a workout aficionado or lead a sedentary life in the office, this deep tissue massager gun is exactly what you need for massage therapy to loosen out muscle knots after a tiring day. With its dual head percussion massager, it gives you a relaxing and deep massage, relieving stress, pain, knots, and spasms. It's ideal for the arms, neck, legs, and back, enhances blood circulation, and reduces swelling. It features multiple speeds and 3 interchangeable massage nodes— original, salient, and pillow node, so that you can customize your massage according to your requirements. Its ergonomic handle ensures a comfortable and easy grip and its 98 inches long cord gives you enough slack to use it almost anywhere you want, for that deep targeted massage.
Pros
Stepless speed
Lightweight design
Gives up to 3500 pulses per minute
1 year warranty
Cons
May encounter overheating issues over time in some cases
Price at the time of publication: $39.99
You can thoroughly pamper yourself with this deep tissue percussion massager that features 10 massage heads— round, flat, tapered, bullet, U-shaped, thumb, air cushion, spade, and 2 thread heads, so that you can target specific muscle groups, especially of your back and neck. With 30 different variable speeds that are displayed on the LCD touchscreen, you can adjust the speed depending on your requirements. The head vibrates against your muscles, gently kneading out the knots and relaxing them. It features a high-quality 2400 mAh rechargeable lithium ion battery which holds its charge for more than 6 hours. It penetrates deep into the tissue as it has an amplitude of 12 mm, relaxing all your muscles and rejuvenating you to face the world again.
Pros
Ergonomic design
Less than 35 dB of sound
Strong heat dissipation function
High-torque and high-speed motor
Takes 1.5 to 2 hours to fully charge
High precision mould connects the machine head and body.
Cons
Some feel the vibration is more than the percussion.
Price at the time of publication: $35.99
Submit to the comfort and relaxation of this ergonomically designed deep tissue massager machine that features buffer massage heads to relax your neck and shoulders. They gently move 0.2 inches to the right and left so that they don't cause pain when squeezing your muscles. It features 8 massage nodes for massage therapy that gently knead your muscles providing relief from pain and tightness. Heated massage rollers relax your body by boosting blood circulation, and it runs at 3 speeds and automatically switches off after 15 minutes. It comes with a 98.42 inches long adapter cable, is easy to carry, easy to clean, and is very durable as it's crafted with breathable mesh and PU leather.
Pros
Overheat protection system
Pure electric copper motor
Features an 18.89 inches handle belt
Maximum volume of 55 dB
Comes with an AC adapter and car adapter
Cons
Some may find it a bit big and chunky
Price at the time of publication: $49.99
The smart percussive therapy offered by this deep tissue massager with a QX65 motor is almost soundless and completely relaxes your body. Its brushless motor runs on a lithium ion battery that runs for up to 2 hours if used continuously. It comes with 5 head attachments— dampener, standard ball, wedge, thumb, and a cone to cater to specific areas that you would like to massage. You can monitor the power and speed on an OLED screen and can choose a speed between 1750 to 2400 PPMs depending on your comfort level. Its ergonomic design ensures that you can easily and comfortably grip it without any strain. Feel your tension and soreness melt away with the gentle and effective action of this massager.
Pros
Easy to clean
60% deeper amplitude
Comes with a smart carry case
Attachments made of comfortable, non-porous closed-cell foam
Cons
Attachments only have a warranty of 30 days
Price at the time of publication: $398
This Personal Massager Gun by Expansion Wellness is a cordless, handheld massage gun with 3 adjustable angles and it is ideal for relaxing your tired muscles. It has a one-touch control panel that helps to release inflammation, increase blood flow, and improve soft tissue health. It uniquely features a 180° rotating arm that effectively improves your athletic performance. It has 4 different intensity levels to suit your preferences and 5 silicone interchangeable massage heads that target different areas of your body. The massager comes with a premium travel case where you can easily store the heads and carry them with you anywhere easily. It takes 90 minutes to charge and lasts for up to 8 hours. Another great feature about this machine gun is that it works with zero noise. It has a cordless design with rechargeable battery. The ultra-slim handle and rotatable massage head allow you to reach the hard-to-reach places without wrist pain.
Pros
Lightweight
Travel-friendly
Works silently
Cordless design
Long-lasting battery
3200 rpm deep percussion
Ergonomic grip
Cons
None
Designed to be used on any part of your body and ideal for adventurers and athletes, this therapeutic massager can be used on problem areas like the shoulders, feet, and legs. Extremely practical, it's easy to take wherever you go and features 3 different speeds so that the power can be adjusted according to your needs. One button controls the operation of this massager with its 2 interchangeable head attachments, making it very simple and convenient to use. Quiet as a whisper, its noiseless operation further relaxes you. It features a rechargeable lithium ion battery which can be used for 2.5 hours with every charge. This deep tissue massager enhances muscle performance, improves flexibility and range of motion, reduces stiffness and soreness, and hastens warmup and recovery. Check out an honest and detailed review of this product in this video.
Pros
Weighs just 1.5 pounds
3 different speeds
Easy to carry
Easy to use
One button control
TSA-approved for carry-on
Comes with 3 additional plug adapters
Cons
Some may not find the motor strong enough.
Price at the time of publication: $129
Minimize muscle fatigue with the Comfier Mini Massage Gun. It is equipped with a 2500mAH lithium battery that lasts for 4 to 5 hours. The lightweight design ensures portability. It has four speed levels that relieve aches and stiff muscles, thereby keeping you relaxed and fresh all day. In addition, the gun comes with four interchangeable heads to massage your shoulders, neck, back, thighs, arms, legs, and more. They help to relieve tension in muscles and shape them to keep them fit.
Pros
Noise-free
Lightweight
Reliable
Speed levels
Cons
None
Price at the time of publication: $59.99
This innovative deep tissue massage machine features 5 adjustable angles and an ergonomic handle to reach difficult spots without strain. Its high-quality 4800 mAh lithium ion battery has a life of 8 to 10 hours and can last for up to a week, depending on how often you use it. This deep percussion massage gun features 36 speed levels and comes with 7 head attachments available to tackle stress, pain, and stiffness. You can adjust the power depending on which area you want to massage. Extremely lightweight, it's easy to hold, and can be carried anywhere. Its sound level does not exceed 40 dB even at its highest speed. This massager relaxes and warms up tight muscles, relieves stiffness and soreness, and helps in muscle recovery.
Pros
Weighs just 1.1 pounds
LCD button control screen
10 mm amplitude
Quiet brushless motor
Comes with 1 year warranty
Cons
Some feel the motor could be more powerful.
Price at the time of publication: $39.99
Now that you have been through our review of the 11 best deep tissue massagers, let us give you a few tips on what to look for while choosing one for yourself so that you can say goodbye to sore and stiff muscles as you enjoy a good massage.
How To Choose The Best Deep Tissue Massagers
Deep tissue massagers usually feature several speed levels, and the higher you go with the speed level, the more the intensity of the massage. More speed levels doesn't necessarily guarantee a better performance. Usually, 3 to 5 speed settings are enough, or you will unnecessarily be clicking buttons 15 to 20 times to reach the highest setting.
Try to get a deep tissue massager with a sound level between 30 to 50 dB, otherwise the sound might end up annoying you rather than relaxing you. You should be able to hold a conversation even at the highest speed.
You need the massager to be lightweight as it's handheld and you really don't want to end up with an aching hand while relieving pain in other parts of your body. A massager should ideally be about 2 pounds in weight.
Percussion massagers feature various head attachments and you need to choose them according to what you need them for. The ball or round head is used to massage larger body parts like the back and legs, the taper head is good for smaller muscles like the wrists or arms, and the flat head is perfect for a deep tissue thigh massage, and of the calves, shoulders, and chest. The forkhead attachment is ideal for the spine and neck, and a deep tissue back massage, the acupoint head for targeted tension relief, and the trigger point massage head attachment for kneading into knots. Depending on the brand, there can be many more head attachments.
A rotating arm is perfect for reaching those difficult, elusive areas that you would like to massage. Some massagers feature a 90° rotating arm which is ideal for the upper back, calves, and hamstrings.
A cordless massager is definitely a better option, but if you do get a massager with a cord, ensure that it's at least 9 feet long. It should be long enough to plug into a socket that's not right next to you, and also have some slack.
Lithium ion batteries are a wise choice, as compared to other batteries, they hold their charge longer. Some batteries last for 3 to 6 hours which basically means you can use them daily for up to a week before you need to recharge them again.
If you travel a lot and like to carry your deep tissue massager with you, ensure that it comes with a carrying case. A carrying case not only offers protection to your massager, it's also a convenient place to store the battery, charger, and other attachments. If possible, go for a cordless massager while travelling.
Now that you know what to look for while buying the perfect deep tissue massager for yourself, it's equally important to know how to use it properly so that you don't injure yourself and get the most out of it.
How To Use A Deep Tissue Massager
Depending on your workout and the muscle group you are going to use, you can warm up the muscles before the workout by using the deep tissue massager. That would stimulate blood circulation to those muscles and improve flexibility so that there is less chance of injuring yourself during your workout. You can use the massager for 1 to 2 minutes directly on each muscle group that you are planning to use and also apply the massager on the supporting muscles for approximately 30 seconds.
Just like you use a deep tissue massager to warm up, it can also be used to cool down after a workout. It brings your body back to a relaxed state after an intense workout by blocking pain signals. It also boosts blood circulation to the muscles and enriches them with oxygen, thus reducing fatigue. Additionally, it reduces muscle inflammation and reduces soreness.
Very often, 2 to 3 days after a satisfying workout, you find your muscles screaming with stiffness and soreness. A deep tissue massager can give temporary relief from DOMS, otherwise known as delayed onset muscle soreness. You will need to set the intensity and speed of the massager at a point where it doesn't cause you pain, which would generally be a lower speed, and massage each sore area for 1 to 2 minutes.
Just remember to be careful that you don't use a deep tissue massager on open wounds, bruises, bony areas, and injuries like sprains. You should avoid using it if you are suffering from unexplained or severe pain or medical conditions like fibromyalgia or arthritis.
After reading how to use a deep tissue massager properly, you also need to understand the physical and mental benefits that you can draw from using it and the difference it can make to your life.
Benefits Of Using A Deep Tissue Massager
A massage is a great way to unwind and relieve yourself from all kinds of stress, tension, and anxiety. A great stress buster, a deep tissue massage enhances the level of oxytocin in your body, which is a relaxant and also lowers the level of cortisol. It also relieves headaches and tight muscles, helping you to relax.
Symptoms of conditions such as plantar fasciitis, stiff necks, and back pain can all be treated effectively with a deep tissue massage. It relieves muscle tension and loosens tight muscles that cause pain, and is sometimes more effective than medicines as it can directly tackle the pressure points exactly where the pain originates.
Lowers heart rate and blood pressure
As a result of reducing tension and stress, it has an impact on lowering blood pressure. It also increases serotonin production which gives you a general feeling of happiness.
Scar tissue can sometimes cause stiffness and chronic pain. Deep tissue massages improve lymphatic circulation and help break up scar tissue, enhancing the range of movement and flexibility. It also helps to reduce scar tissue in those recovering from surgery.
Rehabilitates injured muscles
A deep tissue massage is great for sports related injuries as it stretches twisted or tight muscles and helps to remove toxins from them. It prevents further damage to the muscles and reduces fatigue, cramps, and soreness in the muscles by breaking up muscle knots. It increases the circulation of blood to the muscles, carrying nutrients and oxygen to them which hastens recovery.
Helps with labor and delivery
Labor pain can be controlled with a deep tissue massage as it loosens tight muscles which helps in relaxation. Cortisol levels are also reduced, alleviating symptoms of anxiety, depression, back and leg pain.
Why Trust StyleCraze?
The author of this article, Shreya Vishwanathan, has conducted deep research and browsed thousands of forums to check user feedback. She browsed hundreds of reviews online and ran through detailed research of each product to provide the best deep tissue massager for you. Noiseless or low noise operation is the key feature the author has focused on. She relied on products crafted of premium quality that have speed settings, are easy to handle, and come with different head attachments.
Frequently Asked Questions
Are deep tissue massages healthy?
A deep tissue massage reduces both muscle stiffness and muscle pain, in contrast to other methods of massage that primarily focus on relaxing you. That's not to say that a deep tissue massage can't help you to unwind mentally. Those with chronic lower back pain are benefited greatly by a deep tissue massage.
Can we use deep tissue massager on sore muscles?
Yes, you can, provided you use a suitable head attachment and speed for the same. This stimulates blood flow to the affected area and hastens recovery. Deep tissue massagers deliver targeted vibrations and pressure to targeted areas through air conduction and offer major relief to sore muscles.
What should I do after a deep tissue massage?
After a deep tissue massage, it's important that you hydrate yourself adequately, take proper rest, if possible follow it with a bath, and eat light, balanced food. This relaxes you properly and reduces pain considerably.
How often should you get a deep tissue massage?
It's best to consult a doctor for that as they will be able to make a proper assessment depending on individual conditions. If you have a habit of working out, you can go for a deep tissue massage before or after your workout.
How long do the effects of a deep tissue massage last?
It usually lasts for about half an hour or so, but it gradually reduces chronic pain which means it will eventually last for longer than that.
Is deep tissue massage good for plantar fasciitis?
Yes, a deep tissue massage carries more oxygen to the muscles and tissues and reduces pain you may experience in the upper heel. It is therefore good for plantar fasciitis.