27 Best Creative And Unusual Demon Tattoo Designs
Channel your naughty side by getting these quirky tattoos that come in all sizes.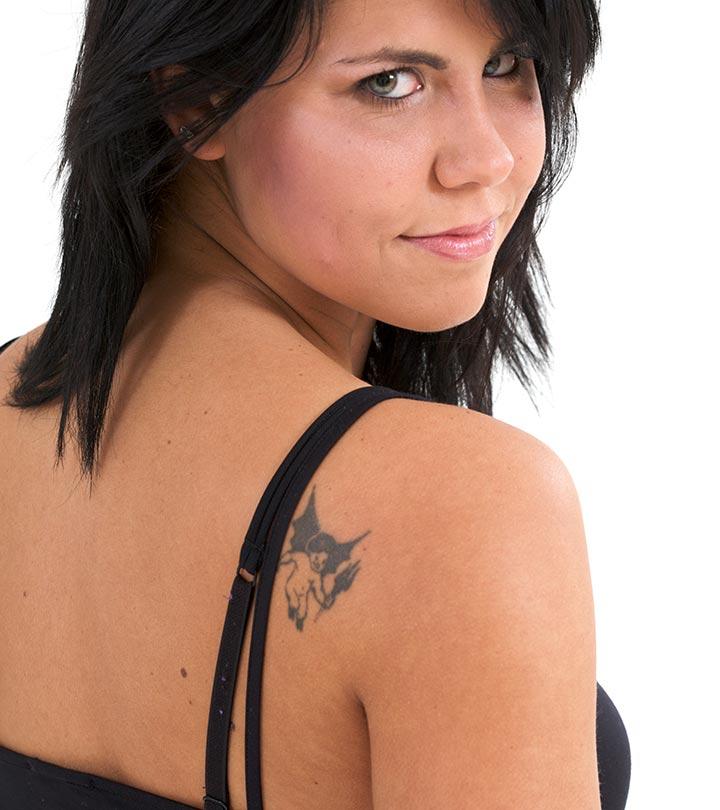 If you are fascinated by gothic art and the dark world, you probably don't mind getting a demon tattoo. There are plenty of demon tattoo designs available, representing evil and other demonic forces that people are connected with. These appealing, enticing, and influencing tattoos signify hedonistic and self-satisfying acts. So, how is a demon visualized and depicted? More importantly, how to zero in on the best designs?
Demons are usually depicted by red skin with horns, a pitchfork, and a pointed tail. Many believe demons are handsome men equipped with powers that affect souls around them. In Christianity, they are the Divine's evil twins.
To make your quest for evil tattoos easier, we have come up with our 27 top designs to keep you conscious of the evil within you. So, scroll through them and get inked as soon as possible.
27 Best Demon Tattoo Designs
1. Japanese Demon Tattoo
Japanese tattoos are famous for their unique art and tattooing technique. This elegant tattoo of the traditional demonic monster mask with fangs is sketched beautifully using black and gray ink. The tattoo extends until the back of the palm and ends in a skull head. You can flaunt this delicate and intricate design on your arm.
2. Angel And Demon Wing Tattoo
The feathered angel wing and the black wing of a devil, along with a halo on top and Onida tail at the bottom, show the duality of human nature. You can sport this tattoo on your waist, shoulder, or back.


Quick Tip
The classic angel and demon tattoo has several meanings. It may represent a person's battle through tough times or may also represent the balance between the opposing forces.
3. Skull Demon Tattoo
Skull tattoos signify both the good and the bad. They stand for life and death and symbolize the positivity that comes from negativity. This demon tattoo design has a devil head with a jewel eye and a person sitting under it who is being guided by evil. The black and gray colors make it ideal for all skin tones.


Quick Tip
The skull is a recurring motif in demon tattoos. You can also enhance it with related symbols like fire and flames to make it look eye-catching.
4. Fallen Angel Tattoo
A fallen angel is someone who was once good but turned sinful due to choices and circumstances. It may symbolize a loss of faith or free will. This tattoo design with blue and red lines depicts an angel and the devil, with the demon prevailing on the angel.
5. Grim Reaper Demon Tattoo
The Grim Reaper is believed to take the soul away from the body to hell or heaven – whichever place the soul deserves. However, because he appears at death, he is believed to depict sadness and negativity and has been pictured wearing shady robes and having a skull face. You can sport this black and outline tattoo on your forearms.
6. Arch Demon Tattoo
If you want your design to be unique, consider getting this arch demon tattoo on your upper arm. It shows the body of a devil woman with blazing eyes and a dark silhouette face. A crescent arch goes around one shoulder and below the other like a ring. The gray and black shades make it suitable for all skin tones.
7. Colorful Evil Tattoo
This colorful and stylish design of a demon wearing riding gear on a bike with clouds below and blazing fire on the top denotes rising above heaven. You can get it done on your forearm.
8. Demon Hand Tattoo
Hand tattoos are one of the best ways to showcase your personality. This Chinese demon head tattoo is done in red and black inks. The protruded tongue and bright orange eyes make the design look even more aggressive and menacing.
9. Lower Waist Demon Tattoo
This design shows a devil skull in green, with a realistic rendering of shaded devil images in the background. It offers the perfect opportunity for your tattoo artist to exhibit their talent and bring out the beauty of the design.
10. Tribal Demon Tattoo
Tribal tattoos have a distinct style. The use of traditional black ink and curves makes them stand apart from other forms of tattoos. This simple design shows a demon face with dots and a cigarette between the lips. This tattoo is based on traditional Maori art and is the perfect tattoo to depict your wild side.
11. Demon Snake Tattoo
Snake tattoos mostly signify evil forces and demonic attributes. They can be scaled to any size to make the design appealing. This dotted snake design behind the ear with a twisted body is perfect if you have razor trimmed your hair recently.
12. Stylish Demon Tattoo
This tattoo consists of an angel boy and a devil girl. The black outlines and red and blue for the horns and halo add a charm to the tattoo. You can get it done on your shoulder or back of the neck.
13. Demon Abdomen Tattoo
The demon is often portrayed with the head of a ram. This tattoo with an evil sign on its forehead is done on the abdomen. You can flaunt it in a crop top and reveal your mysterious side.
14. Screaming Realistic Demon Tattoo
If you like hyper-realistic tattoos, nothing can capture your attention more than this piece of art that can turn your skin into a live canvas. The full form of a demon with inverted fangs, ram horns, and a well-sculpted body made using black and pink ink looks truly menacing. Make sure to get it done by an artist who specializes in portraits.
15. Gothic Demon Tattoo
Gothic tattoos symbolize the dark past and events. They are often sported by people to denote an incident in the past that had a negative impact on their life, but they have moved on, and it made them the person they are today. This ram skull tattoo with molten candles on it depicts the dark side of your personality. The burnt-out candles portray the undying spirit to keep fighting even in the worst of situations.
16. Demon Silhouette Tattoo
This silhouette tattoo of a demon with a pitchfork and a half-ram, half-human body shows the transformation of a person into a demon. The black ink also portrays the dark side of human nature. You can get this tattoo done on your thigh and flaunt it in your shorts.
17. Demon Thigh Tattoo
Thigh tattoos are popular among women, and you can choose to keep them small or elaborate and flaunt them in your skirts and shorts. This dotted full-body demon tattoo shows the demon with wings, horns, and a tail and standing on one foot.
18. Miniature Demon Tattoo
Not every demon tattoo needs to be scary. If you want a small and cute design and also show off the naughty demon in you, this popular purple face demon WhatsApp emoji is a good idea. You can get it done on your wrist, waist, forearm, or shoulder.
19. Demon Arm Tattoo
This four-eyed devil mask tattoo is the ideal design to flaunt on your sleeves. The unique design calls for a seasoned artist and well-practiced and experienced hands.
20. Demon Foot Tattoo
Foot tattoos are considered to be guiding tattoos as they take you to your destination. Having a devil oppressing a human on your feet expresses your belief that everything has both good and evil sides, and it is up to the person to choose which one prevails.
21. Cute Demon Tattoo
If you ever wondered how a demon tattoo could be remotely cute, this design is your answer. This adorable black creature has horns and a tiny tail with expressive, round eyes. The tiny white highlights make the tattoo even more appealing and perfect to be inked on your forearm.
22. Demon Card Tattoo
This list is incomplete without a demon card tattoo that summons the dark powers. If you are looking for bold and spooky tattoos, you can consider either of these designs that depict death.
23. Demon Back Tattoo
This realistic tattoo of a maiden with devil horns will look amazing on your back. The background details of a wooden carving with a realistic python gliding down make this tattoo a masterpiece.
24. Demon Bicep Tattoo
If you have a lesser pain threshold, go for a bicep tattoo as the muscle and fat padding minimize the pain. This simple yet colorful design of a green devil mask with three eyes and a webbed ear collar is a typical Asian design. The bright colors used make it suitable for ivory to beige skin tones.
25. Upper Arm Demon Tattoo
This tattoo of a beautiful maiden in devil horns weeping black tears is perfect for the upper arm. The long devilish nails and the beautiful shade work make this design a head-turner.
26. Demon Neck Tattoo
Neck tattoos are probably the bravest choices due to their obvious visibility. You can get the word 'Demon' written in a font and ink of your choice.
27. Dotted Demon Knee Tattoo
This tattoo of a horned skull is drawn using dots. The upper right part of the tattoo uses light dots, and the lower part uses thicker dots to make the design stand out. The white highlight used to make the tattoo three-dimensional lends it a unique appeal.
Infographic: 7 Unique Demon Tattoo Designs
Have a fascination with gothic art and the dark world? Then you have come to the right place. These creative demonic tattoos represent evil and pleasure that people are connected with. To help you find the perfect design for you, we have rounded up 7 unique demon tattoo designs in the infographic below. Scroll down to know more!

Getting a demon tattoo is a great idea if you want to explore the dark world of gothic art. However, you should research the design well before getting inked, as tattoos are for a lifetime. There are several demon tattoo designs, ranging from skull designs to dotted snake art. Make sure the tattoo's color suits your skin tone, and you get inked by a seasoned tattoo artist who maintains hygiene. Additionally, follow some aftercare tips once you get the tattoo. Finally, get your favorite design tattooed and enjoy the rebel vibe.
Frequently Asked Questions
How do you choose the right demon tattoo design that represents your personality and beliefs?
Choose a dark, menacing-looking demon design if you have a serious and enigmatic personality. If you have a laid-back, enjoyable personality and still want a demon tattoo, try a cute little cartoon demon tattoo.
What are some popular demon tattoo designs, and what do they depict?
Demon thigh tattoos and miniature demon tattoos are popular because they depict the rebellious side of a person.
What are the best placements for a demon tattoo, and why?
Demon tattoos look particularly good on the upper and lower back, forearms, and neck. It emphasizes the person's exposed tattoo personality, while the hidden back creates a mystery about the person.
How do you find the right artist for your demon tattoo, and what should you look for in their portfolio?
Read the customer reviews, or go to the tattoo parlor, and look at their work in person.
How to care for a demon tattoo and what to expect during the healing process?
Apply an antibacterial or Petroleum jelly ointment twice a day, but do not cover it with another bandage. Wash your tattoo area with soap and water twice a day.
Can a demon tattoo be designed in a way that is both menacing and beautiful at the same time?
Yes, it can be designed; simply discuss it with your designer beforehand, and you will always be able to achieve the desired design.
Key Takeaways
If you are a fan of gothic art, emo vibes, or the supernatural, here are some demon tattoo designs to inspire you.
Demon tattoos signify hedonistic, dark, and self-satisfying actions and needs.
There are numerous creative demonic tattoo designs, ranging from skull tattoos to grim reaper tattoos.