15 Best Deodorants For Sensitive Skin You Absolutely Should Try In 2023
Sprinkle around these deodorants to smell irresistible and heavenly all day long.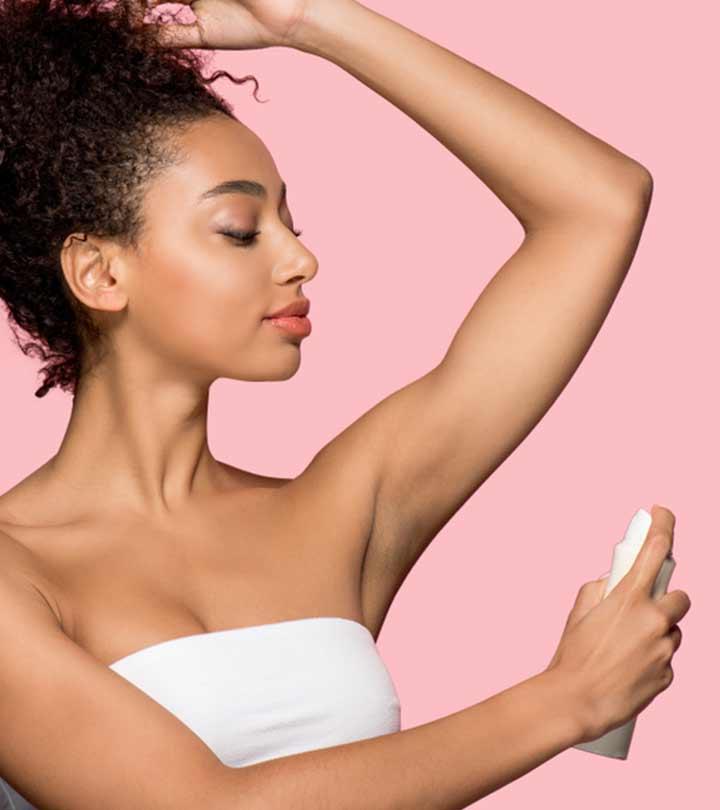 If you are experiencing redness, itchiness, and rashes in your armpits every time you spray a deodorant, it is time for you to switch to the best deodorant for sensitive skin available in the market because regular deodorants contain certain compounds and chemicals that can irritate your sensitive skin.
Since your skin is easily reactive and very sensitive, you need a deodorant that is specifically designed for your skin type. You can opt for those that are free of aluminum, harmful chemicals, artificial fragrance, and parabens. But choosing a suitable one can be a tad bit difficult since the market is always brimming with tons of them. This is exactly why we have made a list of the 15 most effective options that are worth trying. So let this article be your buying guide, and all you need to do is scroll down and find your favorite. So, what is this hold up for? Go ahead and dive in!
15 Best Deodorants For Sensitive Skin That Will Keep Sweat And Odor In Control
Who wouldn't like to smell good at all times? But does your skin get easily irritated every time you apply deodorant? If so, what you need is a deodorant for sensitive armpits such as this product by Lume. Formulated without aluminum, baking soda, artificial fragrances, and other chemicals, this doctor-developed water-based formula comes in a stick form that goes on your skin like lotion. It is clinically proven to give you 72 hours of odor protection without leaving any residue. Moreover, if you prefer scents with a masculine fragrance, you are sure to like this deodorant as it features a combination of citrus and spiced bay leaf scent.
Pros
Naturally scented
Does not stain clothes
Long-lasting odor control
Vegan and cruelty-free
Can be used on feet and private parts
Cons
Might have a thick consistency
The scent might be too strong for some.
Price at the time of publication: $16.99
If you want to bid adieu to your toxin-based deodorant and welcome a naturally made and organic formula, you have arrived at the right place! We present to you this Underarmed Active Botanical Luxury Deodorant that is aluminum-free. It is formulated with ingredients like organic coconut oil, organic essential oils, avocado butter, to name a few, and is free of toxic chemicals. Ideal for both men and women, this clear deodorant for sensitive skin goes on smoothly and stays invisible. Plus, its subtle lavender and eucalyptus scent will leave you smelling fresh all day long.
Pros
Safe to use
Long-wearing
Goes on clear
Cruelty-free
Refreshing fragrance
Pesticide-free and non-GMO product
Cons
Might be slightly sticky
May not provide complete protection against sweat
Price at the time of publication: $23.99
Looking for a fragrance-free deodorant for your sensitive skin that does not leave a messy or sticky residue in your underarm area? You might want to reach for this Mitchum Sensitive Skin deodorant, which is an invisible solid stick that does not leave any white marks on your skin. It is a dermatologist-tested formula that is well-known for its skin-soothing and calming properties, thanks to the addition of aloe vera. Best of all, this antiperspirant deodorant protects against odor and sweat for all of 48 hours, while also being gentle on your skin.
Pros
Hypoallergenic
Contains vitamin E
Does not irritate the skin
Can be used post-shaving
Cons
Price at the time of publication: $5.49
Calling all coconut fanatics! This cult-favorite deodorant by Kopari features a combination of coconut oil, coconut water, and sage oil, which work together to soothe your underarm irritation, all while its sweet coconut milk scent leaves you with a clean and refreshing fragrance. This formula does not use aluminum, baking soda, or paraben to help eliminate odor; instead, it contains plant-based enzymes that fight the odor-causing bacteria and prevent your body from releasing a funky smell. All you have to do is apply the deodorant stick on your dry underarms, and you're good to go. If you want a detailed review of the product, make sure to take a look at this video.
Pros
Non-toxic formula
Vegan and cruelty-free
No sticky or white residue
Conditions and hydrates skin
Has antibacterial and antimicrobial properties
Cons
Price at the time of publication: $11.9
If you are on the hunt for something that will keep wetness at bay and protect against odor, this Vanicream Anti-Perspirant/Deodorant is your best bet. This clinical strength formula ensures a smooth application that dries quickly, making your skin soft, and keeping it smelling fresh for 24 hours straight. In this long-lasting deodorant for sensitive skin, you won't find essential oils, dyes, botanical extracts, paraben, formaldehyde, lanolin, and other preservatives. Moreover, it is dermatologist-tested and kid-friendly too.
Pros
Gluten-free
Affordable
Glides smoothly
Scent and ethanol-free
24-hour odor and sweat protection
Cons
May leave white stains on clothing and armpits
Price at the time of publication: $19.21
If you like the beautiful blend of fruity and floral notes, you will love the keynotes of lavender and lemon in this sensitive skin-friendly deodorant by Each & Every. It has a rustic smell that is slightly heavy but is not overwhelming — instead, the fragrance has a calming and mood-uplifting effect. Unlike various other deodorants in the market, it does not contain baking soda or alcohol, which can be quite harsh on your skin. It uses dead sea salt that has the ability to neutralize unpleasant odor, keeping you smelling fresh. To top it all, the ingredients are clean and EWG-verified, making this deodorant safe to use.
Pros
Cruelty-free
Vegan and gluten-free
Sustainable plant-based packaging
Free of synthetic fragrances, aluminum, and paraben
Cons
May be slightly greasy
May stain clothes
Price at the time of publication: $17.0
Wondering how to stop the foul odor that your body emits while also smelling clean and fresh? All you need is this deodorant formulated with only 4 skin-friendly natural active ingredients. Yes, you read that right! This formula contains only 4 elements — magnesium oxide, beeswax, sweet almond oil, and natural oils. While magnesium oxide will help fight odor, the other ingredients will keep your skin moisturized. To add to that, this Sandalwood scent is hailed as the most popular MAGSOL scent, and for a good reason. It features a wonderful and harmonious blend of woody, sweet, rich, and musky notes.
Pros
Gentle formula
Long-lasting
Smooth-textured stick
Features food-grade ingredients
Paraben, baking soda, and aluminum-free
Cons
The fragrance might be overwhelming for some.
Price at the time of publication: $17.0
Whether you want to keep your body odor in control during a workout or want to apply deodorant as soon as you have shaved your underarm area, you need a deodorant that's effective and safe to use, especially if you have sensitive skin. Enter nasanta Magnesium Deodorant! Loaded with healthy magnesium and free from aluminum, this deodorant will neutralize odor and won't sting your skin. What's more? It is also free from ingredients like baking soda and ethanol, so you don't have to worry about it irritating your delicate skin. But remember that this product will allow you to perspire naturally in order to regulate your body temperature and eliminate toxins.
Pros
Paraben and fragrance-free
Non-staining formula
BPA-free bottle
Ideal for daily use
Cruelty-free and vegan
Cons
Price at the time of publication: $14.9
One of the best natural deodorants for sensitive skin, this product is formulated with all-natural and clean ingredients such as shea butter and coconut oil that keep your skin moisturized, making it smoother and softer over time. Meanwhile, the natural powders and clays in the formula keep your skin dry, clean-smelling, and odor-free for 24 hours. This Freedom Natural Deodorant is free of aluminum, parabens, phthalates, and synthetic fragrances, making it safe for allergy-prone skin. If you're a fan of playful floral scents, this Lavender Citrus-scented deodorant is the one for you. A little goes a long way with this deodorant, so a couple of swipes will do the trick. You can also check this YouTuber's detailed review to know more about the results after using this product.
Pros
Cruelty-free
Gluten-free
EWG-verified ingredients
Available in different scents
Suitable for all skin types
Cons
Might not glide easily
Using more than 3 swipes may leave a stain on clothes
Price at the time of publication: $16.99
Sweating profusely leads to wetness in your armpits, which when broken down by the bacteria on your skin causes your body to produce an unpleasant odor. So, to combat the bad stench, you need this Vasarii nakd. Thai Crystal Deodorant for sensitive skin, which is made of 100% mineral salt (potassium alum). It can cancel out the odor-causing bacteria and keep you smelling clean all day long. Since it is an aluminum-free formula, it won't clog your pores. For best results, apply this deodorant stick after a shower. All you need to do is wet this salt crystal stick and apply it to your armpit for 60 seconds. This product comes in a pack of 2, which includes a travel-size stick ideal for on-the-go use.
Pros
Unscented formula
Lasts for 24 hours
Quick-drying
Alcohol and paraben-free
Does not contain dyes
Won't leave any white residue or stain clothes
Cons
The application process may be time-consuming.
Price at the time of publication: $18.95
The adage, 'less is more', stands true for this Schmidt's Patchouli + Hops Natural Deodorant, since 1 or 2 swipes of this product are all that's needed to keep odor at bay for all of 24 hours. But before you swipe it on, remember to hold the stick for a while on the skin to warm it up a little. Certified vegan and cruelty-free, this deodorant for sensitive armpits, is rich in magnesium, coconut oil, arrowroot powder, hemp seed oil, and essential oils. You will be drawn towards the alluring aromatic scent of this deodorant, which is a heady, earthy, and a romantic blend of malt, citrus, and patchouli.
Pros
Aluminum-free
Vitamin-rich formula
No artificial fragrance
Ensures smooth application
Made from plant-based ingredients
Cons
May leave white streaks on clothes
Price at the time of publication: $9.69
This Mountain Lavender-scented deodorant by Humble will have you daydreaming about hiking in the mountains on a warm, sunny morning and picking lavender flowers from the field. This deodorant contains lavender grown at a higher altitude, which has a light yet heightened floral scent. Enriched with clean and 100% vegan ingredients such as wild-harvested candelilla wax, magnesium hydroxide, organic corn starch, and fractionated coconut oil, this product is specially crafted for sensitive skin. In addition to that, it is free of aluminum, artificial fragrance, and baking soda, which are the main culprits that can irritate your fragile skin.
Pros
Combats odor
Lasts all-day
Cruelty-free
Moisturizes skin
Paraben, alcohol, and dye-free
Cons
May leave a sticky residue
Price at the time of publication: $10.0
There is nothing worse than a deodorant that does not dry and ends up leaving a sticky white finish on your armpits. So, if you're on the hunt for a deodorant that protects you from wetness and unpleasant smell without leaving any residue, give this Vichy product a try. It features Vichy Volcanic Water that contains 15 essential minerals, which not only helps control odor but also fortifies the skin barrier to protect it from pollution and UV rays. Plus, with a clear, dry-touch finish, it will leave your skin feeling smooth. This product is not only gentle and effective on sensitive skin but can also be applied on post-shaved skin.
Pros
Aluminum-free
Contains 0% alcohol
Long-lasting for 24 hours
Suitable for all skin types
Dermatologist and allergy-tested
Ideal for low to moderate activity
Cons
Price at the time of publication: $18.0
In search of a solid stick that goes on easily and provides protection against sweat? Consider this Dove Anti-Perspirant Deodorant that's formulated to be used by people with skin sensitivity issues. It is unscented and ethanol-free, so rest assured it is gentle on the skin and minimizes irritation. All while the ¼ moisturizers in the formula soothe your irritated or post-shaven skin and make it look and feel soft. This deodorant will keep you fresh and stays effective for a period of 24 hours. It comes in a pack of 2 and is a great choice for those looking for an affordable option.
Pros
24-hour wear
Reduces wetness
Goes on smoothly
Invisible stick
Cons
May leave residue that might take longer to clean
Price at the time of publication: $9.99
If you want a deodorant that has a lovely feminine fragrance, this naturally scented rose deodorant is the one for you. A few swipes of this stick will make you smell like a rose garden in bloom. It's not just the elegant fragrance that this product is known for. This deodorant is also well-known for its natural formulation that contains only vegan, plant-based ingredients like shea butter, rosemary oil, fractionated coconut oil, avocado oil, vitamin E, and zinc and magnesium minerals. It not only absorbs moisture, but also nourishes, hydrates, and soothes your skin. Additionally, with pH-balanced protection, it will fight body odor effectively. This award-winning deodorant has absolutely no aluminum, artificial colors, baking soda, and parabens, so you don't have to worry about it causing rashes or burns on your super sensitive skin.
Pros
Hypoallergenic
Glides easily
Gluten and cruelty-free
Won't leave stains or residue
Can be used on other parts of the body
Offers odor protection for up to 24 hours
Cons
May be slightly waxy in texture
Price at the time of publication: $12.98
To determine how to choose the right deodorant for your sensitive skin, here are a few important points to keep in mind.
How To Choose A Deodorant For Sensitive Skin?
Skin sensitivity: If you have sensitive underarms that are prone to rashes and bumps upon using chemical-based products, what you need is a deodorant that's non-toxic and specially made for sensitive skin. You could also look for products that contain all-natural and skin-soothing ingredients. It's important that you read the label before purchasing the product to ensure that it does not contain irritants like aluminum, parabens, bicarbonate soda, phthalates, artificial fragrance, and alcohol.
Odor and sweat protection: The kind of deodorant you choose also depends on your sweat level. Sensitive skin-friendly deodorants are generally aluminum and chemical-free; hence, they may not completely stop you from sweating but will allow natural perspiration, which is good for your body. Additionally, most of these deodorants provide 24 to 48 hours of odor protection. Choose the one based on your preference.
Application: Almost all the deodorants on this list are roll-on deodorant sticks that are easy to use. If you are not comfortable using stick deodorants, you could go for sprays or wipes.
Fragrance: Deodorants come in both unscented and scented forms. What you choose depends on your liking. Unscented deodorants are ideal for people who like a neutral scent that will keep them smelling fresh. If you want a fragrance-based product, you can choose from various options ranging from floral to fruity to musky notes.
There you have it, the 15 best deodorants for sensitive skin that are mostly composed of natural ingredients and free from common skin irritants. Although they are gentle and safe to use, they are not one-size-fits-all. You would have to do some trial and error to find out which deodorant works for you. Rest assured, these products are sure to minimize sweat and eliminate odor. We hope this list will help you pick a deodorant that will keep you fresh for a long time without intensifying your current skin condition.
Why Trust StyleCraze?
The author, Kirtana Divakar, is a skin care enthusiast and loves helping people choose the right products for their skin through her well-researched reviews. After a careful study of a wide range of products and user reviews, she has come up with this list of deodorants that best suit sensitive skin. These products are free from parabens and other skin irritants and come with a long-wearing formula.
Frequently Asked Questions
Is charcoal deodorant good for sensitive skin?
Charcoal is considered to be a quite safe ingredient for sensitive skin as it does not fall under the allergen category. Plus, it is one of the best ingredients to use in deodorant, thanks to its ability to absorb toxins and odor-causing bacteria.
Is Arm and Hammer deodorant good for sensitive skin?
Although Arm and Hammer manufactures deodorants that do not contain parabens, phthalates, aluminum, and colorants, it does feature baking soda to fight odor. So, you might have to do a little testing before you zero in on one.