9 Best Deodorant Soaps To Help With Body Odor
Get yourself surrounded by heavenly fragrance all day long with skin-friendly soaps.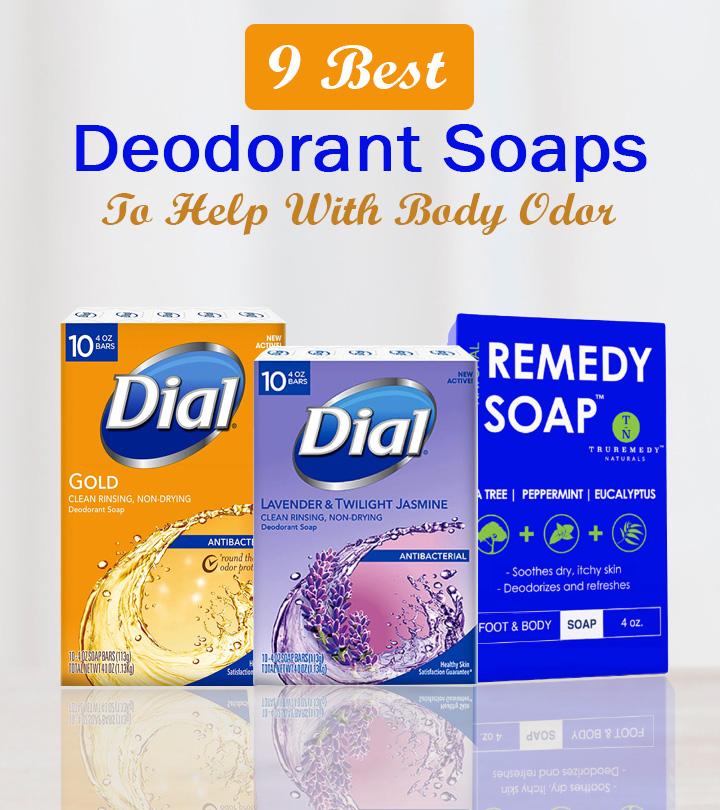 Perfumes are not always enough to mask your body odor, so it is best to nip the bud in your daily bathing routine with the best deodorant soaps. Dr. Anna H. Chacon, a dermatologist with 9 years of experience, states, "Deodorant soap functions as both a soap and a deodorant. It is a terrific addition to your toiletries as it prevents excessive sweating and eliminates body odor while deep cleansing your skin." After a long sweaty day, especially in the summers, a rigorous rub with a soap infused with deodorant can get rid of smells to make you feel refreshed stress-free. Your skin will be deeply cleansed, all impurities washed away, and the fresh smell will last throughout the day.
However, finding the right soap that is effective in terms of fragrance and good for your skin can be a task. In this article, we have put together the top 9 deodorant soaps to deal with body odor. Read on.
What Is A Deodorant Soap And How Can It Help?
A deodorant soap is a scented soap that uses ingredients to mask and prevent body odor. It also helps exfoliate the skin and keeps it moisturized. Some deodorant soaps are also known to prevent sweating. Many people use this when they go camping in the wild to keep predatory animals off their scent.
Let's now take a look at the best deodorant soaps.
Top 9 Deodorant Soaps To Try In 2023
The Coast soap has been a favorite since 1976. It is a hydrating and moisturizing soap that is known for its refreshing scent and rich lather. It rinses away easily without leaving a film behind.
Pros
Rinses away without leaving a film
Hydrates and moisturizes skin
Invigorating original scent
Rich lather
Cons 
Price at the time of publication: $17.95
The Ocean Breeze Zest Deodorant Bar Soap is rich in sea minerals which leaves your skin hydrated and refreshing. It cleanses your skin thoroughly with its rich lather that leaves no residue. Its invigorating smell rejuvenates the senses.
Pros
Rich foam
Hydrates skin
Eco-friendly
Cleanses gently
Cons
None
Price at the time of publication: $12.65
The Caswell-Massey bar soap is infused with a light floral scent of gardenia. The soothing aroma lingers on your skin and leaves you refreshed throughout the day. The plant-based formula is sustainably sourced from living NYBG flowers. This product is triple-milled that produces rich lather without using excess water.
Pros
Long-lasting
Cruelty-free
Gluten-free
Sulfate-free
Paraben-free
Phthalate-free
Cons
Price at the time of publication: $27.0
The Dial Mountain Fresh Deodorant Bar is an antibacterial soap that kills 99% of odor-causing bacteria after every wash. It is rich in a moisturizing cleanser that does not strip off the natural moisture content of the skin.
Pros
Doctors recommended
Antibacterial
Non-drying
Lathers well
Paraben-free
Silicone-free
Phthalate-free
Cons
Not ideal for sensitive skin
Price at the time of publication: $24.62
Scent-A-Way MAX Bar Soap from Hunters is a green soap made from vegetable proteins, aloe vera, and honey quat, which hydrates the skin. It also contains 0.5% triclocarban to combat odor-causing bacteria. It is further odorless and environmentally friendly.
Pros
Anti-bacterial
Odorless
Hydrates skin
Long-lasting freshness
Gentle on the skin
Cons
Price at the time of publication: $5.09
The Tokyo Love Soap Pure Girls is made from hydrolyzed elastin and hydrolyzed swiftlet extracts which gives smoother and softer skin. It effectively prevents odor for up to 24 hours. It also claims to make the pores smaller and the skin younger. It is a multipurpose soap that treats acne, eczema, chronic dryness, rashes, itching, skin fissures, and other forms of blemishes. Sodium hyaluronate and hydrolyzed silk in it increase the radiance and combat skin aging.
Pros
Hydrates
Eliminates skin issues
Heals wounds
Reduces the pore size
Synthetic dye-free
Paraben-free
Mineral oil-free
Petroleum-free
Cons
None

Price at the time of publication: $11
Irish Spring not only gives you a fresh scent, but also exfoliates your skin using scrubbing beads. The scrubbing beads mimic Celtic rock salt and moisturize and rejuvenate your skin. The soap offers 12-hour protection from body odor.
Pros
Rinses away without leaving a film
Hydrates and moisturizes the skin
Offers 12-hour odor protection
Exfoliates the skin
Cons
Price at the time of publication: $9.28
Truremedy Naturals Remedy Soap is formulated with a nourishing blend of tea tree, eucalyptus, and peppermint oils. These offer thorough cleansing and also wash away body odor, sweat, and dirt. It is designed for your mornings and evenings and also for your post-workout showers. The soap also soothes dry and irritated skin.
Pros
Provides moisture balance
Rich lather
Antibacterial
Protects from odor
Uses organic ingredients
Especially formulated for people on the move
Cons
Contains palm oil that may not be suitable for all.
Price at the time of publication: $31.99
The Mirai Purifying And Deodorizing Soap Bar contains only skin-friendly ingredients. It is handmade in Japan by soap artisans. It contains no harmful chemicals that may strip the skin's natural oils. It is free of cocamidopropyl betaine, synthetic fragrances, PEG, and preservatives.
Pros
Moisture balance
Rich lather
Antibacterial
Protects from odor
No preservatives
Cons
Price at the time of publication: $6.0
Why Trust Stylecraze?
The author of this article, Shiboli Chakraborti, is a certified skin care coach. She loves to explore different products used in skin care and always comes up with the best for the readers. The list of best deodorant soaps is curated by her after thorough research. These soaps gently cleanse the skin and keep you refreshed throughout the day. They are also skin-friendly and moisturizing.
Frequently Asked Questions
Can I use deodorant soap on my face?
No. The facial skin is pretty thin and sensitive. Deodorant soaps are not gentle enough for facial skin; they can make the skin over-dry, itchy, and red.
Which deodorant soap has a fragrance that lingers for a long time?
The Dial Spring Water Antibacterial Deodorant Bar Soap has the best long-lasting fragrance that keeps you smelling amazing all day long.
What is the difference between deodorant soap and regular soap?
Regular soaps are not always antibacterial whereas all deodorant soaps have antibacterial properties in them. Plus, they also have nice fragrances, unlike some regular soaps.
Does deodorant soap dry skin?
Yes, overusing deodorant soap can result in rashes and dryness in the skin.
Is deodorant soap antibacterial?
Yes, deodorant soaps are antibacterial in nature.
Does deodorant soap have any side effects?
If used incorrectly, deodorant soaps can show the following side effects
•  Irritation in eyes
•  Vomiting, if consumed
•  Allergic reactions
Recommended Articles: