21 Best Deodorants For Women (2020) – Reviews And Buying Guide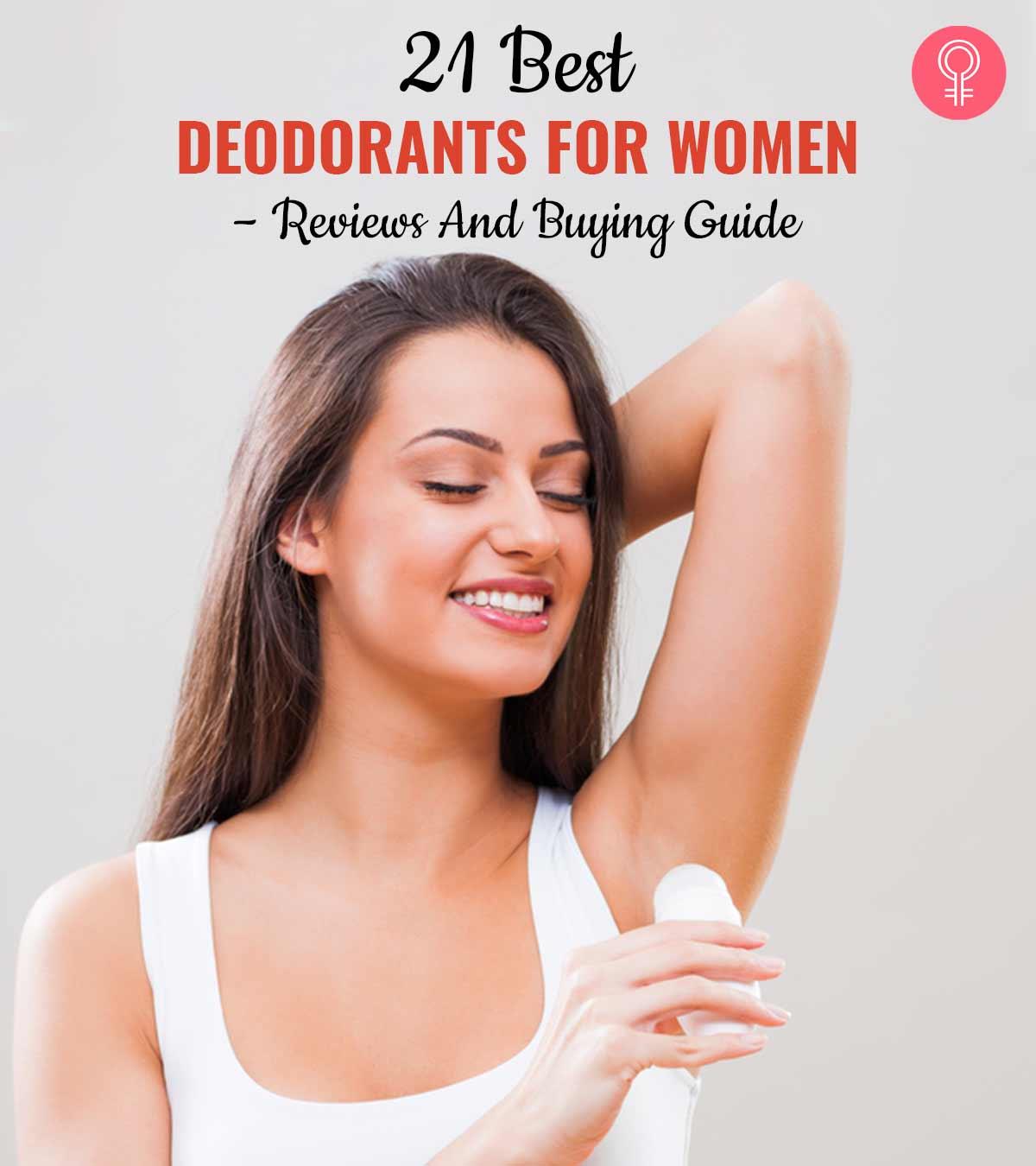 Just imagine a day without using deodorant. Those unsightly sweat stains and foul body odor sound scary, right? Deodorant can help combat excessive sweating and curb the growth of bacteria in your armpits to keep you feeling dry and odor-free. They are available in different fragrances and make you feel light and fresh under your arms all day long. In this article, we have compiled a list of the 21 best deodorants for women available right now along with a buying guide to help you make an informed choice. Scroll down to check them out!
21 Best Deodorants For Women Available Right Now
Native Deodorant is an aluminum-free natural deodorant. This easy-to-apply deodorant feels light and fresh under your arms. Its award-winning formula is suitable for both men and women and does not stain your clothes. It is formulated using baking soda and tapioca starch that neutralize odor-causing bacteria and keep you feeling dry. This deodorant provides ultimate protection from odor and wetness under your arms. Also, it is available in a wide range of natural fragrances.
Pros
Pleasant fragrance
Aluminum-free
Contains natural ingredients
Does not stain clothes
Paraben-free
Phthalate-free
Talc-free
Cruelty-free
Cons
None
Bali Secrets Natural Deodorant is a long-lasting deodorant. This skin-friendly deodorant is popular for its floral and zesty fragrance that makes you feel fresh. It is aluminum-free and does not contain any harmful chemicals. The unique combination of mineral salt with seaweed extract keeps you fresh and reduces unwanted body odor. It provides adequate protection to your skin without making it sticky or greasy.
Pros
Long-lasting
Skin-friendly
Does not contain harmful chemicals
Vegan
No aluminum chlorohydrate
No baking soda
No synthetic preservatives
Cruelty-free
Contains natural ingredients
Non-sticky
Cons
None
Crystal Mineral Deodorant Stick is a mineral-enriched deodorant. It is made of naturally-occurring mineral salt that helps prevent body odor when used on clean skin. This deodorant is unscented and free of chemicals. It creates an invisible protective barrier against odor-causing bacteria. It prevents body odor safely for up to 24 hours.
Pros
Unscented
Hypoallergenic
Dries instantly
Non-sticky
Non-staining
Dermatologist -tested
No aluminum chlorohydrate
Paraben-free
Vegan
Cruelty-free
Cons
PiperWai Natural Activated Charcoal Deodorant is the best vegan deodorant. This aluminum-free deodorant creates a pH-balanced environment under your arms where bacteria cannot survive. It leaves you and your clothes smelling fresh with a single application. It is an activated charcoal deodorant that works with your body chemistry. This vegan deodorant is infused with activated charcoal, shea and cocoa butters, an essential oil blend, and coconut oil that fight odor and wet underarms.
Pros
Vegan
Odor-absorbing formula
Gentle on sensitive skin
Cruelty-free
Gluten-free
Aluminum-free
Non-greasy
Easy to spread
Cons
Green Tidings Natural Lavender Deodorant is the best non-toxic organic deodorant. This lavender deodorant lasts up to 48 hours and is suitable for both men and women. It helps absorb wetness and offers long-lasting protection. The ingredients that are used in this underarm antiperspirant include tapioca starch that soothes and softens your while absorbing moisture, very moisturizing organic coconut oil, naturally mined sodium bicarbonate, shea butter, and wildcrafted candelilla wax.
Pros
Vegan
Aluminum-free
Fragrance-free
Non-toxic
Gluten-free
Cruelty-free
Paraben-free
Petroleum-free
Cons
Secret Clinical Strength Antiperspirant is a soft-solid deodorant for women. This waterproof deodorant gives you 2x better sweat protection. It is formulated using skin-soothing conditioners to minimize irritation and soothe dry, tender underarm skin. It offers 48-hour odor control and wetness protection.
Pros
Waterproof
Skin-soothing formula
Minimizes irritation
48-hour odor control
Unscented
Hypoallergenic
Cons
Donna Karan Cashmere Mist Deodorant is one of the most luxurious and effective deodorants for women. It controls wetness and perspiration to keep your skin dry and make it feel fresh all day. Its unique formula has a sheer fragrance that is best suited for people who only want to combat bad odor. The subtle scent of Cashmere Mist against your skin feels refreshing. This deodorant also does not clog your sweat pores. Its light formula does not feel sticky or greasy when applied on your skin. It is the best deodorant for women who sweat a lot.
Pros
Controls wetness and perspiration
Subtle fragrance
Non-greasy
Non-sticky
Cons
Secret Outlast Invisible Solid Antiperspirant offers 48-hour odor protection deodorant for women. It uses the Xtend Technology to reduce underarm wetness. This completely clean deodorant goes on dry and stays dry. It is formulated with mineral oil, which is a skin-conditioning agent that helps give a soft and smooth feel to your skin.
Pros
Long-lasting
Scented
48-hour odor protection
Cons
Secret Clinical Strength Stress Response Deodorant offers 2x better sweat protection to your skin. It is the best clinical strength deodorant for women that offers 48-hour protection from odor and wetness. It is formulated with skin-soothing conditioners that minimize irritation and soothe the dry skin under your armpits. This deodorant checks your stress sweat and gives 4x times relief than other women's deodorants.
Pros
Long-lasting effect
Reduces skin irritation
Soothes dry skin
Paraben-free
Scented
Cons
None
Kopari Aluminum-Free Deodorant is a coconut oil-based deodorant. Its unique blend of coconut water, coconut oil, and sage oil conditions and soothes your sensitive underarms. This deodorant glides on smoothly without leaving behind a sticky and white residue. Furthermore, the 100% plant-based and non-toxic formula of this deodorant aids in odor reduction.
Pros
Non-toxic
Aluminum-free
Paraben-free
Vegan
No baking soda
No silicone
Gluten-free
Cruelty-free
Cons
No products found.
Say 'goodbye' to body odor with Dove Advanced Care Revive Deodorant! This deodorant contains NutriumMoisture and ¼ moisturizers that keep your skin hydrated for a long time. Its pomegranate and lemon verbena scent is quite refreshing and lingers on your skin all day. It also contains lemon extracts that help reduce excessive sweating. This formula is gentle on your underarms as it does not contain alcohol and toxins that are harmful to your skin.
Pros
Moisturizes the skin
Combats excessive sweating
Alcohol-free
Up to 48-hour sweat protection
Does not feel sticky
Cons
None
M3 Naturals All Natural Deodorant is a high-quality product formulated with natural ingredients like coconut oil, green tea, aloe vera, magnesium, and essential oils. This aluminum-free deodorant offers adequate protection to your skin against sweat and odor throughout the day. It makes you feel fresh and does not harm your skin. This deodorant is 100% toxin-free and does not contain any synthetic fragrance, making it safe to use on your skin.
Pros
Long-lasting
Fights bad odor
Unisex formula
Non-toxic
Aluminum-free
Baking soda-free
Paraben-free
Sulfate-free
Gluten-free
Vegan
Cruelty-free
Reduces excessive sweating
Cons
None
Almay Sensitive Skin Anti-Perspirant & Deodorant is a dermatologist-tested deodorant. This gentle and hypoallergenic deodorant is specially formulated for sensitive skin. The quick-dry formula of this deodorant leaves no trace of white residue on your clothes. It provides all-day protection from wetness and odor and is safe for all skin types.
Pros
Dermatologist-tested
Quick-drying formula
Reduces underarm wetness
Hypoallergenic
Fragrance-free
Cruelty-free
Cons
None
Arm & Hammer Essentials Natural Deodorant is an unscented deodorant. The natural plant extracts and pure baking soda in it absorb odor. The natural plant extracts of chamomile, coriander, and geranium fight odor naturally. It offers 24-hour odor protection and does not leave any stains on your clothes.
Pros
Unscented
Long-lasting
Aluminum-free
Paraben-free
Phthalate-free
No artificial fragrances
Colorant-free
Cons
Degree Ultraclear Black + White Antiperspirant Dry Spray offers an all-day fresh and airy fragrance. It provides long-lasting protection against sweat without leaving white marks or yellow stains on your clothes. This deodorant is activated by your body heat and fights sweat and odor for up to 48 hours. Furthermore, it features Degree MotionSense technology that keeps you feeling fresh with every move.
Pros
Long-lasting protection
Dermatologist-tested
Alcohol-free
Scented
Cons
None
If you prefer fragrance-free products, Organic Island Deodorant is perfect for you. It has a creamy texture, and it helps your skin combat dryness as well as odor-causing bacteria. This aluminum-free deodorant with a vegan probiotics formula is ideal for sensitive skin. It contains magnesium, zinc oxide, clay, and arrowroot that prevent body odor. It also does not stain your clothes.
Pros
Does not stain clothes
Creamy texture
Combats dryness
Suitable for sensitive skin
Aluminum-free
Vegan
BPA-free
Gluten-free
Baking soda-free
Paraben-free
Alcohol-free
Cons
None
No products found.
Suave Invisible Solid Antiperspirant Deodorant offers 24-hour odor and wetness protection to your skin. This deodorant stays on your skin but not on your clothes. It does not leave residue or white patches on your clothes. Its sweet pea and violet fragrance keep you smelling fresh all day long. It also provides underarm protection as it does not contain any harmful chemicals. It is the best deodorant for women's body odor.
Pros
Long-lasting
Provides underarm protection
No residue
Reduces underarm wetness
Cons
None
Pacifica Underarm Deodorant Wipes are the best odor-neutralizing wipes for all skin types. They are enriched with coconut milk, pineapple extract, and essential oils for effective odor removal. These wipes wipe away excess perspiration and keep you feeling fresh. They are formulated without sulfates, aluminum, and parabens, and are made of fiber.
Pros
Aluminum-free
Vegan
Cruelty-free
Sulfate-free
Paraben-free
SLS-free
Petroleum-free
Scented
Travel-friendly
Suitable for all skin types
Cons
None

Magsol Sweet Orange Magnesium Deodorant does not aggravate your skin and imparts a subtle fragrance to it all day! It is made of 100% natural ingredients like almond oil, beeswax, essential oils, and magnesium oxide that neutralize odor, reduce stress and sweat, and nourish your skin. It glides on smoothly without causing irritation or rashes. The orange extracts in it make you smell naturally good while offering extended care to your skin.
Pros
Subtle fragrance
Reduces stress-related sweat
Neutralizes the odor
Does not harm your skin
Aluminum-free
Baking soda-free
Alcohol-free
Cruelty-free
Cons
None
Megababe Rosy Pits Daily Deodorant is made with a blend of natural ingredients. It contains sage and green tea leaves that prevent odor-causing bacterial growth, while rose extracts offer a subtle fragrance. This deodorant is suitable for sensitive skin.
Pros
Alcohol-free
Paraben-free
Baking soda-free
Contains natural ingredients
Prevents odor-causing bacteria
Cons
None
Keep body odor at bay with Ursa Major Hoppin' Fresh Deodorant. It is a high-end non-toxic deodorant made from natural ingredients. It contains aloe vera, eucalyptus, clay, and baking soda that help absorb moisture and soothe sensitive skin. This aluminum-free deodorant controls bacteria and fights odor naturally. This is a good deodorant for women who prefer unscented deodorants.
Pros
Absorbs moisture
Fights odor-causing bacteria
Suitable for sensitive skin
Non-staining
Cruelty-free
Fragrance-free
Aluminum-free
Non-toxic
Paraben-free
Cons
None
Deodorants are essential products for women to get rid of body odor. However, due to different features and formulas, choosing the best deodorant can be quite confusing. Listed in the next section are some factors that you need to keep in mind when buying deodorant. Check them out!
What Should You Look For In Deodorant?
Sweating is a healthy and normal thing. Some people sweat more than others and require an effective deodorant to reduce sweat. If you are using deodorants and still struggling with sweating, try a prescription-based and clinical-strength product.
The scent is one of the important factors to consider while choosing deodorant. These deodorants are available in different fresh, fruity, and natural fragrances. Based on your preference, choose the deodorant that actually works for you.
If you are sensitive to certain fragrances and chemicals, choose a deodorant with an unscented formula or the one with a moisturizing effect that reduces irritation.
Always check the ingredients list of the deodorant on the label. If you are vegan or looking for a non-toxic or natural deodorant, then checking the ingredients lists will help you make an informed decision.
There are several deodorants available at different price points. Just because deodorant is expensive does not mean it is the right one for you. So, choose a deodorant that is suitable for your needs and within your budget.
Not all deodorants have the same formula. Some deodorants last for a maximum of 24 hours and others last up to 48 hours. Look for a deodorant with a long-lasting formula based on your preference and level of activity and sweating.
Now, let's answer a few more popular questions about deodorants.
What Do Deodorants And Antiperspirants Do?
A deodorant deposits a film on your skin that makes you smell fresh throughout the day. The ingredients in a deodorant help fight odor-causing bacteria, and the added fragrances keep you smelling fresh all day long.
On the contrary, an antiperspirant contains active ingredients like aluminum and active salts that form gel-like plugs on your sweat glands to prevent sweat from reaching the surface of your skin. These salts inhibit bad odor as they possess antibacterial properties.
Antiperspirants can reduce sweating, while deodorants fight foul odor. Generally, all antiperspirants are deodorants as they minimize body odor along with combating sweating. Check out the next section to find out the difference between deodorant and antiperspirant.
What Is The Difference Between Deodorant And Antiperspirant?
Deodorant masks body odor with its fragrance, while antiperspirant combats wetness.
Deodorants
Deodorants eliminate the odor that is associated with sweat. The ingredients in deodorant fight bacterial growth and provide fragrance that is designed to mask body odor and help keep your body parts smelling fresh.
Antiperspirant
Antiperspirants decrease the amount of sweat released by plugging your sweat glands with aluminum salt compounds. Unlike deodorants, these contain active ingredients like aluminum that block the sweat glands. This decreases the bad odor generated by bacteria.
That was our list of the 21 best deodorants for women available right now. We hope this article helps you choose a deodorant that helps you get rid of body odor. Pick your favorite one from this list and try it out to feel fresh all day long!
Recommended Articles
The following two tabs change content below.

Latest posts by Sindhu Koganti (see all)

Sindhu Koganti
Sindhu Koganti is a Biotechnology graduate and has been in the writing field for over 4 years now. She specializes in writing on Health and Wellness. She has hands-on experience in writing articles and press releases on Life Sciences and Healthcare, Food and Beverages, and Chemicals and Materials. When she's not writing, she loves watching movies and listening to music. She also enjoys traveling.