13 Best Dermaplaning Tools You Can Use Right At Home – 2023
For salon-like exfoliation and instant facial hair removal, use these easy-to-use tools.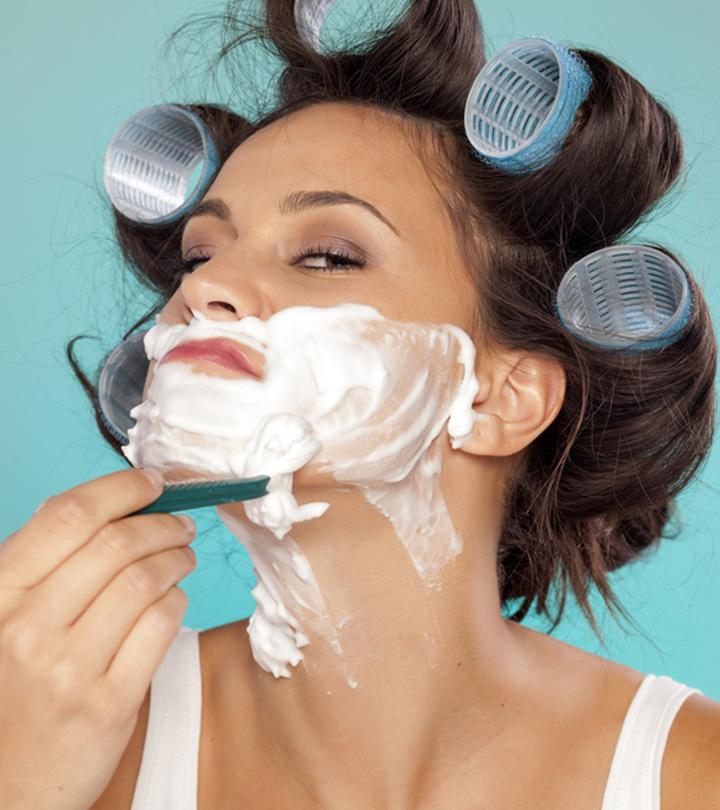 Exfoliation is a crucial component in any good skincare routine. Dermaplaning is one type of exfoliation, just like chemical and physical exfoliation methods. But having the best dermaplaning tools can make your exfoliation process easy. The superficial razor technique removes dead skin cells, unwanted facial hair (peach fuzz), and vellus hair on the face. A scalpel is used along the surface of your skin to give you a smooth complexion. Unlike other exfoliation processes like facial scrubbing and chemical peels, this method instantly removes facial hair and gives a smooth base for your makeup. It is totally worth the hype. It is a must-have beauty tool in every woman's skin care routine. In this article, we have listed the 13 best dermaplaning tools that will give you smooth and fuzz-free skin. Scroll down and check them out.
What Is Dermaplaning?
In layman's terms, dermaplaning refers to the process of shaving off excess hair and peach fuzz. But don't be mistaken if you think that's all it does! The best dermaplaning tools also exfoliate the top layer of the skin, getting rid of the top rough, dry, and dead skin. It is a non-invasive procedure that aids skin resurfacing, making your skin look instantly brighter and more radiant while allowing other products to sink in for better results. It is best to test it out on a small area of the skin to see whether it suits your skin.
Recommended by dermatologists to use at least once a month, we suggest you exfoliate at night to let your skin recover and get the radiating glow the next day. Check out the following top 13 dermaplaning tools of 2023 that are slowly becoming every woman's secret weapon to get beautiful skin at home. Read on to know more!
13 Best Dermaplaning Tools Of 2023 For Exfoliated, Smooth Skin
In the name of versatility, this gentle and exfoliating dermaplaning tool was born! Touch up eyebrows or get rid of peach fuzz with this tool that is portable and ready-to-use, anywhere, anytime. It has a hygienic design with micro guards that protect the skin against damage or cuts. This multipurpose tool by Schick Silk is gentle and comes with an extra extension to help you shape your eyebrows with precision. With three in a pack, you can now do without those costly trips to your dermatologist for a few months! If you need further convincing, check out this YouTuber's review.
Pros
Multipurpose dermaplaning tool
Removes fine hair and shapes eyebrows
 Eliminates dead and dull skin
 Designed with a layer of micro guards that protect the skin from cuts
Cons
Difficult to clean
May not suitable for very fine hair
A glowing wand for radiant skin! Don't settle for less when this LED-inbuilt static dermaplaning stick is made for precision grooming. The LED helps you seek out spots and aids in exfoliating without damaging your skin for soft skin and an even skin tone. It is hailed as the next-generation exfoliator by dermatologists and aestheticians, and you can now get the best out of these dermaplaning benefits at home! Skin looks younger, healthier, and flawless. The pack includes 1 Dermaplane Glo stick and 6 replacement heads designed with a unique safety guard to protect your skin from cuts and scrapes. In this YouTube video review, you will find detailed information about the Finishing Touch Flawless Dermaplane Glo Facial Exfoliator And Hair Remover.
Pros
Ideal for skin exfoliation
Suitable for sensitive skin types
Non-vibrating and safe
LED light for accuracy
Dermaplane heads have unique safety guards
Cons
It does not work on fine hair
This one takes grooming from head to toe, very seriously. Reaching the most inaccessible areas and ideal for bikini lines, this portable, cordless, and easy-to-use trimmer is turning grooming into an on-the-go experience, and women can't be happier. Leaving skin smooth and soft, its wide trimming blade is the secret behind its exceptional functionality. Also, the kit includes 2 eyebrow combs to get those killer-shaped eyebrows anywhere, anytime. No more expensive and last-minute panic visits to the salon, when this precision trimmer is always in your bag!
Pros
Head-to-toe hair removal
Wide trimming blade helps reach inaccessible areas
Perfect for bikini lines
2 additional combs for eyebrow touch-up
Portable, cordless, and easy-to-use
Cons
Not recommended for very sensitive skin
The Amazon Basics Multipurpose Exfoliating Dermaplaning Tool is a set of 9 dermaplaning razors. The razors feature advanced microguard technology that prevents cuts or nicks. The razors easily and effectively remove peach fuzz and fine hair, leaving your skin soft and supple with an enviable glow. The razors also come with precision covers that help adjust the blades for perfect eyebrow shaping. These multipurpose, cute exfoliator tools can be used for sidelocks, eyebrows, and other facial hair shaping or removal. According to the Amazon reviews, the sharp blades of this razor easily exfoliates the skin and gets rid of dead skin cells for a radiant finish.
Pros
Exfoliates the skin
Available in multiple colors
Does not cause cuts
Eliminates peach fuzz and fine hair
Affordable
Cons
Blades may become blunt after a few uses
The Kitsch Dermaplaner Eyebrow And Facial Razors are extremely useful to remove excess facial hair. The tools gently exfoliate the dead skin cells for a smoother makeup application and even skin tone. It comes in a set of 12 razors that help you shape your eyebrows, remove fine hairs, and eliminate peach fuzz. It improves your skin texture and enhances skin care product absorption. The tools feature 100% stainless steel blades that are durable.
Becky Sturm, a multi hyphenate beauty maven with 30+ years of experience as a hairdresser and esthetician, says, "Dermaplaning razors also stimulate collagen production, which our bodies begin to slow production of in our 30's. So, be proactive and begin using one as soon as you have unwanted facial hair you want to remove. I recommend it once every two weeks."
Pros
Easy to use
Improves product absorption
Durable
Removes dead skin cells
Eliminates peach fuzz
Travel friendly
Cons
The blades may be too sharp for sensitive skin
Go gentle on your skin with the Dermaplaning tool from Stacked Skincare. Unlike other tools that may leave your skin dry or with scratches, this one is a blessing in disguise! It is ideal for deep shaving, dry skin, peach fuzz, and facial hair. The product glides like a feather, with its unique blade safeguarding the skin while working its charm of removing unwanted hair growth and dead skin cells. A few light strokes, and it instantly makes the skin look smoother, softer, and brighter than before. Its gentle exfoliation also increases the absorption level of serums and lotions in your skin so as not to aggravate problems like cystic acne. If you are still unsure about the usage of this professional skincare tool, check out this video review.
Pros
Easy-to-use disposable blade tool
Gentle exfoliator and hair remover
Removes excess dead skin cells and facial hair
Instantly smoothes, softens, and brightens skin
Cons
The blade might not be as sharp as expected
If tweezers hurt you while picking your tiny brows, then this is the one for you. The Tinkle Dermaplaning Razor Tool Kit comes with 3 razors that are something you will carry wherever you go. The stainless steel blade is high-quality, safe, and hygienic for the skin, and it comes with a safety cover. Apply a moisturizing gel on the skin, use the razor to remove fine hair from your eyebrows and the face without harming your sensitive skin.
Pros
Safe and easy to use
High-quality stainless steel
Comes with a safety cap
Easy to use
Cons
If not careful, one might get hurt.
This is a kit that is sure to pamper your skin like a revitalizing spa treatment! This kit comes with a razor that offers 2-in-1 exfoliation by removing excessive peach fuzz and eliminating dead skin cells. This leaves your skin smooth, soft, and supple. The vitamin C serum infused with 20% hyaluronic acid also contains powerful antioxidants that recharge your skin, help reduce fine lines, and impart a natural glow. Easy-to-use and safe with non-invasive derma blades, these razors are ideal for beginners too.
Pros
2-in-1 exfoliation
Reduces fine lines
Safe and easy to use
Vitamin C serum hydrates and moisturizes
Cons
The serum is recommended for sensitive skin
The irritation and razor bumps that follow post dermaplaning is not what your skin deserves. Made from high-quality Japanese blades, this dermaplaning tool is safe to use on skin and can be easily used at home. This premium device also helps improve skin texture and reduces fine lines and wrinkles. Featuring an excellent ergonomic grip, you'll love how it exfoliates the dead skin cells in a glide.
Pros
Ergonomic grip
Glides easily on skin
Exfoliates facial hair and dead skin
Ideal for shaping and sculpting eyebrows
Improves skin texture and reduces fine lines
Cons
Caution recommended, the blades are sharp
Are you looking for something better than a razor to eliminate the peach fuzz? Well, the Spa Sciences SIMA Sonic Dermaplaning Tool is the one for you. Powered by sonic technology and speeds that not only eliminate dull and unwanted peach fuzz, but it also guarantees a painless experience while targeting enlarged pores. This exfoliating dermaplaning tool hugs the skin gently to reveal a more even skin tone and improves the appearance of fine lines. Ideal for shaping eyebrows, this facial hair removal tool is portable and easy-to-use at home.
Pros
Removes unwanted facial hair
Reduces fine lines and large pores
Painless and effortless experience
Suitable for face, upper lips, and eyebrows
Cons
Does not work on fine and small hair
If precision is what you seek, then that is what you will get. Why use one derma blade for all the areas, when Finishing Touch has specifically designed four blades that cover all your facial grooming needs. Use the long blades for cheeks, forehead, chin, and larger areas, and use the small ones to exfoliate and trim around eyebrows, nose, and upper lip. Eliminate facial hair and scrape off the dead skin with these supreme-quality facial blades that also double up as an overall grooming tool! Reviewers rave about the smooth finish and enjoy the visible results delivered by this razor.
Pros
Eliminates peach fuzz
Promotes new, fresh and glowing skin
2 long blades to exfoliate larger areas
The blades also have brushes for grooming
2 small blades to clean and trim smaller areas
Cons
Not suitable to remove minute peach fuzz
So long peach fuzz! Michael Todd Sonicsmooth Replacement Kit For At-Home Dermaplaning has seven single-use safety edge blades for you. The kit packs a degreasing prep cleanser and a soothing after-treatment gel too. This means smooth, uneven, and naturally glowing skin forever. Get rid of unwanted hair, exfoliate the dead skin, and enjoy fuzz-free skin in a glide. Safe, gentle, and easy-to-use, this ultimate pro-TLC kit with before and after treatment tubes is the best way to a salon-like facial glow at home that delivers visible results.
Pros
Easy-to-use
Designed with a non-invasive blade
Seven single-use safety edge blades
Comes with a prep cleanser and after-treatment gel
Cons
Razor sharpness not enough for fine hair
Leave no brow or facial hair out of place with this exfoliating dermaplaning tool from Philips. Featuring 3 precision blades, it rids facial hair efficiently and trims and shapes eyebrows while allowing you to comb them for the perfect-shaped brow. Compact and travel-friendly, this trimmer is powered with batteries to provide you with a seamless grooming experience. It will help you achieve a smooth, hairless look discreetly, regardless of where you are.
Pros
Compact and travel-friendly
Safe for the entire face
2 attachments for trimming and shaping hairs
Comes with a travel cap and cleaning brush
Cons
May not glide smoothly when face is wet
And that was it! Our list of the 13 best dermaplaning tools you must get your hands on in 2023 for clean and clear skin. Before choosing the best at home dermaplaning tool for yourself, here are a few pointers to keep in mind.
How To Choose The Best Dermaplaning Tool For Your Skin
A blunt blade is as useless as having no dermaplaning tool. To effectively remove facial hair, one must have a dermaplaning device that is sharp enough to remove facial hair, peach fuzz, and dead skin cells for soft and smooth skin.
Size is an important factor to consider before choosing the perfect face dermaplaning tool. Select a device that is not only compact and portable, but also one that is travel-friendly and discreet, so you can achieve exfoliated, hairless, and smooth skin, wherever you go.
While dermaplaning blades are made from different materials, skin experts suggest we use stainless steel blades. This is because it is considered more hygienic than carbon steel, and its sterilization after each use prevents skin infections and injury. It also lasts longer and won't rust after being washed. Known to reduce inflammation, stainless steel is an ideal choice for removing facial hair.
Since the process of dermaplaning involves removing hair and dead skin cells with a sharp blade, it is a must to have a tool that is ergonomically designed with an efficient grip for comfort and safety. Therefore, regardless of what dermaplaning tool you decide to go with, it is essential that you pick one with a good grip to prevent accidents, cuts, and bruises. Look for one with a metal blade handle that offers a comfortable grip while being lightweight.
Choosing a dermaplaning tool with reusable handles and replaceable blades is not only environmentally friendly but also economically a wise choice. It saves you from frequently spending on the entire tool once it wears out or becomes blunt. Simply replace the handle and blade when needed, and you have yourself a dermaplaning tool that is as good as new!
How To Use A Dermaplaning Tool At Home
The use of these professional-grade tools is relatively easy. Simply hold the device with your dominant hand, ensuring the blade angle is towards the direction of hair growth, and carefully start shaving the skin while holding back and stretching your skin with the other hand. Rinse thoroughly after.
Why Trust StyleCraze?
Kirtana Divakar is a skin care enthusiast. She is constantly on the lookout for skin care tools that help keep your skin healthy. Here, she has compiled a list of the best dermaplaning tools that can help you achieve smooth and youthful-looking skin. She conducted thorough research and considered the safety, usability, and other parameters before recommending the best products to her readers.
Frequently Asked Questions
Is it safe to do dermaplaning at home?
Of course, it is! Dermaplaning is one of the most convenient hair removal methods recognized in dermatology and can be safely conducted at home with the right device.
Should I moisturize before dermaplaning?
While you can moisturize before, it is recommended to just wash your face and use a toner for dermaplaning.
How often should you use a dermaplane at home?
Once every 2 or 3 weeks is ideal for dermaplaning.
What should I put on my face before dermaplaning?
Before dermaplaning, it is recommended to double cleanse, so skin is left clean and fresh.
Should I moisturize before dermaplaning?
No, it is recommended to moisturize your skin after dermaplaning. Your skin's barrier may be vulnerable after the procedure and require some external moisturization and the goodness of hydrating skin care products.
How can you care for the skin before and after dermaplaning?
Before dermaplaning, keep hydrating your skin to maintain its softness and elasticity. Use an antibacterial skin care product to keep your skin free of harmful bacteria. Stay away from sunlight and do not use any shaving product as well.
After dermaplaning, avoid going out in the sun for three to four days. Do not use scrubs or exfoliants at all. Apply moisturizing skin care products to avoid your skin from drying up or looking dull.
How long does dermaplaning take to heal?
For most patients, dermaplaning takes a day or two to heal. You can carry on with your normal activities the same day without any hindrance.
Does hair grow back thicker after dermaplaning?
No, your hair does not grow back thicker after dermaplaning, nor does it change color.
Does dermaplaning work for wrinkles?
Yes, dermaplaning can reduce the appearance of wrinkles and prevent them from occurring. The exfoliation process removes dead skin cells and dirt while prevent aging signs from cropping up.
Does dermaplaning tighten skin?
Yes, dermaplaning improves the texture of your skin while tightening the large pores on your face. It also improves the overall health of your skin.
What dermaplaning tool do estheticians use?
The main dermaplaning tool that estheticians use is a sterilized surgical scalpel that removes dead skin cells while effectively shaving the surface of your skin.
Recommended Articles