9 Best Derma Rollers For Hair Growth Of 2021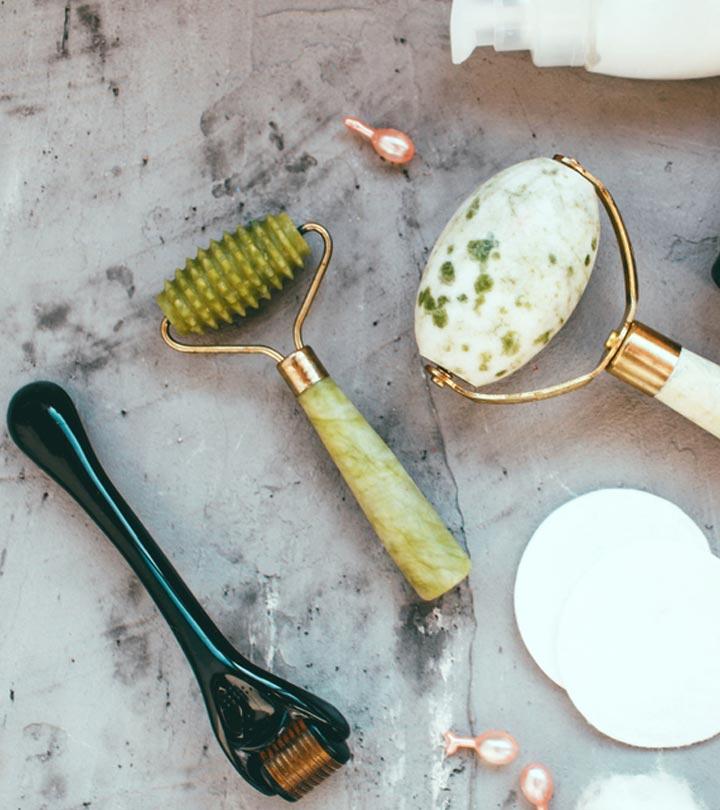 If you're someone who follows beauty and skin care trends closely, chances are you have heard of derma rolling or microneedling. This is a technique that uses a tool called derma roller consisting of tiny, thin needles to puncture the surface of your skin and promote collagen production. It is hailed as one of the best devices that help reduce acne scars and eliminate fine lines and wrinkles on our face, giving us smoother, firmer, and brighter skin. However, what we didn't know is that derma rollers are one of the best devices used to promote hair growth as well. Using this on your scalp helps stimulate cell production and improve blood circulation, which further boosts hair growth.
The thought of hundreds of tiny needles pricking your scalp may sound absurd, but it could be one of the best things that happened to your hair. But as much as it is important to find the right one for at-home use, it is essential to know how these devices work. Are you eager to try it out already? Then scroll down to find the 9 best derma rollers for hair growth and everything else you need to know about them. So, let's get rolling!
9 Best Derma Rollers To Boost Hair Growth On The Scalp
What is better than 1 derma roller? 2 derma rollers! Yes, that's right, and that too at a budget-friendly price. NoveLife Microneedle Derma Roller is one of the best at-home derma rollers to be used by a novice. It uses 0.25mm needles to deliver a minuscule prick on your scalp that is painless, promotes collagen production, and stimulates hair growth. It consists of 540 microneedles that are made of high-end titanium, which makes this derma roller corrosion-resistant, strong, and durable.
Pros
Prevents hair loss
Enhances the absorption of moisturizing nutrients
Non-invasive
Suitable for face as well
Recommended for men and women
100% money-back guarantee
Needles will not break or wear
Cons
Tends to cause slight pain initially
Similar Products
This derma roller kit includes all the essentials required for a successful at-home derma rolling session. It comes with a derma roller, a cleaning cup, and a handy bag for convenient storage. It uses 0.3mm stainless steel-titanium microneedles that are slightly longer and pierces your skin deeper, which helps your scalp absorb hair creams or serums better. The cleaning cup is meant to be filled with rubbing alcohol, which is used to sterilize the device and keep it free from germs. It is also UV/Gamma sterilized for added protection.
Pros
Improves hair growth
Features 540 needles
Includes sterilization cup and instruction manual
Can also be used on face and body
Suitable for men and women
Cons
Similar Products
Are you suffering from excessive hair loss? Then, Alphaluxy Derma Roller might be the right choice for you since it is scientifically designed for hair regrowth. Made using 540, 0.5 mm medical-grade titanium needles, this derma roller penetrates deep into the dermis to restore the natural production of collagen, elastin, and keratin, which, in turn, accelerates hair growth. This needling device comes along with a carry case for convenient storage and portability.
Pros
Promotes thicker hair
5 mm microneedles for deeper penetration
Helps reduce acne scars and wrinkles on the face
Complimentary derma rolling educational guide
FDA-approved
100% satisfaction guarantee
Cons
May take longer to show visible results
Similar Products
Prick and roll those bald patches on your head away with the help of Priotone Microneedle Roller. This high-end titanium microneedling instrument can stimulate hair growth and lend you thicker and stronger mane over time. Specially designed for home use, this device is designed with a needle length of 0.25 mm that creates painless micro-injuries on your scalp to help regenerate hair follicles. The needles are made of titanium, which makes this device long-lasting.
Pros
540 microneedles
Improves your scalp's ability to absorb topical hair serums
Includes a storage case
Helps reverse the aging process
Suitable for men and women
30-day 100% money-back guarantee
Cons
Similar Products
Stimulate your skin with the Thappink Derma Roller Kit for Face Body Beard Hair Growth. This multipurpose kit is equipped with 3 replaceable roller heads to meet the different needs of the user. The 0.25 mm roller head is for sensitive skin and scalp, 0.5 mm to produce collagen, and 1.0 mm to reduce stretch marks. Each replacement roller head comes with a dedicated storage case. This roller kit stimulates the cells and promotes hair growth. In addition, it comes with 2 LED lights roller – red to improve blood circulation and blue for eliminating bacteria and acne.
Pros
 Multipurpose
 Convenient to carry
 Ergonomic handle
 LED light
 Easy to use
 Unisex product
Cons
None
Similar Products
The Camellia Microneedle Derma Roller is equipped with 540 titanium microneedles of 0.25 mm in length to offer a safe use on your skin. This tool helps to smoothen the skin and make it appear healthy. You can also use this derma roller on the skin along with the skin-repairing serum to nourish your skin deeply. A convenient anti-slip grip helps in smooth rolling. The derma roller when used on the scalp and beard region, effortlessly promotes hair growth.
Pros
 Durable
 Multipurpose
 Easy and comfortable
 Versatile
 Anti-slip grip
 Ergonomic handle
 Budget-friendly
Cons
Now you can relax knowing that there is a product that helps prevent hair loss! SkinRollrz Derma Roller is one of the best derma rollers for hair growth. Using high-quality titanium needles to penetrate the skin on your scalp, it stimulates the natural healing process of the body. This prompts the production of natural protein and new tissue growth, resulting in healthier, thicker, and lustrous locks over time! This derma roller features 540 microneedles, each measuring 0.25mm, which is considered to be the safest length for at-home use.
Pros
Safe and painless technique
FDA-approved
Considered as one of the best anti-aging skin care tools
Helps in the better absorption of creams and serums
Recommended for both men and women
Cons
May take longer to show results
Thappink Derma Roller is an ideal pick to grow beard and hair at the comfort of your home. It is made using .5mm microneedles that enable deep penetration of products while gently massaging the scalp. It also boosts collagen growth, improves product absorption upto 90%, thus accelerating beard growth effectively. The derma roller comes with an instruction manual for better user experience.
Pros
Promotes beard and hair growth
0.5mm microneedles for deeper penetration
90% increase in absorption
Exfoliates and improves skin's texture
Easy to use at home
Cons
Might take long to show visible results
For personal use only
For those of you who want to test the microneedling waters, JJ ELLIE Derma Roller Kit is one of the best! It helps improve blood circulation, aids in the development of new and healthier hair follicles, and reduces hair loss. It also works towards making your hair more susceptible to topical products. This 0.25 mm cosmetic-grade titanium needling device is gentle on your skin, easy to use, and highly effective.
Pros
Includes 540 needles
Increases the absorption of hair products
Works as an exfoliating tool for face and body
Comfortable to hold and easy to maneuver
Boosts blood circulation
Includes a protective case for storage
Cons
Tends to work better only when this device is used along with a hair growth product
May not be suitable for sensitive skin
Now that you have gone through the list of the 9 best derma rollers in the market, here are a few factors to consider before you invest in one.
A Buying Guide To Choose The Right Derma Roller For Hair Growth
 Prior to purchasing a derma roller for your hair, it is important to take these points into account:
Know What A Derma Roller Is
 A derma roller is a handheld cosmetic device that consists of hundreds of sharp microneedles. When it is rolled over the surface of the skin, it causes micro injuries. Our skin responds to these injuries and triggers our body's healing mechanism. This, in turn, promotes collagen production, leading to firmer skin and brighter complexion. This device is used to repair the skin on your scalp, face and body, and uses needles that are anywhere between 0.25mm to 1.5mm in length based on the model you choose.
Derma Roller To Promote Hair Growth
Derma rollers work the same way on our scalp as it works on our face and body.
As we age, our scalp also loses collagen, resulting in slow/no hair growth and more hair loss. So when a derma roller is used on the surface of our scalp, it creates tiny wounds that prompt our body to produce new tissue to repair them.
These microneedling devices also stimulate blood circulation, which, further, restores new hair follicles and prevents hair loss.
It also helps increase the absorption of hair treatment products into the skin.
How To Use a Derma Roller On Scalp
Here are a few essential steps that you need to follow when derma rolling on your scalp. That being said, if you are in doubt, it is best to consult a dermatologist or a licensed esthetician for more information.
Firstly, choose a microneedle that is safe to use on the scalp. It is said that needles that are 0.25 to 1 mm are effective in preventing hair loss.
Sanitize the derma roller. Let it soak in disinfectant alcohol for at least 10 minutes.
Derma rollers should only be used on a clean scalp. So, wash your hair with a mild cleanser to remove dirt and grime. Dry your hair thoroughly.
Place the derma roller at the edge of the targeted area where you want to boost hair growth.
Roll the device slowly in 4 directions – first horizontally, then vertically, and finally twice diagonally. You need to apply pressure so that the needles penetrate your skin. This may cause a slight tingling sensation. But remember not to apply too much pressure, which may lead to pain and bleeding.
If you are using them in the area where there is hair, roll the device in the direction of hair growth so as to not break hair strands.
Once done, ensure to wash the derma roller with an antibacterial soap and sanitize again in a disinfectant alcohol solution. Allow it to air dry, after which you can store it in a box.
Immediately after the microneedling treatment, apply any hair growth oil or serum on your hair, which aids hair regrowth.
Side Effects Of Derma Rollers
Given below are a few side effects derma rollers could cause
Severe bruising
Skin peeling
Infection
Extreme redness and irritation that does not reduce
We have searched high and low to give you all the information that you would need to make your at-home derma rolling sessions comfortable. But it is essential that you follow the instructions correctly and also use it only as recommended by the manufacturer. Along with using derma rollers, you also need to adhere to a healthy lifestyle to achieve long-lasting benefits. Check out our list that comprises 9 best derma rollers for hair growth. Have you tried any of these devices? Please do share your experience with us by leaving a comment below.
Frequently Asked Questions
How long does it take to see results from derma rolling?
It depends from person to person, but ideally, one should see visible results in a month or two.
Does derma roller cause a skin infection?
It does not cause infection unless you use it on an inflamed or wounded scalp, apply more pressure than necessary, or if you use another person's device.
How hard should I press a derma roller when using it?
You need to press the derma roller hard enough that it pricks and penetrates the surface of your scalp, but not too much that it causes bleeding or discomfort.
Recommended Articles: