11 Best Designer Belts For Women To Elevate Your Outfits
Adding a fun and chic designer belt can help you ace any look flawlessly and smartly.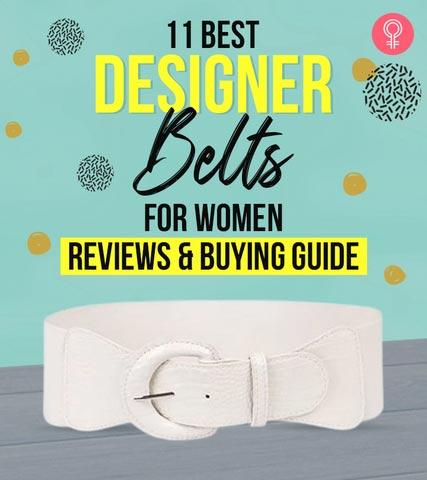 To take your outfit up a notch, all you need is a belt that brings the entire look together. That's why investing in designer belts is never a bad idea. A single belt will change your entire look, and these accessories will ensure you go from drab to fab in a second. If you are not sure about what to buy, we are here to help. Here are the 11 highest-rated belts to invest in.
11 Best Designer Belts For Women
The Grace Karin Belt is not just about style and class, it's also about the user's convenience. It is designed with a faux leather hook buckle that allows for easy wearing and removing. Additionally, this 3-inch wide belt can stretch to provide you with the comfort you need. As it is one of the best designer belts, you can wear it with your skirts, T-shirts, dresses, jackets, etc. Be it casual, cocktail, vintage, evening, or bridal dresses, this sexy and classic belt will give you that elegant look that you want.
Specifications
Sizes: Small to XXXX-Large
Color: White
Material: Elastic Band, Alloy, and Polyurethane Leather
Pros
Wide elastic waist
Stretchable
Long-lasting
Easy to adjust with the buckle
Cons
Not suitable for narrow-waisted women
Taffeta Alley Women's Leather Belt is a versatile choice as you can pair it with every outfit in your wardrobe. It's great for both jeans and dresses, whether you're going out on a date or heading to the office for work. Its snake buckle is outstandingly simple yet distinctively stylish. The belt is made from soft and long-lasting PU leather to offer comfort, functionality, and durability. This exquisite belt comes with a storage bag.
Specifications
Sizes: 6-40.6 inches
Color: Black and Gold Buckle
Material: PU leather
Pros
Outstanding craftsmanship
Scratch-resistant
Sturdy
Cons
Wear those gorgeous party dresses and enhance them with this bling belt to boost your confidence. The Whippy Rhinestone Belt is made of silver-tone alloy with beautifully glittering rhinestone accents. This belt is suitable for casual occasions too and will help you make a great statement and stand out from the crowd. You can wear the belt with a blazer, jeans, maxi dress, or even sweaters. Its flexible size makes it easy to adjust to your comfort. This belt is perfect for gifting purposes as it comes with an elegant gift box.
Specifications
Sizes: 27-48 inches
Color: Silver
Material: Silver-tone alloy, rhinestone accents, and gleaming crystals
Pros
Easy to adjust
Top-notch quality
Cons
May get snag on certain fabrics
This double-ring closure belt from Whippy offers the best design for any casual or classic wear. It is soft, comfortable, and fashionable. It matches with any outfit you wear. The Double O-Ring Women's Belt is constructed using high-quality faux leather with a vintage gold double-O ring buckle. In addition, this fantastic designer belt comes in 6 different sizes to choose from, including small, medium, and large.
Specifications
Sizes: Small – XXXL
Color: Black and gold
Material: Leather
Pros
High-quality construction
Durable
Comfortable wear
Cons
None
Do you want to look stylish without looking over the top? This Utenew belt is the right option for you. Its perfect width makes it appropriate to use on any pants, even those with small loops around them. This designer leather belt for women is constructed with comfort, fashion, and durability in mind. It is made with breathable material. The belt features a fashionable heart-shaped buckle to enhance your look. Thanks to its unmatched versatility, you can wear this belt with shorts, jeans, pants, and dresses.
Specifications
Sizes: 29-35 inches
Color: Plain black belt, silver/gold buckle
Material: Soft PU leather
Pros
High-quality
Easy to wear and remove
Wear-resistant
Waterproof
Cons
The Swtddy Stretch Waist Women's Belt provides a custom fit. This belt is made using high-quality materials that are durable and ensure a classic look. Its unique metal buckle is stylish and offers an easy way of fastening. You can use the belt for casual or formal wear in any season. Be it tops, shirts, dresses, or tunics, this belt goes with any outfit.
Specifications
Sizes:36-45 inches
Color: Black, beige, and camel
Material: Polyester, alloy, Spandex, and PU leather
Pros
Stretchable
Durable
Easy to remove
Good-quality material
Cons
Not suitable for wide-waisted women
Want to rock a bold look at your next party? The Whippy Double O-Ring Rhinestone Belt is what you need. The sexy bling-bling design and silver-tone alloy construction of this belt are enhanced with glittering rhinestones and a double stone O ring. This accent makes this belt a must-have for any stylish and fashion-conscious woman. You can pair this belt with blazers, jeans, maxi dresses, or sweaters.
Specifications
Sizes: 35-49 inches
Color: Silver
Material: Rhinestone and alloy metal
Pros
Good-quality material
Easy to use
Flexible
Cons
Can break easily without proper care
The Udekit Double Grommet Women's Belt has a simple metal eyelet incision design. It comes in three different color options to meet the needs of your daily wear. These colors (brown, white, and black) can be paired with any kind of outfit. It is made with top-notch faux leather and an alloy buckle with perfect stitching and excellent polishing.
Specifications
Sizes:25-32 inches
Color: Color black, white, and brown
Material: Soft faux leather
Pros
High-quality stitching
Great for casual wear
Cons
The Reversible Belt from Michael Kors has a highly polished charm buckle, making it look classy and stylish. Thanks to this high-quality buckle, it is easy to wear, adjust to the most comfortable point, and take off. In addition, there's a signature logo print on the buckle that enhances the style and authenticity of this belt. It is one of the best-looking designer belts that goes well with any formal or casual outfit.
Specifications
Size: Small-XL
Color: Black and brown
Material: Faux leather
Pros
Convenient design
Durable
High-quality construction
Stylish buckle
Cons
None
The Skinny Dress Women's Belt from Vitogiftria is made from high-quality material that serves you for a long time. The belt features elastic polyester, which offers impressive elasticity and stretches to accommodate the size of your waist. The flexible nature of this luxurious belt allows easy and convenient wearing and taking off. It has an adjustable band with a classy buckle to provide a comfortable fit around your waistline. This elegant accessory can be paired with jeans, skirts, and leggings. It also goes perfectly with black dresses.
Specifications
Size: 56-41.33 inches
Color: Black
Material: Metal and elastic polyester
Pros
Stretchable
High-quality material
Flexible
Easy to use
Cons
Jessica Simpson Women's Fashion Belt is trendy and comfortable to wear. The belt enhances the look of your outfit with its chic signature snake buckle with a gold finish. It's made with durable PU leather, which helps it to remain securely around your waist. Moreover, it features many strap holes to allow you to find the perfect fit. The belt suits a casual or formal outfit. It is available in a wide range of sizes to choose from.
Specifications
Sizes: Small – X-Large
Color: Black
Material: 66% PU leather and 34% Bond
Pros
Gold-polished buckle
Offers a perfect fit
Durable
Easy to wear
Cons
None
Choosing a good designer belt involves considering a lot of factors. Learn how to choose the best designer belt below!
How To Choose The Best Designer Belts For Women
Versatility is the first thing you should keep in mind when looking for the right designer belt. For instance, if you're buying a belt for your dresses, ask yourself how many of your outfits will go with the belt you choose. Many of the best cheap designer belts are crafted to go well with almost any outfit you wear – casual or formal – in any season. Investing in such a belt will help you save a lot of money and avoid clutter in your closet.
If you're going for a casual belt, you should consider how often you plan on using it. Since designer belts don't sell at cheap prices, you need to find a good use for them. If you want to use the belt frequently, then leather is the best option as it is durable and easy to maintain. That makes it worth the price even if it's a bit steep.
You also need to consider your body shape. For example, if you're on the heavier side, avoid choosing bulky belts. Instead, consider the color that dominates your wardrobe and pick a belt that will go with it. It would also be essential to invest in at least three or four unique belts, such as skinny ones, wide ones, and embellished ones. That will ensure that you have something to wear for every occasion.
You don't just want a stylish and trendy belt for that special casual or formal occasion – you want something that you can use for a long time. While choosing the right designer belt for your needs, pay attention to the material. Some materials look good but don't last long. On the other hand, most high-quality designer belts are made of PU leather and other materials that ensure considerable durability. A durable belt will give you value for money.
Some people are conscious about the brands they buy. If you have many clothes from a specific brand, you may want to purchase your belt from the same brand as it is most likely to go well with the outfits. Some great brands for belts include Jessica Simpson, Vitogiftria, Michael Kors, Whippy, and Utenew.
Why Trust StyleCraze?
The author, Baishali Bhattacharya, is a certified image consultant who loves to review different products and keeps up with the latest fashion trends. She went through numerous feedback on multiple forums and websites to curate a list of the best designer belts for women that will help you go drab to fab in a second.
Frequently Asked Questions
Why do people wear designer belts?
Besides the fact that designer belts from renowned brands are made of high-quality, durable materials, they add glam to your outfit. Designer belts amp up your fashion statement and make you look chic, polished, and sophisticated.
Do designer belts have to match your outfit?
If you want a formal or semi-formal look, match your belt with the tone and texture of your outfit. Pick a color that complements the color of your outfit, especially your shoes. On the other hand, if you are attending a party and want to catch every eye in the crowd, wear something loud and dazzling.
Do belts and shoes have to match?
Yes, traditionally, if you carry a formal look, your belt and shoes should match in color, texture, and finish. However, if you cannot find an exact match, try to find something as similar as possible.
What belts should a woman have?
Every person should have a basic leather black or brown belt that goes with almost all formal and informal outfits. Add a metallic belt to your collection with a minimalistic yet elegant design to amp up even the most basic dresses. For the days you feel empowered and fashionable, you need a wide belt that spice up your outfit to match your mood. A skinny belt makes for a fun addition to your everyday casual looks. And finally, every girl needs a pearly waistband for their long gowns to feel like a princess.
Which belt goes best with jeans?
A black leather belt goes with almost all jeans. If your jeans are in dark blue, white, or black, you can also wear something brown. It is best to stick to a non-shiny, suede finish. However, if you are wearing peppy colors, you may also experiment with different belt colors.
Recommended Articles