The 9 Best Designer Tote Bags For All Your Daily Needs – 2023
Fashionable and convenient bags that add style and practicality to your look.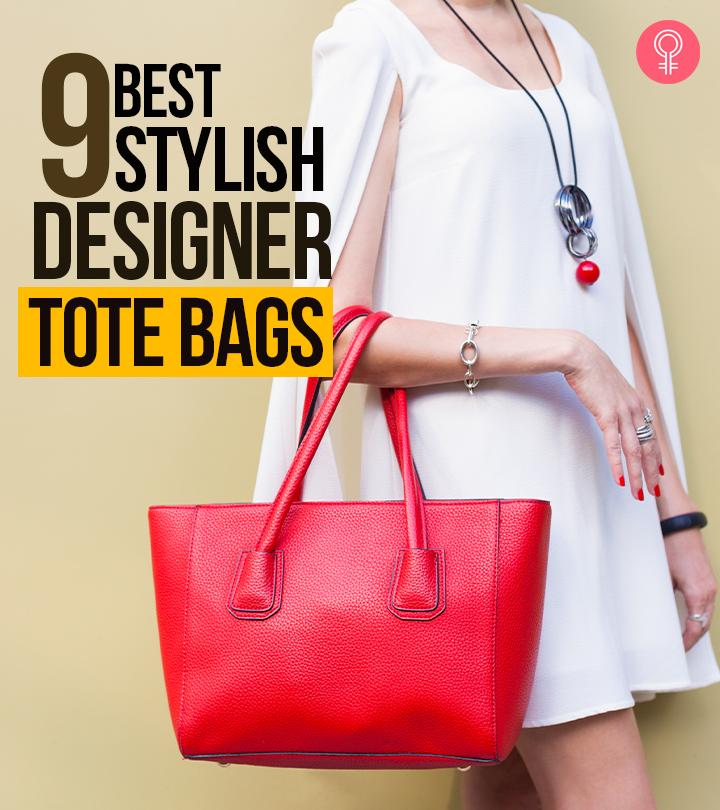 Let's get real – tiny bags are good for the gram. But, what about the times when you actually need a spacious bag to fit in things? The best designer totes bags are made just for such times! Now you can look fashionable and carry your essentials in a good quality designer tote bag. These roomy bags are easily available all over the market. So much so that making a choice gets difficult! To help you choose, we have listed the best designer tote bags that are a rage right now. Go ahead and add to collection.
9 Best Tote Bags – 2023
Upgrade your handbag collection with this spacious laptop tote bag from MONISTA and enjoy the bliss of clutter-free baggage. This multifunctional shoulder bag has 15 pockets to organize and store all your essentials within the designated space, including your laptop, power bank, charger, and personal stationery. So, no more sifting through your bag when searching for a pen or a lip balm.
The combination of high-grade nylon and leather makes this tote bag wear-resistant and highly durable. The soft and thick protective compartment, elastic Velcro strap, and waterproof fabric keep your laptop protected from accidental breakage and water damage. The external USB port connects to your phone cable to provide convenient charging. Plus, its top zip closure and anti-wrinkle material makes it reliable for multipurpose usage.
Specifications
Dimensions: 5.51 x 6.3 x 12.99 inches
Handle Drop Length: 24 inches
Pockets: 15
Pros
Durable
Waterproof
Wear-resistant
Anti-wrinkle material
Multipurpose
Convenient charging
Top zip closure
Cons
Price at the time of publication: $19.99
Pros
Zipper closure
Durable leather
Adjustable leather straps
Lightweight
Cons
None
Price at the time of publication: $159.99
Pros
Durable
Spade jacquard lining
Comfortable double straps
Easy to clean
Cons
None

Price at the time of publication: $155.25
Pros
100% leather
Adjustable shoulder strap
100% polyester Zip
Cons
None
Price at the time of publication: $126.8
Pros
Large capacity
Zipper closure
High-quality
Waterproof leather body
Magnetic closure
Durable
Cons
None
Price at the time of publication: $89.99
Pros
High-quality material
Durable
Adjustable strap
Fine stitching
Magnetic snap closure
Cons
None
Price at the time of publication: $99.99
This chic shoulder tote bag from LOVEVOOK highlights modern craftsmanship that is fashionable and boosts your inner diva. This bag is a charming piece of style that is exquisitely crafted out of high-quality synthetic leather. It also comes with a medium crossbody bag and a wallet clutch. It is incredibly roomy as it comes with one main compartment, one zipper pocket, and two slot pockets that provide enough space to stash in all your essential stuff.
It has smooth zipper closure and a comfortable shoulder strap. This durable tote features a sturdy design, elegant lines, and a well-stitched body. It is extremely lightweight and features anti-shock and wear-resistant quality. Moreover, it is scratch-proof, which makes it perfect for daily use. Besides its convenient features, this designer tote is perfect for all occasions.
Specifications
Tote Bag Size: 11.8 x 10.4 x 4.7 inches
Crossbody Bag Size: 10.6 x8.3 x 4.1 inches
Wallet Clutch Size: 7.1 x 5.5 x 2.4 inches
Tote Bag Handle Drop Length: 9.8 inches
Pockets: 4
Pros
High-quality material
Wear-resistant
Scratch-resistant
Durable
Anti-shock
Large capacity
Sturdy design
Lightweight
Cons
None
Price at the time of publication: $42.99
This designer leather tote bag from PIJUSHI features timeless style and exquisite craftsmanship. The wax oil leather and top-grain cow leather make this tote a complete game-changer for any occasion. To add to its elegance, the beautiful embossed crocodile design imparts a dual tone and 3D effect. It comes with strong leather handles and dragon flap design that ensures durability and style.
The additional golden bottom rivets protect it from abrasion and scratches. This bag comes with a flap and zip closure and has one back zipper pocket along with two slip-in and one small zipper pockets on each side of the bag. This medium-size hobo tote bag provides enough space to carry your iPad, mobile, wallet, and umbrella. Moreover, its special shape-fixed design protects the bag from getting out of shape and gives it a classy look.
Specifications
Dimensiones: 12.5 x 5.5 x 8.5 inches
Handle Drop Length: 8 inches
Pockets: 5
Pros
High-quality leather
Dragon flap design
Durable
Golden bottom rivets
Cons
None
Price at the time of publication: $198.79
Pros
Multi-tasking
Zip fastening
100% leather
Spacious
Durable
Adjustable shoulder straps
Gold-tone hardware
Cons
Price at the time of publication: $145.82
Large, organized, and multifunctional tote bags can be the perfect accessory for almost any use. But from simple totes to designer bags, the variety available may leave you confused. Take a breath and go through our list of points to consider while choosing the best designer tote bags for your needs.
How To Choose The Best Designer Tote Bags For Your Needs
Multifunctional
A tote bag is usually large in size and comes with multiple pockets and compartments. These features make totes extremely multifunctional. Some have laptop compartments, and space for personal stationary, power bank, or essential items and can be used for office or travel purposes. If you are a student, choose bags that are good to carry books along with a lunchbox and a water bottle. You can also choose vibrant tote bags for shopping trips or lunches with friends. Pick a bag with features customized to your needs for maximum utility or aesthetics.
Fabric
Choose tote bags with outer shells made of leather, or high-grade nylon. You may also choose bags that are embellished with metal studs for beautification. The rings and buckles are usually made of stainless steel or rust-free metal. While leather looks fancy, a canvas bag is more durable. The inner lining is usually made of polyester or nylon which makes the bag stable, strong, and tear-resistant. In case of laptop compartments, look for pockets and straps that are padded and soft to hold the device while offering it added protection.
Pick a bag that is water-resistant and fade-proof. It should not tear easily and should be soft along with a sturdy, durable build.
Adjustable Straps
Look for detachable straps or an adjustable handle. This can be made of canvas, leather or can be a woven strap, as per your choice. The straps can be velcro attachable or stitched on.
Compartments
If you are a heavy user of a tote bag, pick one with multiple compartments. This helps to sort and store your belongings instead of sifting through the bag when you need something. Choose bags with zippered pockets and small open compartments for phones, charger, cosmetics, stationary along with a laptop section. Inner compartments, open slip slots, outer pockets and slots, removable fabric-lined inner pouches are various kinds of compartments and divisions available in tote bags. Also, choose bags with buttoned or zippered closure for added security.
Why Trust StyleCraze?
The author of this article, Baishali Bhattacharya, is a certified image consultant and fashion expert who uses her knowledge and expertise to understand products that add style and elegance to one's look. She carefully went through user reviews online and selected the best designer tote bags for daily use. These designer bags are fashionable, chic, and spacy, making them ideal for everyday use.
Frequently Asked Questions
Is it worth buying a designer bag?
Yes. A good-quality designer bag is long-lasting, versatile, stylish, and suitable for carrying your essentials to school, work, the beach, or shopping. Plus, it makes for a great addition to your fashion statement.
How big should a designer tote bag be?
There are three types of tote bags – small, medium, and large. Small designer tote bags are 12 inches wide, 13 inches high, and 4 inches deep. A medium tote bag is about 16 inches wide, 15 inches high, and 5 inches deep. This bag size feels like a handbag, and you can dress up or down for any occasion accordingly.
How long do designer tote bags last?
A good-quality designer tote bag can last for at least a year if you use it daily for carrying heavier items. A
tote bag lasts longer if used sparingly for lightweight essentials and occasions.
Can you use a tote bag as a handbag?
Yes. A tote bag can serve the purpose of a handbag or laptop bag.
Are designer tote bags anti-theft?
Yes. Designer tote bags have narrow openings close to your arm, so it is difficult for pickpockets to snatch or slip their hands in your bag and steal something.
Are designer tote bags actually environment-friendly?
Yes. Reusable designer tote bags made of cotton are environment-friendly.
How do you maintain a designer tote bag?
Stuff your bag with acid-free tissue paper, scarves, or soft fabric to maintain its shape. Unclip or roll up long straps and store them inside the bag. Hang your designer tote bag over a hook or a wooden hanger or store it upright.