12 Best Detangler Hairsprays For Kids
Unknot your child's delicate hair and keep them mess-free with these hair products.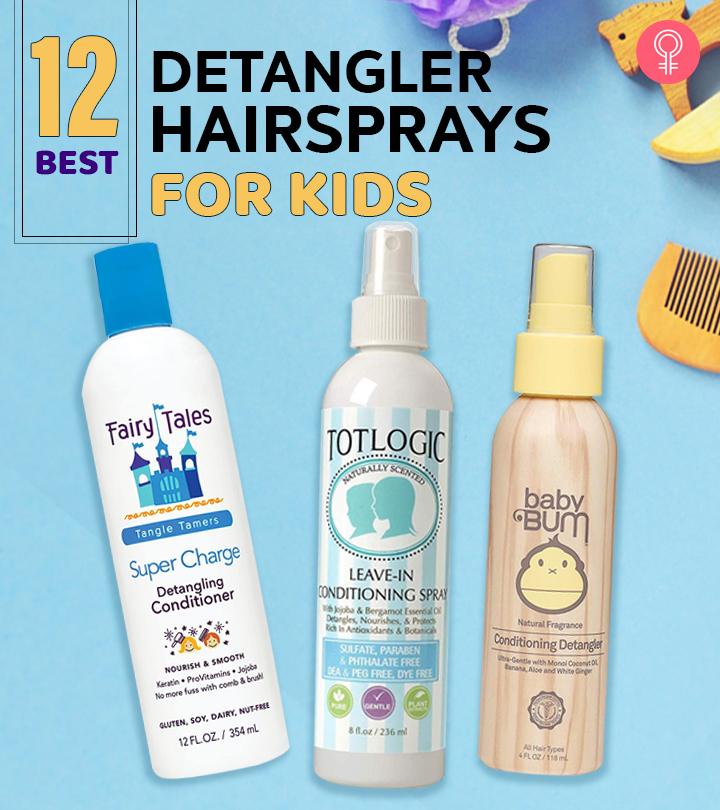 There is nothing new about kids being messy. This mess can quickly transfer from their clothes to their skin and hair. Thanks to detangling products, dealing with your child's messy hair becomes that much easier. To make life easier for you, we've put together 12 of the best detangler products for kids that you can use on your precious little ones. In addition, we've also discussed detanglers that are suited for the different hair types. Scroll down to know more!
How Did We Measure The Safety Of These Products?
Research: These product reviews are strictly based on customer feedback. We did thorough research while reviewing the products on this list.
Ingredients: We have checked the ingredients used in a product and ensured they are safe for kids. The products mentioned here contain natural and herbal ingredients safe for your child's hair. They are free of harmful and toxic substances like parabens, sulfates, synthetic colors, fragrances, etc.
Verified: Almost all products have been tested and verified for safety.
Before you shop for a detangler hair spray for your child, it is better to understand the type of hair spray suitable for their hair.
Detanglers According To Hair Type
For Curly Hair: Curly and coarse hair is often difficult to manage. It can easily become dry and would need extra care. Hence, you may go for a hair detangler spray with an added moisturizer. Such a spray will make your child's hair softer and more manageable.
For Fine Hair: Straight and fine hair tends to get detangled easily. In this case, go for a conditioner detangler spray that can help condition your child's hair too.
For Wavy Hair: Wavy hair is easy to manage and generally does not need extra care. You can go for a simple hair detangler spray that softens your child's hair. A spray with added moisturizing properties can also help.
12 Best Detangler Hair Sprays For Kids
The Honest Company Conditioning Detangler Spray helps detangle your kid's hair without harming it. The spray contains a unique combination of argan oil, shea butter, quinoa extract, and jojoba protein to nourish your hair. It separates each strand of tangled hair without weighing the hair down. It does not feel greasy. It is gentle enough to be used regularly. It leaves a nice sweet orange and vanilla fragrance on the hair. This spray is ideal for all hair types. It is made without parabens, silicones, sulfates, synthetic fragrances, dyes, and formaldehyde. It also is vegan and cruelty-free. You can also check this YouTube video for a complete idea about the product.
Pros
Lightweight
Suits all hair types
Paraben-free
Sulfate-free
Silicone-free
Dye-free
Formaldehyde-free
Synthetic fragrance-free
Vegan
Cruelty-free
Pleasant fragrance
Ideal for regular use
Cons
The Cantu Care For Kids Conditioning Detangler works amazingly well on curly and textured hair. It is infused with the goodness of coconut oil, shea butter, and honey that prevents hair breakage. This spray helps remove knots and snarls from your kid's hair. Its powerful natural ingredients nourish your hair and protect it from further damage. The spray is free of parabens, sulfates, mineral oil, silicones, phthalates, gluten, paraffin, and propylene. If you want to know more about the results, take a look at this review on YouTube.
Pros
Paraben-free
Sulfate-free
Silicone-free
Phthalate-free
Gluten-free
Mineral oil-free
Paraffin-free
Propylene-free
Prevents hair breakage
Cons
The Fairy Tales Tangle Tamer Super Charge Detangling Conditioner is enriched with vitamins B and E, keratin, aloe vera, and jojoba. These ingredients help detangle all hair types. The vitamins also boost hair manageability. This spray contains no parabens, sulfates, and phthalates. It also is free of gluten, soy, and nuts. It repairs, protects, and nourishes your child's hair.
Pros
Paraben-free
Sulfate-free
Phthalate-free
Soy-free
Nut-free
Gluten-free
Prevents static
Moisturizes hair
Suits all hair types
Cons
The Baby Bum Conditioning Detangler Spray is a plant-based product that soothes, nourishes, and detangles hair. It contains shea butter, aloe, and cocoa butter that also moisturize and strengthen your child's hair. This spray is vegan, cruelty-free, and gluten-free. It hydrates hair and is ideal for removing tight and large knots. It also is free of parabens, sulfates, silicones, and phthalates, and dyes. It suits all hair types. It also is dermatologist- and pediatrician-tested.
Pros
Paraben-free
Sulfate-free
Silicone-free
Phthalate-free
Gluten-free
Dye-free
Vegan
Cruelty-free
Moisturizes hair
Suits all hair types
Dermatologist-tested
Pediatrician-tested
Cons
The Aussie Kids Detangler offers the perfect detangling solution for kids. It also prevents hair damage and comes with the pleasing fragrance of apple juice. This spray contains active ingredients that also protect hair against environmental damage. It also nourishes hair.
Pros
Ideal for curly, long hair
Affordable
Cons
The TotLogic Leave-In Conditioner Spray is a versatile product that feels super gentle on your kid's hair. It is formulated with natural ingredients like jojoba, bergamot, and vitamin B5 that help make the hair strong and shiny. It is 100% vegan, cruelty-free, and free from parabens, sulfates, phthalates, formaldehyde, and petroleum-delivered ingredients. This spray is ideal for all hair types, including wet and dry hair. It also combats frizz and split ends.
Pros
Hypoallergenic
Paraben-free
Sulfate-free
Phthalate-free
Formaldehyde-free
Vegan
Cruelty-free
Petroleum-free
Prevents hair frizz
Fights split ends
Suits all hair types
Cons
None
The SheaMoisture Kids Coconut & Hibiscus Extra-Moisturizing Detangler is enriched with natural botanical ingredients like coconut, slippery elm, marshmallow extract, and hibiscus. These moisturize and smoothen the tresses. It also contains the goodness of shea butter that nourishes the hair. The detangler is free of sulfates, parabens, and dyes. It can be used on wet or dry hair. It specifically suits curly, textured hair.
Pros
Paraben-free
Sulfate-free
Dye-free
Anti-frizz
Pleasant fragrance
Reasonably priced
Cons
Fresh Monster Kids Hair Detangler is a plant-based spray that detangles the most unruly knots. It has a 100% toxin-free formula with a fresh and natural watermelon scent that your kids will love. It is infused with argan oil that smoothes the hair, making it soft with extra shine. It is also dermatologist-tested for sensitivity.
Pros
 Natural scent
 Hypoallergenic
 Plant-based formula
 Toxin-free
 No synthetic fragrances
 Dermatologist-tested
 Vegan
 Cruelty-free
Cons
 Might not be suitable for curly hair
 Sticky
The Klee Kids Magical Detangler is a specially designed formula that detangles hair and makes it shiny and healthy-looking. It is enriched with the goodness of omega-3 fatty acids found in argan oil and mango butter that help nourish your kid's hair. It also contains nettle leaf, extracts of marshmallow root, and essential oils that boost hair shine. This detangler is free of parabens, sulfates, gluten, polypropylene glycol, and synthetic fragrances and dyes. It feels very gentle on hair and prevents hair frizz.
Pros
Paraben-free
Sulfate-free
Polypropylene glycol-free
Gluten-free
Synthetic fragrance-free
Dye-free
Ideal for all hair types
Cons
The Great Clips Kids Solutions Afraid Knot Detangler has a multipurpose formula that can be used as a detangler, styler, or protectant. It adds moisture to your kid's hair, hydrates it, making it easy to detangle and manage. It leaves hair feeling soft and smooth like never before. The chemical-free formula is recommended for children belonging to the age group of 2-10 years.
Pros
 Chemical-free
 Pleasant scent
 Multipurpose formula
 Lightweight
Cons
None
The Rainbow Spray Detangler contains chamomile, red clover, balsam, and comfrey. These ingredients remove knots from your kid's hair and make combing through the tangles easy. All you have to do is spray it in the snarled area directly and see the magic. The product can be used on dry hair as well.
Pros
Makes hair soft
Non-irritating
Works on dry hair
Cons
Less quantity for the price
The Clean Kids Naturally Mango Mist Detangler helps hydrate hair and gives it the extra strength. It is made with botanical ingredients that give added protection to your baby's hair. It contains mango extracts that detangle the tousles easily and make hair softer and smoother. It is also infused with extracts of sage and rosemary that are ideal for sensitive scalp. This product is free of parabens, sulfates, or synthetic colors. It is meant to nourish hair while making it curly naturally.
Pros
Paraben-free
Sulfate-free
Synthetic color-free
Moisturizes hair
Cons
None
These are the 12 best detangling hair sprays for kids. Apart from these sprays, you also can detangle your kid's hair in other ways. Read through the next section.
Other Tips To Detangle Hair
Apart from using a detangled spray or conditioner, you can also follow these methods.
Brush Your Kid's Hair Before Bath: Combing wet hair can result in hair breakage. Hence, it is better to brush your child's hair once before a shower to remove any knots or tangles. Start from the bottom and continue till the top.
Do A Ponytail Before Going To Bed: Sleeping with loose, open hair can lead to more tangles and knots. Hence, have your child wear a loose ponytail before they go to sleep. This trick can be more helpful if your child has long, curly hair.
Use A Detangling Comb: A detangling comb makes the process easier. You can also use a wide-toothed comb if you do not have a detangling comb.
Tie Hair: Loose hair can lead to more tangles and snarls, more so if your child runs around a lot during play. Hence, it is better to tie their hair into a ponytail or a bun. This makes hair easy to manage and also keeps it from getting tangled.
Wash Hair Right: Kids' hair is usually softer and more delicate. Ensure you shampoo the hair roots and gently use your fingertips to work on the shampoo. Do not scrub or rub their hair as it can lead to hair breakage.
Why Trust Stylecraze?
Shiboli Chakraborti, the author of this article, is a hair care enthusiast. She listed the best detangler hair products for kids after going through several product details and customer reviews on brand websites and trusted online forums. These products detangle your little ones' hair gently and make the hair manageable.
Recommended Articles