13 Best Shampoos For Tangled Hair – Top Picks Of 2023
Keep your unruly tresses knot-free and soft to the touch with these advanced formulas.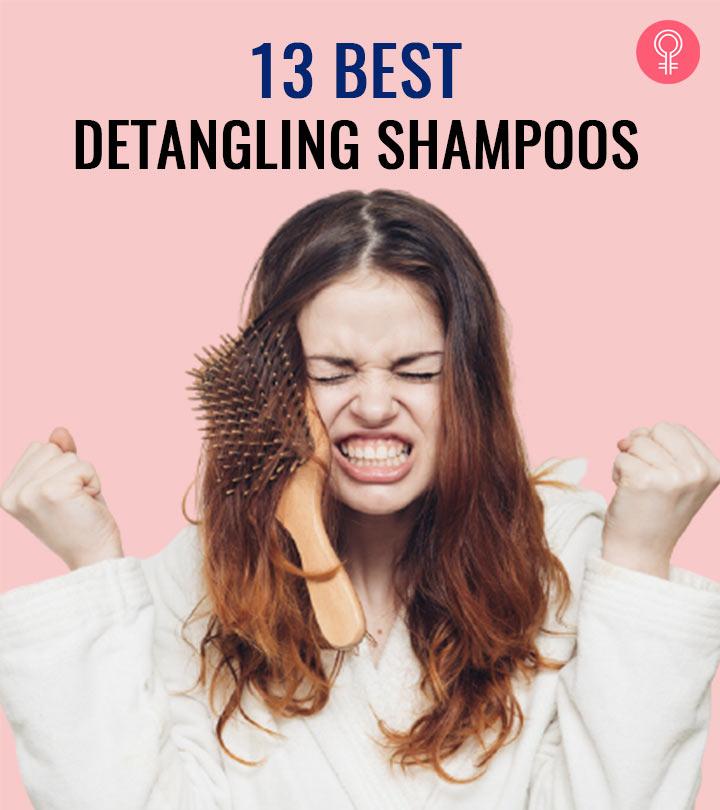 Detangling your hair is tiresome and time-consuming. It can even lead to damage, hair breakage and may affect hair elasticity. Hence, try the best shampoo for tangled hair to keep your hair conditioned and tangle-free. It will protect your hair cuticles from damage and make your hair easy to manage. These shampoos make your hair knot-free, smoothen your hair, and keep it soft. In this article, we have mentioned the 13 best shampoos that detangle your hair. Keep scrolling to read further!
13 Best Detangling Shampoos To Try
Pros
Suitable for oily scalp
The pleasant fragrance of jasmine and peony
Rich lather
Lightweight formula
Cons
Price at the time of publication: $23
Pros
Contains organic ingredients
Sulfate-free
Coconut oil-free
Suitable for 3A to 4C hair types
Color-safe
Unisex
Natural fragrance
Cons
The ingredient list keeps changing.
Price at the time of publication: $6.9
Pros
Contains natural botanical extracts
pH-balanced
Non-stripping
Makes the hair soft and shiny
Cons
Contains DEA and EDTA
Contains added fragrance and color
Price at the time of publication: $9.01
Pros
Suits all hair types and textures
Gentle formula
Alcohol-free
Unisex
Child-safe
Safe for relaxed hair
Color-safe
Cons
Contains ammonium lauryl sulfate and EDTA
Contains added color
Price at the time of publication: $20.0
The Rapunzel Hydrating & Detangling Shampoo is pH-balanced and offers superior detangling for comfortable wet and dry hair combing. This shampoo cleanses the hair thoroughly, removing all dirt and excess oil without drying. The hydrating formula is enriched with aloe vera, hydrolyzed wheat protein, and rosemary extract to keep the hair soft and manageable.
Aloe vera has moisturizing and scalp soothing properties, while the rosemary extract keeps the scalp clean. The wheat protein in the formula strengthens the hair, enhancing its texture. This shampoo helps reduce hair breakage by sealing hair cuticles and repairing hair damage.
Pros
pH-balanced
Fortifying
Soy-free
Makes the hair soft
Cons
Contains sodium and added fragrance
Pros
Increased hair shine
UV protection
Sulfate-free
Ideal for natural hair
Gluten-free
Paraben-free
Mineral oil-free
Cons
Contains added fragrance and color
Contains MEA
Price at the time of publication: $12.45
The Sunny Isle Extra Dark Jamaican Black Castor Oil Shampoo conditions and detangles the hair, leaving it softer and hydrated. This shampoo is formulated with humectants and conditioning agents like panthenol and hydrolyzed wheat protein that volumize, strengthen, and gloss-up dry and dull hair. It contains 100% natural Jamaican black castor oil that nourishes and treats dry, itchy scalps and improves hair length and strength. This shampoo fortifies hair from root to tip and suits all hair types and color-treated hair.
Pros
Sulfate-free
Paraben-free
Suits all hair types
Contains 100% natural Jamaican black castor oil
Color-safe
Cons
Contains phenoxyethanol and synthetic fragrance
Price at the time of publication: $9.99
Pros
Contains natural ingredients
Unisex
Child-safe
Paraben-free
Paraffin-free
Petrolatum-free
Mineral oil-free
Sulfate-free
Ideal for all curl types
Cons
Leaves residue
Not easy to wash off
Price at the time of publication: $11.99
Pros
Gentle formula
Mineral oil-free
Petrolatum-free
Paraben-free
Sulfate-free
Ideal for curly hair
Natural fragrance
Cons
Price at the time of publication: $12.34
Pros
Lightweight
Imparts luster
Contains natural oil extracts
Cleans scalp buildup
Suitable for dry/oily hair
Cons
Price at the time of publication: $9.11
Pros
pH-balanced
Ideal for thick and curly hair
Paraben-free
Sulfate-free
Silicone-free
Mineral oil-free
Gluten-free
SLS-free
Synthetic dye-free
Cons
Contains sodium chloride and a synthetic fragrance
Price at the time of publication: $8
Pros
All-day frizz control
All-day humidity control
Long-lasting shine
Floral fragrance
Cons
Contains SLES, SLS, and sodium chloride
Pros
Improves shine
Mild formula
Lightweight
Suits all hair types
Ideal for dull and damaged hair
Cons
Might not suit sensitive scalps
Price at the time of publication: $24.3
If you notice that your hair is tangling up more than before, especially after showering, then the time has arrived to re-evaluate the shampoo that you are using. There are various shampoo brands that cater specifically to help reduce tangles while cleansing and nourishing the hair and scalp. To help you choose the best one for yourself, we have listed some factors to keep in mind while you make your next purchase.
How To Choose The Best Shampoos For Tangled Hair
The presence of natural ingredients which are rich in moisture content, can help in retaining hair moisture and thereby prevent tangled hair follicles. Some of the popular detangling elements include coconut, aloe vera, cocoa butter, and Vitamin E. All of these aforementioned ingredients provide hydration to your hair by adding moisture. Apart from detangling your hair strands, they also make your hair silky and smooth, while also providing the proper nourishment that your hair follicles deserve.
Avoid shampoos that contain ingredients such as parabens, sulfates, alcohol, mineral oils, and other such ingredients that make your hair dry and damaged. Also avoid synthetic fragrances that dry the hair and cause irritation to the scalp.
Other than detangling elements, look for formulations according to your hair and scalp types. For fine or oily hair, avoid shampoos that are thick, creamy, and contain essential oils. These make the scalp oilier and weigh down the hair. For dry, dull hair, look for moisturizing ingredients like coconut oil, almond oil, flaxseed oil, and ceramides. Also, look for color-safe shampoos if you have color-treated hair.
If you want to enhance the overall effects of detangling shampoo, you will most likely also need to use a detangling conditioner. Alternatively, you can also utilize a leave-in conditioner spray.
Avoid frequent heat-styling or tight ponytails.
Avoid excess exposure to the sun's UV rays.
Always dry brush the hair using a detangler before showering and comb your hair after washing.
Practice sleeping on a satin or silk pillowcase, which can make it easy to brush your long and fine hair without tangles in the morning.
Frequently Asked Questions
Why is my hair always knotty?
The most common cause of knotted hair is dryness. Matted hair is caused by a lack of moisture in the strands.
Is it better to untangle hair wet or dry?
It is better to untangle wet hair because conditioning products are better soaked when the hair is wet, which makes it effortlessly glide through our fingers or comb.
How often should you detangle the hair with shampoo?
Try to detangle every time you wash your hair with shampoo, but make sure not to go hard on your hair and use shampoos specially formulated for tangled hair.
Should I detangle before I shampoo?
You must detangle your hair before and after shampooing to reduce hair breakage.