13 Best Shampoos For Tangled Hair – Top Picks Of 2023
Keep your unruly tresses knot-free and soft to the touch with these advanced formulas.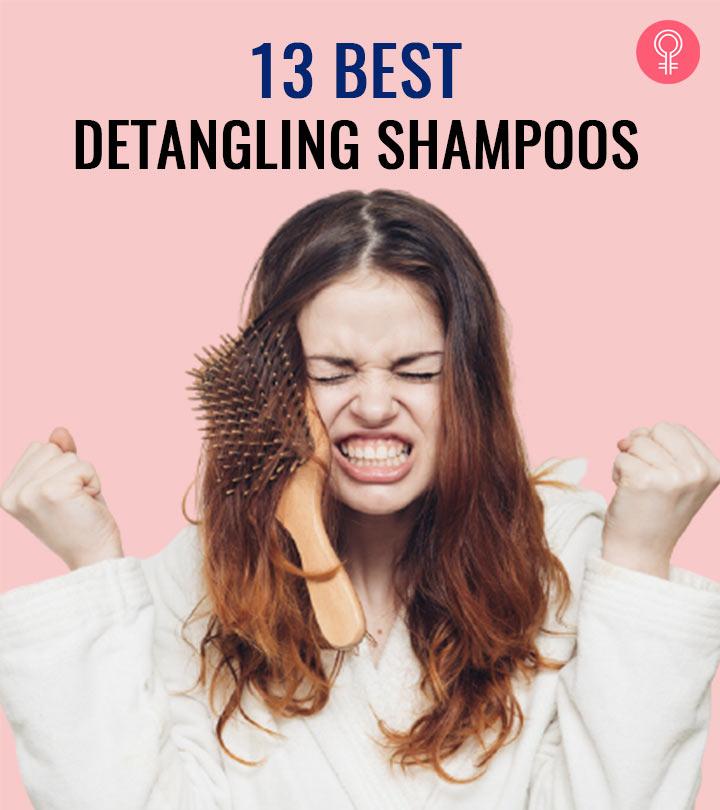 Detangling your hair is tiresome and time-consuming. It can even lead to damage, hair breakage and may affect hair elasticity. Hence, try the best shampoo for tangled hair to keep your hair conditioned and tangle-free. It will protect your hair cuticles from damage and make your hair easy to manage. These shampoos make your hair knot-free, smoothen your hair, and keep it soft. In this article, we have mentioned the 13 best shampoos that detangle your hair. Keep scrolling to read further!
13 Best Detangling Shampoos To Try
The Mizani Thermasmooth Shampoo is ideal for curly, transitioning, or color-treated hair. This shampoo has a rich, creamy texture that detangles, cleanses, and preps the hair for heat styling. It detangles even dry, damaged, and brittle hair and refreshes it to provide lasting frizz control. The concentrated formula contains an Advanced C3 Smoothing Complex enriched with cationic polymers, ceramides, and coconut oil.
The cationic polymers coat the hair to shield it against humidity and seal in shine. The ceramides permeate the hair shaft to strengthen it from within, preserve hair elasticity, and restore hair texture. The coconut oil in the formula nourishes and moisturizes the hair, protecting it from any damage caused by styling tools.
Pros
Frizz control
Heat protection
Heat responsive technology
Cons
Contains parabens and SLS
Contains added fragrance
Price at the time of publication: $32.0
The Detangling Shampoo from SheaMoisture is formulated with cocoa butter, red palm oil, vitamins, and flaxseed oil. It is ideal for curly, coily, shrinkage-prone, 3A to 4C type hair. The cocoa butter moisturizes and softens the hair, and the red palm oil is rich in antioxidants that fight free radical damage. Along with other vitamins and flaxseed oil, this anti-shrinkage blend keeps the hair smooth, soft, shiny, long, and frizz-free.
Pros
Contains organic ingredients
Sulfate-free
Coconut oil-free
Suitable for 3A to 4C hair types
Color-safe
Unisex
Natural fragrance
Cons
The ingredient list keeps changing.
Price at the time of publication: $6.9
The Avlon Keracare Hydrating Detangling Shampoo moisturizes and conditions the hair while cleansing it thoroughly. It removes excess sebum from the hair and scalp without drying, reduces hair breakage and flyaways, and improves split ends.
This shampoo is formulated with natural botanical extracts and is pH-balanced. It contains hydrolyzed wheat protein that strengthens hair. The shampoo seals hair cuticles, repair damaged hair, reduce breakage, and improves cuticle alignment, leaving your hair soft and shiny. You can check this YouTube video for more information about the product.
Pros
Contains natural botanical extracts
pH-balanced
Non-stripping
Makes the hair soft and shiny
Cons
Contains DEA and EDTA
Contains added fragrance and color
Price at the time of publication: $9.01
The Honey Creme Shampoo from Design Essentials is moisture preserving and detangling shampoo that softens, smoothens, and conditions dry and damaged hair. It has a gentle, non-alcoholic formula that lathers well and suits all hair types and textures. This shampoo contains honey crème that nourishes and smoothens the hair cuticles to stimulate healthy hair growth and boost hair manageability and shine. It is safe for relaxed and color-treated hair and suitable for both kids and adults.
Pros
Suits all hair types and textures
Gentle formula
Alcohol-free
Unisex
Child-safe
Safe for relaxed hair
Color-safe
Cons
Contains ammonium lauryl sulfate and EDTA
Contains added color
Price at the time of publication: $20.0
The Rapunzel Hydrating & Detangling Shampoo is pH-balanced and offers superior detangling for comfortable wet and dry hair combing. This shampoo cleanses the hair thoroughly, removing all dirt and excess oil without drying. The hydrating formula is enriched with aloe vera, hydrolyzed wheat protein, and rosemary extract to keep the hair soft and manageable.
Aloe vera has moisturizing and scalp soothing properties, while the rosemary extract keeps the scalp clean. The wheat protein in the formula strengthens the hair, enhancing its texture. This shampoo helps reduce hair breakage by sealing hair cuticles and repairing hair damage.
Pros
pH-balanced
Fortifying
Soy-free
Makes the hair soft
Cons
Contains sodium and added fragrance
The African Pride Shea Miracle Detangling Shampoo cleans hair while boosting its natural shine. It lathers well and permeates the hair to nourish it from within and detangle it easily. This shampoo contains rich moisturizing ingredients like argan, olive, and coconut oils that moisturize and strengthen the hair while protecting it from UV rays. It also contains aloe vera extract that soothes the scalp. The rosemary extract in the formula has antimicrobial properties and keeps dandruff at bay. If you are still unsure about purchasing, you can check out a review of this product on YouTube.
Pros
Increased hair shine
UV protection
Sulfate-free
Ideal for natural hair
Gluten-free
Paraben-free
Mineral oil-free
Cons
Contains added fragrance and color
Contains MEA
Price at the time of publication: $12.45
The Sunny Isle Extra Dark Jamaican Black Castor Oil Shampoo conditions and detangles the hair, leaving it softer and hydrated. This shampoo is formulated with humectants and conditioning agents like panthenol and hydrolyzed wheat protein that volumize, strengthen, and gloss-up dry and dull hair. It contains 100% natural Jamaican black castor oil that nourishes and treats dry, itchy scalps and improves hair length and strength. This shampoo fortifies hair from root to tip and suits all hair types and color-treated hair.
Pros
Sulfate-free
Paraben-free
Suits all hair types
Contains 100% natural Jamaican black castor oil
Color-safe
Cons
Contains phenoxyethanol and synthetic fragrance
Price at the time of publication: $10.66
The Design Essentials Natural Almond & Avocado Shampoo claims to work faster than any other detangling shampoo. This shampoo contains almond and avocado extracts and is safe for daily use for both kids and adults.
Sweet almond oil moisturizes the hair and prevents hair damage and loss. The mineral-rich avocado extract replenishes the scalp, stimulating better blood flow and unclogging blocked hair follicles. It also helps moisturize dry, brittle, and damaged hair. This shampoo also contains wheat protein that improves shine and strength and coconut milk that volumizes the hair, making it thick and bouncy. It deeply cleanses the hair and scalp, removing any dirt and buildup without drying.
Pros
Contains natural ingredients
Unisex
Child-safe
Paraben-free
Paraffin-free
Petrolatum-free
Mineral oil-free
Sulfate-free
Ideal for all curl types
Cons
Leaves residue
Not easy to wash off
Price at the time of publication: $11.99
The Mane Choice Easy On The Curls Detangling Hydration Shampoo is ideal for curly hair. The shampoo is formulated with special detangling ingredients to improve hair manageability. It cleanses and moisturizes hair to keep it soft, clean, and shiny and boost growth and hair retention.
The biotin and vitamin E in the formula transform the hair, making it healthier, longer, and thicker. The vitamins A, B, C, and D infused in the product minimize hair damage, breakage, and shedding by strengthening and moisturizing it. This gentle shampoo removes buildup and other impurities from the scalp without drying.
Pros
Gentle formula
Mineral oil-free
Petrolatum-free
Paraben-free
Sulfate-free
Ideal for curly hair
Natural fragrance
Cons
Price at the time of publication: $12.34
The Creme of Nature Professional Detangling And Conditioning Shampoo is ideal for chemically treated and damaged hair. It contains a blend of nourishing sunflower and coconut extracts. They cleanse, detangle, and moisturize the hair to make it healthy, shiny, and soft. These ingredients also provide intense moisturization to the hair and enhance its body.
Pros
Certified natural ingredients
Pleasant coconut fragrance
Safe for relaxed hair
Colored hair-safe
Cons
Contains SLS and parabens
Price at the time of publication: $20.26
The Maui Moisture Curl Quench + Coconut Oil Shampoo is infused with papaya butter, rich coconut, and plumeria extracts. This creamy and gentle formula is ideal for thick, curly hair and helps moisturize the hair, making it shinier and healthier. The coconut oil and papaya butter in the formula detangle the hair and control frizz. They also enhance hair softness and body, leaving it bouncy and full. This shampoo enhances the curls and waves and suits high-porosity hair.
Pros
pH-balanced
Ideal for thick and curly hair
Paraben-free
Sulfate-free
Silicone-free
Mineral oil-free
Gluten-free
SLS-free
Synthetic dye-free
Cons
Contains sodium chloride and synthetic fragrance
Price at the time of publication: $6.97
The Pantene Pro-V Smooth & Sleek Shampoo is formulated with pro-V nutrients and antioxidants that strengthen the hair. This shampoo lathers well and softens the hair strands for improved detangling and long-lasting shine. Its moisturizing formula is enriched with argan and avocado oils that replenish and strengthen hair to prevent damage. They moisturize hair and provide all-day frizz and humidity control. The shampoo has a refreshing floral scent of wild berries and creamy vanilla infusion.
Pros
All-day frizz control
All-day humidity control
Long-lasting shine
Floral fragrance
Cons
Contains SLES, SLS, and sodium chloride
The Wella SP Luxe Oil Keratin Protect Shampoo is formulated with hair-enriching antioxidants and pure keratin extract. These ingredients improve moisture retention, hair shine, elasticity, and softness. This shampoo also contains panthenol that repairs hair damage. Jojoba and argan oils moisturize the hair and soothe the scalp. This product refreshes and protects the hair while removing any impurities and excess sebum.
Pros
Improves shine
Mild formula
Lightweight
Suits all hair types
Ideal for dull and damaged hair
Cons
Might not suit sensitive scalps
Price at the time of publication: $24.3
If you notice that your hair is tangling up more than before, especially after showering, then the time has arrived to re-evaluate the shampoo that you are using. There are various shampoo brands that cater specifically to help reduce tangles while cleansing and nourishing the hair and scalp. To help you choose the best one for yourself, we have listed some factors to keep in mind while you make your next purchase.
How To Choose The Best Shampoos For Tangled Hair
The presence of natural ingredients which are rich in moisture content, can help in retaining hair moisture and thereby prevent tangled hair follicles. Some of the popular detangling elements include coconut, aloe vera, cocoa butter, and Vitamin E. All of these aforementioned ingredients provide hydration to your hair by adding moisture. Apart from detangling your hair strands, they also make your hair silky and smooth, while also providing the proper nourishment that your hair follicles deserve.
Avoid shampoos that contain ingredients such as parabens, sulfates, alcohol, mineral oils, and other such ingredients that make your hair dry and damaged. Also avoid synthetic fragrances that dry the hair and cause irritation to the scalp.
Other than detangling elements, look for formulations according to your hair and scalp types. For fine or oily hair, avoid shampoos that are thick, creamy, and contain essential oils. These make the scalp oilier and weigh down the hair. For dry, dull hair, look for moisturizing ingredients like coconut oil, almond oil, flaxseed oil, and ceramides. Also, look for color-safe shampoos if you have color-treated hair.
Additional Points To Keep In Mind
If you want to enhance the overall effects of detangling shampoo, you will most likely also need to use a detangling conditioner. Alternatively, you can also utilize a leave-in conditioner spray.
Avoid frequent heat-styling or tight ponytails.
Avoid excess exposure to the sun's UV rays.
Always dry brush the hair using a detangler before showering and comb your hair after washing.
Practice sleeping on a satin or silk pillowcase, which can make it easy to brush your long and fine hair without tangles in the morning.
Frequently Asked Questions
Why is my hair always knotty?
The most common cause of knotted hair is dryness. Matted hair is caused by a lack of moisture in the strands.
Is it better to untangle hair wet or dry?
It is better to untangle wet hair because conditioning products are better soaked when the hair is wet, which makes it effortlessly glide through our fingers or comb.
How often should you detangle the hair with shampoo?
Try to detangle every time you wash your hair with shampoo, but make sure not to go hard on your hair and use shampoos specially formulated for tangled hair.
Should I detangle before I shampoo?
You must detangle your hair before and after shampooing to reduce hair breakage.
Recommended Articles