13 Best Detangling Products For Curly Hair In 2021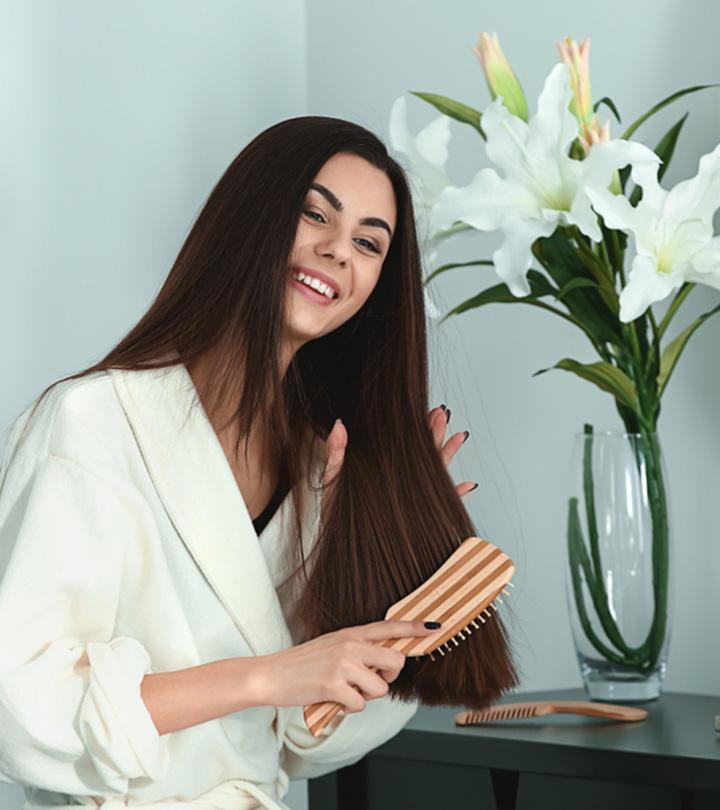 Even though you may have hair that is healthy and glorious, it needs maintenance and rejuvenation to retain the shine and moisture. Environmental factors such as humidity can make your hair dry and frizzy. Hence, it is essential to detangle your hair, especially if you have curly, coily, kinky, and wavy hair, so that it is easier to manage. To manage curly hair, you can use detanglers for healthy, gorgeous, and voluminous curls.
A good detangler makes combing and brushing your hair more manageable and softens it to eliminate frizz. It also provides ample hydration to your hair in a short time, along with a pleasant fragrance. To save you time in your hectic schedule, we've compiled the best 13 products that can help you manage your curly hair better. Let's dive straight in.
Top 13 Products To Detangle Your Curly Hair
You can use this detangler spray for curly hair every day as it is gentle and mild. The product contains natural plant-based ingredients such as argan oil, shea butter, jojoba protein, vanilla fruit extract, and quinoa extract, making it easy for detangling. It softens and smooths the hair and is easy to use. All you need to do is spray it liberally on damp or dry hair, and brush or comb through. It has a sweet and citrusy scent of orange and vanilla and also works well on thin hair. The spray also improves the luster of your hair.
Pros
Gluten-free
Vegan product
Designed for all hair types
Separates hair strands easily
Contains no animal by-product
Helps soften and smooth your hair
Cons
May not be suitable for all hair types
Do not compromise on your ethics over efficiency. Let this cruelty-free professional hair detangler help loosen stubborn knots. This detangling product provides manageable hair within minutes of application. It contains a fruit stem cell complex and exotic marula oil, which nourishes your hair with antioxidants and replenishes oleic acid to help boost moisture in your hair. It softens and smoothes your hair and tames your unruly strands.
Pros
Gluten-free
Cruelty-free
98% nature-derived
Non-GMO
Cons
Some may find it slightly sticky.
This detangler conditioner for curly is one of the best products you can get your hands on. Detangling matted natural hair can take hours and hours, yet this lightweight leave-in conditioner penetrates deep into the follicle and protects and moisturizes your hair to help detangle and hydrate the tresses. It contains a blend of natural ingredients such as fennel seed oil that strengthens your hair and prevents breakage and coconut oil that moisturizes your hair and makes it soft and shiny. You can apply this conditioner to clean, damp hair whenever you need to detangle and style it.
Pros
Controls frizz
Enhances curls
Protection against heat damage
Soft and shiny hair
Cons
Might leave a heavy and sticky build-up on your hair
If you are looking for a good detangler for curly hair, you should consider this one. This lightweight water-based mist spray hydrates and rejuvenates your hair. Enriched with almond oil, sunflower seed extract, pro-vitamin B5, and agave nectar, it locks in moisture and controls frizz to soften and detangle your hair. The wheat protein in the hair detangler for curly hair helps condition and strengthen your hair while the sweet almond oil improves manageability. All you need to do is spray it evenly on dry hair to reactivate curls and reshape and scrunch curls back into place with your fingers.
Pros
Adds shine to hair
Sulfate-free
Paraben-free
Ideal for naturally curly hair
Locks in moisture and controls frizz
No artificial color
Petroleum-free
Cons
May not hold moisture in your hair for a long time.
This detangler was developed by scientists and stylists after studying African ancestry hair for over a decade. They found that distinctive twists and curves make delivering moisture, shine and strength to your hair a challenge. A moisturizing cream designed to make your hair stronger, this detangler is great for styling your hair with soft curls. It helps tame frizzy hair for easy combing. Infused with milk and argan oil, the detangling product is sulfate and dye-free.
Pros
Tames frizz
Softens curls
Locks in moisture
Strengthens your hair
Sulfate-free and dye-free
Non-greasy
Cons
The detangling milk and oil may solidify in your hair.
This detangler for curly hair can loosen knots and moisturize your hair instantly and makes for easy combing and managing. Infused with natural oils, it helps strengthen your hair and provides a long-lasting effect. It is most effective when applied to damp and clean hair. The humectants refresh your hair by locking in moisture for a long time. After applying it to your hair, do not pull through tangles when you comb with a wide-tooth comb upward towards the roots.
Pros
Easy combing
No tears for baby
Moisturizing properties
Keeps your curls soft, defined, and hydrated
Cons
Moisturize your hair with this natural detangler as it is effective against tangling. This all-natural detangler spray is ideal for long, wavy, and curly hair. Infused with organic ingredients, the detangling hair product restores the health of hair cuticles. The brand claims to make your hair healthier with vitamins and other nutrients in avocado oil, green tea leaf extract, and essential oils. It improves the luster of your hair and makes combing and styling easy.
Pros
Controls frizz
Repairs split ends
Increases hair volume
Made for all hair types
Adds moisture and shine to your hair
Cons
This lightweight detangler uses natural ingredients such as kukui nut oil and monoi coconut oil to provide a protective conditioning layer. It helps soften, tame, and smoothen curls and helps control frizz while refining your hair and restoring luster. It also helps prevent discoloration of your hair. The seaweed protein marine extracts strengthen your hair. Spray the moisturizer on your damp hair. Work it through your hair with your fingertips or a wide-toothed comb and undo the tangles.
Pro
Vegan
Controls frizz
Provides heat protection
Tames and smoothes curls
UV protection
Cons
Some may find the scent of bananas too strong.
As the name suggests, this detangler for curly hair requires no combing. With a blend of botanicals, this leave-in spray with a refreshing fragrance of lemongrass adds moisture to your hair to help ease detangling. People with severe curlys find it difficult to manage their hair but now, they need not worry as this detangler is a miracle product. It contains ingredients like lemon balm, chamomile extract, and rosemary extracts that smooth your curls and make it lustrous and manageable. You can spray it on dry hair directly, but it is recommended to use it on wet hair before cleansing to save time on detangling your hair.
Pros
Cruelty-free
Needs no comb
Nourishes your hair
Gluten-free
Dermatologist-tested
Cons
If you are looking for lightweight hydration, this detangler might be the right product for you. Formulated with ingredients commonly found on tropical islands like Maui, it includes hibiscus water, passion fruit, and watermelon to help hydrate your scalp and hair. It penetrates through the hair shafts and moisturizes your hair, while adding shine and controlling frizz. The detangling product also contains aloe vera juice and coconut water, which repairs split ends and makes your hair stronger and healthier.
Pros
Sulfate-free
Repairs split ends
Suitable for low porosity hair
Lightweight hydration
Cons
Some may find the coconut scent too pungent.
Detangling could not have been simpler. Spray this leave-in conditioner throughout towel-dried hair and comb and style your hair as per your choice. This detangling hair product helps prevent split ends in all hair types. You can also replace your regular conditioner with this product if you have fine hair but if your hair is coarse and oily, use it as a leave-in conditioner. The ingredients cucumber water, coconut oil, yogurt, and mint help smoothen your hair instantly.
Pros
Controls frizz
Smoothes hair
Works on all hair types
Helps prevent split ends and hair breakage
Cons
It may not work on dyed hair
This detangling product is made from the best of certified organic ingredients like coconut oil that conditions and repairs your hair, argan oil that controls the frizz, avocado oil that works as an antioxidant and gives you soft hair, chia that protects your hair from structural damage and UV radiation, and olive oil that locks moisture in your hair. The leave-in detangler also adds shine to your hair and helps nourish and condition your hair without affecting the color of your hair. It can be used on both wet and dry hair and comes in sustainable bioplastic bottles made from sugarcane.
Pros
Vegan
Gluten-free
Frizz-free hair
A non-GMO product
Sulfate-free
Paraben-free.
Cons
May not be suitable for oily hair
Some may feel that it does not retain moisture in their hair for long.
Your hair will never look dull again with this hair detangling product as this gentle, non-greasy formula works on all types of curly hair and adjusts the scalp's pH balance to give you strong and healthy hair. It enhances the volume of your hair and helps loosen the knots and tangles and is silicone-free. It is water-based and contains ingredients like aloe vera, chamomile, silk proteins, panthenol, calendula retains moisture in your hair, giving it a smooth look and feel. It works as a leave-in conditioner as well. With this product, you do not have to worry about any change in your hair color.
Pros
Silicone-free
Safe for children
pH balanced
Cruelty-free
Cons
May not work well on thick and curly hair
We are quite sure you must have found 'the one' for your tangled hair. You do not have to worry about any hair damage or breakage anymore while you detangle even your severely curled hair. Apply any of these slippery conditioners to easily and gently detangle your hair. You can do it again when you style your hair to ensure all tangles are removed. Here is a useful tip: You may divide your hair into six sections while detangling so that it gets easier to remove tangles. It is less time-consuming and less exhausting and stressful. You can then run your fingers smoothly through your soft curly hair.
Frequently Asked Questions
Is detangling good for curly hair?
Yes, it is good to detangle your hair. If you do not do it, it can lead to breakage and damage to your hair.
Should I detangle my curly hair every day?
It is not necessary. You can detangle your hair whenever you clean or condition your hair. But the process can take some time depending on the texture of your hair. So, it's recommended that you detangle your hair at least once a week.
Should you detangle your curly hair wet or dry?
It is best to detangle your hair while it is wet. Coat hair with conditioner and use a wide-tooth comb to loosen your tangles gently. Be extra careful when detangling your dry hair as the strands can break and the cuticle can get damaged due to lack of flexibility.
Why does curly hair get tangled easily?
As curly hair tends to be drier, it gets tangled easily. Avoid tangles by washing your hair in sections using a gentle hair detangler.
Do I start detangling from the root to the tip?
No. Do not start from the roots as it can cause tension and stress to your roots and lead to pain and hair breakage.
The following two tabs change content below.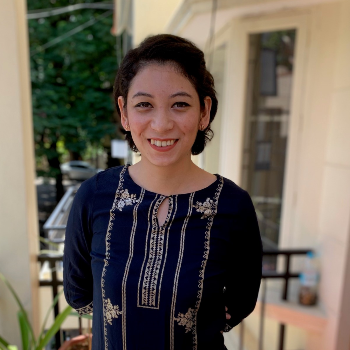 Sneha Manandhar holds a Master's degree in English from the University of Pune. She has previously worked with media and publication houses in varied capacities as a lifestyle writer, an editor, a copywriter, and a translator. She reviews beauty, skin care, and wellness products from specialized curated lists. She believes that SEO-driven content is the present and the future and keeps herself busy by dabbling in SEO-related tools and honing her editing skills.