The 12 Best Laundry Detergents For Sensitive Skin – 2022
Wash your clothes with mild detergents to stop aggravating your sensitive skin.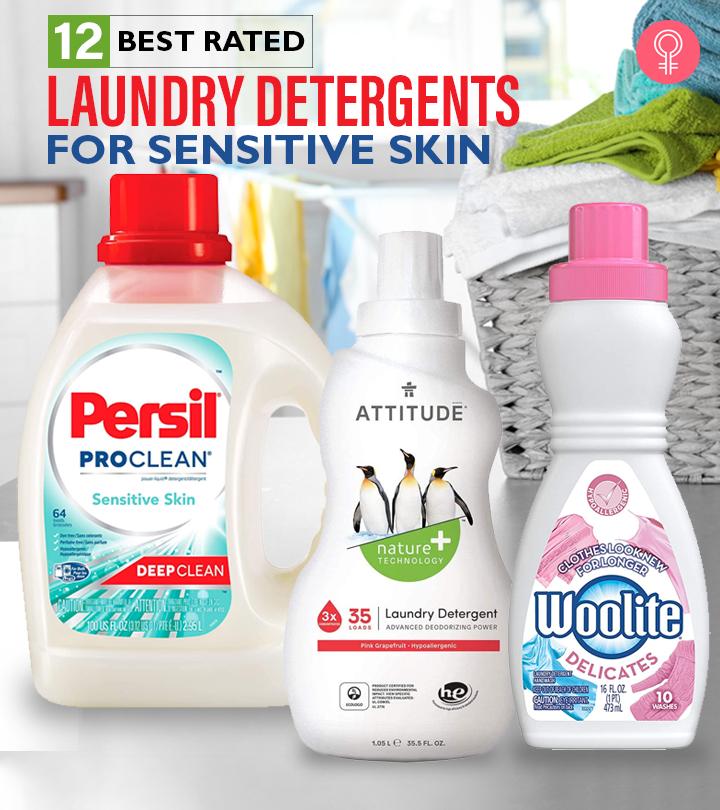 A laundry detergent is formulated to clean the fabric thoroughly and deodorize it. However, these laundry detergents are also infused with dyes and certain chemicals that can cause allergies and irritate the skin even after you have thoroughly rinsed your clothes. This is why you need the best detergent for sensitive skin. It is specially formulated such that it does not leave any residue on the fabric. Ordinary detergents leave traces on the clothes that trigger eczema, irritation, allergies, itching, breakouts, or inflammation. But a finely crafted laundry detergent will not cause any such issues.
But again, finding the right detergent may be cumbersome. You need to find one that is dermatologist-recommended, dye- and fragrance-free, hypoallergenic, allergist-approved. Sounds difficult? Then check out our list of the 12 best detergents for sensitive skin.
What Is The Main Difference Between Regular And Hypoallergenic Detergent?
The key difference between regular detergent and hypoallergenic detergent is in the ingredients. Regular detergents may seem more affordable and come with various fragrances. However, they are loaded with synthetic chemicals and dyes that can trigger an allergic reaction in sensitive skin. Regular detergents have optical brighteners, bleach, and fragrances linked to a range of adverse health issues.
Meanwhile, when it comes to hypoallergenic detergents, they are dye-free, perfume-free, and plant-based. They are free from chemical cleansers, fragrances, and optical brighteners and use natural cleaners for the job. The hypoallergenic laundry detergents are formulated with plant-based ingredients and do not have any side effects on most skin types. These come under the label of 'Free and Clear' and are also highly concentrated to give you fresh and spotless clothes.
We have rounded up the 12 best dermatologist-recommended laundry detergents for sensitive skin. Check them out and pick your favorite from the list.
12 Best-Rated Laundry Detergents For Sensitive Skin
All Free And Clear 4 In 1 Mighty Pacs is an ideal laundry detergent for sensitive skin. These single-use, hypoallergenic laundry pods remove the toughest of stains easily and are gentle on the skin. They can be used with fabric softeners or dryer sheets to achieve static-free, softer, and cleaner clothes. This dermatologist-recommended laundry detergent is dye- and perfume-free and safe for high-efficiency washing machines. Before purchasing, check out this video on YouTube for more information on the All Free And Clear 4 In 1 Mighty Pacs.
Pros
Leaves no residue
Eliminates seasonal allergens
Pediatrician-tested
Compatible with fabric softeners
Compatible with sheet-dryer
Easy to use
Pods melt completely
Value for money
Cons
The Persil ProClean Power-Liquid Detergent for Sensitive Skin deep cleans and effectively removes tough stains. This hypoallergenic laundry detergent leaves your clothes soft and refreshed for a long time without triggering your allergies. The perfume- and dye-free formula contains enzymes that break down stains and clean your clothes with ultimate fiber care.
This detergent is compatible with all washing machines, including high-efficiency ones. It works under all water temperatures.
Pros
Long-lasting freshness
Fights odor
Anti-graying properties
Cons
Leaves a residue
Requires double rinsing
This Tide laundry detergent for sensitive skin is a multipurpose cleaner that works effectively as a stain remover, detergent, and color protector. It deep cleans, fights stain, brightens the fabric, and maintains the color with its gentle formula. The detergent works perfectly in cold and hot water and is suitable for high-efficiency turbo washing machines. Its formula is approved by both NEA (National Eczema Association) and NPF (National Psoriasis Foundation) for eczema patients.
Pros
Compatible with high-efficiency washing machines
Hassle-free cleaning
Suitable for all types of clothing
Phosphate-free
Ideal for hot and cold water
Cons
Leaves a residue
Overpowering chemical fragrance
The Arm & Hammer Sensitive Skin Free & Clear Laundry Detergent is a skin-friendly cleaner that is tough on stains. This laundry detergent is formulated without dyes and synthetic fragrances and has a lower suds formula. It deeply cleans the clothes and removes dirt and grime from the fibers without leaving any detergent residue. This detergent works efficiently and effectively on all washing machines – the standard ones and the latest energy-conscious high-efficiency (HE) ones.
Pros
Low suds formula
Powerful cleaner
Leaves no residue
Works in all types of washing machines
Value for money
Cons
The ECOS Hypoallergenic Laundry Detergent has a pH balancing, ultra-concentrated formula for lifting stains, brightening white clothes, and protecting colors for a longer time. It has a built-in fabric softener that prevents static cling and softens garments better than other detergents.
The detergent is made from plant-based ingredients with a mild magnolia and lily essential oil fragrance that does not trigger allergies. You can use this laundry detergent for hand-washing delicate fabrics too. It is suitable for all water temperatures as well as standard and high efficiency washing machines. You can go through this honest review on YouTube for more information on the ECOS Hypoallergenic Laundry Detergent Built-In Fabric Softener.
Pros
Concentrated formula
Non-toxic ingredients
pH-balancing formula
Dye-free
Optical brightener-free
Paraben-free
Phosphate-free
Phthalate-free
Gluten-free
Plant-based ingredients
Cruelty-free
Cons
Overpowering floral fragrance
Might trigger rashes or allergies
The Molly's Suds Laundry Powder's gentle, hypoallergenic formula makes it one of the best laundry detergents for eczema. This laundry detergent is formulated with organic ingredients like sodium carbonate, sodium bicarbonate, magnesium sulfate, unrefined sea salt, and organic peppermint oil that gently clean the fabric.
The active natural ingredients remove tough stains with low suds without damaging high-efficiency machine sensors. It can be used to pre-treat the stains by simply soaking the stained area with cool water, applying the paste of this sensitive laundry detergent, gently brushing, and allowing it to rest for a few minutes before rinsing. Make sure to check out this video on YouTube to learn more about the usage of Molly's Suds Laundry Powder.
Pros
Natural ingredients
Formaldehyde-free
Synthetic fragrance-free
Dye-free
Optical brightener-free
Petrochemical-free
Phosphate-free
Paraben-free
Bleach-free
SLS-free
Vegan
Cruelty-free
Cons
The Woolite Delicates Hand Washing Laundry Detergent is a gentle cleaner best suited for hand-washing your delicate clothes. This laundry detergent is free from harsh ingredients and has a very mild formula that keeps your clothes fresh and vibrant even after 30 washes.
This gentle laundry detergent does not cause fading, stretching, or shrinking of the fabric, and is perfect for delicate fabrics like intimate wear garments, silk, or wool. It works well in all kinds of washing machines as well.
Pros
Gentle on skin
Leaves no residue
Does not shrink the fabric
Best suited for delicate and intimate clothes
Bleach-free
Phosphate-free
Enzyme-free
Cons
Thin and water-like consistency
Mildly fragrant
Charlie's Soap Laundry Liquid is a gentle laundry detergent formulated without toxins or chemicals. It effectively removes tough stains, washes away unpleasant odor, removes oil, grease, and fats, and is suitable for cleaning delicate fabrics. This liquid detergent has a low suds formula that leaves your clothes soft and fresh for a longer time. The quick-rinse formula uses less water while washing a full load of clothes and does not leave behind any residues.
Pros
Best suited for baby clothes
Leaves no residue
Low suds formula
Eco-friendly formula
Less consumption of water
Added perfume-free
Synthetic dye-free
Brightening agent-free
Bleach-free
Dermatologist-tested
Pediatrician-tested
Cons
Not suitable for high-efficiency washing machines
HEX Performance's laundry detergent is specially formulated for washing activewear. The formula deeply cleans and breaks down the build-up and dirt in the tightly woven fabrics, leaving them static-, stain-, and odor-free. This fragrance-free laundry detergent keeps your activewear intact and maintains the vibrancy of the color. It works seamlessly in all washing machines.
Pros
Designed for activewear
Works in all washing machines
Dermatologist-tested
Biodegradable components
Paraben-free
SLS-free
Phosphate-free
Vegan
Cons
Overpowering fragrance
Does not eliminate odor
Presto Free & Clear Premium Laundry Detergent has a gentle formula that softens your clothes with each wash and makes your laundry an effortless task. Its concentrated formula with multi-enzymes technology whitens and brightens your clothes after every wash. This gentle laundry detergent for sensitive skin lasts up to 128 loads and deep cleans your clothes with each wash.
Pros
Concentrated formula
Leaves no residue
Fragrance-free
Phosphate-free
Dermatologist-tested
Cons
Make laundry day fun with the refreshing scent of the Attitude Nature+ Technology Laundry Detergent. This gentle laundry detergent deeply cleans your clothes and removes tough stains. Its advanced deodorizing formula infused with pink grapefruit fragrance ensures your clothes smell fresh. The plant-based, biodegradable ingredients are skin-friendly and hypoallergenic. It is designed to work in both standard and high-efficiency (HE) washing machines.
Pros
Eco-friendly
Plant-based ingredients
Vegan
Cruelty-free
SLS-free
SLES-free
Phosphate-free
Paraben-free
Formaldehyde-free
Phenoxyethanol-free
Dye-free
Artificial fragrance-free
Cons
The Rebel Green Fresh Laundry Detergent is a formula loaded with natural ingredients. Its concentrated formula eliminates odor and removes stains and dirt from clothes while staying gentle on the skin. This gentle laundry detergent maintains the texture and color of your clothes and prevents color fading.
The enchanting and refreshing fragrance of lavender and grapefruit makes your laundry chore an aromatic and soothing experience and leaves your clothes lightly scented. This mild fragrance does not aggravate even the most sensitive skin or cause any skin allergies.
Pros
Plant-based ingredients
Paraben-free
Sulfate-free
Ammonia-free
Petroleum-free
Phthalates-free
Phosphates-free
Synthetic fragrances-free
Dye-free
Cons
Why Trust StyleCraze?
The author, Pratyasha Ray, is a home and kitchen expert and understands the science of laundry detergents and how their residues on the fabric react on sensitive skin. She has handpicked the above-listed products following extensive research and in-depth analysis of customer reviews posted on trusted online platforms. These products do not leave any residues on the fabric and prevent skin irritation or allergies.
Frequently Asked Questions
What are some symptoms of detergent allergy?
Symptoms of detergent allergy include rashes, blisters, severe itching or irritation, scaly skin, dermatitis, or tiny bumps, swelling, and burning sensation.
Does fabric softener irritate skin?
Yes, indeed. If you have extremely sensitive skin, fabric softener can cause itchiness and irritation to your skin.
What is a gentle laundry detergent?
Gentle detergents are mild and specially formulated products that leave no residue on the cloth and do not irritate the skin.
Is tide detergent terrible for sensitive skin?
Not all tide detergents are terrible for sensitive skin. For example, you can safely use Tide Pods Free And Gentle Laundry Detergent even if you have sensitive skin. Only detergents that contain fragrances, preservatives, dyes, and other harsh chemicals can cause skin irritation, resulting in rashes, dermatitis, and itching.
Which laundry detergent is the best for eczema?
Unscented or fragrance-free detergents are the best detergents for eczema. You can safely try the Tide Pods Free And Gentle Laundry Detergent and the Molly's Suds Laundry Powder.
Why do I feel itchy wearing freshly washed clothes?
Generic, harsh laundry detergent contains fragrances, preservatives, colors, and other compounds that can cause rashes in children and adults with sensitive skin.
Can you all of a sudden become allergic to laundry detergent?
Yes, laundry detergent can trigger the sensitive part of the skin, causing skin allergies. It can even happen with a detergent that you have been using for years.
Recommended Articles