10 Best Detox Bath Salts For A Perfect Bath
Give your muscles that much-needed relaxation with some affordable soaking solutions.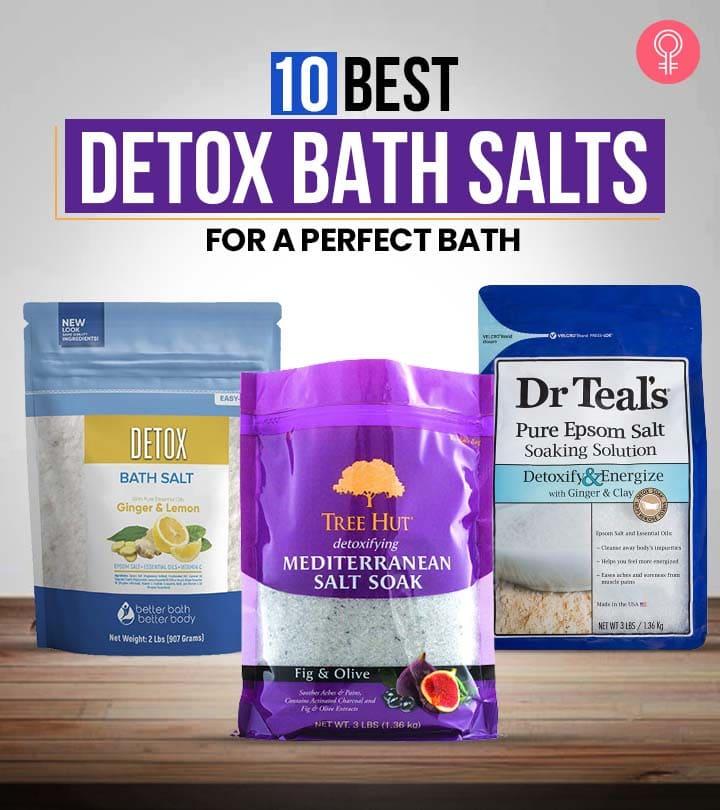 If you are looking for ways to relax after a long tiring day or hectic work week, try getting your hands on the best bath salts for detox out there. While we may all enjoy the relaxing and rejuvenation spa sessions from time to time, it may not always be possible to find the money and energy to visit a spa salon every time! That's when having a range of detox bath salts handy with you can help you unwind in the comfort of your home!
Rich in vital minerals, these bath salts help relax your muscles, reduce pain and discomfort, aid lymphatic drainage, and flush out the toxins from your body to give you rejuvenated healthy skin and body! They also help you scrub and exfoliate your skin to give you that natural shine and glow! If you are now keen enough to try it for yourself, we have shortlisted the 10 best detox bath salts for you to start with!
How Do Detox Bath Salts Work?
Detox bath salts exfoliate skin and provide a soothing effect.
They help relieve pain and soreness, especially for certain inflammatory conditions like lupus, gout, rheumatoid arthritis, etc.
Detox baths are a great de-stressor and aid in inducing sleep.
These bath salts help promote foot health by soothing irritation and curing toenail infection.
A salt bath can also help you draw out splinters from your feet and relieve inflammation.
They may also protect you from the cold and flu.
They even works wonders to reduce tan and pigmentation and revive dull and tired skin.
Bath salts relax your body, bring down stress and anxiety. Here are the 10 best rated salts for detox with most positive reviews.
10 Best Rated Bath Salts For Detox
Rejuvenate and unwind with a relaxing, detoxifying bath with the Mediterranean Salt from Tree Hut. The ultra-moisturizing Epsom salt is mixed with other skin-loving ingredients to heal cracked skin. Its activated charcoal soaks in the impurities. Pure shea butter softens your dry skin, while fig and olive add a boost of moisture to make your skin supple. Besides, the salt's chemical-free formulation makes it a healthy skin care staple. A deep soak into this bath salt is perfect for soothing and detoxifying your whole body. Moreover, it eases discomfort, relieves aches and pains, and treats sore feet.
Pros
Alcohol-free
Gluten-free
Lasting fragrance
Formaldehyde-free
Paraben-free
Sulfate-free
Vegan
Cons
Price at the time of publication: $7.19
Want to enjoy a natural detox bath? This bath salt from Better Bath Better Body would be the best fit. Besides relaxing your body, it balances your body's needs with incredible aromatherapy benefits. The pack comprises an effective blend of fine-grain Epsom salt with pure therapeutic essential oils and purifying vitamin C crystals. The ginger and lemon essential oils revitalize your body with an aromatic fragrance and vitamin C neutralizes chlorine and ammonia in your bath water, improving your overall well-being. Moreover, this salt is free of chemical additives and artificial ingredients and comes in BPA-free packaging with an easy press-lock seal for convenient usage.
Pros
BPA-free
Chemical additive-free
Natural ingredients
Vitamin C-rich
Fresh lemony fragrance
Cons
Leaves a greasy coating on the skin
Price at the time of publication: $29.99
Pamper yourself with the Oraganix Magnesium Salt Bath Flakes. The unscented salts offer effective pain relief along with stress-release and relaxation. The pack comes with a spray bottle. Add the salts to warm water to make your own rejuvenating concoction. Magnesium salts along with minerals are absorbed by the skin better than epsom salt and the amber bottle protects the mixture from UV rays, while increasing its shelf life. It relieves headaches, migraine, anxiety, and muscle pain. It also increases blood circulation and makes the skin more radiant. It offers comfort from conditions like asthma, psoriasis, eczema, and aids better sleep.
The warm water opens pores and magnesium is absorbed into the skin and bloodstream. It re-energizes the body and calms the nerves. It increases bone strength, renews muscles and nerve functions, and fortifies the immune system. Magnesium oil is said to benefit over 300 biochemical functions of the body.
Pros
Long-lasting formula
Hydrating ingredients
Offers pain relief
Offers quick results
Improves sleep
Ideal for sensitive skin
Ideal for eczema and psoriasis
Fragrance-free
Cons
None
Looking for a natural remedy for soothing tired and aching muscles? A relaxing and detoxifying bath with the bath salt from Epsaok would be a nice solution. The premium-grade epsom salt and therapeutic essential oils work together to flush out body toxins and relieve stress. The bath salt also helps cleanse pores and softens your skin. The sulfate in these salts expels toxins and improves the nutrient absorption rate. These salts are beneficial for treating muscle aches, pains, stiffness, and inducing sleep.
Pros
Natural ingredients
Pleasing fragrance
Cruelty-free
Cons
None
Price at the time of publication: $44.66
Enjoy a luxurious, therapeutic soak with the ASUTRA Dead Sea Bath Salt made from nourishing granules hand-blended with skin-loving essential oils. Besides detoxifying and smoothing skin, the invigorating eucalyptus oil relieves muscle pain, lemon essential oil boosts metabolism, and aloe vera and vitamin E protect the skin from oxidative stress. The bath salt boosts blood circulation, minimizes fluid build-up in tissues, and strengthens your immune system. It also provides therapeutic vapors that relax your body and mind.
Pros
No residue
Cruelty-free
Paraben-free
Petroleum-free
Dye-free
Animal fat-free
Fragrance-free
Alcohol-free
Eco-friendly
Money-back guarantee
Cons
Price at the time of publication: $21.99
Enjoy a restorative, therapeutic bath with the original ayurvedic formula of Dr. Singha's Mustard Bath Salt. It utilizes one of the popular kitchen staples – mustard – to eliminate impurities from the body and open pores. The salt also detoxifies and deep cleanses your skin. The essential oils in the mix promote blood circulation and make your skin soft. These alkaline salts offer excellent hydrotherapy.
Pros
Organic ingredients
Dissolves quickly
Refreshing fragrance
Cons
May cause irritation in some
Price at the time of publication: $58.47
Do migraine headaches trouble you frequently? Several studies have found magnesium to be beneficial in managing migraine headaches (1). The magnesium-infused bath salt from Magnum Solace aids in therapeutic relief from pain. Adding these magnesium flakes to your bath rituals is the best way to overcome magnesium deficiency in the body. The salt may reduce inflammation, reduce anxiety, and hydrate skin. Plus, it induces sleep and alleviates stress-related fatigue. These fast-dissolving flakes work wonders both as bath soaks and foot soaks and ease body discomfort.
Pros
Cruelty-free
BPA-free
Paraben-free
100% natural magnesium
Cons
None
Price at the time of publication: $9.99
Bring Mediterranean Sea to your bathtub with this excellent detoxifying sea salt from Lilluima that is enriched with essential oils. This premium-quality sea salt with therapeutic grade oils is great for relaxation. Soaking your body in a warm bath mixed with these salts provides soothing benefits.  The skin-loving essential oils extracted from frankincense, peppermint, and lemon calm and relax your body. Moreover, this salt is blended with fractionated coconut oil to ensure an incredibly satisfying bath and foot soak. Add magic to your bath ritual for a more soothing and refreshing experience.
Pros
High-quality natural ingredients
Vegan
Dye-free
Filler-free
BPA-free
Cons
None
Price at the time of publication: $17.99
This Himalayan pink salt- and Dead Sea salt-infused bath salt soothes muscle strain. Besides the fine-grained crystals, the damask rose oil, rosehip oil, and geranium oil destress your body and uplift your mood. Moreover, the hibiscus flowers create an aromatic luxurious atmosphere that resets both your mind and body. The salt's chemical additive-free composition is enriched by organic minerals. The salt could be ideal for those with sensitive skin.
Pros
Anti-aging benefits
Cruelty-free
Paraben-free
Vegan
Cons
None
Price at the time of publication: $17.89
Elevate your daily routine with either a comforting bath soak, relaxing foot soak or soothing warm compress with this natural bath salt from Very Well. The effective combination of magnesium flakes and Dead Sea salts nourishes and refreshes skin by penetrating the pores. This salt is enriched with 21 vital minerals and combats acne, psoriasis, redness, and dry skin. A warm bath soak with this nourishing salt helps lower stress levels, relieves aches and pains, eases muscle discomfort, reduces inflammation, and exfoliates and detoxifies the skin. It also works wonders in combating stress and its chemical-free formulation infused with eucalyptus oil makes it safe and refreshing for the whole body.
Pros
Cruelty-free
Sulfate-free
Paraben-free
Phthalate-free
Synthetic dye-free
Non-GMO
Vegan
100% natural ingredients
Cons
None
Price at the time of publication: $19.99
Nothing can compare the warm feeling of a luxurious relaxing bath that you get by incorporating these bath salts into your everyday routine. But with so many options available, choosing the right bath salt can be a challenge. Worry not – the following buying guide can help.
How To Choose The Best Bath Salt For Detox?
Grain Size: Unlike table salt, bath salts come in various sizes based on your needs. For example, if you are looking for a detoxifying agent for better cleansing and exfoliation, go for bath salts with smaller grains. For aromatherapy, choose bath salts with larger grains.
Ingredients: There are different types of bath salts serving various purposes. For example, sulfate salts are great for soothing inflammation, while Dead Sea salts may help treat eczema, arthritis, and rheumatism. Some salts may include chemical additives that may certainly cause skin allergies or other skin issues. So, be very specific and look out for the right ingredients before making a purchase.
Color: As bath salts help relieve stress, color may play a significant role in triggering various emotions. For example, red spikes your hunger, blue relaxes, while yellow energizes the body. Moreover, your bath time decides what you are looking for. Hence, decide the color accordingly to add some added effect to your bath rituals.
These bath salts help deal with various bodily and skin issues. Check out the section below to learn how to use a bath salt for detox.
How To Use A Bath Salt For Detox?
Take 2 cups of Epsom salt with warm water in a bathtub.
Keep water running to help the salt dissolve faster.
Soak in it for about 12 minutes for detoxification and stress-relief.
Add essential oils like lavender or peppermint for additional aromatherapy benefits. Few drops of these oils help lift your mood after a relaxing bath.
Why Trust StyleCraze?
The author, Shiboli Chakraborti, is a certified skin care coach who loves reviewing different products. She has curated this list of the best bath salts for detox after considering the necessary quality parameters like their ability to exfoliate and smoothen skin, therapeutic benefits, etc. Shiboli is convinced that the products in this list will relax your muscles, reduce pain, and get rid of toxins. These products shall also help you remove dead skin cells and maintain your glow.
Frequently Asked Questions
Does detox bath salt remove toxins?
Yes. Detox bath salt is made of Epsom salts that help flush toxins out of the body. It further cleanses the skin, unclogs pores, and improves skin texture.
Do detox bath salts work for weight loss?
No. There is no effect of detox bath salts on weight loss. However, these salts have other health benefits, like reducing pain and promoting sleep.
Can epsom salt reduce belly fat?
No. Although Epsom salt can help you relax your body and mind, it does not reduce belly fat or burn calories.
How often should you take a detox bath?
As a beginner, take detox salt baths once weekly for not more than 20 minutes. Once your skin gets comfortable, you can increase the frequency up to twice a week.
How long do detox bath salts take to work?
If you are taking a detox bath for the first time, soak for 10-12 minutes. If your body reacts positively to it, you can take a bath for 20 minutes.
Recommended Articles