13 Best Detox Face Masks To Achieve A Healthier Complexion – 2022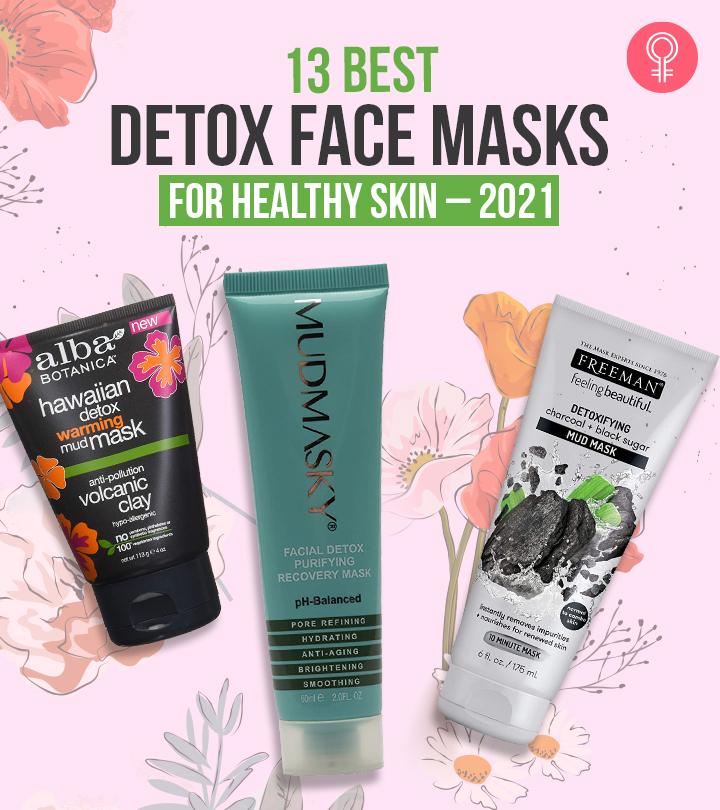 Even if you moisturize your skin often, cleanse it, and treat it well, it does require getting the treatment from the best detox face masks from time to time. It will penetrate deeply into your skin and enrich the skin with essential nutrients, antioxidants, vitamins, and minerals. It also helps maintain the pH balance of the skin, strengthen its moisture barrier, and improve skin elasticity for youthful skin. Keep reading to find the 13 best detox face masks below and enjoy healthy, glowing skin anytime.
13 Bestselling Detox Face Masks
Detoxify your skin with the BURT'S BEES Detoxifying Charcoal Sheet Mask. The gentle formula contains charcoal that draws out dirt, oil, and impurities to brighten your skin and make it glow. The combination of honey and charcoal revitalizes and soothes the skin without causing dryness. The 99% natural formula suits all skin types, including sensitive skin. It thoroughly hydrates, rejuvenates, and moisturize the skin from within by supplying vitamins, minerals, and poly nutrients.
Skin Type: All
Pros
Gentle
Dermatologist-approved
Ophthalmologist-tested
Non-comedogenic
Fragrance-free
Sulfate-free
Soap-free
Paraben-free
Phthalate-free
Petroleum-free
Cons
Drying
Doesn't stick well.
Thejet-black, velvety FREEMAN Detoxifying Charcoal + Black Sugar Mud Mask purifies, softens, and moisturizes the skin. It contains skin-friendly minerals derived from the depths of the Dead Sea to nourish and smoothen the skin. The activated charcoal gently removes excess oil and toxins from the skin without drying it out or disturbing the natural skin oils. Black sugar locks skin hydration and moisture to smoothen fine lines and roughness.
Skin Type: Normal and Combination
Pros
Gentle
Mineral oil-free
Creamy texture
Cruelty-free
Affordable
Dries quickly
Fragrance-free
Cons
May cause redness or burning.
The EbanelCarbonated Bubble Mask generates bubbles to thoroughly cleanse the skin, unclog pores, shrink pores, treat acne, eliminate impurities, and reduce redness. This Korean face mask contains niacinamide, volcanic ash, and bentonite clay. It also has collagen peptides obtained from seaweed and slowly released oxygen gas to stimulate cell regeneration, giving you firm and youthful skin. This bubble mask also contains ascorbic acid, fruit extracts, and hyaluronic acid that smoothen and brighten yourskin. The plant-based derivatives are crafted from biodegradable microfibers to fit perfectly onto the skin.
Skin Type: All
Pros
Gentle
Oil-free
Soap-free
Alcohol-free
Vegan
Cruelty-free
Hypoallergenic
Cons
The Muddy Detox Clay Mask is packed with nine natural, skin-nourishing ingredients that eliminate toxins and hydrate the skin. It contains healing Dead Sea clay and activated charcoal to strip off impurities. Witch hazel and raw cacao moisturize the skin, restore its texture, and impart a lasting glow. Coconut promotes healthy cell growth and treats issues like enlarged pores, dullness, and blackheads. This powerful yet gentle formula eliminates toxins, bacteria, and dirt, fights acne and blackheads, and awakens dull skin for everlasting glow.
Skin Type: Acne-prone
Pros
Gentle
All-natural ingredients
Reduces acne
Cruelty-free
Vegan
Cons
The DIFFERIN Detox + Soothe 2-Step Treatment Mask draws impurities and toxins from the skin to keep it healthy and glowing. Step 1 contains kaolin clay, hotflux, and hectorite to remove dirt and impurities. Apply it for 3 minutes and wash off to detoxify in no time. Step 2 has a cooling gel formula containing blue tansy oil and allantoin to shrink pores, soothe the skin, and prevent redness. It also retains skin moisture and can be left overnight. This dermatologist-approved product can be used thrice a week.
Skin Type: All
Pros
Easy to use
Non-comedogenic
Dermatologically tested
Paraben-free
Cooling effects
Cons
The Herblov Turmeric Face Mask contains skin brightening ingredients, such as turmeric, honey, and milk. Turmeric has anti-inflammatory properties, and it even tones the skin, fights aging signs, and eliminates dead skin cells. Bentonite clay lifts impurities, reduces pore size, prevents breakouts, and softens the skin. Honey powder has healing properties to prevent infections and UV damage and promote youthful-looking skin.
Coconut milk combats fine lines, wrinkles, shrinks pores, smoothens skin, and evens out the skin tone. Flax seeds are enriched with natural exfoliants to remove dead skin. Aloe leaf is rich in vitamins B and C, carotene, and folic acid that hydrate damaged skin. Colloidal oats provide a protective shield, boost moisture, and reduce friction. This face mask also provides a natural alternative to chemical-laden skin treatments.
Skin Type: Acne-prone
Pros
All natural ingredients
Reduces acne
Anti-aging
Cons
The MaskerAideDetox Diva face mask hydrates and nourishes the skin with its exfoliating, pore-minimizing, and oil-controlling capabilities. The gentle formula detoxifies the skin by removing dead skin, acne, and blemishes.
It contains lemon extractswith astringent properties to exfoliate the skin. The green tea extracts remove dead skin cells to rejuvenate the skin. Cactus extracts are rich in antioxidants that protect the skin from infrared rays and soothe dry and sensitive skin. This face mask also contains geranium oil, Chinese plum, green algae, and seaweed to detox the skin thoroughly. The sheets are drenched in highconcentrations of argan oil to supply essential minerals and vitamins to the skin.
Skin Types: Combination, Normal, and Dry
Pros
Gentle
Paraben-free
Cruelty-free
Subtle scent
Creamy texture
Cons
Enjoy a healing and luxurious spa-like experience at home with MUDMASKY Facial Detox Purifying Recovery Mask. The superior formula works by brightening, smoothing, and tightening the skin and reducing the pore size. It gently draws dirt, impurities, and bacteria from the skin and balances the pH level to keep the natural moisture intact. Fresh ingredients like raw Moroccan lava clay and Asian rosewater give clear-looking refreshed skin throughout the day.
Skin Type: Oily, Normal, and Combination
Pros
Gentle
Cruelty-free
Paraben-free
Natural tea scent
Non-toxic
Non-irritating
Cons
None
The (MALIN + GOETZ) Detox Face Mask is an innovative foaming gel mask that gives you cleansed skin in only five minutes. It uses oxygenating cleansing compounds to lift dirt, impurities, oil, and makeup from the skin while offering deep pore-cleansing.
This mask forms a physical barrier to lock moisture and hydration in the skin to prevent it from drying. It has natural almond extracts and complex amino acids like squalane and sodium PCA to moisturize the skin. Green tea and vitamin E provide antioxidant benefits, while vitamin C brightens skin tone. The coconut-based surfactants thoroughly cleanse the skin.
Skin Type: All
Pros
Anti-aging
Non-irritating
Refreshing
Artificial fragrance-free
Artificial color-free
Gentle
Cons
The alba BOTANICA Hawaiian Detox Warming Mud Mask is ideal for oily and blackhead-prone skin. It has natural warming abilities to optimally extract impurities from the pores to make your skin soft and toxin-free. The mineral-rich formula contains volcanic clay that exfoliates the skin by attracting dirt, oil, bacteria, and impurities.
Skin Type: Oily
Pros
Hypoallergenic
pH-balancing
Vegan
Cruelty-free
Sulfate-free
Artificial color-free
Artificial scent-free
Paraben-free
Phthalate-free
Cons
The Follain Dual Detox Mask resurfaces and refines the skin by dissolving impurities and toxins. It unclogs pores and reduces shine to give you smooth and even-toned skin. The superior formula provides facial-like effects by visibly smoothing and improving the skin's texture.
This face mask contains bentonite, kaolin clay, and montmorillonite to strip off impurities and toxins. Lactic acid, glycolic acid, salicylic acid, and gluconolactone prevent excess oil and exfoliate the skin. The antioxidant-rich papaya extracts, vitamin C, mango, and ginger root extracts refresh the skin and impart a radiantglow.
Skin Type: Oily, Combination, Dry, and Normal
Pros
Dermatologist-tested
Vegan
Cruelty-free
Easy to use
GMO-free
Gluten-free
Cons
The Clean & Clear Night Relaxing Detox Clay Mask is enriched with kaolin clay and bentonite to effectively draw oil, dirt, and impurities out while leaving the skin soft and healthy. It deeply cleanses and purifies the skin and leaves behind a fresh and refreshing fragrance to calm the senses. The kaolin clay gently penetrates the skin and detoxifies it without clogging the pores Apply the mask evenly on the face for 15 minutes and wash off with water to wind down and relax before bed.
Skin Type: Dry
Pros
Gentle
Oil-free
Non-comedogenic
Dermatologist-tested
Pleasant fragrance
Cons
The CLARITYRxREHAB Mediterranean Detoxifying Mud Face Mask purifies the skin by removing toxins like dirt, oil, and impurities. It is suitable for oily and acne-prone skin and does not strip the natural skin oils. This face mask contains herbal extracts, vitamins, and nourishing oils to clarify and refine the skin. It also contains aloe leaf, which has anti-inflammatory properties, to prevent acne, scars, and burns. Bentonite clay absorbs oil, toxins, and dirt, and Mediterranean and DeadSea muds soothe inflammation and remove impurities.
Skin Type: Oily
Pros
Reduces acne
All-natural ingredients
Artificial fragrance-free
Artificial color-free
Cruelty-free
Paraben-free
Cons
None
Why Trust StyleCraze?
Shiboli Chakraborti, the author of this article, is a certified skin care coach who believes that face masks should be a part of everyone's beauty regimen. After digging through a host of online reviews, she has curated this list of the top detox face masks, along with tips on how to get the most out of them. These face masks are full of ingredients that nourish and moisturize the skin.
Frequently Asked Questions
How often should you use a detoxifying face mask?
It is recommended to detox your skin once or twice a week using a detoxifying face mask.
Can you detox your face?
You can detox your face using face detoxing products like a detox face mask.
Is it okay to sleep with a detox mask?
Some detox masks are designed to be used overnight. They are also called sleeping packs. But they can cause dryness. Therefore, it is better to apply them only to the affected areas.
Recommended Articles