13 Best Dewy Foundations For A Glowing Makeup Finish – 2023
Switch to subtle yet glamorous beauty products and appear as gorgeous as ever!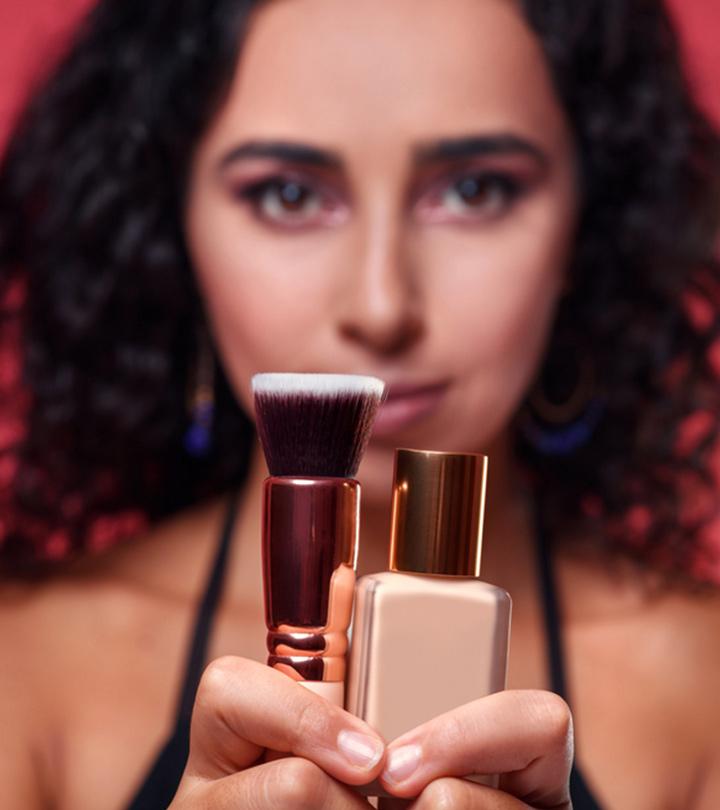 If you are tired of cakey and powdery foundations that leave your skin feeling dry and crusty, you can go for dewy foundations. The best dewy foundation can give you a beautiful and glowing makeup finish and make your skin appear radiant and healthy. These products are laced with hydrating ingredients that deeply moisturize and add a subtle shine to your skin to make it look supple and bouncy.
You can choose yours according to the tone of your skin. Sometimes, we miss out on our skin care routine, which is completely okay because these dewy foundations can act as a healthy base for your makeup. The glow is there, as well as the much-needed serum-like finish. However, choosing the best one can be confusing. Do not worry. We are here to help you. Take a look at the 13 best dewy foundations on our list and take your pick. Scroll down.
13 Best Dewy Foundations In 2023 For Skin That Oozes Radiance
Pros
SPF 18
28 shades to suit all skin tones
Buildable coverage
Dermatologist-tested
Non-comedogenic
Fragrance-free
Affordable
Cons
May not be suitable for sensitive skin.
Price at the time of publication: $3.65
Pros
Liquid foundation for an opaque finish
Hydrates and brightens skin
Oozed with ocean minerals
Best for normal to dry skin
The foundation has nutrients that firm the skin and reduce aging signs.
Cons
This might not be a suitable dewy foundation for oily skin.
Price at the time of publication: $49
L'Oreal Paris True Match Lumi Healthy Luminous Makeup is the perfect choice for you if you are looking for a gorgeous glow. Thanks to its Liquid Light Technology, this dewy foundation will lend you instant radiance. It is infused with antioxidants, vitamins C and E to improve the appearance of your skin and contains 40% pure water to keep your skin hydrated all day long. It is a lightweight and medium coverage foundation that lasts for up to 8 hours. Furthermore, this skin illuminating foundation is formulated with broad-spectrum SPF 20.
Pros
Instantly illuminates complexion
Evens skin tone
Includes SPF 30
Suitable for all skin types
Available in 15 shades
Budget-friendly
Gives you brighter and healthier skin over time.
Provides medium coverage that lasts for 8 hours.
Cons
Price at the time of publication: $11.97
Pros
Lightens and brightens the complexion
Provides instant hydration
Easy to blend
Hypoallergenic and non-comedogenic
Affordable
Suitable for all skin types
It delivers medium coverage with a satin finish.
Cons
May have a strong chemical scent
The foundation may not work well for dry skin.
Price at the time of publication: $15.0
Fruits have all the nutrients and vitamins good for skin and the 100% Pure Fruit Pigmented Tinted Moisturiser is kissed with all the goodness of the best fruits. Antioxidant fruits such as peach and apricot lend a natural tint and color to the foundation. Goji berry extracts present in the formula help boost collagen and this naturally reduces the fine lines and wrinkles. Your skin remains cool and soothed when you apply this foundation as it is infused with cucumber extracts. Repair your skin as you hide your blemishes with this foundation.
Pros
Natural and non-toxic composition
Lightweight formula
Vegan and cruelty-free
Non-greasy dewy look
The foundation comes with skin repairing properties.
Cons
The orange tint shade of the foundation may stain your skin.
Price at the time of publication: $48
Pros
Matte and weightless formula
Gives you a second-skin effect
24-hour wear
Vegan and cruelty-free
Alcohol, oil, and paraben-free
Available in 23 shades
Compatible with normal to oily skin types
Cons
May not be suitable for mature skin
Price at the time of publication: $10.0
Pros
Buildable formula
Blends seamlessly
Natural-looking finish
Available in 20 shades
Value for money
Cons
None
Price at the time of publication: $5.23
Glo Skin Beauty Luminous Liquid Foundation can be a fantastic addition to everyday makeup pouch. Suitable for most skin types (except for oily skin), this liquid foundation covers imperfections such as fine lines and hyperpigmentation and boosts radiance. It is formulated with SPF 18, green tea extract, and vitamins A, C, and E to nourish skin and prevent sunburns. But what makes this one of the best dewy foundations is the infusion of light-diffusing diamond powder and moisturizing agents that lends you a soft and youthful glow.
Pros
Offers sheer to medium coverage
Skin-nourishing mineral formula
Talc, paraben, and gluten-free
Cruelty-free
Conceals dark circles
Cons
Expensive and it may need to be reapplied every couple of hours.
Price at the time of publication: $48.24
Whether you are someone who uses only natural products on your skin or you have just begun embracing the natural beauty trend, Burt's Bees Goodness Glows Liquid Makeup is ideal for you. This long-wear dewy foundation is 98.9% natural and only uses responsibly-sourced ingredients. Formulated with meadowfoam seed oil, this mineral makeup hydrates and nourishes your skin, which gives your skin a natural-looking finish without looking greasy or cakey. This high-performing foundation provides medium to full coverage that lasts all through the day, hides imperfections, and evens skin tone.
Pros
98.9% natural
Evens and smoothes skin
Moisturizing benefits
Buildable formula
Chemical and cruelty-free
Dermatologist-tested
Available in 18 shades
Cons
May not be water-resistant
Pros
Lightweight, buildable foundation
Improves skin's texture and radiance
Provides sheer coverage
Keeps skin hydrated and moisturized
Paraben, alcohol, and fragrance-free
Dermatologist and ophthalmologist-tested
The product is non-comedogenic and oil-free
Cons
May not be suitable for sensitive skin
Price at the time of publication: $46.2
Airbrush makeup, commonly done by professional makeup artists, is increasingly becoming popular among home users. Have you always wanted to try it out by yourself? Give this ULTRA Airbrush Foundation by Luminess Air a try. All you need is a Luminess Airbrush System and 5 minutes to achieve great coverage that lasts for up to 18 hours. This lightweight, water-based full-coverage dewy foundation is the perfect combination of a dewy and matte finish, so rest assured it will lend your skin a natural and healthy glow. This foundation is ideal for all skin types, including acne-prone, sensitive, mature, and combination skin.
Pros
Long-wearing for up to 18 hours
Dermatologist and ophthalmologist-tested
Hypoallergenic and non-comedogenic
Sheer to full coverage formula
Suitable for all skin types
Lightweight and water-based foundation
Cons
Can only be used with Luminess Airbrush Systems
Price at the time of publication: $32.39
Pros
Provides natural skin-like finish
Buildable formula
Offers light to medium coverage
Long-wearing
Hydrates skin
Offers SPF 15 protection
Paraben, sulfate, and phthalate-free
The foundation is gluten-free and vegan.
Cons
Price at the time of publication: $39.35
Koh Gen Do is a Tokyo-based makeup brand that uses Japanese Skincare Technology and precious plants to naturally heal your skin. The Koh Gen Do Aqua Foundation is designed with natural elements extracted from the best botanicals like jojoba seed oil, shea butter, and licorice root extract to cover all the freckles and blemishes and regenerate a natural glow. You can get back your youthful skin because of all the skin emollients used. The skin gets a radiant finish because of the light-reflecting pigments present in them. Get this light-reflecting foundation and improve your glow naturally.
Pros
Japanese skincare technology
Resists oil and sweat
Breathable
Lightweight foundation
Cons
The foundation might not suit all skin types.
Price at the time of publication: $76.8
Now that you have gone through our list of some of the best dewy foundations, let us look at a few important points that you need to consider while buying one.
How To Pick The Right Dewy Foundation?
Skin type: The best dewy foundations should contain super hydrating ingredients and light-reflective pigments to give you a glowing complexion. But when it comes to choosing the right dewy foundation, you need to consider your skin type as well.
For mature skin, opt for foundations that reduce fine lines and include anti-aging properties. Opt for ones infused with retinol, hyaluronic acid, lactic acid, and other such anti-aging ingredients.
If you have dry skin, choosing ones that keep your skin moisturized is a good choice. Pick a foundation with ingredients like shea butter, avocado oil and extracts, and hyaluronic acid too.
As for sensitive skin, look for foundations that are made without harsh chemicals. Look for natural ingredients like aloe vera, cucumber, and pomegranate extract among others.
Dewy foundations are not generally recommended for oily skin. But foundations that have a mattifying effect work the best. Make sure you pick ones that come with skin hydrating ingredients like glycerin or vitamin E to balance the moisture on the face.
Shade: If you are looking for a natural-looking finish, it's essential to use the right shade that matches your skin tone. Your skin may be dark, medium, or light, and you can check your tone by standing in the sun and observing what your shade looks like. Similarly, you can also look at your veins in your wrists to determine your undertone. If your vein looks green, it means that you have a warm undertone, while blue veins signify a cool undertone. If your veins don't match these colors, it means that you have a neutral undertone. If a certain shade of foundation makes you look darker or leaves a white cast on your skin, it may not be the right shade for you. Choose the best dewy finish foundation shade that is the closest to your skin color, and let it be on the brighter side.
Rachel D'Angelo, a licensed beauty professional and former cosmetology educator, says, "Finding the perfect foundation can be tricky and even change over time as your skin type may change over the years and with the environment. However, with the right products and application and a formula that works for your skin type, you can make your skin look flawless and even."
Coverage: Whether you require a sheer, medium, or full coverage foundation, depends on your skin tone or texture. If you want to hide blemishes, a formula that provides medium to full coverage works best. Additionally, look for a foundation that offers long-lasting coverage.
How To Get The Dewy Skin Look?
With the right dewy foundation and a few easy-to-follow steps, it's easy to achieve fresh, hydrated skin.
Step 1: Wash your face with a good cleanser and exfoliate your skin using a scrub.
Step 2: Moisturize your skin with a moisturizer or a few drops of face oil. This will provide a smooth surface for the foundation to adhere to.
Step 3: Apply a lightweight dewy foundation that suits your skin tone. Blend it well with a makeup sponge or a brush.
Rachel D'Angelo, a licensed beauty professional and former cosmetology educator, says, "I always use a primer before applying foundation; this helps the product go on smoothly and last longer throughout the day. For the application, try applying in a patting motion, not swiping or rubbing it on, helping you avoid streaks and uneven coverage."
Why Trust StyleCraze?
The author of this article, Srijani Roy Chowdhury, is a makeup enthusiast who is always keen on reviewing different beauty products. She has curated a list of the best dewy foundations after carefully researching and browsing through user feedback and reviews. Her list is perfect if you are obsessed with a serum-like smooth finish. Not only are these foundations suitable for all skin types, but they can also work towards hydrating your skin and maintaining its natural glow.
Frequently Asked Questions
Is dewy or matte foundation better for oily skin?
Matte foundations work best for oily skin because it does not make the skin look greasy, whereas dewy foundations tend to give oily skin a shiny appearance. However, there are a couple of dewy foundations specially formulated for oily skin. So, choose a foundation that suits your skin the best.
Which foundation gives a dewy look?
Any foundation that is lightweight and enriched with moisturizing ingredients such as extracts of cucumber, aloe, will give a dewy look.
What is the best dewy foundation for mature skin?
Luminess Air ULTRA Airbrush Foundation is one of the best dewy foundations for mature skin. The best part about this formula is that it is lightweight, water-based, and minimizes fine lines and wrinkles. It also provides flawless coverage without looking cakey.
What is the best dewy foundation for oily skin?
Catrice Cosmetics HD Liquid Coverage Foundation is one of the best options for people with oily skin as it can reduce oiliness and smoothen your skin.
Is dewy foundation good for combination skin?
No, dewy foundation is not suitable for combination skin because it may end up looking greasy and oily.
How do you make dewy look less greasy?
You can use a water-based primer to set your base and dust loose powder to mattify your T-zone Also, use a hydrating setting spray for that dewy effect.
How do I prepare my skin for dewy makeup?
Maintain a good skin care routine and exfoliate your skin for a dewy makeup look. Use a hydrating moisturizer and a glowy primer for a fresh base. Also, make sure you do not go overboard with your foundation.