8 Best Dewy Highlighters For Shiny And Glowing Skin – 2022
Be a head-turner with these highlighters in the hustle and bustle of this busy life.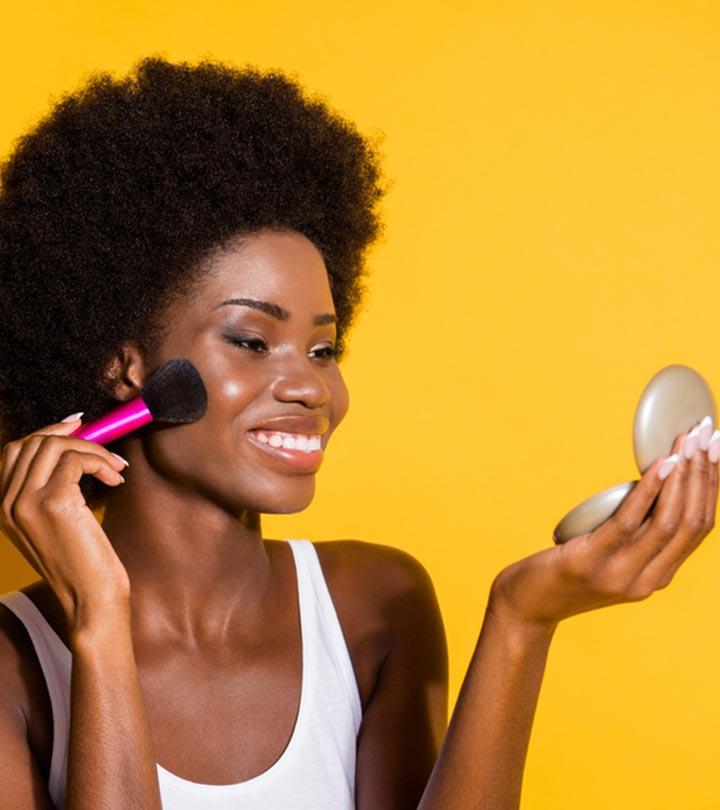 If you are looking for that glowy finish or an after-shower look, you should most definitely go for the best dewy highlighter. As you know, there are some highlighter powders that leave your skin looking like a disco ball with a glittery finish. Not your good old dewy highlighter. These sets of highlighters make your skin look like shimmering glass and leave you looking radiant. Some of the dewy highlighters also do your skin the favor of looking healthy. Affordable and easily available, dewy highlighters give your cheekbone form and structure. If you are having a lazy day and spending a lot of time doing makeup sounds unappealing, then just put a dab of highlighter on your skin with your favorite lipstick, and you are ready to go! If you still haven't found the right highlighter for you, you have come to the right place. Listed below are some of the top dewy highlighters that can keep you looking fresh throughout the day. Check out to see what they are.
8 Best Dewy Highlighters For Gorgeous Skin In 2022
This jelly highlighter from E.l.f. Cosmetics is the ultimate product for adding a glowy finish to your makeup. It can be used as a highlighter or mixed into a foundation to make your base slightly dewy. The best part is that it is free from harmful chemicals like phthalates, parabens, and hydroquinone. In all, it is a perfect, premium-quality dewy highlighter to enhance your makeup looks. Just apply it with your finger or brush to the cheekbones, cupid's bow, and brow bone to add you're good to go and slay the world with a hint of shine. If you are still unsure, check out this honest review.
Pros
Luminous finish
Cruelty-free
Vegan formula
Free of parabens, sulfates, and hydroquinone
Cons
May not be best-suited for oily skin
If versatility is what you seek, then that is what you get with this natural, dewy highlighter from Undone Beauty. The 3-in-1 formula easily transforms into a highlighter, blush, and lipstick. What's more, it is available in 7 different shades, making it a must-have addition to your beauty kit. Infused with coconut extract, this product offers a soothing effect while being easily blendable. With no chemical ingredients like phthalates, parabens, or formaldehyde, this highlighter is truly skin-friendly and safe for sensitive skin. It adds a radiant natural glow to your healthy skin and makes your makeup look worth drooling.
Pros
Paraben-free
Gluten-free
Cruelty-free
Infused with coconut extract
Available in 7 shades
Safe for sensitive skin
Cons
Color might be a little overpowering for some
When looking for a high-quality dewy liquid highlighter for a subtle glow, you have to give this one a chance. It comes in an easy-to-use spray container that helps you do the job quickly and efficiently. You can also use it to even out skin or even conceal flaws like skin discoloration and stretch marks. Made with herbal ingredients like green tea extract, vitamin E, jojoba oil, aloe vera, olive oil, and seaweed extract, it rejuvenates the skin and adds hydration. Moreover, it improves elasticity, texture, and skin brightness. The formula is transfer-resistant, so you can wear it without worrying about stains.
Pros
Natural ingredients
Hydrates skin
Improves elasticity and texture
Travel-friendly
Transfer-resistant
Cons
Slightly unpleasant fragrance
The Aesthetica Starlite Highlighter is all you need to give your face the perfect natural glow and enhance your striking features. It is packed with this ultra-shimmery color that glides effortlessly on the skin and stays all day. It is available in 4 shades that are complementary to different skin shades and textures. Made with a tried and tested formula, this glossy highlighter has a metallic sheen that provides a long-lasting finish. It comes as a round compact and mirror that easily fits in your purse. The luminous pressed powder allows you to enhance the high points of your face and brings focus to areas most desirable. The mess-free formula is perfect for novices and makeup experts alike.
Pros
Cruelty-free
Blends easily
Vegan formula
Available in 4 shades
Cons
May have a high fallout. It is advisable to dust the excess product off the brush before application.
Here is a perfect stick highlighter that makes highlighting hassle-free and smooth. Physicians Formula dewy highlighter is loaded with hydrating antioxidants that result in healthy, glowing skin. They help rejuvenate and brighten skin instantly. Ingredients like aloe vera, botanical cactus flower, Indian senna seed, and jojoba oil provide deep moisturization and keep dryness at bay, thus, making your skin glow without any roughness or dryness. The formula is ultra-blendable and nurtures your skin for that natural, healthy glow. With a slight swipe on your brow bones, bridge of the nose, and cheekbones, you are all set with a dewy glow.
Pros
Creamy texture
Nourishing formula
Hassle-free application
Rejuvenates and brightens skin
Cons
Some may find the formula to be a bit too thick
Want to get glowing skin for the ultimate party look? Well, here is a great quality illuminator that not only gives you the much-wanted glow but also adds a sensuous dewiness to your skin. This creamy illuminator and glossy highlighter from RMS Beauty is probably one of the best highlighters due to its natural luminous texture. Formulated with nourishing organic oils, this shimmery highlighter is all you need to attain a flawless glow. When looking forward to creating dewy looks for the special evenings, you must include it in your makeup routine. Click this video to learn more about the product.
Pros
Non-GMO
Non-greasy
Soy-free
Gluten-free
Cruelty-free
Available in many shades
Cons
May not be as pigmented as expected
Ciate London Dewy Stix highlighter has a beautiful subtle shade that works perfectly on all skin tones. It blends comfortably on the skin and is super easy in application. With just a smooth glide, effortless glide, you are all set to shine on those special events. Free from loose glitter particles that may ruin your flawless look, this one has a dewy, creamy texture that blends easily. Formulated with hyaluronic acid and murumuru butter, this balm highlighter is weightless and gives a perfect natural finishing touch to your skin.
Pros
Easy to apply
Subtle shade
Contains hyaluronic acid
Natural, shimmery finish
Cons
This shiny highlighter from Becca cosmetics is all you need for a natural-looking, subtle glow. It contains super fine, light reflecting pearls that make skin healthy and glowing. You can use it by adding to your primer, foundation or even to your moisturizer for a beautiful, dewy sheen. Or you can use it as a highlighter to sculpt and highlight your facial features. Take a small amount of the product on your finger and apply it on the high points of your face like the cheekbones, brow bones, and cupid's bow and look stunning wherever you go. It brings a freshness to your face and gives the perfect radiance. Learn more about the product in this video.
Pros
Lightweight
Easily blends
Travel-friendly
Effortless glow
Cons
May not be best suited for all skin tones
So, these are the dewy highlighters of all time. You can buy the one you like the most and include it religiously in your makeup routine. But before making your purchase, do read the following points for a better buy.
How Do I Choose The Best Dewy Highlighter?
A good dewy highlighter does not make the skin cakey. If your highlighter is liquid or slightly creamy, it is less likely to make your skin cakey. Highlighters must also blend easily, or else you can end up looking glittery and patchy. So choose a highlighter that blends seamlessly.
Affordability and versatility
The best highlighters are affordable yet of premium quality. So always invest as per your budget and never compromise on the quality. Anything that works out both as a highlighter and illuminator should be highly preferred for its versatility. Few highlighters also work as blushers, which are suitable to buy.
Ingredients matter a lot. Many highlighters are loaded with toxic chemicals that may leave your skin feeling dried out and damaged. So always choose a product with organic ingredients and is free from phthalates, paraben, hydroquinone, etc.
Make sure before choosing a natural dewy highlighter that the shade matches your skin tone and does not turn out as a blunder. When choosing a highlighter, always keep in mind your complexion. For fair skin complexions, shades like golden and peach suit the best. For dusky skin tone, bronze or copper shades are highly suitable. People with medium skin tone must opt for dewy highlighters in champagne hues.
Always consider buying a highlighter as per your skin type. If you have dry skin, creamy formulas shall be the best for you. For people with oily or combination skin, powder highlighters are more suitable.
Why Trust StyleCraze?
Chaitra Krishnan is a makeup enthusiast, and a highlighter is one of her favorite makeup products. She swears by dewy highlighters because, according to her, the powder ones might end up looking cakey and flaky. She has thoroughly gone through multiple reviews to pick the best ones for her readers.
Frequently Asked Questions
Is a dewy highlighter good for dry skin?
Yes, a dewy highlighter can hydrate the skin and make it more glowing.
How do I use a dewy highlighter?
After applying your foundation and blush, use a dewy highlighter on the high points of your face like the forehead, browbones, bridge of your nose, cheekbones, chin, and cupid's bow. Blend it with a makeup sponge for a seamless look.
How long does dewy highlighter makeup last?
If your dewy highlighter is liquid or cream-based it can stay up to 12 months after opening the package. If it's powdered, it can last up to 24 months. Always check the expiry date mentioned on the label before use.
Is it possible to get a dewy glow without using a highlighter?
Yes, you can use eyeshadow or lip gloss on the high points of the face where you catch sunlight like cheekbones, temples, down the bridge of your nose, and under your brows to give a shining dewy glow to the face.
What's the difference between matte and dewy makeup?
Matte makeup gives a velvety and air-brushed look without reflecting light. On the other hand, dewy make gives moisturized glowy skin reflecting light.
Recommended Articles: