14 DHT Blocking Shampoos – Top Picks And A Buying Guide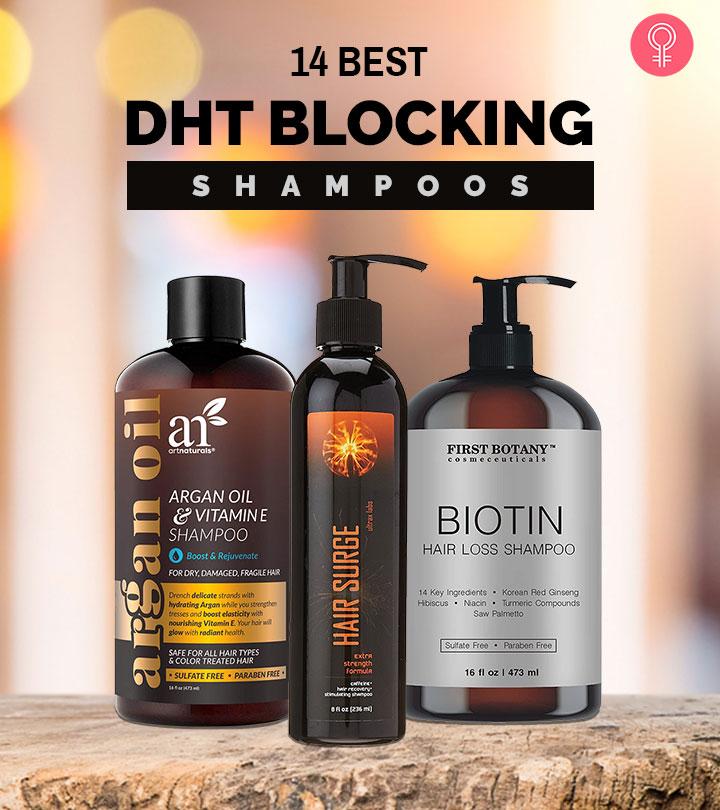 If you are experiencing hair fall often, apart from other reasons, you may also want to look at your shampoo. Not all causes of hair fall are the same, but more often, hair fall happens due to hormonal issues. One such hormone is DHT, or dihydrotestosterone, which is responsible for hair loss (and baldness) in both men and women.
The best way to deal with this is using a DHT blocking shampoo. These shampoos contain special ingredients that prevent testosterone from converting into DHT. Using them regularly may help reduce hair loss. You do not have to go through the pain of picking the right DHT blocking shampoo. In this post, we have listed the top 14 DHT blocking shampoos. Go through it and make a wise choice!
14 Best DHT Blocking Shampoos
The Maple Holistics Biotin Shampoo is among the top-rated hair products available on the market. The biotin in the shampoo helps in hair growth. It also strengthens the hair follicles and fortifies each hair strands. The shampoo also protects hair from environmental damage, prevents breakage, and restores hair health.
The shampoo is also infused with other DHT-blocking ingredients that reduce DHT levels on the scalp. It contains provitamin B5 and 11 nutrient-rich botanical extracts, like coconut oil, tea tree oil, jojoba oil, olive oil, evening primrose oil, argan oil, along with zinc. The blend of essential oils boosts hair hydration and delivers nutrition deep into the scalp.
Coconut oil is a natural hair care solution that is rich in lauric acid. It helps hair grow faster, thicker, and longer as it is easily absorbed deep into the hair shaft. It is rich in antioxidants, essential fatty acids, and vitamins that nourish the scalp and remove the sebum build-up in the hair follicles. Tea tree oil is a revitalizing therapeutic essential oil that purifies the scalp, removes excess oil, soothes dry scalp, and reduces dandruff.
Jojoba oil acts as an antioxidant and has an oily composition. It helps hydrate your hair from the roots and protects against dryness, breakage, and split ends. It is great for conditioning your hair. The evening primrose oil reduces hair loss caused by hormonal imbalances. The oil contains high levels of omega-6 fatty acids, like gamma-linolenic acid (GLA), which stimulates hair growth. This sulfate-free formula cleanses your hair and scalp, unclogs hair follicles, and removes excess oil and dirt.
Pros
Sulfate-free
Infused with natural components
Cruelty-free
Safe for color-treated hair
Hypoallergenic
Non-GMO
Very light
Anti-residue shampoo
Unclogs hair follicles
Detoxifies oily hair
Improves hair density
Essential oils promote hair growth
Strengthens hair follicles and hair strands
Effective for both men and women
Cons
The Ultrax Labs Hair Growth Stimulating Shampoo helps stimulate hair growth and nourishes hair follicles deep from within. This shampoo contains some of the best DHT blockers, including caffeine, ketoconazole, saw palmetto, niacin, peppermint oil, mango butter, and lauric acid. This shampoo is formulated to increase the absorption of active ingredients. The active ingredients stay longer on your scalp, nourishing your hair from deep within.
Studies have shown that caffeine, when applied transdermally, helps stimulate the life cycle of hair follicles and encourages hair growth. Caffeine also helps block DHT and may stall hair loss. Clinical trials showed that saw palmetto may block the enzyme 5-alpha-reductase, which is responsible for the conversion of testosterone to DHT. Ketoconazole is an antifungal and anti-inflammatory ingredient that reduces dandruff and is also shown to stimulate hair growth. This revolutionary product with mango butter is an emollient. It keeps each strand hydrated and protects your hair from dryness.
Pros
Effective formula for both men and women
Blended with natural ingredients
Reduces dandruff
Nourishes each hair strand
Stimulates natural hair growth
Clinically-proven ingredients
100% satisfaction guarantee
Effective hair recovery formula
Increases hair volume
Easy to use
Cruelty-free
Cons
Expensive
Does not lather easily.
Not a soothing smell.
The Hairgenics Pronexa DHT Blocking Shampoo is US FDA-approved. It is made with the best-picked ingredients to support hair growth and nourishment. The natural ingredients act synergistically to stimulate hair growth and regrowth. They also prevent hair loss by fortifying and strengthening your existing hair and follicles. This DHT blocking hair loss shampoo contains aloe vera extract, saw palmetto extract, biotin, and seaweed extract. It also is enriched with vitamin B5 and hydrolyzed silk protein.
The collagen peptide formula builds hair protein, strengthens the hair roots, and prevents premature graying. Biotin not only promotes healthy hair growth but also maintains hair hydration, prevents dryness, and increases the elasticity of the hair cortex. The enriching aloe vera and seaweed extracts deeply moisturize each hair strand and reduce hair thinning and shedding. Saw palmetto is a clinically proven DHT blocker that effectively reduces the production of DHT, prevents hair loss, and adds thickness and volume to your hair. For the best results, use the shampoo for six months at a stretch.
Pros
Clinically proven formula
FDA approved
Manufactured at GMP compliant facilities
Certified organic ingredients
Supports follicular growth
Prevents hair loss
100% vegan
100% money-back guarantee
Works for both men and women
Cons
Expensive
Minty fragrance
Poor quality pump dispenser
The Hairgenics Propidren Hair Growth Shampoo is specifically designed for thinning and balding hair. It contains biotin, keratin, and other powerful DHT blockers that help prevent hair loss. The biotin in the shampoo helps improve keratin's structural integrity. It also increases hair elasticity by protecting and minimizing hair breakage. It helps in the thickening of hair and provides nourishment, fullness, and shine.
The shampoo also contains saw palmetto, an effective DHT blocker that works by inhibiting enzymatic reactions. The tropical application of saw palmetto is clinically proven to reduce hair loss and help in hair regrowth. Other DHT blockers work synergistically to stop hair loss, and stimulate hair regrowth. The hydrolyzed silk protein has excellent moisture-binding properties that lock in the hair moisture and give your hair a silky smooth texture.
Pros
FDA-approved
100% certified organic ingredients
Manufactured in a GMP-certified facility
Cruelty-free
Makes hair smooth
100% money-back guarantee
Cons
Poor quality bottle cap/dispenser pump
The Amplixin Stimulating Shampoo contains clinically proven ingredients that help prevent baldness and receding hairlines in both men and women. The shampoo contains a powerful combination of caffeine, acetyl-tetrapeptide-3, and red clover, which may help achieve thicker and denser-looking hair with daily use. Revive your luxurious looks with Amplixin's top-grade natural ingredients, essential vitamins, and minerals.
Research shows that caffeine helps promote hair growth from the root. It also speeds up the hair growth cycle by inhibiting the action of the DHT hormone. Caffeine mainly targets hair follicles, increases blood circulation to the scalp, and strengthens the hair roots by supplying enough nutrients. It also stimulates keratinocytes to produce more keratin. This further strengthens the hair shaft.
The red clover flower extract in the shampoo makes hair stronger by treating scalp irritation and dandruff. It helps the hair follicles strongly anchor to the scalp. The peptide complex, when combined with the red clover extract, acts as a strong DHT blocker. It helps reduce hair fall and stimulates thicker hair growth. Another strong ingredient is the sage leaf extract that stimulates blood circulation in the hair follicles.
Pros
Sulfate-free
Paraben-free
100% natural formula
Best for all hair types
Effective for both men and women
Completely safe for daily use
Hydrates each hair strand
Protects from environmental pollutants
Cruelty-free
Cost-effective
Cons
The Honeydew Biotin Shampoo is a natural formula for thicker and healthier hair growth. It is infused with all the natural essential oils that nourish hair follicles from the root to tip. They prevent hair thinning. The natural biotin shampoo contains coconut oil, jojoba oil, argan oil,tea tree oil, olive oil, evening primrose oil, and keratin.
The biotin in the shampoo promotes thicker hair growth, strengthens hair shafts, and also targets the hair follicles. It also stimulates the action of keratin. Tea tree oil has cleansing, antibacterial, and antimicrobial properties that cleanse your scalp by unclogging the pores. This releases the extra dirt and oil and prevents dandruff. Argan oil is rich in vitamin E, an antioxidant that protects hair follicles from free radical damage. Vitamin E also moisturizes your scalp.
Pros
Sulfate-free
Works well with all hair types
Hypoallergenic
Made with eco-friendly ingredients
Cruelty-free
Blend of all essential oils
Infused with advanced keratin formula
Rich in essential fatty acids and vitamin E
BPA-free bottle material
Cost-effective
Effective for both men and women
Cons
Dries out hair
Makes hair frizzy
The Pure Biology Premium Hair Growth Shampoo is specifically formulated to strengthen hair, revitalize hair follicles, and reduce hair loss. It is infused with biotin, keratin, hydrogenated castor oil, coconut oil, vitamin B, vitamin E, saw palmetto, green tea extract, grapefruit seed oil, soybean oil, lemongrass oil, lemon peel oil, rosemary leaf oil, clary oil, and hydrolyzed wheat protein. Biotin is the main ingredient in this revitalizing shampoo that helps in hair growth by stimulating hair follicles and providing them nourishment. Saw palmetto and green tea extract prevent hair fall while stimulating hair growth.
The shampoo also contains Amino Kera NPNF keratin complex that penetrates deep into the hair follicles. It strengthens the hair shaft, locks natural moisturization, and revitalizes dry, dull hair. The procapil in the shampoo strengthens hair and prevents hair loss naturally. It combines apigenin and oleanolic acid to target the areas of hair loss (alopecia) and prevents the effect of DHT. This shampoo is a pure biology formula to rejuvenate and fortify hair follicles to prevent hair loss in both men and women.
The blend of the essential oils acts as an antiseptic. It prevents hair damage and hair breakage, repairs split ends, and helps treat dandruff. The soybean oil helps retain moisture in the hair. It is rich in vitamins, fatty acids, and manganese that are absorbed better into hair, locking in the moisture and preventing dryness. The hydrolyzed wheat protein is derived from wheat germ. It easily penetrates into the hair shaft and is absorbed into the inner fiber of hair, thickening your hair and adding volume. The vitamins in the shampoo nourish all hair types, including curly hair, straight hair, gray hair, blonde hair, etc.
Pros
Sulfate-free
Paraben-free
Non-GMO
Cruelty-free
Effective for both men and women
Perfect for colored and dry hair
Locks hydration in the hair shaft
FDA-approved
Prevents split ends
Smells good
Cons
Expensive
Small-sized bottle
Contains gluten
The Earth Chemistry shampoo is enriched with sea salt minerals, crystals, rosemary, and peppermint oil that act as natural DHT blockers and help reduce hair loss. This is an alcohol-free natural formula that blocks DHT and reduces hair fall. Sea salt is effective for oily hair. It helps unclog pores, removes dirt and oil, and deeply cleanses hair. Both rosemary and peppermint oil have anti-inflammatory properties. They improve blood circulation and promote hair growth.
Pros
100% plant-based, natural ingredients
Promotes oxygen flow
Sulfate-free
Paraben-free
Cruelty-free
Unclogs pores and remove dirt
Best for oily hair
Increases hair volume
Cons
Does not smell good
Sticky
Leaves residue
The First Botany Cosmeceuticals Biotin Shampoo is free of harsh chemicals. It is infused with natural, safe, alcohol-free ingredients that promote hair growth and reduce hair loss. It contains 14 DHT blockers, including biotin, Korean red ginseng, hibiscus oil, niacin, turmeric compounds, and saw palmetto. Biotin strengthens hair strands, niacin increases blood circulation, and the other botanical extracts promote healthy hair growth.
Korean red ginseng is an effective DHT blocker that reduces the effect of testosterone-related hair fall. It helps in the hair matrix keratinocyte regeneration and blocks DHT formation. Hibiscus oil is rich in vitamin C and amino acids that nourish hair deep from within. They also strengthen the hair roots, giving luster and volume to hair. The shampoo also contains He Shou Wu (Fo-Ti), a Chinese medicinal herb that prevents hair loss. It is effective for both men and women. It can be used for any type of colored hair to nourish each strand.
Pros
Sulfate-free
Paraben-free
Best for daily use
Retains hair moisture
Good for both men and women
Free from harsh chemicals
Stimulates hair healing process
Detoxifies hair follicles
Promotes bouncy hair
Good refreshing smell
Cons
Poor quality pump dispenser
Tree To Hub Nature's Healing Shampoo is made with 100% organic handpicked botanicals that are naturally processed by a patented sustainable extraction process. This unique processing method creates a strong formula that promotes hair growth and reduces hair fall. The active ingredient in Tree To Hub shampoo is a natural wild soapberry that forms a natural creamy gentle lather to cleanse hair deeply and maintain its natural pH (5.5). Saw palmetto and pumpkin seed oil nourish hair follicles and promote hair thickness. The phytosterols in the pumpkin seed oil block the enzyme that causes hair loss.
The growth-boosting complexes, like vitamins A, B3, B5, C, D, E, and biotin, along with caffeine and rosemary, stimulate the hair follicles. The organic healing botanicals, like argan oil, sage, and aloe vera extract, have anti-inflammatory and antioxidant properties that prevent free radical damage. They protect the scalp from dandruff and promote hair growth. The refreshing eucalyptus and tea tree essential oils reduce inflammation in the scalp and create an ideal environment for hair growth. The organic chamomile extract soothes the scalp.
Pros
Sulfate-free
Paraben-free
DEA/MEA-free
Gluten-free
Artificial fragrance-free
Dermatologist-recommended
Contains pH-balancing soapberry
Reduces dandruff
Natural antibacterial and antifungal
Cruelty-free
Eco-friendly
Suitable for men, women, and kids
Cons
Poor quality dispenser pump
Makes hair dry
The ArtNaturals Argan Hair Growth Shampoo contains DHT blockers, proteins, botanical oils, and extracts that stimulate the scalp. The shampoo is a blend of argan oil, aloe vera, rosemary, and other ingredients that stimulate hair cell renewal and growth. It also revitalizes hair follicles and supports a healthy scalp. Argan oil is the major ingredient of the shampoo. It promotes hair growth, reduces hair loss and hair thinning, and treats split ends. Argan oil also helps lock in the hair hydration.
The shampoo is also infused with white willow bark, burdock root, and thyme, along with hydrolyzed quinoa and vitamin B5. The willow bark helps exfoliate the scalp, unclogs pores, removes dirt and excess oil, and cleanses the scalp from within. It also helps reduce excess sebum formation and nourishes each hair strand. Burdock root contains vitamin A that nourishes the hair scalp and strengthens hair follicles. The hydrolyzed quinoa has a deep penetration power that strengthens hair from the root to the tip.
Pros
Sulfate-free
Paraben-free
Phthalate-free
Silicone-free
Dye-free
100% vegan formula
Color safe
Eco-friendly
Cons
The Club Roots Hair Growth Stimulating Shampoo is a clinically proven formula used by 100+ doctors personally to test its effectiveness. It is a potent blend of natural ingredients with a broad spectrum of DHT blockers that help reduce hair loss. The shampoo contains earth-grown natural ingredients, like apple stem cells, resveratrol from grapes, caffeine, biotin, lupine protein, soybean isoflavones, red Korean ginseng, and burdock stem cell extract.
All the DHT blockers thicken existing hair and stimulate dormant hair follicles to grow natural hair. The resveratrol extracted from grapes is a potent antioxidant that protects hair from free radical damage. It also strengthens hair and prevents premature graying. The procyanidins in the apple extract strengthen hair and give it volume. Lupin protein is one of the highly effective DHT blockers that inhibits 5-alpha reductase enzyme activity that is responsible for DHT formation. The Club Roots shampoo utilizes the latest in PBAE polymer technology. It claims to deliver 2x volume after a single use.
Pros
Paraben-free
Sulfate-free
Cruelty-free
Packed with powerful antioxidants
A little goes a long way
Soothing fragrance
Can be used by both men and women
Cons
None
This shampoo is made with a clinically proven formula to give noticeably thicker and fuller hair. The active ingredients in the shampoo are biotin, vitamin K, vitamin B5, saw palmetto, arnica flower extract, aloe vera, tea tree oil, olive leaf extract, grapeseed oil, spearmint oil, jojoba oil, and lavender extract.
The sulfate-free shampoo contains high-quality biotin that nourishes the hair follicles and promotes hair growth. The arnica flower extract has anti-inflammatory and antibacterial properties. It also boosts hair growth, cleanses the scalp, unclogs pores, and removes dirt. The lavender extract deeply conditions hair.
Pros
Sulfate-free
Cruelty-free
Blocks stress response on hair follicles
Nourishes each hair strand
100% money-back guarantee
Trichologist-formulated
Makes hair healthy and silky
Cons
Has an herbal smell
Dries out the scalp
The Majestic Pure Hair Loss Shampoo is free of harsh chemicals that are one of the leading causes of many chronic hair conditions. With 14 DHT blockers, gentle and fortified, this hair loss and regrowth shampoo nourishes the hair follicles and provides them with essential nutrients. Biotin helps strengthen hair, while niacin increases blood circulation and supplies oxygen to each hair strand. The herbal formula includes argan oil, B-vitamin complex, biotin, nettle extract, saw palmetto, He Shou Wu (Fo-ti), and other clinically proven natural ingredients that help promote healthy hair.
Pros
Gluten-free
Sulfate-free
Paraben-free
Free of harsh chemicals
Gentle on hair
Can be used daily
Safe for color-treated hair
Cons
Poor quality dispenser pump
These are the top 14 DHT blocking shampoos. In the following section, we will look into the specific ingredients that you need look for before buying one.
Which Anti-DHT Shampoo Ingredients Really Work?
Ketoconazole: It blocks the enzymatic pathway responsible for the conversion of testosterone to DHT.
Saw Palmetto: It helps treat hair fall and decreases DHT uptake by hair follicles.
Pumpkin Seed Oil: It is an excellent antioxidant that exhibits anti-inflammatory properties and protects hair from free radical damage.
Rosemary Oil And Biotin: Though not DHT blockers, both these ingredients help in hair growth by strengthening hair follicles.
Now, let's have a quick look at the benefits of a DHT blocking shampoo.
Benefits Of A DHT Blocking Shampoo
It prevents the uptake of DHT by the hair follicles, reducing hair fall.
Strengthens hair follicles from the roots.
Balances pH of the hair strands.
Promotes hair growth and strengthens the hair shaft.
Prevents premature hair fall.
Choosing the correct shampoo gives you the best results. Before picking the shampoo from the store, scroll down to know the factors you need to check for.
How To Choose A DHT Blocking Shampoo
Check The Active Ingredients: Check if the shampoo contains active ingredients that prevent hair fall, like saw palmetto, pumpkin seed oil, ketoconazole, etc.
Hair Type: Choose a shampoo based on your hair type.
Conclusion
DHT blocking shampoos seem to be effective for most people. They are a great blend of science and natural ingredients. With these, you will be able to strengthen your hair and reduce hair loss. Pick the shampoo that you think suits you the best. We are sure you will happy with the results! If you have any second thoughts, consult your doctor.
Recommended Articles