10 Best Diamond Facial Kits Available In India – 2021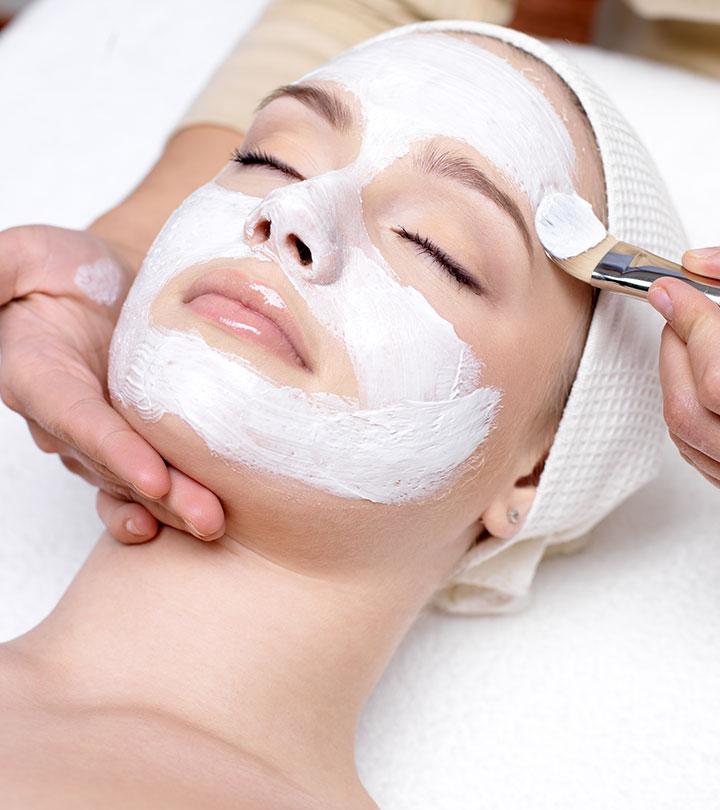 How different is a diamond facial different from a regular or a gold facial? That is one question that bugged me every time I walked into a parlor. But, I have my answer now. Diamonds are a girl's best friend, and clearly, they help us in more ways than one. You may think a diamond facial kit would cost an arm and a leg, but I'm happy to report that there are some brands that offer them at a fraction of the price. Whether you prefer all-natural, organic, handmade, professional, or cruelty-free products, we have it all. We have rounded up the best from diamond facial kits available on the market right now. Check them out!
10 Best Diamond Facial Kits Available in India
This diamond facial kit from Nature's Essence is effective and potent. It cleans your skin from deep within. The kit contains six products, clear instructions, and an easy-to-use set-up. The Scrub Powder is a blend of serum and powder. It contains zircon ash and walnut grains that gently scrape off the top layer of your skin. The other products in it rehydrate and cleanse your skin and stimulate the regeneration of new skin cells.
Pros
Very effective
Clears your skin and leaves you with a visible glow
Makes your skin soft and supple
Cons
None
Astaberry Diamond Facial Kit contains active and potent ingredients like Heera Bhasm, jojoba oil, carrot oil, and bearberry extracts that impart glow and radiance to your skin. The effect of this facial lasts long and helps reduce dark spots, pigmentation, fine lines, and uneven skin tone. This facial kit comes with a cleanser, scrub, gel, moisturizer, mask, and serum to give you a complete facial treatment.
Pros
Reduces hyperpigmentation
Natural and potent ingredients
Cons
None
VLCC is the best when it comes to cosmetics in India. Its diamond facial is condensed to leave you with a spa-like experience without the over-the-top price tag. This formula contains diamond bhasma that battles premature aging, polishes your skin, and leaves you with a radiant glow. The first step is a Confrey flower extracts toner that heals and protects your skin from bacteria, promotes new skin generation, and reduces the size of your pores. This is followed by a diamond dust and jojoba oil-based scrub that cleanses and nourishes your hair. Then comes the olive oil lotion that rounds off this perfect diamond facial ritual.
Pros
Removes all impurities
Fights the signs of aging
Economical and effective
Cons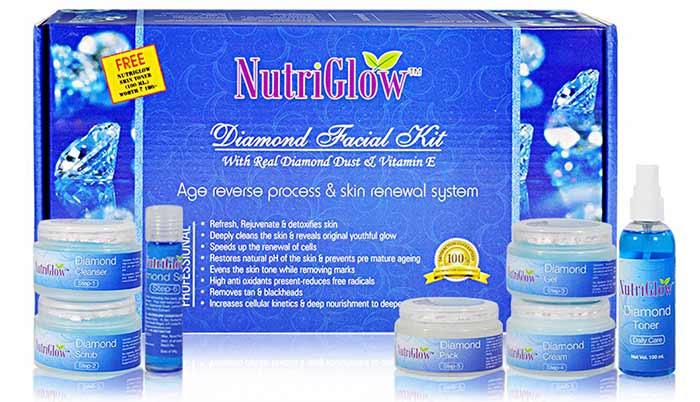 Nutriglow Diamond Facial Kit is an elaborate 7-step procedure that involves cleansing, exfoliating, toning, and brightening your skin. This antioxidant-rich kit helps in restoring your skin's youthful radiance by preventing premature aging and repairing the damage caused by free radicals. It is suitable for all skin types.
Pros
Repairs damage caused by free radicals
Suitable for all skin types
Cons
None
Biotique Diamond Facial Kit works best for spot corrections. It reduces dark spots, pigmentation, and discoloration to even out your skin tone. The diamond dust in this facial act as an exfoliant, while the massage gel, face mask, and cream nourish your skin to make it soft and supple.
Pros
Dermatologist-tested
Cruelty-free
No preservatives
Cons
Effects last only a couple of days.
Lotus Herbals Radiant Diamond Cellular Radiance Facial Kit combats the signs of premature aging, leaving you with satin-soft skin. It reduces dark spots, wrinkles, and fine lines and unclogs pores. It contains amber cinnamon and diamond dust that work wonders on your skin. Get some sleep after doing this facial and wake up to a diamond-like glow.
Pros
All-natural ingredients
Chemical-free
Suitable for all skin types
Cons
Expensive
The effect does not last long.
Rejuvenate your skin with the Oxyglow Innovative Formula Diamond Facial Kit. The kit includes a massage cream, a cleansing milk, a face pack, a scrub, a moisturizer, and a smooth shine skin serum. This facial kit thoroughly exfoliates your skin and penetrates multiple layers to reveal your inner glow. It also moisturizes your skin, prevents signs of aging, protects it from daily stressors, and keeps it deeply hydrated.
Pros
 Non-sticky
 Suitable for all skin types
 Radiant glow
Cons
None
Vaadi Herbals Skin-Polishing Diamond Facial Kit is a unique blend of diamond ash and essential oils that give your skin a polished finish. It scrapes off the dead skin cells and impurities to unclog your pores and brighten your skin. It also contains fortifying agents like wheat germ oil and almond oil that have a long-lasting effect.
Pros
All-natural ingredients
Improves the overall texture of your skin
Cons
Might not have the same visible effects on all skin types.
Blue Heaven Diamond Facial Kit consists of five elaborate but essential steps. The cleanser removes all the grime, makeup, oil, and dead skin cells that are built upon your skin. The vitamin-enriched massage cream brightens your face, while the mask tightens your skin and restores moisture balance.
Pros
Tightens your skin
Reduces fine lines
Reasonably priced
Cons
None
Khadi Natural Diamond Sparkling Mini Facial Kit is made with diamond dust, organic plant extracts, and other natural ingredients. It acts as a topical detox for your skin to restore its youthful radiance.
Pros
Reduces dark circles
Makes your skin look fresh and rested
Sulfate- and paraben-free
Cons
Can irritate sensitive skin
Thus, diamond facial kits are sold by many popular brands. These kits help enhance the skin quality from the comfort of your home. The following pointers are important while choosing to buy diamond facial kits in India.
What To Consider Before Buying Diamond Facial Kits
Skin Type: Identify your skin type and choose a facial kit that suits best (oily, dry, combination, sensitive, or normal). This will enhance your skin tone and rectify skin issues. Buying a wrong facial kit can invite additional skin problems.
Ingredients: Always be aware of the ingredients used in the product. The diamond facial kit may contain an ingredient that may not suit your skin type. It may even cause a reaction. Reading the ingredients and choosing the right facial kit is ideal.
Types Of Facial: Your facial skin may not necessarily need a diamond facial treatment. Different types of facial kits are available for treating various types of skin issues. There are a variety of facial kits that concentrate on treating suntan, acne, pigmentation, etc. Understand your facial skin and the treatment it requires; go for a facial kit that matches with the treatment you are looking for.
Budget: The aim is to buy a diamond facial kit that will provide the necessary treatment without burning your pocket. If you are confident about a particular brand and have tried their other products, you can buy a bigger pack that can last for 4 to 5 facials. But if you are purchasing a diamond facial kit from a new brand, it is advisable to get a trial pack and check if the product suits your skin.
Following a skincare routine every day is essential. But, you also need to do some procedures every few weeks for regular maintenance. A diamond facial is a great way to do just that. It's okay if you do not have the time and money to invest in a salon service because you can do a diamond facial in the comfort of your home at a fraction of the cost. How often do you get a facial done? Do you prefer getting them at a salon? Let us know by dropping a message in the comments section below.
Recommended Articles
The following two tabs change content below.