10 Best Diaper Bag Organizers To Try In 2023
For a calm and well-organized outing with your little one without the hassle and hurry.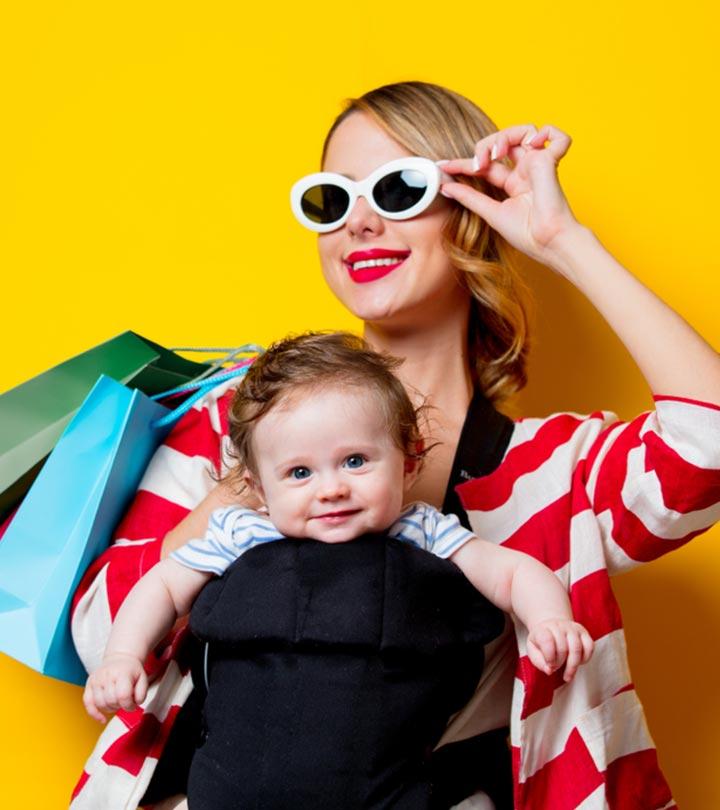 Only a parent knows the worth of owning the best diaper bag organizers! Once you have an infant at home, there will be an abundance of diapers you will need every now and then. The problem starts when you think of storing them, as the whole wardrobe will need to be reorganized to make space for the bulk. Diaper bags are mostly stodgy and too cute to be functional (the affordable ones). Even though they are huge, they don't have insulated bottle pockets to store the soggy ones. No one likes carrying two different bags just for diapers, and if you have been keeping your eyes open for the perfect diaper bag, we have just what you need. There are several adjustable and convertible bags out there. Here are organizer-bag-purse combos in which you can store your essentials and carry them hands-free no matter where you go. They also have a place for labels, so you don't put the soiled diapers in the clean pocket. So who is ready to organize the diaper bag and keep the house and bag neat? If you are not sure about which bag to get for your baby, we are here to help you choose the best. Go through the top 10 picks for diaper organizers that will simplify your traveling with your baby.
The 10 Best Diaper Bag Organizers For On-The-Go Cleanups
The Parker Baby Diaper Caddy is a versatile bag to put the baby's diapers in. This portable diaper caddy has a highly structured and organized look. The fabric is durable and soft. It is a multipurpose bag with plenty of room for diapers, wipes, creams, toys, onesies, baby toys, and much more. Taking this bag along will make your traveling hassle-free! It has eight large exterior pockets with separate sections and removable interior dividers. Moms can move in style with this stylish bag without missing a thing.
Pros
Foldable
Collapsable
Sturdy design
Lightweight
Multiple storage pockets
Multiple colors available
Has shoulder straps
Quick and convenient access
Cons
None
Price at the time of publication: $19.95
Each diaper bag tote insert in this 4-piece set is pre-labeled to help you organize your essentials into food, diaper items, soggy stuff, and your personal necessities like keys, lip gloss, hand sanitizer, and so on. The 'Sweet Cheeks' bag, which is the largest of them all, can easily accommodate 13-14 diapers and a pack of wipes, so you and your little one are good to go for the day. Durable, lightweight, and well-crafted, the set comes with a wristlet to make it easier for you to grab and head out the door. You can also carry the packs individually in your travel suitcase once your baby grows out of the diaper stage — that's how long these are built to last. Free of flimsy fabrics, broken zippers, or weird chemical smells, this is an ideal choice for moms on-the-go.
Pros
Ultra-spacious
Easy access
Fits in most bags
Wipeable outer layer
Waterproof lining
Easy to wipe
Available in 4 designs (including transparent)
Cons
The material may have a peculiar smell.
Price at the time of publication: $32.99
Pulling the double-duty of labeling and color-coding all your essential items, this diaper purse organizer is ideal for those who never leave home without their totes. The strap on every pouch adds an extra layer of convenience, so you can pull out only the 'Change Me' one for quick diaper emergencies without needing to carry any bulk. Since they're available in various designs and colors, from bright stripes to peppy polka dots, you can separate your stuff in neat compartments without compromising on cuteness. With fabrics that are thick as well as machine washable, you won't have to worry about losing the pouches to spills.
Pros
Odor-resistant
Labels and color-coded
'Change Me' fits 6-8 diapers
Comes with straps
No BPA or PVC
Available in 4 patterns
Cons
Might not fit in smaller diaper bags
Price at the time of publication: $34.95
If you're looking for something simple, lightweight, and compact enough to fit inside a regular handbag, this diaper bag organizer won't let you down. With the capacity to hold 5x more diapers than a traditional diaper tote, these pouches offer enough storage space to fit everything you could possibly need, especially if you're traveling with 2 newborns. Featuring quality zippers to enclose a snack pack, a toy pack, and a pack for mom stuff, the set is ideal for every type of outing, from running errands to long-distance trips. The pouches are made out of high-quality performance fabrics that are durable, reusable, and machine washable! Since they contain no PVC, BPA, lead, or any harmful chemicals, you won't even have to deal with awful smells.
Pros
TSA-approved
Water-resistant
No harmful chemicals
Folds flat when empty
Eco-friendly materials
Available in sets of 3 and 4
Cons
The mesh isn't as high-quality as the fabric.
Price at the time of publication: $40
With three inner main compartments and eight outer pockets, Lily Miles Baby Diaper Caddy is a blessing for all moms! The bag provides enough space to organize all your baby's essentials. The bag is structured to keep things organized and in place while still maintaining the softness of the polyester fabric. The long striped and polka dot design makes this bag highly adorable. Its water-resistant lining is easy to clean. You can remove the inner dividers to make one wide compartment for storing. When not in use, it can be tucked to consume less space.
Pros
Stylish
Collapsable
Easy to carry
Unisex
Durable
Lightweight
Huge storage space
Cons
Price at the time of publication: $24.95
Price at the time of publication: $34.99
The on-the-go Munchkin Brica Out-N-About Collapsible Trunk diaper changing station is great for those parents who travel a lot. Its xtra-grip traction pads prevent slipping while using the bag in vehicles. The plastic material is durable, easy to clean, and strong enough to last for decades. It comes with a large trunk and multiple partitions to hold various knick-knacks, so you're prepared for any kind of emergency. The bonus with this bag includes a changing pad, wipe cases, and disposable diaper bags in the side dispenser for instant diaper changes.
Pros
Carries up to 80 pounds
Best for trips
Durable
Sturdy material
Comes with a disposable diaper dispenser
Value for money
Cons
Price at the time of publication: $40.7
Anyone who thinks aesthetics and functionality can't coexist never saw this baby changing bag organizer. The clean, colorful design blended with variable sizes and breathable fabrics make these pouches modern classics. Made from 100% cotton, the organizer is clearly labeled for clean and dirty clothes, snacks, and extras such as toiletries and medicine. Each pouch is zipper-enclosed, machine washable, and crafted with a durable fabric that contains no PVC, BPA, lead, or phthalates, making it safe for long-term use. Equally affordable and adorable, you'll want to gift these to every mom-to-be you know (after you've kept a set to yourself, of course).
Pros
100% cotton
Labeled with icons
Machine washable
Cute, colorful design
Zippered pockets
Mesh back for visibility
Cons
Price at the time of publication: $19
Bumkins Waterproof Wet Bags For Baby is an excellent organizer to store your baby's toiletries. The diaper bag is reusable and easy to clean with its single-ply construction. Therefore, unlike ordinary cloth bags, you do not worry about spillage getting into the fabric. It also offers a non-gusseted single compartment. It is made of 100% polyester with thermoplastic polyurethane waterproofing. So, they lock in the heat and moisture inside the seams! This bag is soft yet firm and is available in trendy prints like disney, nintendo, and harry potter. You can store anything from wet clothes to new things to keep them intact.
Pros
Easy to wash
Leakproof
Quick dry
Heat-sealed seams
Environmental-friendly
Cons
Price at the time of publication: $8.99
Putska Baby Diaper Caddy has a simple and super convenient size. This caddy is large enough to pack everything that your baby needs from diapers to creams and wipes. The exquisitely wide pocket provides easy access to handy stuff while the inner three compartments organize other essentials. With its chic and simple design, you can prevent the bulky mess that unorganized bags may create. The foldable handles make it portable and travel-friendly.
Pros
Removable dividers
Portable and foldable
Lightweight
Eco-friendly felt
Unisex
Cons
Price at the time of publication: $22.94
Whether you're a light or heavy packer doesn't matter to these pouches because they are here to give you all the space you'll ever need in varying sizes, so you can pick and choose what to carry. The high-end design is both pretty and smart, with a silver-grey body that oozes chic, and transparent see-through backs that take the guesswork out of traveling with a newborn. Each pouch is equipped with a grab-and-go handle that makes it perfect for individual use. Its seams aren't pressed but stitched to stand the test of time, while the zipper enclosures are attached to user-friendly pullers that allow easy access. These organizers will stay with you long after your baby's all grown-up, thanks to the premium 0.5 mm PVC used to craft their sides.
Pros
Stitched seams
Thick, clear sides
Convenient and adjustable handles
Durable zippers
Varying sizes
Easy to wipe-clean
Cons
Price at the time of publication: $37.99
If you want to declutter your life and make traveling with newborns a seamless and stress-free experience, diaper bag pouches are a godsend. While all of these diaper bag organizer options might seem great, here's how to choose the set that'll serve you best.
How To Choose The Best Diaper Bag Organizers
Since the whole point of diaper bag organizers is to keep baby and daily essentials in one space, your first consideration needs to be whether or not the pouches will fit in your preferred bag. If you plan to convert your favorite tote into a multifunctional haven, you'll need to be more calculative about the dimensions of each insert. Those who've chosen backpacks as their go-to travel buddies can be much more liberal since most diaper bag packing cases are compact enough to fit inside spacious carry-ons.
When you have a baby that needs changing in one hand, locating things at top speed takes priority over all else. While most diaper bag pouches worth their salt have distinct labels for separate item categories, you might still have to re-label them based on your necessities. Another option is to pick color-coded bags that eliminate the need for labels altogether — the only issue that might arise here is remembering which color pouch contains that thing you're looking for. If you don't trust your memory and aren't into labels, there's a third option: clear diaper bag pouches! You can see what's inside from every angle without wasting any time and get things done like the pro-parent that you are.
If only traveling with a newborn was as simple as arranging 5-6 inserts in a tote bag and nothing else, but life is a lot messier than that. The only foolproof way to attain KonMari levels of organization is to have a bucketload of small and big pockets for every single thing. Look for strategic zippers, detachable pouches, open-access areas, and closures within each pouch with a clear image of your everyday basics in mind. Knowing which item goes where and having the right space to separate your opened and unopened packs of baby wipes will be the best thing you can do to simplify your life. This way, even when you move around, your items won't.
Did we mention that life as a new parent is messy? You might have to carry liquids or other items with the potential to make things soggy. If you feel the need, spring for a waterproof diaper bag organizer so you'll never worry about accidental spills. At the same time, you'll be able to keep the station nice and sanitary. On a similar note, make sure the pouches are made from high-quality materials and fabrics that will last a long time and won't start fraying at the seams with frequent use. Thickly padded fabrics have lower odds of wear-and-tear while regular nylon may not stand the test of time.
Why Trust StyleCraze?
The author, Priyam Gupta, is a fashion enthusiast who loves reviewing different products for her readers. After thorough research, she has provided a detailed list of the best diaper bag organizer. She went through numerous reviews and feedback on multiple forums and brand websites to help you pick the perfect bag organizer. The products listed in this post are available in various designs and colors.
Frequently Asked Questions
What should be in a diaper bag organizer?
Keep diapers, wipes, rash cream, hand sanitizers, nursing covers, burp cloths, bottles, pacifiers, a waterproof bag, water, food, and extra clothes in a diaper bag organizer.
How do you store wipes in diaper bags?
• Purchase travel-size wipes.
• Pack them inside a reusable cotton zipper bag.
• Place the cotton bag in an easy-to-access compartment inside the diaper bag.
Can any bag be a diaper bag?
No. A diaper bag consists of many small compartments for carrying necessary items for a baby. A regular bag may not have so many sections and is not ideal for carrying the essentials.
Can a tote bag be used as a diaper bag?
Yes. A tote bag has enough space to carry all the baby essentials. However, if the tote lacks compartments, skip using it instead of a diaper bag.
Are designer diaper bags worth it?
Yes. Designer diaper bags are made of high-quality material. Also, they are convenient to carry, lightweight, and durable. Designer diaper bags also add style to your overall look.
Recommended Articles