10 Best Diaper Bags For Cloth Diapers – Spacious & Lightweight
Carry all essentials neatly in one bag and enjoy outdoor moments with your little one!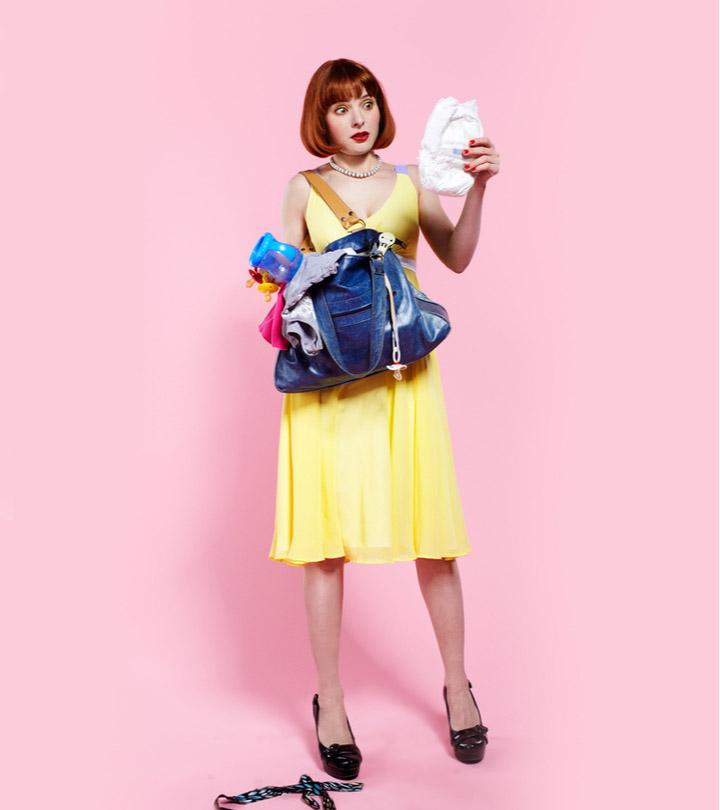 The best diaper bags for cloth diapers are specially designed bags that help organize your diapers and other baby essentials. Most mums prefer cloth diapers today as they are more gentle for your baby's skin and better for the environment. They also ensure breathability, reduce waste, and are convenient to use. However, changing these diapers while traveling or shopping seems challenging, and thus, the best diaper bags for cloth diapers come to the rescue. Many people believe that diaper bags may look bulky and create a mess while traveling. But they aren't. Lightweight and compact, these are every mom's best friend!
These diaper bags also come with special compartments to store used diapers, unused diapers, milk bottles, and a few more additional pockets for other essentials. Some diaper bags even feature wet pouches to store dirty diapers. In addition, the divided pocket design helps in the excellent organization of essentials by lowering your shoulder pain. However, don't forget to ensure that the fabric of the diaper bag is easy to clean and it can withstand the mess created by your babies. With so many options in the market, you could get overwhelmed. To help you pick the perfect one, we curated the sifted list of the 10 ideal diaper bags for cloth diapers in this article. Go on and check them out!
10 Best Diaper Bags For Cloth Diapers To Travel Conveniently
With 2 large zippered compartments and 16 pockets, this bag allows you to have all of your baby's essentials on hand in this diaper bag for cloth diapers. The mesh organizers and a padded laptop section extend comfort, as the insulated beverage pockets on the sides keep your coffee hot. The ergonomic design features a carrying handle and thick shoulder straps that are also padded to reduce pressure. Made of waterproof fabric, this versatile backpack diaper bag has smooth zippers and reinforced seams, lasting you a longer time than a regular backpack.
Pros
 Available in 7 colors
 Multiple pocket storage
 Waterproof fabric
 Insulated beverage pockets
 Thick shoulder straps
 Dual zippers
Cons
Price at the time of publication: $43.99
No matter how much you pack, Hap Tim's large cloth diaper bag keeps you comfortable with the thick sponge padded mesh back and wide straps. Made of sturdy polyester, this kit is waterproof, which makes cleaning super easy even with soiled diapers thrown in the mix. The 18 pockets in a removable double deck design make organizing a breeze, especially when you're on the move. For the cherry on top, the bag also sports stroller straps so you can give your shoulders a break.
Pros
 Available in 4 colors
 18 pockets
 Removable double-deck design
 Insulated drink pocket
 Food compartment with waterproof liner
 Wide openings
Cons
Price at the time of publication: $45.99
Parker Baby Co.'s cloth diaper bags combine functionality with aesthetics in a compact package so you can be well-equipped while still looking good. Everything you and your little one require on the go is present, such as a laptop sleeve, wipe-clean and waterproof changing pad, and insulated bottle holders and food pockets. The outer water-resistant canvas and polyester body with leather accents such as stroller hooks make being outside not-so-stressful.
Pros
 10 functional pockets
 Waterproof changing pad included
 Insulated food compartments
 Water-resistant outer
 Padded laptop and tablet sleeve
 Stroller hooks and thick straps
Cons
Price at the time of publication: $89.95
Lekebaby's BPA and phthalate-free cloth diaper bags bring you 9 outer and 8 inner pockets for clear-cut storage when you're on the move. The water-resistant fabric and lining offer ease of maintenance in cases of accidental spills and stains as you will be packing sippy cups. Magnetic snaps and zippers keep everything well-protected so you can stuff all your baby's and your belongings without the bulk. The adjustable messenger strap and stroller clips allow you to walk around freely with no hassle even with a bunch of extra clothes.
Pros
 Built-in tissue holder
 Aluminum-insulated pockets
 Removable and adjustable strap
19 total pockets
 Faux leather hands for easy gripping
 Cushioned fold-out changing pad
Cons
 The zippers might snag sometimes.
Price at the time of publication: $42.99
We think Dikaslon carries the best cloth diaper wet bag as it comes with a cute little detachable pacifier case for extra hygiene. Studded feet on the bottom prevent the polyester bag from getting dirty and the adjustable shoulder strap makes for ease of carriage. There are 13 pockets all around, of which 3 are insulated and give you the utmost convenience along with a portable changing pad. With dual zippers and a luggage sleeve for all the baby essentials in the world, what's not to like?
Pros
 Also available in black
 Convenient exterior pockets
 3 insulated pockets
 2 side pockets with magnetic snaps
 Adjustable shoulder strap
 Luggage sleeve
Cons
 Might have a slight chemical odor
Price at the time of publication: $43.97
From their Animal Print Collection, Baby Boom's best wet bag for cloth diapers is sure to be your little one's favorite. The diaper pad allows for quick changes when you're on the road and the adjustable shoulder straps keep you from lugging the bag around. For easy access, you can use the 2 side pockets, the back pocket, and a front flap pocket that are all capable of holding much-needed personal items. The main zipper closure opens up to clearly divided sections for a mess-free trip so you can stash everything from diaper cream to a nursing cover.
Pros
 Also available in zebra print
 Exterior and interior pockets
 Adjustable shoulder strap
 Easy-to-clean polyester
 2 side beverage pockets
 Small changing pad included
Cons
 Zippers might not be as smooth
Price at the time of publication: $25.71
This cloth diaper laundry bag by Skip Hop is made of 100% polyester with tote bag handles, an easy zip-top closure, and an accessible tech pocket. To keep items at the very bottom still accessible, the front panel design allows for more stability and storage for successful cloth diapering. You can enjoy the space that comes with 10 pockets including a machine-washable cushioned changing pad and 2 side mesh pockets for bottles. Apart from having a laptop compartment, this excellent diaper bag also boasts patented shuttle clips and non-slip stroller straps.
Pros
 BPA-free
 Phthalate-free
 Shuttle clips
 Cushioned changing pad
 10 total pockets
 Also available printed
Cons
 Some might find the shoulder strap to be slippery.
Price at the time of publication: $79.99
Bably Baby's convenient laundry bag for cloth diapers features 14 pockets, out of which 4 are insulated so your child's food remains warm until mealtime. The 2 packing cubes allow you to compartmentalize items in such a way that nothing gets lost in this backpack-style diaper bag. A sundry bag keeps cloth diapers or dirty clothes while the changing pad allows you to prevent a mess on the road. The back is extra-padded and breathable, not to mention accompanied by stroller straps to keep you moving comfortably.
Pros
 Waterproof changing pad
 14 pocket storage
 4 insulated pockets
 Side zippered pocket for wet wipes or tissues
 Stroller straps
 Extra-padded and breathable back
Cons
 Might be slightly bulky for some
Price at the time of publication: $49.99
Gifunes' diaper bag for cloth diaper users is in-built with a folding bed, becoming your makeshift changing station. This large-capacity bag is lined with aluminum for insulation to keep the baby's food super fresh. With a dry and wet separation design in these diaper bags for cloth diapering moms, you also won't have to deal with odors. Buckle straps allow for attaching onto luggage, while the side tissue holder keeps cleaning wipes handy.
Pros
 Charging cable slot
 Stroller buckles
 In-built folding bed
 Waterproof
 Dry and wet separation
 Carrying and shoulder straps
Cons
 Might not stand fully upright
Price at the time of publication: $59.98
Super airy to carry around, Itzy Ritzy's cloth diaper bag can be turned into a backpack or a crossbody with a mere fiddling of straps. The rubber base aids in keeping the bag clean and sturdy while the braided trims and golden hardware add elegant detail. Decked out with stroller straps, a changing pad, and adjustable shoulder straps, the bag makes living the mom life a tiny bit less stressful.
Pros
 14 total pockets
 2 insulated bottle pockets
 Adjustable shoulder straps
 Transforms into a crossbody and backpack
 Lightweight puffer-style
 Also available in black
Cons
 Zippers might snag sometimes
Price at the time of publication: $159.99
Now that we've looked at some of the best diaper bags you can try for your baby and their needs, let's learn how to choose the right one.
How to Choose The Right Diaper Bag for Cloth Diapers
Mainly, there are 2 kinds of diaper bags that you can choose from. Totes are quite spacious and can accommodate both diapers and other essentials for when you're out of the house. They also offer versatility as the straps can be attached to your luggage, carried over your arm, or in your hands. Backpacks, on the other hand, are a crowd-favorite as they are hands-free, but they might not be as roomy as tote bags owing to the weight capacities they come with. However, the convenience this type of diaper bag offers is great for moms and dads who have their hands full.
While you can choose from a variety of sizes, we suggest you go for something big. This is because you can easily store your belongings along with the baby's, the bag will come in handy for longer and shorter trips, and can be used for multiple kids.
As it is inevitable that you'll be packing a lot of stuff for your baby, a lightweight bag should be sought. The bag is bound to be slightly bulky once packed, so look for something that is airy when empty.
Multiple larger compartments that are divided into smaller pockets are quite ideal. Slip pouches for easy-to-reach items, mesh pockets for easy visibility, and insulated bottle pockets to keep baby's beverages warm and fresh. A few bags also come with pacifier cases, wet bags, foldable bassinets, and cushioned changing pads for maximum convenience.
Look for waterproof fabric like polyester or nylon that is easy to clean as this is also resistant to spills and stains. You can throw that bag in the washing machine without having to bother with it too much.
Thick, wide, adjustable, and well-padded shoulder straps are a must as they help reduce the pressure on your shoulders and divide it. Sleeves for luggage and stroller clamps or clips can be a great way to travel hands-free.
Frequently Asked Questions
How do you store cloth diapers in a diaper bag?
You can store fresh cloth diapers in a separate compartment while keeping a wet bag on hand for wet and used ones.
Do I need a wet bag for cloth diapers?
Yes, wet bags are super convenient to store dirty and used diapers. They make for a hygienic and mess-free way to keep used clothes away.
Why should you use cloth diapers?
Cloth diapers are a great breathable alternative if your baby has extremely sensitive skin and experiences rashes or chafing. Apart from being environment-friendly, they can help in early potty training as the child will be able to experience the wetness.
Do wet bags of cloth diapers smell?
Yes, wet bags of cloth diapers stink. and need to be placed in cool and ventilated areas.
Can I use a regular bag as a diaper bag?
Yes, many handbags and backpacks can be used as diaper bags. Bags with many convenient pockets can easily be used to keep your baby's essentials including diapers.
Can you use a diaper pail for cloth diapers?
Yes, use a diaper pail for cloth diapers but make sure to lock it and keep it somewhere out of the reach of your kids.
Recommended Articles