10 Best Diaper Bags For Twins In 2022 To Carry Everything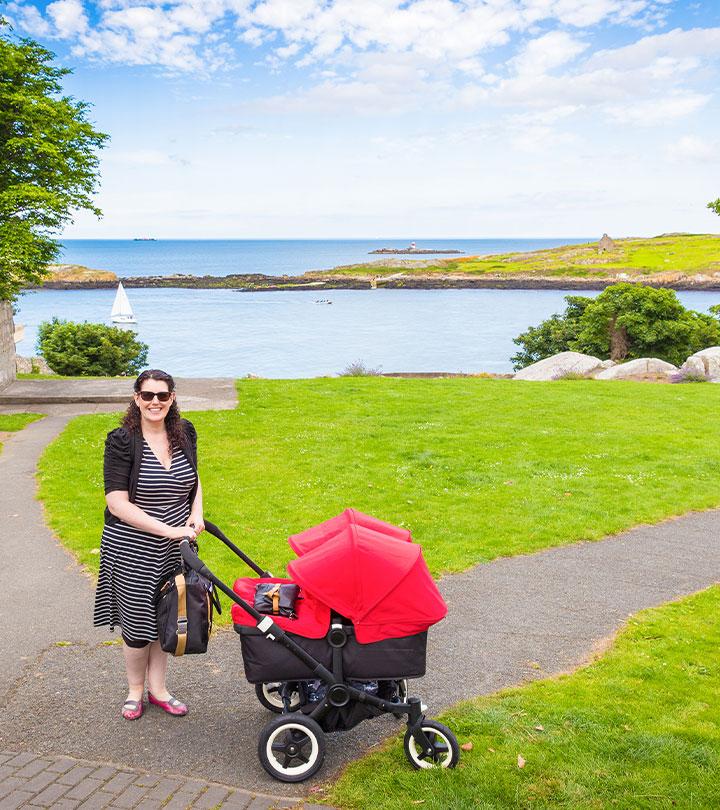 Travelling with your little one can be quite an exciting experience if your have all the right essentials in place. One such crucial item is the best diaper bags for twins. Babies need extra care during travels and a good diaper bag can help you stay prepared for every situation. You can easily organize all your babies stuff and keep them at your arm's reach with these conveniently designed bags.
Packing the essentials for your twins is undoubtedly a challenging job as you have to repeat the process twice. But these specifically designs diaper bags can accommodate the travel items for both your babies and save you from the extra stress. So, no need to be worried about your little munchkins. Explore our list to find a suitable bag for your next vacation and travel without worries. Swipe up to read the details and grab the favorite designs right away!
10 Best Diaper Bags For Twins That Are Spacious Yet Stylish
 Tired of carrying 2 separate bags for your twin babies? Well, not anymore as the Ruvalino Multifunction Diaper Bag is here to lessen your burden. With 2 big zipper compartments and 16 pockets, you can store most of your items while staying organized. The extra-wide opening and dual zippers allow easy access to the contents inside. Easy-grab handles and padded shoulder straps add to the comfort quotient of this chic backpack-style diaper bag. Moreover, the ability to wear it any way you want makes this black beauty one of the best twin diaper bags available in the market.
Pros:
Lightweight
Waterproof
Insulated bottle pocket
Ergonomic design
Convertible and versatile
Durable material
Cons:
The zippers and buckles may snap off with rough use
 Carrying all baby essentials of your twin bundle of joy is made easy with the BabbleRoo Multifunction Diaper Bag. It boasts tons of storage space with 2 zipper compartments and a number of pockets for things like keys, wipes, your gadgets, etc, and keeps all things organized. With cushioned shoulder straps, padded back panel, an easy-grab handle, and adjustable stroller straps comfort and convenience are guaranteed. Moreover, the beautiful dark gray shade of this big diaper bag for twins makes it quite fashionable.
Pros:
Waterproof
Versatile
Insulated bottle pocket
Ergonomic design
Chic yet comfortable
Convenient to carry around
Cons:
Some might find the bag to be smaller than expected
 Fit all the stuff of your need for your twins in the same bag when you head out next. With a large storage compartment and 14 pockets, including insulated compartment for bottles, you can travel hands-free with easy access to the contents of the bag. With padded shoulder straps and vented padding on the back, this bag nation diaper bag backpack sits comfortably on your back and shoulders. Additionally, the gender-neutral black color of the bag makes it suitable to be carried by both moms and dads alike.
Pros:
Water-resistant
Ergonomic design
Insulated bottle pocket
Comfortable to wear
Lightweight
Cons:
Some may find the straps slightly short
 Make a style statement while carrying around your babies' stuff in the SoHo Grand Central Station Diaper Bag. This striped beige and brown diaper bag comes with a personal purse, changing pads, accessories bag, insulated bottle bag, a stroller strap, and an organizing bag with a mesh top. Made from multilayered fabrics, this designer diaper bag for twins is waterproof, stain-resistant, and is machine washable. And if you feel tired of carrying it on your shoulders, just attach it to the stroller using the straps provided.
Pros:
Waterproof
Stain-resistant
Insulated bottle bag
Machine wash-friendly
Stroller straps provided
Cons:
Some may find the changing pad slightly thin
 Watch convenience and style walk hand-in-hand with the Allcamp Multifunctional Diaper Bag. Well-crafted and spacious, the bag features 4 gusseted pockets, 3 zippered pockets, 2 side pockets, 3 insulated bottle pockets, and more to house everything you need while stepping out of the house. This zebra print stylish diaper bag is waterproof and is made from quality materials that guarantee longevity and durability. You can easily machine wash this diaper bag for multiples and quickly air dry.
Pros:
Waterproof
Stylish and chic
Insulated bottle pockets
Convertible and versatile
Machine wash-friendly
Cons:
The usage of metal might make the bag heavy and bulky
 Looking for a single bag to carry all the stuff of your twins when going out? Your wish is granted with the Bably Baby Diaper Backpack. It comes with large storage space and plenty of pockets to keep all baby essentials organized and easily accessible. With sturdy YKK zippers and quality fabrics used, you can be sure of the durability. This ergonomic diaper bag big enough for two babies comes with 2 packing cubes and a waterproof sundry bag for wet clothes or diapers. Padded backpack straps ensure comfort and the inclusion of a stroller strap enables the parent to hang the bag on the stroller.
Pros:
YKK Zippers used
Includes 2 packing cubes
Wet/dry sundry bag included
Comes with stroller straps
Extra-padded for comfortable wearing
Cons:
Some may find the seams weak
 Pack all your twin babies' travel essentials plus a little more in this cute convertible diaper bag from Blissly. With plenty of storage space including 13 interior and exterior pockets, this black and white striped bag offers a lot of space to accommodate the things needed for your babies and you. It comes with 2 different straps, enabling the parents to wear it crossbody, as a tote, as a backpack, or hang it on the stroller. With an ergonomic and chic design, this is one of the best baby bags for twins.
Pros:
Made from polyester
Insulated bottle pockets
Ergonomic design
Multifunctional
Backpack and stroller straps included
Chic and fashionable
Cons:
Some may find it smaller than expected
Modern-day parenting calls for trendy ways to carry your twins essentials when you head out of home. The Cutie Carry Diaper Backpack is the best backpack for parents who love all things contemporary. This spacious bag has 15 pockets of various sizes and some of them are insulated as well. The zippered top/bottom provides easy accessibility to the stuff kept inside the bag and the combination of grey and cream makes it look chic and elegant. It sits comfortably on the shoulders, owing to the adjustable shoulder straps, gentle padding, and the use of waterproof canvas, metal zippers, Velcro, polyester, etc makes the bag more durable. Moreover, animal lovers would surely be elated for it uses vegan leather in the straps and handles.
Pros:
Waterproof canvas
Made from polyester
Vegan leather used
Insulated bottle pockets
Cons:
The straps may start fraying upon regular usage
 Looking for the best baby travel bag to organize and keep all your babies' stuff in one place? Your search is most likely to end with the Rabjen Transformable Diaper Bag that comes in an attractive grey shade. With ample storage space that is further expandable, this grey bag comes with 2 compartments and 22 pockets in all. It comes with built-in stroller straps, sturdy zippers, padded straps, and offers comfort and durability. Moreover, if you take off the detachable bottle pocket, you can house your laptop, notebook, charging port, etc in the freed-up space of this waterproof and stain-resistant backpack diaper bag for twins.
Pros:
Waterproof fabric
Lightweight
Insulated bottle pockets
Ergonomic design
Easy to clean lining
Comfortable
Cons:
The handles may hit the neck when the bag is worn as a backpack
 Want to fit in all the stuff for your little ones before heading out of the house? The YookeeHome Diaper Bag makes it possible with the ample space that it provides. It is an expandable diaper bag with a storage capacity of 25 L, making it one of the most convenient diaper bags to lug around. It is expandable, has a drawstring to compress when carrying fewer items, and comes with 14 internal and pockets that allow for neat organization. It comes with a foldable changing pad and a waterproof wet bag to keep soiled items separate from the rest of the stuff. With a durable fabric, thick and wide shoulder straps, breathable mesh back, chest strap, a USB charging port, and a headphone hole among other things, this grey oversized diaper bag for twins is the ideal choice for you.
Pros:
Water-resistant
Lightweight
Insulated bottle pockets
Comfortable to wear
Expandable
USB charging port
Headphone hole
Cons:
The charging port might become dysfunctional after a couple of months
Diaper bags help organize all baby-related stuff in one place while you step out of the house, more so when you have things of not one but two babies to carry around. But there are some features to look out for while choosing the best diaper bag for your little ones.
 How To Choose The Best Diaper Bag For Twins

Durability- One should look for a diaper bag made from good quality material to stay in good shape. One must be thorough in checking the zippers, handles, stitches, and the material of the bag for any damage. Also, being waterproof makes the bag durable in the long run.
Space- The bag should have more space, considering it will house items needed for two babies. Additionally, it should be able to occupy stuff like laptops, books, creams, and other parent needs.
Pockets- A bag with pockets helps to keep all the stuff well-organized, sparing you from running a search when you need a specific item. Moreover, insulated bottle pockets in the bag would help keep the contents of the baby bottles warm.
Versatility- One should be able to wear the diaper bag in whatever way they wish to, whether it is as a backpack, over the shoulder, crossover, etc. Additionally, handles/grips and stroller straps help carry and attach the bag to the stroller.
Lightweight- The diaper bag should inherently be made from light material as it will hold items for two babies and parents. This will allow for easy carrying without the shoulders and back hurting.
Comfortable- The straps and back of the diaper bag must be padded to be comfortable to wear and do not result in painful shoulders and an aching back.
What To Pack In A Diaper Bag For Twins
Given the mommy-brain, to remember all the items to pack for a baby is a task in itself and it becomes all the more daunting with two little ones. But you can heave a sigh of relief as we have compiled a checklist for you to refer to while heading out with your kiddos.
Diapers
Wet wipes and tissues
Rash cream/ moisturizer
Sanitizer
Bottles and nursing supplies
Nursing cover/ scarf (if breastfeeding)
Bibs and burp cloths
Spare clothing
Swaddle blankets
Pacifiers and teething toys
Wallet and keys
Mobile phones/ tablet/ laptop
Traveling with a baby requires planning, but with twins, it requires some next-level organization because you need to carry twice as many things. That is why you need to invest in the best diaper bags to carry everything. In addition, babies need extra care during travel, and a good diaper bag is essential during such a situation. You can easily organize all your babies' stuff and keep them at your arm's reach with these conveniently designed bags. These are specifically designed to pack all the travel essentials that your twins need without any extra stress. The diaper bags reviewed in this post have a lightweight and waterproof design. They are durable, convertible, and can be carried by moms and dads alike. In addition, you can find diaper bags that are backpacks or sling bags to be worn either parallel to the body or cross-body, sometimes with belts to help the bag to be attached to the babies' pram.
Why Trust StyleCraze?
The author of this article, Priyam Gupta, understands the challenges that new moms might face to look trendy while carrying a diaper bag. So, she researched various products online and read hundreds of user reviews on trusted forums to compile this list of the best diaper bags for twins. You can carry a laptop and other baby essentials easily in these bags.
Recommended Articles
Best Diaper Bags For Cloth Diapers – Spacious & Lightweight
The following two tabs change content below.