13 Best Diaper Rash Creams Available In India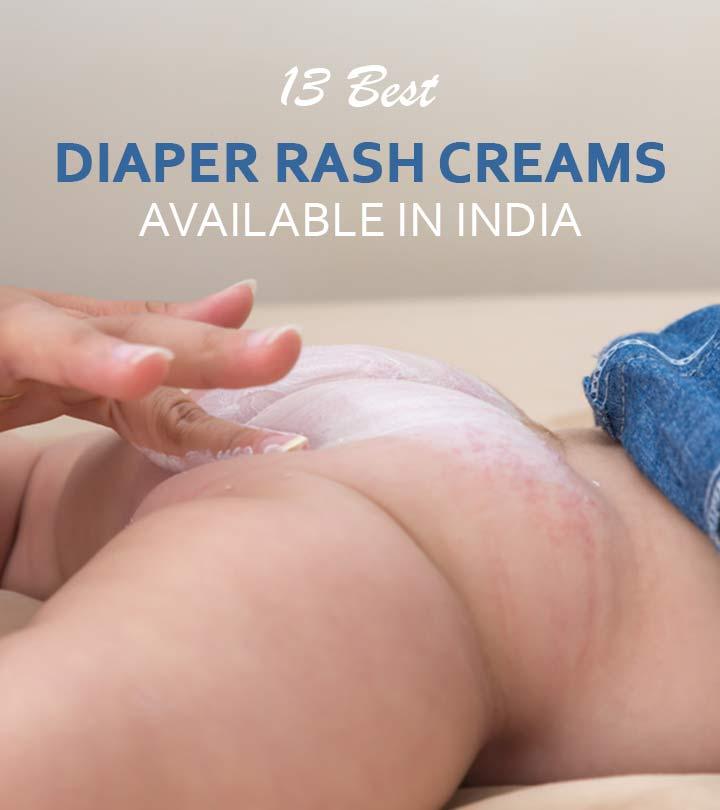 A baby's soft butt can make you forget about the stink it can create. But when the butt is red and full of rashes, it irritates not just the baby but also the parent. Diaper rashes can be caused by a variety of reasons, and they can be quite stubborn. So, we have created a list of the 13 best baby diaper rash creams available in India. Check them out below!
13 Best Diaper Rash Creams Available In India
The Desitin Maximum Strength Original Paste Diaper Rash Cream is a clinically proven protection barrier that significantly reduces friction and blocks out wetness for upto 12 hours. This cream is great because it immediately soothes diaper rash on contact. This cream contains zinc oxide, an ingredient that fights rashes and irritation effectively. 
Pros
Paraben-free
Good for daily use
Hypoallergenic
Easy to spread
Long-lasting effect
Cons
The Burt's Bees Diaper Rash Ointment is an all-natural and pediatrician-tested product that is safe for your baby's sensitive skin. It contains ingredients like jojoba oil and shea butter, both of which can create a great barrier of protection and reduce friction. It also contains lavender, which helps soothe the irritated area on contact. 
Pros
Paraben-free
SLS-free
Phthalate-free
Quick results
Great as an overnight cream
Cons
Very thick consistency that is difficult to spread
Difficult to wash off
The Himalaya Diaper Rash Cream is an excellent cream as it has the ability to reduce diaper rashes significantly within 3 days. The rash vanishes completely after 1 week of using this cream. This product contains many useful ingredients like zinc calx, which is good for its antiseptic and astringent qualities. Aloe vera is a helpful anti-inflammatory herb, and almond is a natural emollient and skin softener. All of these natural ingredients make this diaper rash cream suitable for harsh rashes and redness.
Pros
Paraben-free
Mineral oil-free
Free of synthetic colors
Great for daily use
Cons
The Sebamed Baby Rash Cream eases the symptoms of rash and simultaneously protects the skin. It contains a rich lipid complex with squalene and lecithin, along with panthenol that helps heal irritated skin and supports the healing process. This rash cream also contains the micronized form of titanium dioxide that forms a physical barrier over the skin and has a pH 5.5+ that ensures faster recovery.
Pros
Soothes the skin
Effective and quick results
Suitable for very harsh rashes
Smooth consistency
Cons
Not ideal for everyday use
Difficult to wash off
The Moms Co. Baby's Diaper Rash Cream contains 15% zinc oxide that forms a protective barrier to protect the baby's soft skin from redness and sores. This product also contains chamomile oil and hydrolyzed oat protein that are helpful in treating inflammation and diaper rashes. Calendula oil protects the skin, while jojoba oil and shea butter moisturize the skin while creating a protective barrier.
Pros
Cruelty-free
Mineral oil-free
Paraben-free
SLS-free
Great for daily use
Cons
Difficult to spread evenly
The B4 Nappi Cream contains 15% zinc oxide that forms a thick white layer on the skin that prevents fecal matter from coming in contact with the baby's sensitive skin, thus reducing the chance of a rash. This cream is made from a gentle formulation of calendula oil, which provides a soothing effect and prevents bacterial infection and inflammation. Allantoin helps keep the baby's diaper area free of irritation and redness. This cream is a great choice for busy parents as it protects against fecal irritants, even when there is an unintentional delay in changing the diaper.
Pros
Long-lasting effect
Ideal for daily use
Fragrance-free
Soothes the skin
Cons
Difficult to spread
Difficult to remove
The Lotus Herbals Happy Bums Diaper Rash Crème is a unique and natural formula that helps calm the delicate baby skin and keep it refreshed. This product contains a blend of calendula extract and zinc oxide that protects the skin from nappy rash. It is brought to life with handpicked ingredients sourced from rare plants, herbs, and flowers. Lotus Herbals baby+ is as safe as nature itself.
Pros
Mineral oil-free
Sulfate-free
No synthetic colors or fragrances
Ideal for daily use
Cons
The Cetaphil Baby Diaper Cream is capable of relieving diaper rash and discomfort from the very first use. It soothes diaper rash symptoms and provides overnight results. This diaper cream is brilliant because it protects the skin from wetness that causes diaper rash. It essentially creates a protective barrier on the skin to reduce friction as well as exposure to bacteria.
Pros
Ideal for everyday use
Paraben-free
Cruelty-free
Mineral oil-free
Non-greasy
Non-sticky
Cons
The Mom & World Baby Diaper Rash Cream is formulated with zinc oxide and vitamin E that help create an effective barrier that calms, soothes, and protects your baby's delicate skin.
This cream is infused with botanicals like shea butter, calendula oil, argan oil, and aloe vera gel – all of which naturally soothe and protect your baby's skin from moisture, inflammation, chafing, and infection. This product also contains natural antibacterial and antifungal herbal ingredients. It is designed to be effective in kicking diaper rash but gentle on sensitive skin.
Pros
Cruelty-free
SLS-free
Mineral oil-free
Paraben-free
No strong odor
Cons
The Life & Pursuits Organic Diaper Rash Cream is a therapeutic blend of extra-virgin, cold-pressed, pure natural oils and medicinal Ayurvedic ingredients that help soothe and heal irritated skin caused by diaper rashes. This diaper cream minimizes skin redness and rashes. It also relieves discomfort and calms the baby.
Pros
Paraben-free
SLS-free
Soothes the skin
All-natural ingredients
Cons
The Softsens Baby Natural Diaper Rash Cream is a hypoallergenic product that provides a powerful zinc oxide treatment. It quickly relieves redness and inflammation caused by diaper rash. This formula is enriched with the goodness of shea, kokum, and jojoba butters that moisturize your skin, along with sweet almond and coconut oils that nourish it. Cool aloe vera soothes damaged skin. This mild yet effective cream is ideal for daily usage.
Pros
Paraben-free
SLES-free
Free from synthetic colors
Very mild scent
Cons
Does not prevent friction and chafing
The Divine Foods Diaper Rash Cream is made from cold-pressed virgin coconut oil blended with organic high-curcumin turmeric. This is a multipurpose balm as it not only soothes rashes but can also be used for minor cuts, dry skin, insect bites, stretch marks, and even as a lip balm.
Pros
Paraben-free
Cruelty-free
Sulfur-free
Natural antiseptic
Good for daily use
Cons
None
The CHICCO Diaper Rash Cream contains natural active ingredients like shea butter and glycerine that moisturize the skin and promote quick healing. This cream also contains 10% zinc oxide, allantoin, and pro-vitamin B5 that provide helpful protection against rashes and also repair the skin. This cream creates a breathable layer over sensitive skin to avoid chafing and bacteria.
Pros
Paraben-free
Mineral oil-free
Alcohol-free
Free from synthetic dyes and colors
SLS- and SLES-free
Easy to apply
Cons
None
Diaper rashes can be a disheartening sight for a new parent. They might feel as though their neglect has caused the baby to suffer from such a painful rash. But, let us all remember that this is not the case. Diaper rashes are a common occurrence in babies, and it has nothing to do with neglect! This is just a tiny hurdle in the long journey of parenthood, so just keep marching on and get a good diaper cream that will help your baby be at ease. Until then, happy parenting!
Frequently Asked Questions
What are the causes of diaper rashes?
Diaper rashes can be caused when soiled diapers are not changed for a long time. Babies may also develop rashes when they start eating solid foods. Use of chemical-filled baby wipes may also be a reason for irritation in sensitive areas.
How long does it take for a baby rash to clear?
Diaper rash usually goes away in 2 to 3 days with good home care. Home care can include only using diapers when really required, otherwise using cloth nappies and applying rash cream religiously. Also, allowing the baby to be diaper-free for a few hours every day can help their skin breathe and prevent moisture accumulation, which causes rashes.
Are these diaper rash creams safe to use?
Most diaper rash creams are made keeping the sensitive baby skin in mind. This is the reason many brands even tend to go organic. So yes, these creams are safe to use.
How many times should diaper rash cream be used in a day?
If the rash is very harsh, then diaper rash cream should be applied generously to the baby's butt and genital area every time you change the diaper.
Can you put diaper rash cream on a newborn?
It is ideal to first use natural home remedies, like coconut oil, on a newborn baby's skin. If the rash persists, consulting the pediatrician before using any rash cream is recommended.
Recommended Articles: