10 Best Digital Thermometers Of 2021 To Check Temperature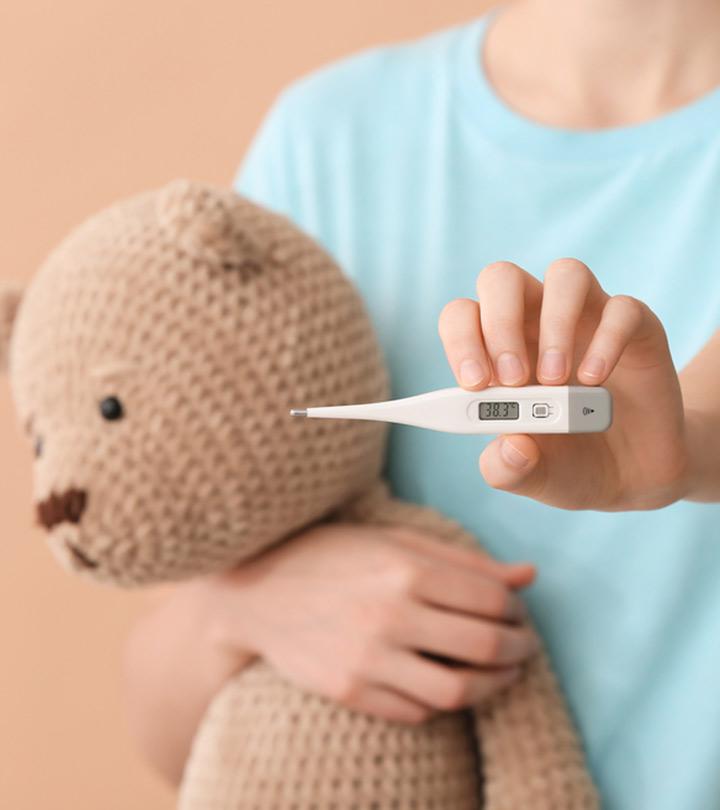 The current pandemic situation has not just affected our physical health but also our mental health. The fear of what might happen next prevails in all of us. To suffer or to see our loved ones suffer is the last thing we would want. Being a bit cautious and aware of one's state of health will help avoid a lot of further complications. Thermometers are a must in every household. This small apparatus can help you pay attention to high temperatures and give it the medical attention it might need at the earliest.
Digital thermometers are now in high demand and it's no surprise. And when you plan to buy a digital thermometer, you should consider buying one that is both accurate and provides consistent readings. Digital thermometers are also a popular choice as they're fast-acting and easier to use for kids and toddlers. Whether they are inserted into the mouth or rectum, they're also very easy to clean. And to help you find the best digital thermometer, here is a list of 10 best digital thermometers in the market that are super quick and have spectacular accuracy.
How Does A Digital Thermometer Work?
Digital thermometers have sensors that make them quick and automatic at displaying accurate temperature. These sensors are designed to detect a change in temperature through voltage, current, and resistance. In easier terms, when the thermometer detects a change in temperature as you place it in your mouth or any other part of your body, it creates current proportional to the temperature and gives you a reading.
10 Best Digital Thermometers To Monitor Your Temperature In 2021
Are you looking for a digital thermometer that is as quick as a flash? This no-touch forehead thermometer from iHealth gives exceptionally accurate temperature reading in just 1 second, and that is what we call quick. This thermometer is definitely a steal for its extra sensitive infrared sensors, large and bright LED screen, and the noiseless vibration alert system. Though an advanced temperature reading apparatus, this thermometer has an user-friendly design.
Pros
Suitable for all ages
Zero physical contact
Free 12-month warranty
Fahrenheit to celsius switch
Low power consumption system
Cons
Might give varying results in extreme ambient temperature
Have you ever come across a thermometer that not just reads body temperature but also object temperature? This thermometer from Femometer stands tall among all the other digital thermometers for doing the same. It lets you switch between forehead mode and object mode and the object mode can also be used to read room temperature. The 3 colors displayed on the LED screen to indicate high, low, and normal body temperature is its significant feature.
Pros
Dual mode
FDA approved
Instant reading
Fahrenheit to celsius switch
Can record upto 10 sets of data
Cons
Does not work on rechargeable batteries
This digital forehead thermometer from Hotodeal is an ultimate multifunctioning apparatus. It can read human body temperature, room temperature, object temperature, and even liquid temperature. This thermometer is super fast and gives accurate readings in a second. There is a 3-color display feature and a warning sound that indicates abnormal body temperature.
Pros
Automatic memory
Suitable for all ages
Zero physical contact
High precision sensors
Automatic power off feature
Cons
Does not work on NiMh batteries
Are digital thermometers accurate? This is the first question that pops to our heads as we think of buying a digital thermometer. This thermometer from iProven is ranked the best thermometer of 2020 for its accuracy and easy to handle design. This thermometer can read human body, object, and liquid temperatures in just 1 second. It has a beeping alarm feature and 3 colors LED display to indicate high body temperature.
Pros
Suitable for all ages
Zero physical contact
Automatic power off feature
Fahrenheit to celsius switch
1 year warranty
Cons
Alarm feature cannot be disabled
This digital thermometer is a great choice for babies. The pre-warmed tip of this thermometer guarantees accurate temperature reading each time. It also has disposable lens filters that ensure hygiene and safety. Its user-friendly and easy to clean design makes it the best choice for pediatrician clinics.
Pros
High accuracy
Pre warmed tip
Easy-to-read display
Ensured sanitization
Disposable lens filter
Cons
This infrared thermometer from Amplim is the best medical digital thermometer every clinic should have. This thermometer can scan human body, object, room, and liquid temperatures with spectacular accuracy and has a memory capacity to store upto 60 readings. Its slim and unique design makes it stand tall among all the other forehead thermometers.
Pros
2 years warranty
FSA HSA approved
Large 3-color display
Automatic power off feature
Alarm to indicate elevated temperature
Cons
This oral digital thermometer from Vicks is simple, accurate, and a must-have in every home. Its memory feature displays the last temperature reading it scanned. This water-resistant thermometer is easy to clean and so is hygienic. It can be used as an oral thermometer or an under-the-arm thermometer.
Pros
Memory recall
1 year warranty
Suitable for all ages
3 colors LED display
Automatic turn off feature
Cons
No bluetooth feature
Drains battery quickly
This infrared digital thermometer from Ketodoc has passed various performance tests and provides highly accurate temperature readings we can rely on. This thermometer can save upto 32 readings and has a smart design which makes it user-friendly and suitable for clinical use. This long-lasting thermometer which gives temperature readings with zero physical contact makes it 100% safe even after multiple use.
Pros
Backlit display
FDA approved
User-friendly design
Automatic turn off feature
Lasting power upto 1000 hours
Cons
Does not come with a carrying case
Are you looking for the best digital thermometer for a baby? If so, this rectal thermometer from FridaBaby could be a life saver. It comes with a rectal insertion stopper to indicate the insertion limit and a backlit display to make the temperature readings easily visible even in the dark. Its simple and compact design makes it easier to clean and handle.
Pros
BPA – free
Latex free
Waterproof
Comes with a carrying case
Can store upto 10 readings
Cons
Can read only human body temperatures
This non-contact digital thermometer from Nursal has passed several clinical studies and is considered to be one of the best thermometers in the market. With its extra sensitive sensors and smart chip, this thermometer is exceptionally accurate and quick. It has a 3-color LED display which makes it easier for the user to track temperature changes. It is suitable for all age groups and is easy to clean.
Pros
FDA approved
Suitable for all ages
Can save upto 32 readings
Automatic power off feature
Fahrenheit to celsius switch
Cons
Might get heated if used for long
Now that you've taken a look at the 10 best digital thermometers of 2021, here's a buying guide for you that will help you pick the right one.
What To Look For In A Digital Thermometer?
Most people wonder if digital thermometers are accurate. There are 2 types of digital thermometers and they are contact and non-contact thermometers. The former has a better accuracy rate while the latter ensures safety and hygiene. Choose according to your requirement.
In order to be usable by anybody, the design of the apparatus must be simple and easily understandable. A single button operating mechanism would be preferable.
Certain digital thermometers have a feature to store the temperature readings and display them later. This feature might be really helpful if the thermometer is being used for medical purposes and to analyse a person's state of health. However, this feature isn't really necessary if used in homes.
Now that we know how to pick the right digital thermometer, here are some of the features of a digital thermometer that are worth knowing about.
What Are The Features Of Digital Thermometers?
Option to switch between fahrenheit and celsius.
Different modes to read human body temperature, object temperature, and room temperature.
Memory capacity to store previous temperature readings.
Backlit colour LED display to make results easily visible.
Beep alarms to indicate high temperatures.
When you buy a digital thermometer, you need to know exactly how to use it for accurate results. Here's a segment on how to use a digital thermometer.
How To Use Digital Thermometers?
Step 1 : Take the thermometer and wash the tip with lukewarm water if it was used previously.
Step 2 : Turn it on and place it under your tongue/under the arm. Place it in the rectum if it's a rectal thermometer (rectal thermometers are commonly used for infants).
Step 3 : Hold until the thermometer beeps or vibrates.
Step 4 : Remove the thermometer when the screen displays a still reading.
Nothing matters more than your well being. Having a digital thermometer handy will help you stay aware of your body condition and prevent you from falling into the trap of extreme effects of menacing diseases. If this small apparatus can probably help you avoid taking sick leaves and being bedridden for weeks, why not just buy it?
Expert's Answers For Readers' Questions
Are digital thermometer readings accurate?
Yes, digital thermometers are accurate. If you recognize a temperature variation between a contact and non-contact thermometer, it's probably because of the extreme surrounding temperature or the distance between the non-contact thermometer and the forehead.
How long do you take your temperature with a digital thermometer?
It takes between 1-30 seconds to take a temperature reading. Most of the non-contact digital thermometers take just 1 second to give out the reading.
How do I know if my digital thermometer is working?
Most of the digital thermometers display the minimum temperature it can read or 'LO' before it starts reading your body temperature. Please note that the 'LO' denotes low body temperature and not low battery level of your thermometer. If you can see this on the display after you turn it on, your thermometer is working.
How often should I clean the thermometer and how?
A contact thermometer must be cleaned after each use to ensure hygiene.
Can we wash a digital thermometer?
Digital thermometers can be washed. Washing the tip with lukewarm water and soap will make it safe to be reused.
What are the disadvantages of a digital thermometer?
Digital thermometers run on batteries and might need a battery replacement.