10 Best Digital Thermometers Of 2023 – Reviews & Buying Guide
Keep a close eye on your temperature levels in a timely, efficient, and accurate manner.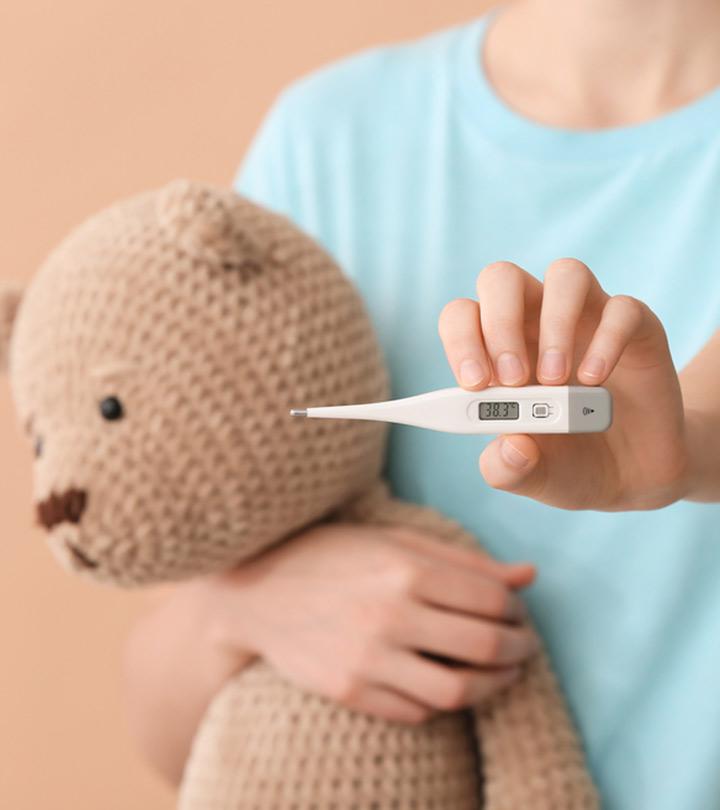 The pandemic has taken a toll on our physical and mental health, and keeping track of our temperature has become necessary, if not vital. To ensure that you are always in the pink of health, investing in the best digital thermometer will be helpful. These popular devices are trusted in high demand as they are fast-acting, provide consistent results, and are accurate. While this apparatus may be small, it can help you keep track of any increase in high temperature and get medical attention at the earliest. They are also effortless to use and clean whether inserted into your rectum or mouth. To help you get your hands on the best digital thermometer, we've listed down some of the best digital thermometers on the market that are spectacularly accurate and super quick. Read through this list to see which digital thermometer would suit you the best since there are so many different versions out there.
How Does A Digital Thermometer Work?
Digital thermometers have sensors that make them quick and automatic at displaying accurate temperature. These sensors are designed to detect a change in temperature through voltage, current, and resistance. In easier terms, when the thermometer detects a change in temperature as you place it in your mouth or any other part of your body, it creates current proportional to the temperature and gives you a reading.
10 Best Digital Thermometers To Monitor Your Temperature In 2023
Are you looking for a digital thermometer that is as quick as a flash? This no-touch forehead thermometer from iHealth gives exceptionally accurate temperature reading in just 1 second, and that is what we call quick. This thermometer is definitely a steal for its extra sensitive infrared sensors, large and bright LED screen, and the noiseless vibration alert system. Though an advanced temperature reading apparatus, this thermometer has an user-friendly design. Check out this video to know more about this product.
Pros
Suitable for all ages
Zero physical contact
Free 12-month warranty
Fahrenheit to celsius switch
Low power consumption system
Cons
Might give varying results in extreme ambient temperature
Price at the time of publication: $22.99
Berrcom Non-Contact Infrared Forehead Thermometer is a multimode thermometer that can read your body's, an object's, and a room's temperature. This thermometer can be easily used in nurseries, clinics, and schools with its no-contact mechanism. It works best when you keep the sensors clean of sweat and dust to get accurate readings. It is safe to use on three months or above old babies. Check out this video to learn how to recalibrate your thermometer before use. 
Pros
3-color backlit display
Mute and buzzer modes
2 AAA batteries
32 memory temperatures
30-second automatic turn-off
1-second measurement
Cons
Might glitch while providing a fahrenheit reading
Price at the time of publication: $11
The Care Touch Digital Thermometer offers rapid, precise results within 10 seconds. It has a fever signal and alert system, so if the thermometer detects a fever, an alarm will go off. The thermometer has a flexible tip that makes it comfortable and user-friendly for beginners. It comes with a cover which keeps the thermometer free of germs. You may use this thermometer on newborns and pets in addition to adults.
Pros
Battery-powered
Offers flexible tip
Offers high accuracy
Easy to use
Cons
None
Are digital thermometers accurate? This is the first question that pops to our heads as we think of buying a digital thermometer. This thermometer from iProven is ranked the best thermometer of 2023 for its accuracy and easy to handle design. This thermometer can read human body, object, and liquid temperatures in just 1 second. It has a beeping alarm feature and 3 colors LED display to indicate high body temperature. Watch this video to know more about the product.
Pros
Suitable for all ages
Zero physical contact
Automatic power off feature
Fahrenheit to celsius switch
1 year warranty
Cons
Alarm feature cannot be disabled
Price at the time of publication: $18.97
GoodBaby Forehead Thermometer is an ergonomically designed, easy-to-use, clinically tested digital thermometer. It makes the best use of infrared technology as it does not require physical touch to read the temperature. It shows the reading in celsius and fahrenheit for convenience. This thermometer can also measure a room or an object's temperature in a second with the press of a button.
Pros
35 Memory recall
Mute/unmute mode
2 AAA batteries included
Aiming light
Color-coded fever alarm
Lightweight
Touchless
1-year warranty
Cons
Can provide inconsistent readings
Price at the time of publication: $19.99
ThermoBio Touchless Infrared Forehead Thermometer is an advanced thermometer that uses the latest smart chip technology and algorithm to ensure accurate, safe, and reliable readings. This thermometer has been clinically tested and lasts up to 1,000 hours of usage. It uses infrared technology to give accurate readings, whether indoors or outdoors. It makes your life easier by making it possible to check your temperature hassle-free.
Pros
Backlit LCD display
32 memory measurements
30-second auto power-off
2 AAA batteries
Sound toggle
Fever alert system
1-year warranty
Cons
Fluctuates readings sometimes
Price at the time of publication: $49.75
This oral digital thermometer from Vicks is simple, accurate, and a must-have in every home. Its memory feature displays the last temperature reading it scanned. This water-resistant thermometer is easy to clean and so is hygienic. It can be used as an oral thermometer or an under-the-arm thermometer.
Pros
Memory recall
1 year warranty
Suitable for all ages
3 colors LED display
Automatic turn off feature
Cons
No bluetooth feature
Drains battery quickly
Price at the time of publication: $8.44
Alcedo Forehead and Ear Thermometer is a medical-grade thermometer that is safe for infants, kids, and adults. It has a one-push button design that helps you get accurate readings with every use. It has a magnetic cover on the probe that keeps it clean. It has four modes; adult forehead, child forehead, ear, and object mode. This thermometer comes with a pouch and batteries for added convenience.
Pros
Four modes
Infrared lens technology
Color-coded display
20 memory measurement
Automatic shut-off
Silent mode
Readings in Celsius and Fahrenheit
Cons
Might get stuck on one mode
Price at the time of publication: $23.95
Are you looking for the best digital thermometer for a baby? If so, this rectal thermometer from FridaBaby could be a life saver. It comes with a rectal insertion stopper to indicate the insertion limit and a backlit display to make the temperature readings easily visible even in the dark. Its simple and compact design makes it easier to clean and handle.
Pros
BPA – free
Latex free
Waterproof
Comes with a carrying case
Can store upto 10 readings
Cons
Can read only human body temperatures
Price at the time of publication: $13.97
The Kinsa QuickScan Smart Thermometer provides accurate readings with a single button press. Due to its no-contact quick-scan system, it is one of the most sanitary options for when you use it on multiple people. It has an application that provides personalized guidance based on your age and fever and allows you to take action in real time.
Pros
Smart technology
No contact feature
Quick results
Accurate readings
Tracks records
Battery powered
Cons
None
Price at the time of publication: $39.97
Now that you've taken a look at the 10 best digital thermometers of 2023, here's a buying guide for you that will help you pick the right one.
What To Look For In A Digital Thermometer?
Most people wonder if digital thermometers are accurate. There are 2 types of digital thermometers and they are contact and non-contact thermometers. The former has a better accuracy rate while the latter ensures safety and hygiene. Choose according to your requirement.
In order to be usable by anybody, the design of the apparatus must be simple and easily understandable. A single button operating mechanism would be preferable.
Certain digital thermometers have a feature to store the temperature readings and display them later. This feature might be really helpful if the thermometer is being used for medical purposes and to analyse a person's state of health. However, this feature isn't really necessary if used in homes.
Now that we know how to pick the right digital thermometer, here are some of the features of a digital thermometer that are worth knowing about.
What Are The Features Of Digital Thermometers?
Option to switch between fahrenheit and celsius.
Different modes to read human body temperature, object temperature, and room temperature.
Memory capacity to store previous temperature readings.
Backlit colour LED display to make results easily visible.
Beep alarms to indicate high temperatures.
When you buy a digital thermometer, you need to know exactly how to use it for accurate results. Here's a segment on how to use a digital thermometer.
How To Use Digital Thermometers?
Step 1 : Take the thermometer and wash the tip with lukewarm water if it was used previously.
Step 2 : Turn it on and place it under your tongue/under the arm. Place it in the rectum if it's a rectal thermometer (rectal thermometers are commonly used for infants).
Step 3 : Hold until the thermometer beeps or vibrates.
Step 4 : Remove the thermometer when the screen displays a still reading.
Why Trust StyleCraze?
The author, Shreya Vishwanathan, has a deep interest in healthcare and loves reviewing different healthcare products for users. After thorough research and going through numerous reviews and feedback on multiple forums and websites, she has curated a list of the best digital thermometers. The digital thermometers listed in this article are easy to handle and provide accurate results without any inconsistencies.
Frequently Asked Questions
Are digital thermometer readings accurate?
Yes, digital thermometers are accurate. If you recognize a temperature variation between a contact and non-contact thermometer, it's probably because of the extreme surrounding temperature or the distance between the non-contact thermometer and the forehead.
How long do you take your temperature with a digital thermometer?
It takes between 1-30 seconds to take a temperature reading. Most of the non-contact digital thermometers take just 1 second to give out the reading.
How do I know if my digital thermometer is working?
Most of the digital thermometers display the minimum temperature it can read or 'LO' before it starts reading your body temperature. Please note that the 'LO' denotes low body temperature and not low battery level of your thermometer. If you can see this on the display after you turn it on, your thermometer is working.
How often should I clean the thermometer and how?
A contact thermometer must be cleaned after each use to ensure hygiene.
Can we wash a digital thermometer?
Digital thermometers can be washed. Washing the tip with lukewarm water and soap will make it safe to be reused.
What are the disadvantages of a digital thermometer?
Digital thermometers run on batteries and might need a battery replacement.
Recommended Articles