13 Best Digital Watches For Women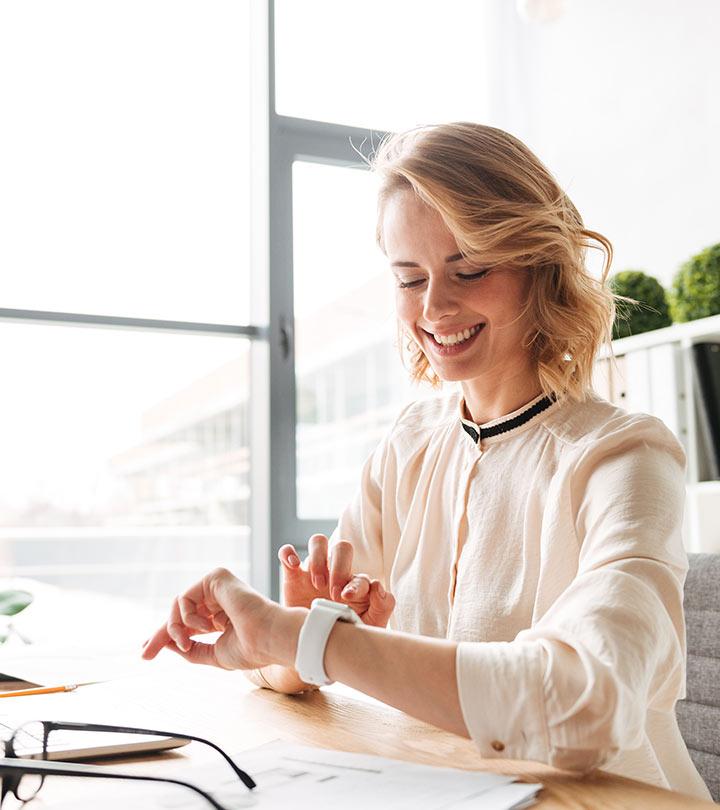 If you're constantly on the go and you want an upgrade from your regular analog watch, it's time to check out the best digital watches for women. Apart from being a smart choice when it comes to functionality, digital watches are stylish and can be carried off as an accessory along with your glamorous outfits. With constant advancements in technology, digital watches come with many exciting features. Check out our top picks in the list below.
13 Best Digital Watches For Women
The Armitron Digital Watches for girls has a round dial that looks cute and elegant at the same time. It is available in multiple super fun colors. Its strap is neither too broad nor too thin. It fits comfortably around your wrist. It is not waterproof, so keep it away from water. Armitron women's watch is cute digital watches.
The Timex Ironman Classic Watch is just perfect for trekking. It is fantastic for rough use. These are the ladies' digital watches that are black with a round dial. It is waterproof and has a long shelf life. This watch will look great on workout and athleisure outfits.
Timex's Ironman Essential women's digital Watch watch looks super cute. It features a subtle print around the dial that makes it look even more attractive. The oval dial creates dynamic contrast with the thin straps. This watch is available in multiple colors at an affordable price. It
4. Casio Women's Sport Watch
Casio Women's Sport Watch is black with a hexagonal dial. It is small and looks sleek and neat. Since it is waterproof, it can be worn during adventure activities and on treks. It is durable and reads the time clearly and accurately. It is pocket-friendly and available for a reasonable price.
This Casio watch looks almost vintage. It has a rectangular dial that looks quite elegant. Though it is simple, it looks attractive. The great quality and long battery life of this watch make it a good investment.
6. Armitron Sport Women's 45/7034 Digital Chronograph Resin Strap Watch
This oval-shaped watch from Armitron looks so smart and appealing. It reads the time accurately and will look super stylish with casual and workout outfits. This watch is available in multiple colors at an affordable price. It is of high quality, and its straps are broad enough to sit comfortably on your wrist.
You can enjoy your swimming session without the hassle of removing your watch with the Amazon Essentials Digital Watch. This water-resistant watch is specially designed and can withstand the water splash and is to be used in swimming only up to 165 feet. The watch features an alarm, chronograph, and blacklight. It also features an LCD with a day of the week, time in hours, and seconds display. This matte white strap with buckle closure and rose-gold top ring offers a chic and elegant look. It is also available in teal, matte, pink, and black colors.
Timex Women's Ironman Transit Watch is square-shaped and white. These large face watches are waterproof, but it is best to try and keep it away from water for longer durability. It looks smart and stylish and can be worn comfortably with casual and semi-formal outfits.
The ultra-thin YUINK Waterproof Digital Wristwatch features a stopwatch, alarm, backlight, and 12/24 hours format. This watch has a round stainless steel case and has a bit of a wide strap. It is available in different colors. The watch comes with 50 minutes of water resistance. However, keep the watch away from steam and hot water.
Be stylish with this WISHFAN Women's Sports Watch that offers an elegant look with a concise dial. It has a plastic strap with buckle closure, stainless steel bottom, and a thick acrylic mirror for clear readings. The watch features a chronograph, an alarm clock, 7 backlight colors, and a time display in 12 hours/24 hours format with date and week. Moreover, it is water resistant up to 50 meters and is lightweight to be put on when going for a hike or during any sports activity.
Style your wrist with a bold look with the Skechers Women's Magnolia Quartz Digital Watch. This digital chronograph watch is water-resistant up to 30 meters. The watch features an alarm, backlight, time and date display, and a stopwatch. It is made more attractive with the silicone band and lightweight metal case. Moreover, it is available in the colors of mint green, blue, rainbow, rose-gold white, and black.
Tissot's T-Touch II Digital Watch is all things glamor. Its white leather strap looks beautiful on the wrist. The combination of analog and digital watch that features makes it a truly unique piece. Though it is expensive, it is definitely worth the investment.
GUESS is a brand that women all over the world swear by. It is known for its classy and elegant pieces. This digital watch from GUESS has a rectangular digital dial with crystals all around it. The broad, white band looks stunning. The numbers on the screen are easy to read.
These are some of the best digital watches that are trending on the market right now. Digital watches will always be handy and appealing. Which of these watches did you like most? Let us know in the comments section below!
Why Trust StyleCraze?
Pratima Ati, the author of the post, is a fashion enthusiast who creates well-researched fashion content for her readers. Here, she brings you a collection of the best digital watches for women. Pratima has scoured several forums and compared and reviewed a variety of watches to include options to suit different tastes and preferences. She has also included a buying guide to help her readers pick the best products.
Recommended Articles