11 Best Dining Table For Small Spaces – Reviews And Buying Guide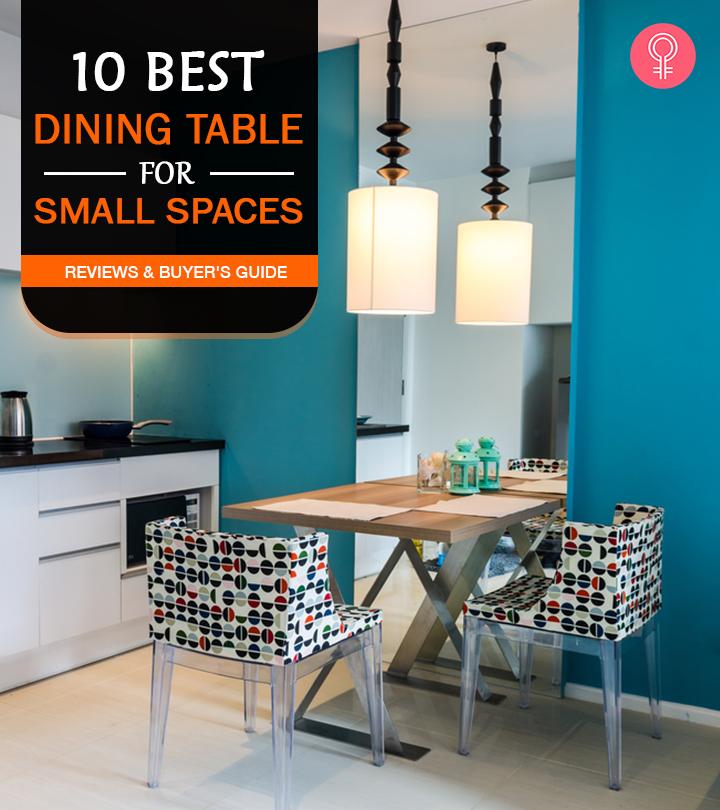 When you live in a compact space, selecting furniture that perfectly fits in your small living area can be challenging. On top of that, maintaining the aesthetic and vibe of your interior decor can be just as important. When it comes to dining sets, it is necessary to get one that accommodates your family members comfortably and is also pleasing to the eyes!
This is the reason we have curated a list of the best dining tables for small spaces. You can easily pick one of your liking as this list includes a variety of different tables and table sets. The possibilities are endless with these tables that come in various shapes ranging from square to round to rectangles. 
11 Best Dining Tables For Small Spaces
The Linon Brown Faux Marble Tavern Set adds practicality as well as elegance to your space. This 3-piece set includes a counter-height table along with two padded counter stools that are comfortable and space-saving. The simple design and neutral espresso finish let this versatile piece of furniture blend in with a variety of settings in your home's interior. This set is the perfect choice for you if you want a place in your home to have some brews and beverages or need a spot to eat everyday meals.
Features
Dimensions:25 x 22.13 x 36.35 inches
Weight: 9 pounds
Material: Hardwood
Shape: Rectangle
Pros
Elegant design
Easy to assemble
Value for money
Can be used in multiple ways
Comfortable stools
Cons
Hardware included is not sturdy
The Zinus Louis Modern Studio Collection Soho Dining Table Set is an ideal combination of functional and stylish. This dining table set is well-constructed with black steel tubing and a surface panel that has a rich espresso finish. It comes with 2 benches that add a simple yet modern touch to your home's décor.
Features
Dimensions: 48 x 30 x 29 inches
Weight: 83 pounds
Material: Steel and wood
Shape: Rectangle
Pros
Quick and easy to assemble
Sturdy construction
Seats 4 to 5 people
Easy to clean
Minimalistic design
Cons
Padding on table's feet is not sturdy
The Ashley Hammis Dining Room Drop Leaf Table has a simple yet sophisticated design that is perfect even if you are tight on space. The drop leaf function makes it easy to maneuver around the table when you are short on space. But when you require a larger table for dinners or have company over, you can easily latch on the hinges and turn it into a more spacious round table. The round drop leaf table sits on flared legs and is constructed from veneer, wood, and manmade wood. It has a dark brown finish with gray undertones.
Features
Dimensions: 36 x 36 x 30 inches
Weight: 36 pounds
Material: Veneer, wood, and manmade wood
Shape: Drop leaf, round
Pros
Sophisticated design
Value for money
Expandable
Easy to assemble
Suitable for narrow spaces
Comfortably seats up to 4 people
Cons
Drop leaf hinges not very sturdy
This East West dining table set has a straightforward yet classic design. This small dining set includes a four-legged rectangular table and two secure seat chairs with a decorative slatted-back design. This entire set is designed out of well-liked Asian hardwood. The oak finish of this attractive dinette set easily complements different decor styles. This  wooden dining set is a great choice for storage mobility infused with ultimate style. With its smart expandable design, this solid wood dining table set is ideal for hosting both large and small gatherings.
Features
Dimensions: 54 x 32 x 29 inches
Weight: 97 pounds
Material: Asian hardwood
Shape: Rectangle, extendable
Pros
Classic design
Sturdy construction
Easy to assemble
Can seat 4 to 6 people
Cons
The FDY Small Round Conference Table has a modern minimalist design that includes a triangular table leg structure that is stable and does not fall easily. This round table is waterproof and shock-resistant. It has a black anti-rust sprayed steel frame that ensures stability and durability. This table is perfectly suitable for a multi-style interior design.
Features
Dimensions: 56 x 27.56 x 29.53 inches
Weight: 7 pounds
Material: Medium-density fibreboard, walnut wood, metal, and steel
Shape: Round
Pros
Modern look
Easy to assemble
Value for money
Easy to clean
Cons
This Best Choice Products 3-piece dining table set is the most convenient furniture that you will ever own. This is because it has 3 deep, multipurpose shelves that provide a spacious location to store dinnerware, cookbooks, bottles, and more. Its space-saving design is practical yet compact as the chairs fit effortlessly into the table,  making it ideal for any living space. The two chairs that are included in this set are padded for comfort and have a curved backrest that provides support and promotes a healthy posture.
Features
Dimensions: 36 x 19.5 x 36 inches
Weight: 3 pounds
Material: Wood and metal
Shape: Rectangle
Pros
Smart storage space
Water-resistant top
Easy to maintain
Comfortably padded chairs
Easy to assemble
Cons
Hardware included is not sturdy
This 3-piece round dining set by Best Choice Products has the perfect shape to use up space in the most ergonomic manner. It is designed with a multipurpose lower shelf that is great for holding wine, food trays, and other things directly under the frame. Its chairs are rounded to fit like a glove within the table to save up space while promoting a healthy, comfortable posture. The high-quality chairs have a 330-pound weight capacity. The whole set is built with durable engineered wood with solid iron frames that last for years.
Features
Dimensions: 31 x 20.75 x 29.5 inches
Weight: 3 pounds
Material: MDF wood, steel
Shape: Oval
Pros
Easy to assemble
Lightweight chairs
Value for money
Durable
Cons
Wine rack may get in the way of your legs while sitting
The JAXPETY 5-Piece Folding Card Table And Chairs Set is a great choice if you are looking for a table that can be used as a card table, a dining table, and a game table. This set comes with a table and 4 chairs. It is constructed with a heavy-duty steel frame along with a powder-coated surface. The chairs are padded with high-resilience sponge, making them very comfortable. Most importantly, the table and chairs can be folded up quickly and neatly for space-saving storage.
Features
Dimensions: 37 x 36 x 2.2 inches
Weight: 39 pounds
Material: Steel, PVC
Shape: Square
Pros
No assembly required
Rust-resistant
Easy to clean
Easy to transport
Multipurpose
Cons
The Ivinta Glass Round Dining Table is inspired by the silhouette of the Eiffel Tower. Thus, it can add an exquisite look to your dining area.  This table is a great combination of transparent toughened glass top and solid beech wood. It is made from 7 mm thick high-strength glass, the edges of which have been sanded to give you a nice and smooth feel. This round table is very versatile in nature as it can be used as a kitchen table, a coffee table, a dining table, or a leisure table.
Features
Dimensions: 5 x 31.5 x 29.5 inches
Weight: 5 pounds
Material: Glass, beechwood, and steel
Shape: Round
Pros
Sturdy construction
Easy to clean
Versatile uses
Modern design
Scratch-proof bumper feet
Cons
Assembly instructions provided are ambiguous
Mecor 5-Piece Drop-Leaf Bar Dining Table Set includes a dining table and 4 stools, which are great to have a joyful meal time with your family and friends. This set is made of durable metal frames and MDF chair seats and desktop that are sturdy and stable. The table features two drop-leaf extensions with the help of which it can be used not only as a dining table but also as a console table when the drop leaf is folded on one side.
Features
Dimensions: 7"- 31.5'' x 31.5'' x 36.6''
Weight: 20 lbs
Material: MDF board, steel
Shape: Square, drop leaf
Pros
Multipurpose
Sturdy construction
Value for money
Simplistic design
Cons
HOMURY 3-Piece Dining Table Set consists of a rectangular table and two chairs that have an ergonomically designed curved backrest and softly padded faux leather seats in a beautiful brown color. The design and color of this dining set will blend nicely with any decor. The wide seats offer a very comfortable sitting experience, even for long stretches of time.
Features
Dimensions: 38 x 26 x 9.4 inches
Weight: 54 pounds
Material: Wood, steel
Shape: Rectangle
Pros
Value for money
Easy to clean
Easy to assemble
Sturdy construction
Cons
There are some important points to consider before selecting and buying any piece of furniture. These considerations, when evaluated thoroughly, give you a clearer picture of what you are looking for and the best deal you can get out there. When it comes to choosing a dining table for small spaces, listed below are a few factors that you should consider.
How To Choose A Dining Room Set – Buying Guide
1. Size
Always consider the amount of space you want your dining table to occupy in your kitchen. If you live alone, then a fairly compact corner of your kitchen or living room can be a perfect place to keep your dining table. On the other hand, if you live with your family or friends, then having a dining table as the center of attraction of your kitchen may allow for some quality time that can be spent sharing meals and chit-chatting.
2. Dimensions
The dimensions of the table itself need to be checked in order to decide whether it is a size you are willing to buy or if it is too bulky or too tiny for your home.
3. Measuring Your Space
When looking for furniture for a small space, it is obvious that you need to check the amount of space you have to work with. When you are done with taking measurements, you should consider how small of a dining table you really want and how many people will be dining on it. Since there are so many brilliant options to choose from, deciding on the dimensions can narrow down your options, making it easier for you to select one dining table.
4. Weight
The weight of the dining table is important. If the small dining table is for someone who cannot do much heavy lifting due to health issues, then a lightweight table is a better option for them.
On the contrary, if your living space is heavily carpeted, a lightweight table may topple easily. So, a dining table that is a bit on the heavier side is recommended.
5. Coverage Area
If you have frequent parties and get-togethers at your home but also do not have adequate space to accommodate a large dining table, then a drop-leaf or an extendable dining table is perfect for you. The coverage area of such tables can easily be expanded when you want to accommodate more people, and it can be made smaller when you want to save up space and do not have many people over. Foldable dining tables are also a good option to consider.
6. Comfortable Seating
When you buy a small dining table, it does not mean that you have to compromise on your comfort and cramp yourself and your dinner on a tiny table. There are plenty of options of dining tables and dining table sets out there that have good tabletop space and are adequate enough to hold all your dinnerware while providing ample leg room and comfortable seating options.
7. Shape
While choosing the shape of your dining table, consider the style that best compliments the decor of your kitchen or living space.
While square dining tables have a more traditional and classy look, round dining tables have a modern yet elegant look. Rectangle dining tables, on the other hand, are perfect if you want to accommodate more people. Ovals are also quite trendy and have a cozy vibe.
8. Material
The material of the dining table can be different for the tabletop and for the feet of the table. A wooden tabletop may seem like a classy option, but it may be difficult to maintain it and prevent it from getting stained. Stainless steel tabletops are easy to clean but tend to have sharper edges. PVC or plastic tabletops are easy to maintain but can be flimsy if not made from a durable material. So, it is completely up to you to decide what best meets your requirements while also serving a purpose in your daily life.
9. Extension Tables
Extension tables are tables that can transform into larger surface tabletops when required. These types of tables are perfect for the versatile requirements of an individual who may require a larger table every now and then.
In the end, it all boils down to what you think best suits your style and needs. Living in a small space does not mean that you cannot make it stylish and comfortable. Instead, you can make it as pleasing to your eyes as possible when you decorate your home with the best items that suit your preferences and comfort. When you buy a dining table, it can be a statement piece that can be used to describe your aesthetic and your unique way of living. So make a fitting choice when you purchase a dining table for your small space! Pick one of the dining tables that we have listed above to transform your living space instantly!
Expert's Answers for Readers Questions
Do round or rectangular tables take up more space?
When a round table is compared with a rectangular table of the same width, the rectangular table takes up more space. But when comparing both the shapes with the number of individuals it can accommodate, a round table can take up more space. This is because round tables are usually placed in the center of a dining space. They can look rather awkward in the corner of a room and are not very practical or comfortable in such a placement. Rectangular tables are perfect for placing in a narrower room as they can fit snugly in a corner while still being useful and practical.
What is the best table shape for a small dining room?
This solely depends on your preference and the area of your room. If you are looking for a piece that will hold the aesthetic of your room while drawing attention to itself, then a round table is what you are looking for.
If you are looking for a dining table solely for the purpose of using it to enjoy your meals without taking up too much space in your living area or kitchen, then a square of rectangle dining table can be perfectly placed in any corner of the room without disturbing the visuals of the room while also serving its purpose.
How do I maximize a small dining room?
The best way to maximize the functioning and practicality of a small living area is by minimizing unwanted and bulky furniture and investing in pieces that actually serve their purpose successfully in the limited space they take up. So, have the most essential items – like a compact dining table along with chairs – be the focus of your dining room. Avoid bulky trollies or wine racks to take up space in your already small dining room.
How do you arrange furniture in a small dining room?
When arranging furniture in a small dining room, try to look for compact as well as multipurpose furniture items. For instance, using a dining table with a dining bench instead of chairs can be a better option because when the bench is not in use, it can easily be tucked away under the table to create more space for walking around the room. Also, try to avoid rugs in such areas as they tend to come in the way of the furniture. They can also bunch up and be a hassle if you move your furniture around too often.
Recommended Articles
The following two tabs change content below.

Latest posts by Harini Natarajan (see all)

Harini Natarajan
As Chief Editor, Harini sets the tone and editorial direction for StyleCraze to deliver engaging, interesting, and authentic content revolving around women's health, wellness, and beauty. She has over 14 years of experience in content writing and editing for online media. She specializes in the areas of Beauty, Lifestyle, and Health & Wellness and is proficient in Medical Sciences (Biology, Human Anatomy and Physiology, and Biochemistry). Her background in Biomedical Engineering helps her decode and interpret the finer nuances of scientific research for her team. Harini is a certified bibliophile and a closet poet. She also loves dancing and traveling to offbeat destinations.