10 Best Dior Makeup Products That Are Worth Trying Out – 2023
Luxurious and innovative makeup products that cater to all your beauty concerns in a jiffy!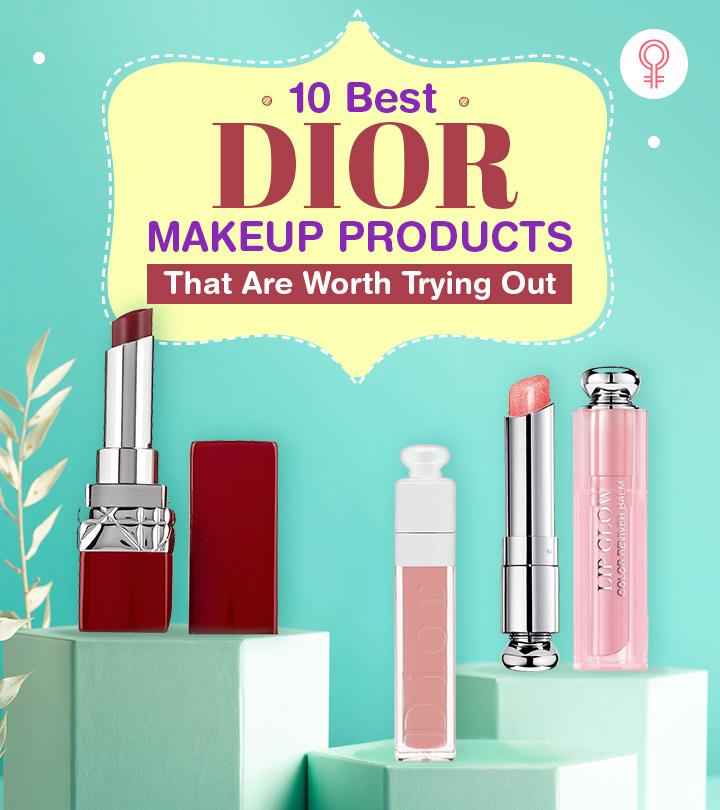 The brand Christian Dior is known for its high-end fashion, perfume, skincare, and makeup lines. Its skincare and makeup products offer skin-friendly formulations that are suitable for every skin type. The brand lays focus on quality rather than quantity, which is why, several popular stars including Park Jimin, Kim Jisoo, Haerin, Jennifer Lawrence, Deepika Padukone, Cara Delevigne, and Robert Pattinson globally endorse its products. The makeup products from this brand are quite a hit among the youth, due to their clean formulations and sustainable blends.
In this article, we review some of the best Dior makeup products that are ideal for everyone. The list includes stunning lipsticks, lip glosses, foundations, and mascaras. These create a perfectly glamorous look for you to venture out with confidence. Read on to know more!
The 10 Best Dior Makeup Products You Need To Try
The Dior Ultra Rouge Lipstick in the shade "863 ultra feminine" has a semi-matte coverage which makes your lips appear plump and ever-so-appealing. It has a creamy texture which makes the lips smooth and supple. It is highly pigmented and has a staying power of more than 12 hours once put on. The Ultra Rouge range offers a lightweight formula that appears saturated with a luminous finish. The lipsticks in this range are suitable for multiple outfits and occasions.
Pros
Hydrating formula
Rich color payoff
Long-lasting
Semi-matte coverage
Creamy texture
Offers luminous glow
Cons
Price at the time of publication: $35.2
The Dior Lip Glow Color Reviver Balm adds shine and smoothness to your lips. It contains cherry oil that keeps your lips hydrated for long hours. The oil also strengthens the natural barrier function of the lips. The shea butter in the formula nourishes the lips and offers added hydration. The sunflower and rice waxes offer a slightly sticky texture and fuse with the lips for the right amount of nourishment. The lip glow balm is suitable for all skin tones and blends perfectly with your lips. It also adapts to the pH of the skin and offers a subtle shine. It can also be worn under your lipstick to create a perfect priming base and even texture. Take a look at this honest review to know more about the product.
Pros
Gentle ingredients
Long-lasting
Acts as a lip-priming base
Suitable for dry lips
Ideal for daily use
Cons
Price at the time of publication: $52.87
The Dior Addict Lip Maximizer in the shade "001 Pink" is enriched with hyaluronic acid which helps improve hydration while volumizing the lips to make them appear plumper. The formula also contains cherry oil that offers a smooth lip texture and enhances shine. The product comes with minty notes that refresh the lips. It also has a user-friendly foam applicator that helps achieve the perfect coverage. The lip maximizer range is available in eight wonderful shades from which you can choose your favorite as per your comfort, outfit, and occasion.
Pros
Volumizing formula
Long-lasting
Smooths lip texture
Offers full coverage
User-friendly applicator
Subtle minty scent
Cons
Price at the time of publication: $34.98
Get effortless strokes with the Dior Waterproof Eyeliner in the shade "Trinidad Black." The unique formula and intense color create perfect lines while enhancing your looks. The product is enriched with cottonseed oil and jojoba oil that hydrate the eyelid areas making them smooth and shiny. The eyeliner has a beveled foam tip which helps in flawless blending.
Pros
High-quality ingredients
Intense color payoff
Nourishing formula
User-friendly applicator
Blendable formula
Waterproof
Sweat-resistant
Cons
May cause allergic reactions on extremely sensitive skin
Price at the time of publication: $21.99
The Diorshow Brow Styler in the shade "002 dark brown" gives your eyebrows an enhanced look. It is enriched with nourishing ingredients such as castor oil, palm kernel oil, and coconut oil that offer long-lasting hydration to your eye area. The brow styler has a small tip that glides smoothly and blends perfectly on the brows. It has a subtle color that looks natural and suits almost all skin tones. It stays for a long time and provides an amazing popped-up eye look with ultra-fine precision.
Pros
Nourishing ingredients
Glides smoothly
Retractable design
User-friendly applicator
Long-lasting
Blendable formula
Cons
Price at the time of publication: $36.17
The Christian Dior Diorshow Mascara makes your eyelashes elongated and beautiful. It comes with a curved brush that effectively thickens and curves the lashes with a long-lasting impact. It is buildable and offers a lash-by-lash definition with a no-transfer finish. This waterproof mascara is enriched with a cornflower extract which combats dryness and maintains shine. It comes in a silver metal case and is a perfect product to carry around during your vacation.
Pros
Natural formula
Long-lasting
Buildable volume
Strengthening formula
Transfer-proof
User-friendly applicator
Travel-friendly case
Cons
May appear heavy on the eyes
Price at the time of publication: $31.93
The Dior Diorskin Forever Undercover Foundation in the shade "010 Ivory" blends perfectly with your skin to give it an even matte finish and luminous glow. The water-based formula offers fantastic coverage and stays effective for a longer period of time. The formula is enriched with rosa fruit extract which offers deep hydration to the skin and makes it look supple and healthy. The fluid texture of the product coupled with the high concentration of pigments ensures adequate blemish correction. The foundation has a matte finish and does not feel heavy on the skin.
Pros
Water-based formula
Lightweight
Highly-pigmented
Long-lasting
Provides even coverage
Offers matte finish
Offers luminous glow
Covers scars and blemishes
Cons
Price at the time of publication: $52.97
The Christian Dior 5 Couleurs Couture Eyeshadow Palette in version "279 denim" enhances your eye look without creases or smudges. The shades have creamy and comfortable textures which glide smoothly over the eyelids. This Dior makeup palette is enriched with aloe vera which offers smoothing properties and pine oil for a soft finish. The colors are intensely pigmented and offer long-lasting wear. The product comes with two double-ended applicators that are easy to use.
Pros
High-quality ingredients
Intensely-pigmented palette
Glides smoothly
Crease-proof finish
Long-lasting coverage
Offers luminous glow
User-friendly applicators
Cons
Price at the time of publication: $54.97
The Dior Lip Glow Oil Color Reviver offers a mirror-like finish to your lips. It is lightweight and non-sticky and revitalizes the lips while bringing out their natural color. The oil nourishes, softens, and smoothes your lips. It is enriched with cherry oil that forms a protective film to shield your lips from external pollutants. It gives immediate yet long-lasting and satisfying results. If you need further information, take a look at this honest review of the product.
Pros
Lightweight
Nourishing ingredients
Non-sticky formula
Mirror-like shine
Non-greasy
Adequate consistency
Cons
Price at the time of publication: $36.49
The Dior Forever Skin Correct Concealer ensures full coverage and long-lasting impact. Its creamy texture covers dark spots, eye circles, and fine lines without irritating the skin. The concealer is easy to apply and suitable for all skin types. The formula contains wild pansy extracts that smooth the skin, yarrow extracts that brighten the skin, and iris extracts that offer hydration.
Pros
Non-comedogenic
Creamy texture
Gentle formula
Anti-aging benefits
User-friendly application
Long-lasting
Dermatologist-tested
Cons
Price at the time of publication: $32.99
Christian Dior's makeup line started in 1953 with their first-ever Dior Rouge Lipstick which became an instant hit. The brand now boasts a diverse range of makeup products for every skin tone and type. Dior's innovative formulas and creative packaging have always been grand topics among ardent makeup lovers. Having said that, there are several other factors that have helped the brand gain trusted customers over the years. Take a look at the next section to know more!
What Makes Christian Dior Unique As A Brand?
1. Ingredients
Christian Dior products are loaded with natural ingredients such as aloe vera, cherry extract, and rosa fruit extract. The formulas create a soothing feel on your skin. The products also contain essential oils such as jojoba oil, palm kernel oil, and castor oil. They ensure that your skin appears plump, healthy, and hydrated.
2. Quality
Christian Dior takes huge pride in making high-quality products that offer long-lasting results. Apart from the enriching ingredients, these products are also clinically approved and do not trigger undesired side effects. They are suitable for people of all ages, genders, and skin types.
3. Wide Shade Range
Christian Dior makeup sets cater to every skin tone and type. Its foundations, primers, and concealers come in a wide variety of shades to suit every skin texture and tone. Moreover, Dior lip glosses and eye palettes come in a huge variety of shades. These go well with many outfits and can be used on multiple occasions. Each shade is easy to apply, gives a natural feel, and blends smoothly into the skin.
4. Long-Lasting Impact
The Dior products offer even and long-lasting coverage when applied. They can be put on confidently without worrying about your makeup getting dull. The products have a natural smell while some of them come without any fragrances. This makes the products appealing to people of different tastes.
Buying your favorite Dior makeup products is one thing, but applying them properly is a totally different ordeal. Here are some makeup application and removal tips that would come in handy when you attempt to use the products!
Important Dior Makeup Application And Removal Tips
Application Tips
Primer
Use a pea-sized amount of Dior primer and apply it all over your face.
Divide your face into sections to apply the primer. This method ensures even coverage in areas such as the forehead, nose, and chin.
Start applying the Dior primer from the center of your face using a makeup sponge. Blend it in upward motions to achieve streak-free coverage.
Foundation
Moisturize your face before applying the Dior Diorskin Forever Undercover Foundation to keep it hydrated.
Make sure that your makeup primer and the Dior makeup foundation are the same color and complement each other. Before applying the products to your face, rub a little bit on your jawline to determine whether the shades match your skin tone or not.
Use a tapered brush to get even coverage while applying the foundation.
Eyeliner
Use your Dior Waterproof Eyeliner from the inner corner of your eyes toward the outer corners.
If you want a thinner line, apply less pressure on the tip of the eyeliner.
If you want a thicker line, use the sides of the eyeliner to build up the thickness.
Mascara
Curl your lashes using an eyelash curler before applying the Christian Dior Diorshow Mascara.
While applying the mascara, wiggle the wand gently from side to side in order to avoid clumping.
Allow the previous coat to dry before applying the next layer for a natural look.
Eyeshadow
Apply an eyeshadow primer or a thin layer of your Dior concealer before applying any shade from the Christian Dior 5 Couleurs Couture Eyeshadow Palette.
Focus on your lids, creases, and brow bones for even eyeshadow coverage.
Blend the previous layer in small circular motions before adding a new layer to avoid looking messy.
Lipstick
Before applying the Dior Rouge Lipstick, exfoliate your lips to ensure smoothness and a softer feel.
Set your lipstick with a tissue or powder to make it last longer.
Removal Tips
Use an oil-based Dior makeup remover to get rid of the waterproof Dior products.
Use cleansing oil or wipes to get rid of the foundation and blush on your face.
You can also wipe a water cloth or wet sponge on your face to clean the foundation.
To remove your lipstick in one attempt, use petroleum jelly over your lips and then wipe the lipstick off with a cotton ball.
Press the cotton ball on your lips in a gentle manner to do away with stubborn lipstick remains.
Why Trust StyleCraze?
The author of this article, Srijani Roy Chowdhury, is a certified image consultant and certified in makeup artistry. She has curated this list of the best Dior makeup products after scrolling through several e-commerce sites for customer reviews and expert recommendations. Srijani's list contains products that come with gentle formulations and offer various skincare benefits. These products are some of the finest from the brand and absolutely adored by professional makeup artists.
Frequently Asked Questions
Are Dior products worth the money?
In terms of instant yet long-lasting results and customer satisfaction, Dior products are a great value for money.
Does the Dior foundation provide good coverage?
Yes, the Dior foundation provides even and full coverage. It offers a natural matte finish and does not transfer.
Is Dior a high-end brand?
Yes, Dior is a high-end brand. It is also one of the most reputed brands when it comes to the quality of its products.
Does the Dior lip oil have a taste?
The Dior lip oil has a subtle, minty vanilla taste which is harmless but delicious.
Can you put the Dior lip oil over lipstick?
Yes, the Dior lip oil can be applied on its own, under the lipstick as a primer, or over the lipstick to make your lips shiny.
Does Dior lip oil leave a stain?
No, the Dior lip oil does not leave a stain.
What is the difference between lip glow and lip balm?
Lip balms are used to hydrate the lips while lip glows enhance shine.
How long does the Dior lip glow balm last?
The Dior lip glow balm provides full-day coverage and lasts more than 12 hours.
Does the Dior lip oil make your lips bigger?
Yes, the Dior lip oil makes your lips appear plumper. It also adds a natural tint to your lips along with a luminous glow.
What are the ingredients in the Dior mascara?
The Dior mascara mainly contains coneflower extract and paraffin. It is devoid of parabens, formaldehyde, and phthalates.
Is the Dior Lip Maximizer sticky?
No, the Dior Lip Maximizer is non-sticky.
Can I use the Dior Lip Maximizer overnight?
Yes, the Dior Lip Maximizer can be applied during the daytime or overnight. It effectively plumps and hydrates the lips if used well.