10 Best Dior Skin Care Products
Switch to these lux skincare products and achieve flawless and healthy skin.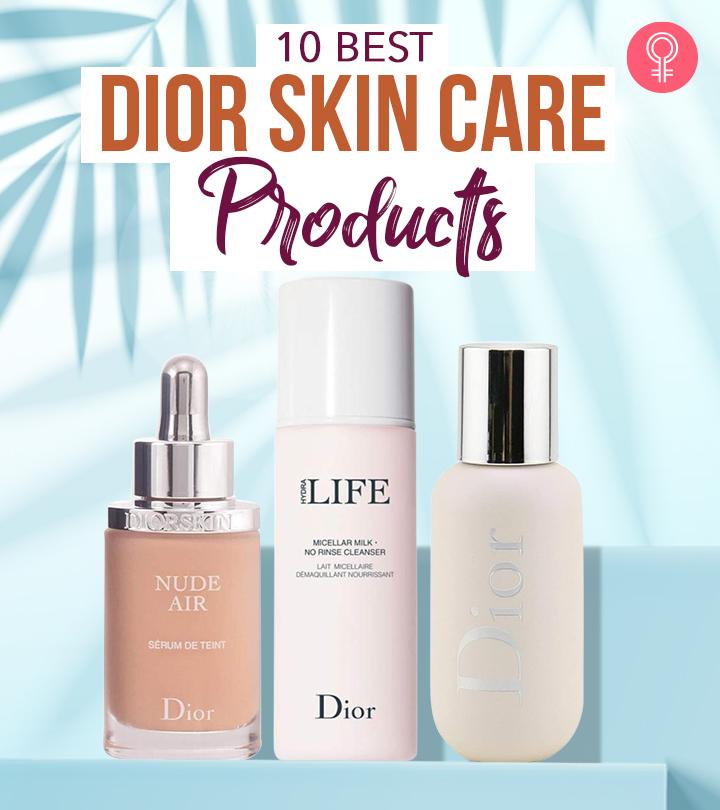 If flawless, spot-free, and healthy skin is your heart's desire, some of the best Dior skin care products can help you out in achieving it. This luxury skin care brand is the first brand to use stem cells in their products to treat different skin concerns. These high-end products by Dior are developed with patented technology, and their results are backed by quality research. Dior's moisturizer and serum are loved by many, and their exfoliating scrubs are also gaining attention and being recommended by dermatologists. They can effectively rejuvenate and soothe the skin. Check out the 10 best Dior skin care products that add value to your skin care regimen.
10 Best Dior Skin Care Products
The Diorshow Maximizer 3D is an exclusive backstage mascara primer for oversized lashes. It claims to triple your lash volume and boost curls with each use. The air-pumped texture coats every eyelash with a priming layer to improve eyelash color and enhance the effects of the mascara, garnering highly positive reviews. You will get instant effects when you use it before Diorshow Designer mascara, with the brand claiming to give visible results like 90% more curl and 38% longer lashes.
The oil serum formula in the Diorshow Maximizer 3D improves and rejuvenates your lash appearance, curl, and thickness with every use. Use this rejuvenating product daily before mascara for instant eyelash volume. You can also use it every night as a deep conditioner to treat your eyelashes.
Pros
Conditions the eyelashes
Lengthens and thickens the lashes
Dual-sided brush
Keeps mascara on
Does not irritate the eyes
Cons
Doesn't last long
Not easy to remove
The Diorskin Nude Air is an ultra-fluid, lightweight serum that feels like a fresh, pure breath of air. This Christian Dior serum boosts your complexion and offers sheer correction. It features the Oxygen ActivTM technology, which is a unique combination of cranberry oil, hyper-oxygenated oil, minerals, and vitamins that revitalize your skin and lets it breathe so that you look ravishing every day. This serum is available in 8 shades to suit different skin tones.
This talc-free serum contains oils that evaporate quickly while leaving an unnoticeable coat of makeup on your skin. It comes with a high-precision dropper that delivers the right amount of the product. The soft-focus ingredients and glossy pigments make your skin radiant in no time and offer a sheer finish, with visible results noted by many reviewers. When you are out for the day, the SPF 25 protection of the Dior face serum comes in handy to protect your skin from the sun and make it look fresh and radiant.
Apply this Christian Dior serum with your fingertips or with the Backstage Light Coverage Fluid Foundation Brush No. 11. Make sure you blend the fluid from the middle of your face and then move upwards. Click here to know more about the tester's experience and check out a detailed personal review of this product.
Pros
Lightweight
Suitable for most skin types
Natural finish
Covers pores
Smells great
Cons
The Dior Hydra Life Deep Hydration Sorbet Water Essence offers three actions in a single step – moisturization of a serum, radiance boost of a peel, and toning effects of a lotion. It is infused with haberlea leaf and mallow that nourish, moisturize, and rebalance the skin and reinforce its natural barrier.
Mallow, the key ingredient, enhances water circulation in the skin cells, while the extracts of haberlea leaf stimulate the production of essential anti-aging ingredients needed to keep your skin beautiful. The natural fruit acids gently exfoliate your skin and dead skin cells to reveal a glowing layer. The Dior Hydra Life serum has a translucent blue liquid texture that refreshes and invigorates the skin. This product keeps your skin moisturized the entire day, making it look radiant, plump, and revitalized. Here's a personal review video to help you get a better understanding of the amazing skin care product.
Pros
Soothes the skin
Leaves no residue
Offers sun protection
Non-greasy formula
Cons
Not suitable for sensitive skin
This intensive night restorative cream works wonders on your skin with its age-defying and anti-fatigue formula. It contains longoza, which has anti-aging and regenerative properties that minimize the appearance of aging signs and help in firming and toning your skin. Use this night crème to rejuvenate your skin and reduce the discernible and deep-set lines of aging and exhaustion. This Christian Dior face cream has an enveloping texture that protects your facial features from stress. With daily use, your skin feels smooth and plump.
Pros
Firms the skin
Imparts radiance
Rebalances dry skin
Good floral scent
Cons
May cause allergic reactions
This product turns from a fresh, watery lotion into an airy foam in just one pump. The Dior Hydra Life Lotion To Foam Cleanser contains concentrated white tea leaf extract that tones the skin. It also contains saponins that clean and soften your face by releasing a detoxifying and purifying foam. This Christian Dior cleanser removes your makeup efficiently, while its ingredients cleanse, refresh, and purify your pores to make your skin look clean, clear, and toned. Many reviewers have highly recommended this product after noticing visible results.
Pros
Makes skin feel light
Removes makeup
Unclogs pores
Reduces oiliness
Pleasant smell
Affordable
Cons
Heavy bottle
Difficult to remove cap
Doesn't last long
The Dior Capture Totale Multi-Perfection Creme has a rich, textured formula that helps to reverse the age clock and make your skin ultra-soft. It invigorates your skin's mother cells to boost collagen and elastin production and enhance skin elasticity and tone. This skin-perfecting cream improves skin over time as it contains a Boosted Longoza Complex that regenerates the skin cells and restores firmness and radiance.
This anti-wrinkle cream reduces all visible signs of aging, like sagging skin, dull skin, and uneven skin tone. It visibly improves skin quality and firms and tones the facial skin from the deepest layers to the surface. The airy, transparent texture melts into your skin easily and delivers instant glow. Click here to check out a detailed personal review of this product according to the tester's experience.
Pros
Evens out the skin tone
Non-sticky
Non-oily
Quickly absorbed
Makes the skin soft and supple
Cons
Not suitable for sensitive skin
May clog pores
Dior created its first professional makeup line inspired by the behind-the-scenes energy of runway shows. The Dior Backstage Face & Body Primer is a makeup artist's secret to flawless and brighter complexion. It blurs imperfections and redness and mattifies the skin to make it look plumper, brighter, and even-toned instantly.
The primer contains light-reflecting micro-pigments and pigment-enhancing beauty powders that impart an instant touch-up effect and help in illuminating the skin. Shea butter and glycerine keep your skin moisturized all day. This primer is suitable for all skin tones.
Pros
Blurs pores and fine lines
Matte effect
Moisturizes the skin
Non-oily
Suitable for all skin tones
Non-comedogenic
Cons
Overpowering scent
May cause breakouts
The Dior Capture Youth Age-Delay Advanced Creme contains the goodness of iris extract that boosts the antioxidant power of your skin to fight the harmful free radicals and delay aging. The naturally derived plant mesh smoothens, reinforces, and retexturizes the skin surface. This Christian Dior face cream is made of 88% natural ingredients and has a superfine texture that is mild on all skin types. Regular use of this cream will improve skin texture and quality, with the brand claiming to offer visible results after 4 weeks of use. You can use this advanced face cream every day. You can also mix 2-3 drops of serum in this cream and blend it on your palm before using it on your face.
Pros
Non-greasy
Softens uneven skin texture
Paraben-free
Phthalate-free
Sulfate-free
Cons
Overpowering fragrance
Does not soak in well
This foundation delivers triple action for a youthful glow and vibrant skin tone. Use this product for smooth contours, extra radiance, and even-toned skin. The foundation contains the Longoza-Cellular Complex, HD crystal pigments, and SPF that give your skin age-defying glow and radiance. The active ingredient, Longoza, regenerates the skin cells to make it look young and vibrant.
The Capture Totale Serum Foundation helps your skin with cell turnover and fight the signs of aging. It replenishes and nurtures your skin and supports natural collagen production. This skin renewal product is perfect for dry, mature, or dull skin. The satin-smooth texture blends easily into your skin to retain its elasticity and moisture. This skin perfector is available in 13 shades to suit various skin tones.
Pros
Great coverage
Not heavy
Smooth, satin finish
Has SPF 25
Great for mature skin
Cons
May settle into pores and fine lines
The Dior Hydra Life Micellar Milk No Rinse Cleanser contains nourishing oil micelles and rice milk that cleanse your skin and nourish it, respectively. It removes stubborn makeup and impurities on your eye contour and face. Its lavish texture metamorphoses into an emulsion upon contact with the skin, which comforts and soothes your skin without feeling oily or greasy. Multiple reviewers love this product after noticing visible results.
You can use this Dior facial cleanser to remove makeup in a single stroke. Dispense the cleanser on a cotton pad and wipe the makeup off your face gently, including your eye makeup. There is no need for rinsing.
Pros
Suitable for all skin types
No sticky or greasy feeling
No irritation
Paraben-free
Sulfate-free
Phthalate-free
Cons
*The prices provided in this article are based on the latest available information. However, they may vary due to changes in pricing by the seller and/or promotional offers.
Why Trust Stylecraze
Shiboli Chakraborti is a product writer with a certification in skin care. She has compiled this list of the best Dior skin care products based on many user reviews and product listings. This list includes various products from cleansers to anti-aging creams, thus addressing a host of skin requirements. She has also included a buying guide and the pros and cons of each product to help you make an informed choice.
Frequently Asked Questions
Does Dior Capture Totale have retinol?
Yes. Dior Capture Totale has retinol that targets the aging signs like wrinkles and fine lines.
How do you use Dior skin care?
•  Cleanse your skin in three steps with the Dior Prestige cleansing balm, the micellar mousse, and the sugar scrub.
•  Use a few drops of the One Essential Skin Boosting Super Serum to detoxify your face and plump it.
•  Apply the Dior Prestige creme to rejuvenate the skin. Then, use the Eye Concentrate to brighten the skin around the eyes.
•  Use the Diorsnow brightening milk serum on the skin to brighten the skin tone.
Is Dior's Dreamskin a primer?
Yes. Dior's Dreamskin works as a primer. It blurs the pores and evens out the skin.
Are Dior products worth the price?
Yes. Dior skincare products feature potent ingredients that greatly benefit the skin. In addition, the products come in high-quality packaging that enhances their luxurious feel.
Is Dior vegan and cruelty-free?
No. Dior uses animal-derived ingredients in their products.
Can I use Dior Dreamskin at night?
No. Do not use Dreamskin at night to prevent clogging the pores. Instead, use it as the last step of skin care before applying makeup.
Recommended Articles