The 10 Best Dish Drying Racks – Reviews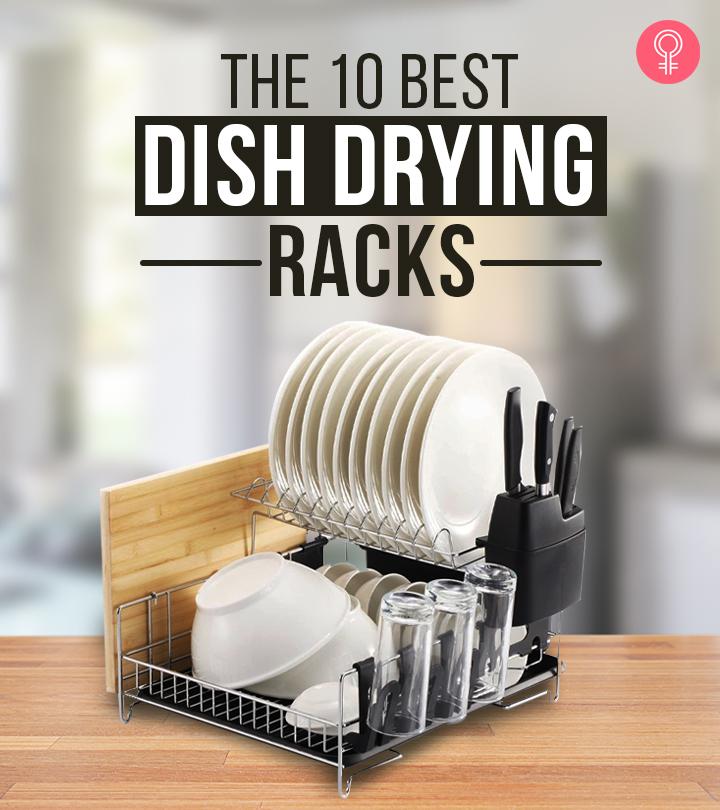 One of the most tiring tasks after washing the dishes is to dry them lest your countertop ends up looking like a pool. To make things easy, use dish drying racks. A dish drying rack enables easy and quick water flows from the wet dishes into the sink. It helps dry the dishes faster and prevents water spillage on the countertop. In this article, we have listed the 10 best-selling dish drying racks for your consideration. Scroll down to check them out!
The Best Dish Drying Racks
The Surpahs Over the Sink Dish Drying Rack is sturdy and holds heavy fry pans, pots, ceramics, and porcelain. From tableware, bakeware, and cookware to flatware, stoneware, or glassware, it can hold and dry any types of dishes. This versatile kitchen tool is also useful for holding a cutting board, filling coffee cups, mixing cake batter over the sink, or as a vegetable washing colander and food prep platform.
You can also use it for thawing frozen items, drying wash sponges, hanging wash clothes, and cooling cakes. This dish drying rack is made of stiff metal steel rods coated with FDA-safe, food-grade silicone. It rolls up and enables easy storage. This equipment is rust- and oil-resistant, durable, easy to clean, and dishwasher-safe. It is BPA-free and heat-resistant up to 400°F.
Key Features
Foldable
Non-slip silicone coating
Specifications
Dimensions: 5 x 13 x 0.3 inches
Weight:3 pounds
Maximum Sink Width: 5 inches
Material: Stainless steel
Color: Warm grey
Warranty: Lifetime
Pros
Compact
BPA-free
Sturdy
Dishwasher-safe
Heat-resistant
Oil-resistant
Rust-resiatant
Easy to clean
Durable
Sturdy
Cons
None
The Simplehuman Kitchen Frame Dish Rack features an innovative anti-residue hydrophilic coating. It enables the water to spread out so that the plastic drip tray remains dry without any residue buildup. The integrated tray comes with swivel spout pivots that direct the water flow directly into the sink instead of spilling on the countertop.
This drying rack also features a fingerprint-proof finish that resists smudges and a soft steel-coated wire that helps protect the dishes against scratches or chips. The utensil holder with separate compartments keeps the utensils neat and organized. This product is durable and resistant to rust, corrosion, and discoloration.
Key Features
Anti-residue hydrophilic coating
Fingerprint-proof finish
Swivel spout pivoting
Extendable drip tray
Specifications
Dimensions: 15 x 11.9 x 7.7 inches
Weight:1 pounds
Material: Stainless steel
Color: Gray
Warranty: 5years
Pros
Sturdy
Rust-proof
Scratch-resistant
Corrosion-resistant
Cons
Fragile inner plastic
The rubber feet might come off.
The Sweet Home Collection Dish Drainer comes with a dish rack, a drain board, and a plastic cutlery caddy. The vinyl-coated dish rack has separate slots for cups, plates, and bowls, and the cutlery caddy comes with two compartments. The drain board features a convenient lip hanging over the sink that helps prevent water spillage on the counter.
Key Features
Separate dish slots
Cutlery caddy
Specifications
Dimensions: 11 x 11 x 4 inches
Weight:98pounds
Material: Vinyl-coated steel
Color: Black
Warranty: None
Pros
Lightweight
Durable
Easy to clean
Cons
The KitchenAid Dish Rack offers a large capacity to hang full-size pots and pans. The heavy-duty and satin coated wires secure the utensils, while the soft feet prevent scratches on your countertop. This unit comes with a removable flatware caddy, adjustable compartments, and a dishwasher inspired handle. The removable self-draining board with its perfect pitch enables easy water flow and avoids water collection inside the rack.
Key Features
Self-draining board
Removable flatware caddy
Adjustable compartments
Dishwasher inspired handle
Specifications
Dimensions: 08 x 14.96 x 6.69 inches
Weight:8 pounds
Material: Stainless steel
Color: Light Gray
Warranty: Lifetime limited
Pros
Rust-resistant
Removable parts
Easy to clean
Cons
None
The Camco Mini Dish Drainer is ideal for small spaces like a marine sink or an RV. Its lid doubles up as a water catching tray with a slight slope to keep the excess water away from the countertop.
This dish drainer has slots for holding plates, six prongs on the sides for cups and mugs, and a two-sided utensil holder. It is dishwasher-safe and stain- and warp-resistant. This dish rack is made of BPA-free, no-break polypropylene. It is durable, easy to store, and perfect for on-the-go uses like camping.
Key Features
Sloped tray
6 prongs
Two-sided utensil holder
Specifications
Dimensions: 12 x 10 x 5 inches
Weight:11 pounds
Material: Polypropylene
Color: White
Warranty: Lifetime limited
Pros
Dishwasher-safe
Easy to store
Warp-resistant
BPA-free
Durable
Stain-resistant
Available in various colors
Cons
None
The Rubbermaid Antimicrobial Sinkware comes in a set of four pieces–a drainer, a drain board, a kitchen brush, a sponge, and a brush organizer caddy. The drain board has a sloped design that directs water into the sink and keeps the counter dry. The brush helps clean even the tightest of corners with its small head. The unique built-in Microban prevents the growth of stain- and odor-causing bacteria.
Key Features
Built-in antibacterial Microban
Separate cutlery holder
Sloped drain board
Specifications
Dimensions: 5 x 14.25 x 5.25 inches
Weight:93 pounds
Material: Multi-surface
Color: Black
Warranty: 1 year
Pros
Easy to clean
Available in various colors
No odor
Cons
The Premium Racks Dish Rack has a fully customizable design with different changeable elements–two differently styled drainboards, three cup holder attachments, a microfiber mat, a utensil holder, a knife holder, a cutting board attachment, and a side drainage system. It is made of high grade 304 stainless steel that is durable and easy to clean. This dish rack withstands corrosion from most oxidizing acids. It is rust-resistant and has passed a 24-hour salt test.
Key Features
3 cup holder attachments
Two differently styled drainboards
Microfiber mat
Knife holder
Cutting board attachment
Side drainage system
Specifications
Dimensions: 5 x 13.9 x 6 inches
Weight:41 pounds
Material: Stainless steel
Color: Black
Warranty: None
Pros
Anti-corrosion
Easy to clean
Durable
Rust-resistant
Cons
Short dripping pad
Tricky assembly
The Polder Dish Rack features is durable and can hold up to 10 plates and 6 glasses. It comes in a set of four pieces that include a dish rack, a drying tray, a drain tray, and a cutlery holder. The drying trays are detachable, and the subtle slope of the drain tray directs water to the sink. The utensil bin and split compartments ensure that the utensils stay upright. This dish rack is dishwasher-safe, easy to assemble, rust-resistant, and sturdy.
Key Features
Sloped draining tray
Drying tray
Cutlery holder
Specifications
Dimensions: 5 x 19.5 x 15 inches
Weight:84 pounds
Material: Stainless steel
Color: Gray
Warranty: None
Pros
Dishwasher-safe
Easy to assemble
Rust-resistant
Sturdy
Cons
Not suitable for small spaces
(Best Expandable)
The Joseph Joseph Dish Drying Rack can be extended to almost twice its original size to hold more dishes. It features an integrated spout for draining excess water. This plastic rack comes with removable plated steel prongs and non-scratch tips for ensuring the safety of any delicate glassware. The non-slip feet stand securely on the countertop without being wobbly.
Key Features
Removable plated steel prongs
Scratch-resistant tips
Non-slip feet
Integrated spout
Specifications
Dimensions: 53 x 36.5 x 16 inches
Weight:4 pounds
Material: Plastic
Color: White/Green
Warranty: None
Pros
Scratch-resistant
Affordable
Easy to clean
Durable
Cons
The SabatierDish Rack has eight plate slots, an extra-wide frying pan slot, six cup tines, four wine glass holder, and three flatware caddy compartments. It features stainless steel side panels,  soft-touch packed wires, and coated feet that keep the dish rack securely in place. This ensures that the enamel-coated tool is safe from chipping, and your countertop is protected against scratches.
The product is equipped with an expandable drain board that can be pulled from 18.5 inches to 29.4 inches for more drying space. The drain board has a unique spout that drains water both forward and backward, and the flatware caddy has three separate compartments. The built-in handle enables easy unloading, and the removable stemware holder is perfect for hanging cups and wine glasses. The pull-out drip catcher to collect any water drips easily.
Key Features
Expandable dish tray
Bi-directional drain spout
Soft-touch coated wires
8 plate slots
Extra-wide frying pan slot
6 cup tines
4 wine glass holder
3 flatware caddy compartments
Specifications
Dimensions: 5 x 13.1 x 14.2 inches
Weight:74 pounds
Material: Stainless steel
Color: Black/Silver
Warranty: None
Pros
Durable
Easy to assemble
Expandable
Rust-resistant
Chip-resistant
Scratch-resistant
Compact size
Cons
Before purchasing a dish drying rack, consider these crucial factors to make the ideal choice.
Things to Consider Before Buying Best Dish Rack
The material determines the durability and quality of the dish rack. Stainless steel is considered to be ideal as it is durable, strong, and rust-resistant. A few sink racks are made of a powerful steel section but fragile inner plastic parts that may break easily. Thus, check the strength of every part of the drying rack to prevent damage. 
Another crucial aspect is the size of the rack and the number of different utensils it can hold. Have a fair idea of your kitchen countertop and then choose the product that fits it. Look for a product that accommodates the number and variety of utensils. If you have limited space but more dishes, go for an expandable drying rack. 
The aesthetics of a dish drying rack are as important as its quality. Opt for neutral colors that will enhance your kitchen decor.  
Ensure that your draining rack is multi-functional and convenient to use. Racks with detachable, expandable, and removable sections accommodate more dishes in less space. Some models can also be folded after use or serve as a cooling rack for your cakes. 
Have a clear idea of the features you are looking for and the price range that fits your budget.
Chose a dish drying rack that fits your kitchen like a glove. The products in the above list are affordable, easy to clean, and saves your kitchen space. Pick your favorite dish drying rack today and say goodbye to messy countertops! 
Expert's Answers for Readers Questions
Are bamboo dish racks good?
Yes. Bamboo dish racks are eco-friendly, durable, and enhance the kitchen decor.
Are dish racks sanitary?
Yes. Dish racks hold clean dishes, so they are hygienic. Ensure they stay dry to maintain hygiene.
What do you put under the drying rack?
You can put an extra-absorbent mat under the rack or stack it up on a draining board.
Can I put my dish drying rack in the dishwasher?
Yes. If you have a plastic or metal-coated dish rack, it is dishwasher-safe. You can also check the instruction manual.
Does air drying the dishes kill bacteria?
Yes, air drying the dishes prevents the unnecessary spread of germs and bacteria. Air drying is better than using a dish towel for drying.
How do you keep dish racks from rusting?
Most stainless steel dish racks are coated with a rust-proof material. However, if the coating wears off, rusting might not be preventable. Dish rack coating bottles are available in appliance stores that repair the rust.
How often do you wash the dish drying mat?
It should be cleaned once a week and dried completely to prevent the growth of mildew.
How long should your appliances last?
A dish drying rack should last up to three to five years.
Recommended Articles
The following two tabs change content below.

Latest posts by Shiboli Chakraborti (see all)

Shiboli Chakraborti
Shiboli has a Master's degree in English Literature and is proficient in French. She believes that words have a healing power and considers poetry her lifeline. Her writing background and editorial dexterity help her guide her team members to create crisp and authentic content. Shiboli is also a trained Bharatnatyam dancer and has a fascination for traveling. She is passionate about cooking and dreams of opening a restaurant of her own.