9 Best Donut Makers In 2021 – Reviews And Buying Guide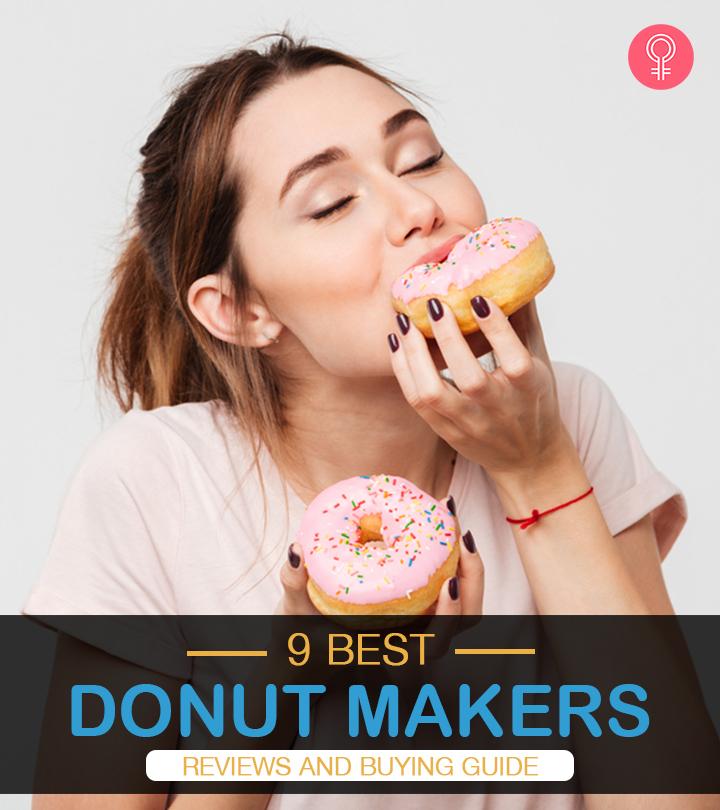 Have you ever had a donut craving that you painfully had to get over simply because preparing this sweet treat is a tedious process that will take away a chunk of your day? Or, maybe you were too lazy to get out of your house and buy some donuts from the store. A donut maker is just what you need to satisfy such cravings.
Be it for a midnight snack, setting up a make-your-own dessert counter at a party, or for a delicious treat to pair with your morning coffee – a donut maker can be the perfect solution for all your sweet dilemmas.
Here is a list of the best automatic donut makers that you can select from based on your preferences!
9 Best Donut Makers – Reviews
The Babycakes Mini Donut Maker makes 4 mini donuts in just minutes. All you have to do is mix up the batter and scoop it in the 4 mini reservoirs when the machine is heated up. You will know this when you see the power light go off. Its non-skid rubber feet make it stay securely in place.
Key Features
Dimensions: 8.75 x 6 x 6.13 inches
Weight: 1.7 pounds
Non-stick baking plates
Makes 4 mini donuts
Power light
Latching handle and non-skid rubber feet
Convenient cord wrap
Pros
Non-stick
Illuminated power light
Affordable
Easy to clean
Cons
The Brentwood Mini Donut Maker Machine makes 7 mini donuts in an instant. Now you can impress your kids, friends, and family with delicious varieties of mini donuts, brownies, cakes, muffins, and more with this product. A key point to keep in mind while cooking with children is – you guessed it – safety. That is why this mini donut maker automatically shuts off when it gets overheated. This even saves the mini donuts from over-baking – or worse – burning!
Key Features
Dimensions: 10.9 x 9.6 x 5.7 inches
Weight: 3.1 pounds
Non-stick baking plates
Makes 7 mini donuts
Cool-touch handles
Pre-heat indicator lights
Pros
Recipe book included
Vertical feet make it easy to store
Can make vegan and gluten-free donuts
Easy to use
Easy to clean
Cons
Sunbeam Full Size Donut Maker is shaped like an oversized version of this delicious treat, complete with a rounded lid, a center cutout, and printed sprinkles. This donut maker is sure to attract some attention! This automatic donut maker makes 5 donuts at a time in about 6 to 8 minutes. What's more? The little kiddos will love this product for its attractive exterior while they can't wait to devour the delicious treats its interiors cook up! It is definitely a winner among the kids and adults alike.
Key Features
Dimensions: 11.3 x 5.6 x 10.4 inches
Weight: 7.04 pounds
Non-stick plates
'Warm-up' and 'Ready'indicator lights
Makes 5 round donuts
Latching hinged lid 
Pros
Easy to clean
Does not overflow
Stands upright to minimize storage space
Time-saving 
Cons
Uneven heat distribution
Expensive
The Nostalgia Cake Pop & Donut Hole Bakery can be used to cook delicious cake pops, donut holes, pastries, and even savory items at home. You can create different flavors of cake pops, jelly donuts, puff pancakes, mini cinnamon buns, and much more with it – the possibilities are endless. It can be used for snacks, desserts, and even appetizers. A handy injector is included with this donut makes to give your donuts a variety of fillings – such as jelly, cream, or caramel – and to decorate your cake pops with colorful frosting. You are free to use your imagination and have fun!
Key Features
Dimensions: 9.75 x 4.25 x 7.75 inches
Weight: 2 pounds
Makes up to 7 cake pops/donut holes
Non-stick coating
Includes 25 bamboo sticks and an injector
Recipe booklet included 
Pros
l Pre-heats quickly
l Cooks donuts evenly
l Easy to clean
l Value for money 
Cons
Not durable
May get overheated
The VonShef 12 Hole Donut Maker is perfect for donut lovers everywhere. This kitchen gadget brings the bakery into your very own kitchen and allows you to create mouth-watering desserts in mere minutes. The VonShef Donut Maker is easy and convenient to use. Whether you prefer your donuts smothered in delicious dark chocolate, with fruity flavored icing and a large helping of sprinkles, or just with a light dusting of sugar –  it could not be easier to create a donut that really tickles your taste buds. You can enjoy your donuts guilt-free too as the VonShef Donut Maker bakes donuts rather than frying them. 
Key Features
Dimensions: 15.3 x 12.9 x 5.9 inches
Weight: 6.74 pounds
Makes up to 12 mini donuts at a time
Non-stick molds
'Power' and 'Ready' light indicators
Cool-touch handles 
Pros
Heats up quickly
Automatic temperature control
Easy to clean
No flipping required
Perfect for cooking larger servings 
Cons
The Chef Buddy 82-KIT1066 Mini Donut Maker bakes miniature tasty treats instead of deep frying them. Thus, it creates healthier versions of a variety of classics like glazed and frosted donuts. Make sweet mini donuts any time, anywhere with this lightweight electric donut maker with fewer calories or fat than store-bought fried donuts. With this handy kitchen appliance, you can make light and moist donuts with cake or regular yeast recipes, gluten-free recipes, and even vegan-friendly varieties!
Key Features
Dimensions: 11 x 7.75 x 4.5 inches
Weight: 3.56 pounds
Makes 7 mini size donuts at a time
Non-stick plates
'Power' and 'Pre-heated' indicator lights
Cool-touch handles 
Pros
Time-saving
Easy to clean
Does not require flipping
Cooks evenly
Value for money
Cons
Bella Cucina Donut Maker makes 7 donuts at a time and does a reliable job at it. It is a healthier alternative to the traditional deep-fried doughnuts. It is a reasonable product for the price and offers great mini donuts in no time. It is the perfect gift for someone who loves hosting parties and is looking for easier solutions for preparing multiple batches of this lovely dessert in minimum time.
Key Features
Dimensions: 11.2 x 9.9 x 4.3 inches
Weight: 2.85 pounds
Makes 7 mini size donuts
Non-stick baking tray
'Power' indicator light 
Pros
Easy to clean
Less cooking time
Easy to use
Cooks evenly throughout
Value for money 
Cons
CucinaPro's Takoyaki Pan And Ebelskiver Maker was introduced to home chefs to indulge their love of gourmet cooking. The company's commitment to offer the best products that are able to create gourmet and international cuisines within the comfort of your home is what inspired the introduction of this product. Ebelskiver are traditional Danish pancakes that can easily be made in this incredible kitchen appliance. Takoyaki is a traditional Japanese snack of savory ball-shaped cakes containing chopped octopus. They can also be cooked in this special electric griddle. This gadget is also perfect for making delectable bite-sized donut holes, cake pops, and pastries in minutes! 
Key Features
Dimensions: 13 x 11 x 3.5 inches
Weight: 3.2 pounds
Can make up to 7 units
Non-stick coating
'Pre-heat' indicator light
Instructions manual included 
Pros
Easy to use
Easy to clean
Cooks evenly
Heats up evenly
Lightweight 
Cons
Takes a long time to heat up and cook
With the Smart Planet MDM-1 Mini Donut Maker, you get what you pay for. It is affordable, easy to assemble, and even easier to use and enjoy. Though your first batches may seem to be imperfect, you can soon learn to perfect these miniature delicacies as you can see them being created right in front of your eyes and make any amends right from the next batch. 
Key Features
Dimensions: 4.61 x 10.24 x 10.43 inches
Weight: 3.35 pounds
Makes up to 6 mini donuts at a time
Non-stick surface
Recipe book included
'Heated' indicator light 
Pros
Compatible with any store-bought donut mix
Great for portion control
Easy to use
Easy to clean 
Cons
Donut makers can be an excellent addition to your home kitchen. However, you must keep some things in mind before buying one. Check them out below! 
Features To Look For In An Electric Donut Maker – Buying Guide
While buying a donut maker, one should keep in mind the important aspects that need to be evaluated before making a decision. There are a lot of brands out there that offer this convenient and fun kitchen appliance in a variety of shapes, sizes, and prices. Here are some points to keep in mind while selecting the best donut maker for your needs.
An ideal donut maker is one that conveniently prepares batches that are adequate for your gathering. Many home donut makers can make up to 6 to 12 donuts per batch.
It is up to you to decide whether you require a small donut machine that ends your craving and controls your portions by making smaller batches, or whether you'd like a donut machine for home gatherings and parties for a comparatively larger crowd.
In the list of products above, we have selected the best options to choose from. One thing that is inconsistent among the different brands is the shape of the end product. While the mini O-shaped versions are typically recognized as traditional donuts, the list above also includes donut makers that have little ball-shaped molds that can be used to make many different recipes like cake pops, mini pancakes, pastries, takoyaki, and ebelskiver.
Many donut machines produce perfectly formed donuts in as little as three minutes, while other machines may take a little longer. It is important to make sure that the donut plates provide even heat distribution throughout the appliance. It is also important to note that all the donuts in a batch are cooked evenly throughout.
The time a single batch takes to be cooked is also an important factor.  A donut maker usually takes about 3-5 minutes to turn the dough into delicious donuts. The cooking time depends mostly on the density and composition of the dough and the texture that you prefer. So, it is worth it to take at least a few minutes to heat up your donut maker properly.
Like most kitchen appliances, electric donut machines come in a range of prices. Always consider which product you think will come in most handy to you at a reasonable price. 
The key here is to make delicious desserts with the least amount of effort and minimum time. It is beneficial to look for a donut maker with non-stick coating which requires a small amount of oil. This ensures that lesser calories and fat are consumed per serving.
The design of a kitchen appliance is a subjective criteria. There are different types of electric donut makers out there that come with a vertical stand feature and are great for storing the device in a compact space.
The color and aesthetic of the gadget should also be considered so that the appliance matches and blends with the overall style of your kitchen. When it comes to color, you have a multitude of shades to choose from, ranging from classic blacks and whites to contemporary greens and yellows.
Donuts are considered to be a cheery dessert that uplifts everyone's mood. So, why make donut-making an experience filled with hassles? Making donuts can be a great activity for kids and adults alike, so it should be a fairly easy-going and joyful experience. The machines listed above can all be operated quite easily by a supervised kid and can also be cleaned easily with the help of a damp towel.
It is always good to look at the quality of the product. If the product is cheaply made, there is no point in spending any money on it, no matter how small the amount. Always look for a donut machine that is durable, so that you know that the machine will serve you for a long time.
A tasty donut can lift your spirits and turn a bad day around. You can make these delicious treats quickly and easily with a good donut maker. So, what are you waiting for? Grab one of the donut makers listed above and start making donuts today! 
Expert's Answers for Readers Questions
Should donuts be baked or fried?
While there are a variety of things to be considered while choosing to bake or fry donuts, it all boils down to one thing – your personal preferences. While many people enjoy the light and crisp texture and rich flavor of a deep-fried donut, others prefer the dense and soft texture of a baked donut. For people who are looking to lose a bit of weight, the baked variety can be considered a better option as it is not as fattening as its deep-fried counterpart.
What is the best flour to use for donuts?
This totally depends on what kind of donuts you want to make and what kind of rising agent you prefer to use. While using yeast, a protein-rich flour, such as bread flour, works perfectly. On the other hand, if you prefer to use baking powder, all-purpose flour is the best choice as it keeps the batter smooth and consistent.
On a completely different note, if you are looking for gluten-free options, there is a wide variety of flours to choose from again. You can try coconut husk flour, chickpea flour, rice flour, or millet flour. These alternatives are perfect for someone suffering from celiac disease or people looking for healthier alternatives.
Is there a difference between donuts and doughnuts?
No, there is practically no difference between the two apart from the way the two words are spelled. From an intellectual viewpoint, 'doughnut' is the correct way to spell this gloriously delicious treat. In the present day, thanks to the widely popular doughnut franchise Dunkin Donuts, the word 'donut' has become increasingly popular throughout the world.
While selecting a donut machine, what is better – a donut hole plate or a traditional round donut plate?
Again, this depends on one's personal taste and preference. The traditional O-shaped donut plate creates well-cooked donuts with a professional appearance. A donut hole plate creates round, ball-shaped treats. This plate can also be used to create a variety of different dishes such as filled donuts, pastries, cake pops, mini pancakes, takoyaki, ebelskiver, and many other sweet as well as savory items.
How to clean a donut maker?
While most donut machines cannot be disassembled for cleaning, it is a fairly easy task to keep them clean and tidy. As it is an electronic device, it is obviously not advisable to wash or immerse it in water. You can simply clean any batter residue and oil stains with a bit of soap and a damp cloth.
Recommended Articles
The following two tabs change content below.