9 High Security Door Locks Of 2020 (With Buyer's Guide!)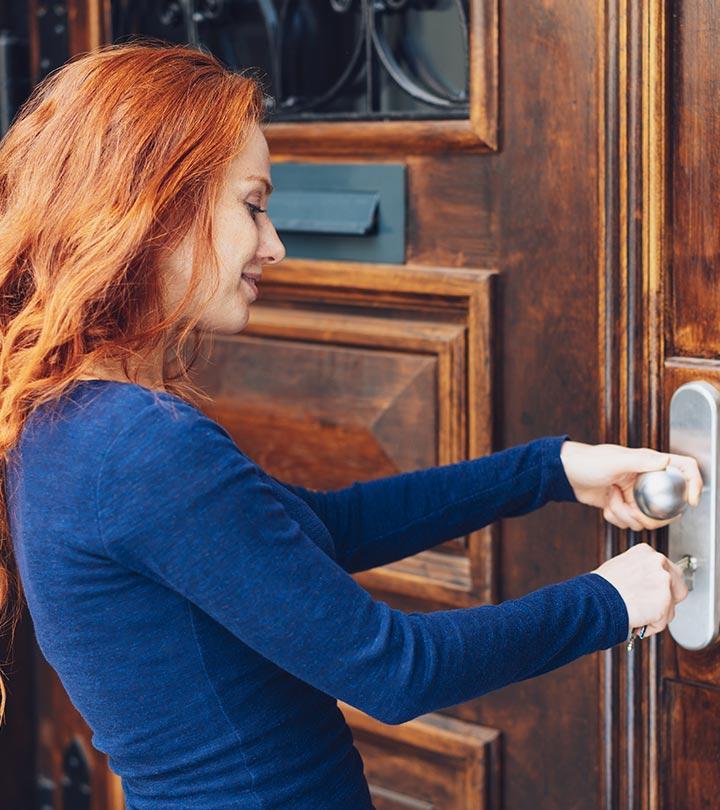 Are you feeling unsafe in your own house? Or is your door lock strong enough to prevent a break-in? If thoughts like these are giving you sleepless nights, then it is time you change to a safer, stronger, and secure option. Let's not give burglars a chance to experiment with new break-in techniques on your door! Protect your home with a solid and robust door lock even when you are away. But given how the market is brimming with umpteen options, finding the best door locks can take all day or worse, the haste will make you pick an unreliable one!
So, to make the task easier and quicker for you, we filtered and picked some of the best options. Check out our list of 9 high-security door locks of 2020 below!
Read on to know more!
9 High Security Door Locks Of 2020 (With Buyer's Guide!)
Secure your home and loved ones within minutes! This Door Reinforcement Lock by Defender Security prevents break-ins, kicking, and lock-picking by intruders with its robust mechanism. Made of high-quality aluminum, it comes in a satin nickel finish and can withstand the force up to 800lbs! Yep, it is super-strong! Easy to install within minutes with a drill, drill bit and screwdriver, it comes with 3 long hardened screws. And since it fits on any swinging door easily irrespective of the thickness, it ensures no trespassing whatsoever!
Pros:
Ensures high security
Tamper-resistant and prevents lock bumping
Spring-loaded design makes it child-proof
Ideal for installing on back or side doors
Cons:
Not advisable for the main door
It can only be unlocked from inside the house.
Nothing ensures privacy like a good bolt on the door! Whether you are looking for your bedroom or bathroom door, this Privacy doorknob by Copper Creek Ball ensures nobody walks in without knocking! It guarantees 100% privacy and superior quality as it is made of high-quality material. It also has a satin finish and looks every bit premium. Plus, the round latch is made of steel and is adjustable, whereas the bolts are nickel-plated. Also, this doorknob has an easy-to-use mechanism with a lock and unlock turn button on the inside.
Pros:
ANSI Grade-3 security certified
Contemporary and stylish doorknob
Smear-resistant, robust, and durable
Fits all types of doors and easy-to-install
Lifetime warranty and a 5-year warranty on satin finish
Emergency unlocking button is available on the exterior side.
Cons:
Small-size
Not advisable if you require keyed security
Feel secure no matter where you are with the original portable door lock! A great option for frequent travelers or students to feel safe in dorms and bathrooms, Addalock ensures absolute privacy and security. And given it is a portable lock, you can install it quickly without using any tools. Easy-to-use, it keeps you safe wherever you are with its advanced features, thus giving you and your loved ones some peace of mind.
Pros:
Made of high-quality metal
Durable and robust construction
Prevents intruders from entering from outside
Travel-friendly and compact
Ideal for back doors, bedrooms, hotels, dorms, etc.
Cons:
Not suitable for wide or big bolts.
Go classic with this doorknob that guarantees exactly what you are looking for — additional security and safety! Ideal for the main door, it comes with a keyhole feature on the outside and turn-lock on the inside. This means you can lock and unlock the knob from both ends. Also, despite its minimalistic charm, this exterior knob is made of brass and steel internal structure. And as for latch — it is adjustable, whereas the bolt is made of zinc alloy. Basically, a high-quality and robust doorknob to keep you and your family safe.
Pros:
Hand-finished and made of high-quality material
Durable and long-lasting performance
Easy-to-install and high-functionality
Two brass keys, faceplate, and strike included
Cons:
It may produce a loud click while opening or closing.
Do you or your child misplace the door keys often? Rather than changing the doorknob to avoid theft, rekey with Kwikset Juno doorknob's SmartKey technology! A mechanism that gives you the flexibility to rekey the lock as many times as you like, this contemporary lock and deadbolt combo protects against the most advanced break-in techniques with ease. And unlike other doorknobs in the market, this one provides Microban protection too, which keeps the hardware safe and germs out! Now tell us a combo this unique, safe, and intelligent. We'll wait.
Pros:
High-quality satin nickel finish
Hassle-free and easy installation
Keyhole and SmartKey feature on the exterior side
Easy-to-use turn-locks on the interior side
Anti-pick, anti-bump, saw-resistant, and drill-resistant
Ideal for exterior and back doors
Cons:
It may not fit all doors.
Are you always in fear of a break-in, or have there been break-ins in your area lately? You need a robust deadbolt to thwart those thieves at the door! Here's a single-cylinder deadbolt that ensures an added layer of ultra-protection along with your regular doorknob. Manufactured by a trusted brand for over 95 years, Schlage's doorknob not only adds security to your home but a unique style too. With a keyhole feature on the outside and easy-to-use turn-lock on the inside, secure your home with the best today!
Pros:
Grade 1-certified deadbolt
Premium quality with a satin nickel finish
Anti-grab design, anti-pick, and kick-resistant
Fits on all standard and pre-grilled doors
Easy to install with Snap & Stay technology
Cons:
Here's a security lock you can depend on for safe viewing and to keep the bad guys out. Cranach Home Security Lock's mechanism guarantees safety even if you end up opening the door to an intruder. With a thick swing arm and a unique steel ball lock base, it allows you to open the door for a few inches only, due to the advanced locking system. Made of high-quality and robust aluminum alloy, its premium finishing also adds a touch of elegance to the door. Ensuring ultra-protection for your family, and being super-easy to open in case of emergency, this combo is worth a try.
Pros:
Withstand the force up to 600lbs
Robust, durable, and heavy duty-design
Ensures long-lasting performance
Anti-rush and anti-oxidize
Easy-to-install and hassle-free
Child-safe and compatible with all doors
Cons:
It can only be unlocked from inside.
Here's a doorknob that'll make you say "Finally some privacy!" Ideal for the main door, bedroom, and bathroom, its keyhole feature ensures 100% privacy. So, if you have a sneaky roommate or planning to change the old lock to a quality one, this could be it. And speaking of quality, the doorknob has a superior satin stainless steel finish and nickel-plated bolts that guarantee high durability. Maintaining a balance between premium quality and high security effortlessly, it is a great and affordable option for all.
Pros:
ANSI Grade-3 security certified
Smear-resistant and anti-bump
Robust and ensures long-lasting performance
Designed to fit most of the doors
The round steel latch is adjustable.
Cons:
It may not be easy to install.
Give your key a break and get yourself the August Smart Lock Pro! Advanced and compatible with most smartphones, Alexa, Google Assistant, Siri, and August Home App — all you have to do is speak and watch your door get locked instantly. Want more? It has a built-in DoorSense technology that locks and unlocks on sensing your presence at the door. And since it fits on your existing single-cylinder deadbolt easily, you can use the door key too in case of emergency. Also, it keeps a 24/7 log of all the entries and departures from the house! Can your door lock be any smarter than this?
Pros:
Provides keyless entry into the house
Notifies when low on battery
Uses Bluetooth Energy Technology to function
Hassle-free and easy to operate on the phone
It allows you to give entry access to anyone through the app.
Cons:
Expensive
Short battery life
There you go! Those are the 9 high-security door locks of 2020 for you. And since we value the safety of your home as much as you do, we've collated a buying guide to help you pick the best door lock out there.
Buying Guide – Best Door Lock
Before choosing the best door lock, learn a little bit more about them:
Types of Door Locks?
Some of the main types of door locks are:
doorknob or Lever Handle: With an interior locking system, doorknob or lever is the most common in all households. Also, they are available in two types; the exterior doorknob or lever is designed with a keyhole feature on the outside and a turn-lock button on the inside for extra security. And as for the bedrooms and bathrooms, the doorknob and lever comes with a one-side lock mechanism.
Deadbolt: One of the safest door locks that you can trust on, deadbolts can be used alone or with the regular doorknob. They are designed with single and double-cylinder locks that provide ultra-protection and safety to the user. Also, they are compatible with smart locks.
Smart or Electronic Lock: These locks ensure a keyless and hassle-free experience to all. Smart locks are controlled through smartphones, Bluetooth, or WiFi. And some of them lock and unlock on sensing your presence at the door. Electronic locks, on the other hand, use methods such as touchscreen or keypads to unlock the door.
How To Keep House Door Locks From Freezing?
Follow these hacks to keep your door locks frost-free:
Heat the end of the key with a lighter before inserting it in the keyhole.
Use a ziplock freezer bag or fruit preservation bag to cover the lock.
Seal the keyhole with duct tape to keep the moisture out as much as possible (Moisture quickens freezing!).
Use graphite powder on the lock to keep them from freezing.
Spray WD-40 if you can tolerate the odor, but be prepared as there are chances it may de-color or damage the lock internally.
Things To Consider Before Buying A Door Lock?
Once you have decided the locking mechanism and the type of door lock you want, here are some features you must look out for:
Construction: Durability is indispensable when it comes to a door lock, as it is a lifelong investment. Pick a door lock made of high-quality materials for superior and long-lasting performance.
Strength: Given how intruders will try every possible technique like kicking, breaking, etc., the door should be able to withstand the force and prevent the break-in. Hence you must look out for this feature!
Grade-Certified: There are 3 grade categories that classify the strength of a door lock with 1 being the highest and 3 being the lowest yet robust. So, check if the door lock is grade-certified to be completely assured.
Door Compatibility: Many tend to forget that door compatibility is also an important feature. No matter how great is the door lock, if it is not compatible with your door, it is a failed investment.
Anti-theft Feature: Lastly, another important feature! Since the whole purpose of buying the lock is to keep the bad guys out, you must inspect if the door lock is anti-pick, bump-resistant, or kick resistant for ultra-protection.
That's all from us on how to keep your home sweet home, secured and protected. And to give you quick advice — before you purchase, do a thorough inspection and loosen the purse strings if need be on the best high-security lock, so you and your family can be at peace in the house forever. We hope this list of 9 best door locks has the one you are looking for. Go, pick yours today!
Expert's Answers For Readers' Questions
How Safe Are Smart Door Locks?
Smart locks are safe, and they offer a hassle-free and keyless experience to all. They ensure that your house is locked even if you are not around. Plus, it can only be unlocked by you or those who have access.
Can A Smart Door Lock Be Hacked?
Smart lock is an extremely safe option, but since it is digital technology, one cannot completely negate the possibility of it being hacked. So yes, a smart lock can be hacked, so it is advisable to be extra cautious with the pins and passwords.