11 Best Double End Bags For Boxing And Punching – 2023
The best equipment to improve agility, balance, posture, and accuracy of your strikes.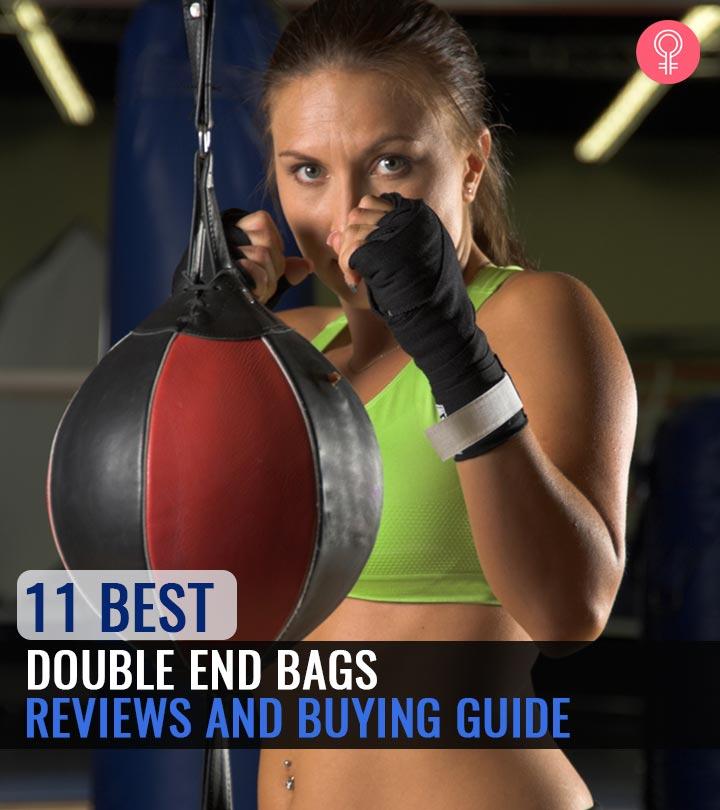 A punching bag is a small, lightweight bag that aids in improving coordination in your punches, developing accuracy, and building your strength. The best double-end punching bag improves your speed and agility for experiencing great targets. They help to enhance the perfect timing, position, and balance. A heavy punching bag is the best for improving your form and also helpful to reach out to moving targets. They are important for beginners and professionals alike.
If you would like to buy a new double-end punch bag, you are in the right place. Because our team of fitness experts has done some solid research and narrowed down the search for you. Scroll down to check out the 11 best double-end punching bags!
11 Best Double End Bags For Boxing And Punching
Pros
Extremely durable
High-quality build
Compact design
Ideal for hand-eye coordination improvement
Cons
Extra equipment is required to fix it before use.
Price at the time of publication: $40.5
The Ringside Boxing Double End Bag is suitable for beginners to help them learn fundamental moves and improve coordination. The outer shell of this striking bag is made of leather with triple reinforced loops on both ends. It comes with cables for easy setup and is available in three sizes – 5 inches, 7 inches, and 9 inches. This lightweight double end bag ensures a good grip with leather gloves. For a more detailed review of this product, here's a video.
Specifications
Dimensions: 12.01 x 6.01 x 3.01 inches
Weight: 1.08 lbs
Pros
Triple-stitch
Durable
Affordable
Cables included
Lightweight
Cons
Non-adjustable straps
Raised seams
Price at the time of publication: $49.99
Pros
Sturdy
Durable
Easy to use
Leak-proof
Portable
Cons
None

Price at the time of publication: $34.99
Pros
Made of premium leather
Fully adjustable cords
Enhances speed
Easy to assemble
Cons
None
Price at the time of publication: $42.99
Pros
Personalizable skill levels
Adjustable height
Comes with an interactive application
Suitable for cardio and core training
Cons
Price at the time of publication: $295
Pros
High-quality material
Travel-friendly
Ideal for improving speed
Cons
None
Price at the time of publication: $28.75
Pros
Fast rebound
Adjustable band
Good texture
Thicker cables
Cons
Soft
No base-plate weight
Price at the time of publication: $59.99
Pros
Fast movement
High durability
Unique design
Includes extra bladder
Leather shell
Cons
Swivel and ropes not included
Expensive
Price at the time of publication: $119.49
The Fighting Sports Fury Double End Bag is made of full-grain leather for fast movement, the right balance, better bounce, and quick rebounds. The seams are stitched with strong triple-layered nylon, which makes it durable. The bag has a polyester lacing and butyl rubber bladder for extended and intense use. This double end bag is professionally manufactured and is suitable for pro gym use. The product comes with steel D-rings and leather hanging loops and is easy to install.
Specifications
Dimensions: 6 inches (XXS)
Weight: NA
Pros
Precision balance
Fast rebound
Multiple sizes
Welted seams
Cons
No cords, mounting hardware, or extra bladder
Price at the time of publication: $59.99
Pros
Durable
High-quality leather
Sturdy
Suitable for head-body workouts
Cons
Metal rivets on straps may pop out
Price at the time of publication: $44.95
Pros
High-quality material
Sturdy
Durable
Easy to use
User-friendly installation
Suitable for learning uppercuts
Cons
None
Price at the time of publication: $149.99
These are the best double end punching bags that you can buy online. However, if you are confused between double end, heavy, and speed bags and do not know which one will fit your training needs, let us clear the confusion to help you decide.
Double End Bag Vs. Heavy Bag Vs. Speed Bag: Which One To Choose?
Each of the bags serves different purposes and are used to develop different techniques and skills.
Double End Bag: It is beneficial for speed, reflexes, and accuracy. It is smaller and lighter than heavy bags.
Heavy Bag: It is best for testing and developing strength, build technique, and perseverance. It is large and heavy and needs more strength to move. A heavy bag also helps you gain muscles.
Speed Bag: It is best to improve reaction time and coordination. Unlike double end bags, speed bags cannot help you hone your techniques.
If you have decided to buy a double end bag for your gym, there are a few more factors to be considered.
Tips To Buy The Best Double End Bag: Buying Guide
Types Of Double Ended Bags
These are two types – Mexican and traditional styles.
The traditional one has a lightweight teardrop-shaped single ball and is best for speed training. The Mexican style double end bag has two balls sewn together for working on angles and is suitable for professional use.
If you are looking for speed and precision training, smaller bags are best. They are harder to hit and hone your precision skills. If you are a beginner, it is best to choose heavy and long bags as they move slowly and are easier to punch.
Round bags will have a predictable rebound and are easier to punch. Egg or oval-shaped ones have a larger room to practice angles. The Mexican style (8-shaped) ones are for professional use and allow different hits and angles. The Mexican style bags always move in a straight line. The teardrop style bags have a flatter bottom and a tapering top. They have a curve rebound and are quite challenging to train with as they move in unpredictable patterns. Pick one, depending on your training needs.
Material (Leather/Synthetic)
The material of the outer shell can be genuine leather or synthetic. Synthetic or PU leather is cheaper, moisture-resistant, and less durable. Natural leather bags are durable but expensive.
The inflatable ball inside the punching bag is the bladder. It gives shape to the bag and makes it rebound. It is made of either latex or rubber. Rubber bladders are heavy, durable, and can retain the air pressure, while the latex ones are light and lose air quickly. If you want to buy a bag that moves quickly, choose one with a latex bladder.
Style (Standard Round Or Mexican Style)
The standard round type bags come with one ball. They move faster, are usually larger, and are best for speed training. The Mexican style bags are peanut-shaped and help you practice head punches. If you wish to work on your uppercuts, Mexican style bags are the best.
Here are some tips to help you use the double end punching bag.
What Is The Right Way To Use A Double End Bag?
Focus On Technique: Do not punch with force. If the bag is swinging all around, use less power into the shots and snap your arm back to hit the bag.
Start With Simple Movements: Incorporate some jab, cross or jab, and a jab-cross combination. Implement your footwork and move your head to circle the bag.
Footwork Is Important: Practice the lateral movements – stick and move, and then circle the bag.
Use Your Instincts And Follow A Rhythm: Just go with the flow when using a double end punching bag. Try to follow the rhythm and get the bag to move the way you want it to.
Use Your Guards And Block The Bag: If the bag swings back to you, get your guard up. Use your elbow to block the bag. Try snapping your hand back and raise your guard.
Frequently Asked Questions
Does a double end bag develop power?
No, a double end bag helps develop your reflexes, timing, and accuracy.
How do you install a double end bag?
The double end bag comes with hooks and a bungee cord. Use the clips to fit the cord to the ceiling and the floor and then use the hooks to attach the bag.
How much air should be in a double end bag?
Approximately 10 pounds of air pressure should be there in a double end bag.
Do you need gloves for a double end bag?
Yes. Gloves offer a larger contact surface and are a better option than using just your hands. The gloves also simulate real boxing by providing weight. They also offer more protection to the hands, although it is unlikely you will injure your hands with a double end bag.
How tight should a double end bag be?
A double end bag should be tight enough so that it does not move around too much and allows you to focus on various punches.
Can you hit a double end bag hard?
Yes, you may hit a tight double end bag hard.