11 Best Double End Bags For Boxing And Punching – 2023
The best equipment to improve agility, balance, posture, and accuracy of your strikes.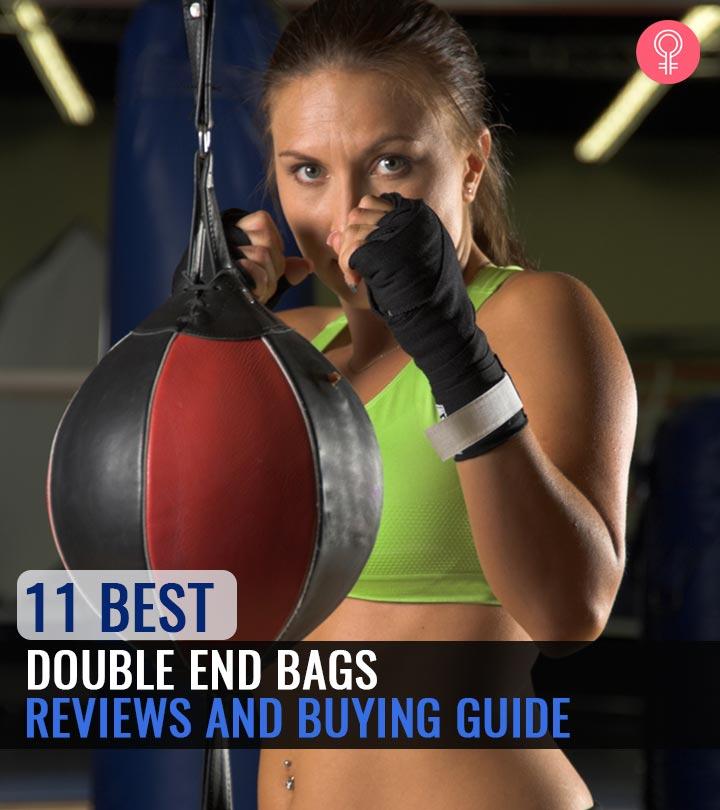 A punching bag is a small, lightweight bag that aids in improving coordination in your punches, developing accuracy, and building your strength. The best double-end punching bag improves your speed and agility for experiencing great targets. They help to enhance the perfect timing, position, and balance. A heavy punching bag is the best for improving your form and also helpful to reach out to moving targets. They are important for beginners and professionals alike.
If you would like to buy a new double-end punch bag, you are in the right place. Because our team of fitness experts has done some solid research and narrowed down the search for you. Scroll down to check out the 11 best double-end punching bags!
11 Best Double End Bags For Boxing And Punching
The Toco Freido Double End Punching Bag is a professional-grade punching bag designed for MMA trainers or fighters, professional boxers, and gyms. This punching bag is double stitched with two layers of textiles on the inner side and PU leather on the outside.
This double end rubber bladder has a tight gas nozzle with anti-leakage and anti-concussion design. Its circumference is 95 cm inches and helps to improve coordination and reflexes. It is double strapped with high elasticity and high extension. The product comes with two bungee cords, one pump, one inflatable needle, and two ring locks. This video takes you through this product's details.
Specifications:
Dimensions: 10.2 x 7.4 x 3.09 inches
Weight: 1.25 lbs
Pros
Easy to set up
Secure cords
Cost-efficient
Additional headbands
No leakage
Cons
Non-adjustable height
Air bladder smaller than covering
Price at the time of publication: $27.99
The Ringside Boxing Double End Bag is suitable for beginners to help them learn fundamental moves and improve coordination. The outer shell of this striking bag is made of leather with triple reinforced loops on both ends. It comes with cables for easy setup and is available in three sizes – 5 inches, 7 inches, and 9 inches. This lightweight double end bag ensures a good grip with leather gloves. For a more detailed review of this product, here's a video.
Specifications
Dimensions: 12.01 x 6.01 x 3.01 inches
Weight: 1.08 lbs
Pros
Triple-stitch
Durable
Affordable
Cables included
Lightweight
Cons
Non-adjustable straps
Raised seams
Price at the time of publication: $49.99
The MaxxMMA Double End Striking Punching Bag Kit is best for those who look to work on their reflexes, punching actions, and counter-punching. The kit includes a base, a pair of gloves, a pump, and a door frame fixer.
This durable punching bag is made of synthetic leather and comes with a heavy-duty spring that ensures maximum action. You can fill the bag with water for lighter training or with sand for heavy training. The door anchor is adjustable with a maximum width of 6.5 inches and a minimum of 4.5 inches. Know more about this product in this video.
Specifications:
Dimensions: 16.4 x 5.3 x 16.2 inches
Weight: 4.35 lbs
Pros
Adjustable cord
Adjustable door anchor
Secure band
Beginner-friendly
Includes air pump and bungee cords
Easy to install
Cons
Small circumference
Thin outer layer
Cheap quality gloves
Price at the time of publication: $54.99
The Kuyou Sport Double End Ball is suitable for accuracy training, fighting, boxing, and MMA. The ball is made of durable PU material and has double stitches to hold the shape and is reinforced with stable triangle seams. The tight gas nozzle of the ball makes it easier to inflate the leakproof and explosion-proof bladder.
It also comes with a 28 inches elastic rope with substantial extension and has good resistance to punches. You will also get two elastic cords and necessary parts to mount the double end ball. This product is best for improving endurance, reaction, agility, and accuracy.
Specifications
Dimensions: 38 x 18cm/14.9 x 7.08 inches
Weight: 0.99 lbs
Pros
Explosion-proof
Leakproof bladder
Cost-efficient
Fraying resistance
Durable
Cons
Price at the time of publication: $18.98
The Wesing Double End Striking Bag is made of high-quality microfiber leather for long-lasting use and is crack-resistant. The liner of this bag has an inflatable design and is molded with latex, making it leakproof. It comes in a standard size and offers a quick rebound, making it ideal for amateurs, professionals, and intense use.
The product comes with sturdy elastic cords and metal buckles that allow better movement to help you improve your reflexes, timing, speed, and accuracy. This product is also available in synthetic leather.
Specifications
Dimensions: 2.79 x 7 inches
Weight: 1.17 lbs
Pros
Long-lasting
Crack-resistant
Anti-wrinkle
Fast movement
Cons
Small anchor and screws
Non-adjustable cord
Price at the time of publication: $32.9
The RDX Double End Speed Ball is made of high-quality Maya Hide leather that makes it durable and resilient. It comes with heavy-duty nylon straps and a rubber bungee cord (adjustable up to 48 inches) that calibrates the ball when hit from different angles.
This product is developed with V-gravity technology that helps it hold a stable base and makes it easy to mount. The ball's elongated shape gives a larger punching area and ensures protection against hand injuries. This product comes with S-rings, fixings, PVC buckles, and is suitable for intense professional use.
Specifications
Dimensions: 14.09 x 6.37 x 3.8 inches
Weight: 1.23 lbs
Pros
Durable
Resilient
Easy setup
Good movement
Durable
Cons
Irreplaceable bladder
Flimsy rubber cord
Price at the time of publication: $62.99
The TITLE Infused Foam Double End Bag is a high impact-resistant bag with a foam core. It is lightweight and has a triple-layer nylon stitching, riveted loops for security, and welted seams. The impact-resistant foam core allows better movement and rebound compared to traditional double end bags.
Moreover, this bag is hassle-free as it does not leak nor needs replacement bladders. It is available in varying sizes and is best for perfecting your elbow strikes, power punches, uppercuts, and jabs. You get two industrial rubber double end bag cables and S-hooks with this product.
Specifications
Dimensions: 11 inches (size)
Weight: NA
Pros
Fast rebound
Adjustable band
Good texture
Thicker cables
Cons
Soft
No base-plate weight
Price at the time of publication: $59.99
The Cleto Reyes Double End Bag has a shape that emulates the head and torso. This unique design is focused on improving coordination and developing precision with jab and hook punches. It is handmade with high-quality leather and high craftsmanship. This bag has a nylon lining that makes it durable and increases its punching absorbency. The product comes with a spare bladder and is suitable for MMA training, endurance training, and boxing.
Specifications
Dimensions: 10 x 8 x 6 inches
Weight: 3 lbs
Pros
Fast movement
High durability
Unique design
Includes extra bladder
Leather shell
Cons
Swivel and ropes not included
Expensive
Price at the time of publication: $119.49
The Fighting Sports Fury Double End Bag is made of full-grain leather for fast movement, the right balance, better bounce, and quick rebounds. The seams are stitched with strong triple-layered nylon, which makes it durable. The bag has a polyester lacing and butyl rubber bladder for extended and intense use. This double end bag is professionally manufactured and is suitable for pro gym use. The product comes with steel D-rings and leather hanging loops and is easy to install.
Specifications
Dimensions: 6 inches (XXS)
Weight: NA
Pros
Precision balance
Fast rebound
Multiple sizes
Welted seams
Cons
No cords, mounting hardware, or extra bladder
Price at the time of publication: $59.99
The Opliy Double End Ball has an anti-leakage and anti-crack design. It has a two-layer design with an outer PU leather cover, and two layers of high-quality textile inside with rubber thickened inner bladder. This design makes it durable, compact, lightweight, and good to touch and feel.
It has a triple hand stitch seam that makes the ball explosion-proof, and it can be easily inflated and deflated. The product comes with an adjustable 28-inch elastic band, swivels, an inflated needle, and an air pump. Its Mexican-style peanut shape size allows rapid movement in all directions to improve coordination, reflex, and strategy.
Specifications
Dimensions: 14.9 x 7.08 inches
Weight: 0.45 lbs
Pros
Durable
Explosion-proof
Easy to setup
Easy to inflate
Affordable
Cons
Price at the time of publication: $21.98
The VAlinks Professional Double End Speed Bag is perfect for boxing, MMA, and Muay Thai. Its pear-shaped body cuts through the air, allowing accurate punches with strong reflexes. It is made of PU leather and has strong seams for durability.
The inner bladder is lined with latex rubber for high elasticity and preventing injuries. This bag can be inflated and deflated with a needle and pump that come with the product. The 23.62-inch extension cords are non-adjustable with high elasticity and substantial extension. This product is lightweight and easy to install.
Specifications
Dimensions: 7 x 10 inches
Weight: 1.1 lbs
Pros
Lightweight
Durable
Affordable
Rubber bladder
Cons
Price at the time of publication: $9.53
These are the best double end punching bags that you can buy online. However, if you are confused between double end, heavy, and speed bags and do not know which one will fit your training needs, let us clear the confusion to help you decide.
Double End Bag Vs. Heavy Bag Vs. Speed Bag: Which One To Choose?
Each of the bags serves different purposes and are used to develop different techniques and skills.
Double End Bag: It is beneficial for speed, reflexes, and accuracy. It is smaller and lighter than heavy bags.
Heavy Bag: It is best for testing and developing strength, build technique, and perseverance. It is large and heavy and needs more strength to move. A heavy bag also helps you gain muscles.
Speed Bag: It is best to improve reaction time and coordination. Unlike double end bags, speed bags cannot help you hone your techniques.
If you have decided to buy a double end bag for your gym, there are a few more factors to be considered.
Tips To Buy The Best Double End Bag: Buying Guide
Types Of Double Ended Bags
These are two types – Mexican and traditional styles.
The traditional one has a lightweight teardrop-shaped single ball and is best for speed training. The Mexican style double end bag has two balls sewn together for working on angles and is suitable for professional use.
If you are looking for speed and precision training, smaller bags are best. They are harder to hit and hone your precision skills. If you are a beginner, it is best to choose heavy and long bags as they move slowly and are easier to punch.
Round bags will have a predictable rebound and are easier to punch. Egg or oval-shaped ones have a larger room to practice angles. The Mexican style (8-shaped) ones are for professional use and allow different hits and angles. The Mexican style bags always move in a straight line. The teardrop style bags have a flatter bottom and a tapering top. They have a curve rebound and are quite challenging to train with as they move in unpredictable patterns. Pick one, depending on your training needs.
Material (Leather/Synthetic)
The material of the outer shell can be genuine leather or synthetic. Synthetic or PU leather is cheaper, moisture-resistant, and less durable. Natural leather bags are durable but expensive.
The inflatable ball inside the punching bag is the bladder. It gives shape to the bag and makes it rebound. It is made of either latex or rubber. Rubber bladders are heavy, durable, and can retain the air pressure, while the latex ones are light and lose air quickly. If you want to buy a bag that moves quickly, choose one with a latex bladder.
Style (Standard Round Or Mexican Style)
The standard round type bags come with one ball. They move faster, are usually larger, and are best for speed training. The Mexican style bags are peanut-shaped and help you practice head punches. If you wish to work on your uppercuts, Mexican style bags are the best.
Here are some tips to help you use the double end punching bag.
What Is The Right Way To Use A Double End Bag?
Focus On Technique: Do not punch with force. If the bag is swinging all around, use less power into the shots and snap your arm back to hit the bag.
Start With Simple Movements: Incorporate some jab, cross or jab, and a jab-cross combination. Implement your footwork and move your head to circle the bag.
Footwork Is Important: Practice the lateral movements – stick and move, and then circle the bag.
Use Your Instincts And Follow A Rhythm: Just go with the flow when using a double end punching bag. Try to follow the rhythm and get the bag to move the way you want it to.
Use Your Guards And Block The Bag: If the bag swings back to you, get your guard up. Use your elbow to block the bag. Try snapping your hand back and raise your guard.
Frequently Asked Questions
Does a double end bag develop power?
No, a double end bag helps develop your reflexes, timing, and accuracy.
How do you install a double end bag?
The double end bag comes with hooks and a bungee cord. Use the clips to fit the cord to the ceiling and the floor and then use the hooks to attach the bag.
How much air should be in a double end bag?
Approximately 10 pounds of air pressure should be there in a double end bag.
Do you need gloves for a double end bag?
Yes. Gloves offer a larger contact surface and are a better option than using just your hands.
How tight should a double end bag be?
A double end bag should be tight enough so that it does not move around too much and allows you to focus on various punches.
Can you hit a double end bag hard?
Yes, you may hit a tight double end bag hard.
Recommended Articles