15 Best Down Jackets For Women (2022) – Reviews
Wear an investable, warm winter jacket to beat the cold in your style.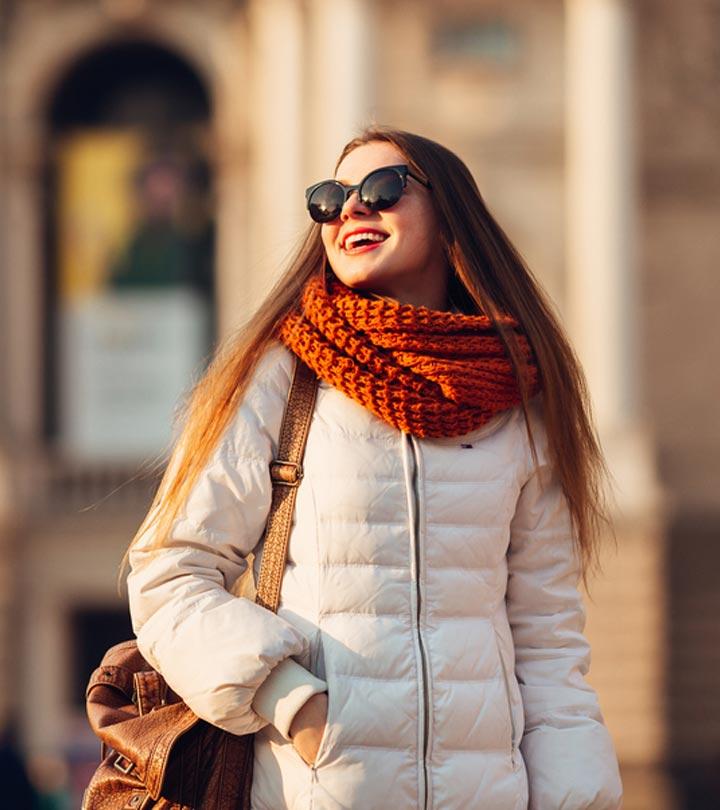 Splurging on the best down jackets for women can be one of the best investments. They are cozy and great at retaining heat. It will be your favorite piece of outdoor wear and one of the first items you throw in your suitcase for a mountain trip. These jackets also come in handy when you want to go out for a quick stroll in the park during the winters or even summit Everest.
Michelle Wagman, a fashion industry entrepreneur, says, "Winter and the cooler seasons are the perfect time to show off your winter look in a stylish jacket. All while staying warm and cozy. The winter jacket you choose tells your style story, and a down jacket is a must-jacket for winter. Down Jackets are available in all styles, colors, and weights. Investing in a classic winter jacket will keep you warm and shows your style." These jackets will effectively keep you warm even on the coldest of days. Down jackets are available in a wide variety of options and assorted qualities. Let us take a look at the 15 best down jackets for women. Keep scrolling! These jackets will effectively keep you warm even on the coldest of days. Down jackets are available in a wide variety of options and assorted qualities.
Let us take a look at the 15 best down jackets for women. Keep scrolling!
Top 15 Best Down Jackets For Women In 2022
Overcome the winter chills with Beinia Valuker Women's Down Coat. This close-fitted down coat is tight around the waist area and is designed to allow you to flaunt your fit waistline. The jacket also helps to lock the warmth, providing comfort, with a two-way front zipper closure and stretchable elasticized cuffs. The interior comprises 90% duck down and 10% feather, whereas the exterior is made of hypoallergenic synthetic material. Furthermore, the high-quality outer fabric is windproof and water-repellent. The jacket continues to insulate and provide warmth even when wet.
Pros
2-way front zipper closure
Elasticized cuffs
Windproof
Water-repellent
Exterior made of hypoallergenic synthetic material.
Cons
Some jackets may have weak stitching.
Price at the time of publication: $89.99
Wantdo Women's Short Down Jacket is ideal for traveling women. It is made of lightweight material and can be easily packed inside its carry bag. However, the jacket ensures warmth even in the coldest of conditions due to superior insulation of high-fill power duck down. The nylon exterior makes this down jacket windproof. Whether you're wearing it at home or outdoors, the ergonomic 3-structured cutting and the ultra-lightweight insulation makes you comfortable.
Pros
3-structured cutting
Ultra-lightweight insulation
Attached hood
2 inside pockets
Packs down to a compact size
Cons
The hood is not detachable.
Price at the time of publication: $66.97
Calvin Klein's women's down jacket provides comfort with just the right amount of down padding without compromising on warmth. It is a durable jacket that will keep you in style for many winters. The jacket is extended up to the knee and creates a shield to block out the harsh wind. Despite the length, this women's down jacket is compressible and fits snugly inside a drawstring pouch. You get a single-center front zipper that pulls up to the stand-up collar and two side pockets for storage.
Pros
Lightweight
Made with durable polyester nylon fabric
Extends up to the knee
Compressible
Fits in a matching drawstring pouch
Cons
Price at the time of publication: $139.99
The North Face has set a unique benchmark as an extreme climate winter brand. Likewise, the Gotham jacket allows women to relish the winter outdoors while staying warm and cozy. It further a stylish look with a removable faux fur and vibrant padded body. The elastic thread on the waist area allows the wearers to shape the waistline. Its exterior coat is made of 100% polyester taffeta and has a water repellent finish. The North Face Women's Gotham Jacket II is durable and made to last.
Pros
Durable and made to last
Water repellent exterior
Removable faux fur
Adjustable waistline
Cons
Comes with a single zipper
Price at the time of publication: $219.95
Orolay down jacket is made with high-density fabric that provides water-resistance and windproof features. This jacket is lightweight and further ensures optimum comfort. Orolay Women's Thickened Down Jacket has light cutting that allows you to stay in fashion even in the cold winter. It further features a warm fleece-lined hood, unique side zippers, and 6 big pockets for additional storage. It is washed thoroughly to remove dust and impurities and has been pressure sterilized to remove poultry odor or any form of foreign smell.
Pros
Fleece-lined hood
Side zipper
6 big pockets
Pressure sterilization removes foul smell
Water-resistant
Windproof
Lightweight
Cons
Seam stitching may not be up to the mark.
Price at the time of publication: $159.99
Looking for something extra in your puffed down jacket? Go for the Eddie Bauer CirrusLite Down Jacket with an assortment of unique features. It has 2 secure zip side pockets and an inside pocket built for extra storage. The elastic cuffs and hem at the waist further help minimize heat loss while the high neck collar provides extra warmth. This ultralight women's down jacket is versatile. You can wear it at moderate temperatures or during harsh winter conditions. Its exterior consists of 100% nylon fabric and Strom Repel DWR water-resistant screen, which emits moisture and keeps the fabric dry.
Pros
Machine-washable
2 secure zip side pocket and inside pockets
Water-resistant
Universal fit
Available in other colors
Cons
Might need to reinforce the seam before wash
Price at the time of publication: $74.99
Stay warm and cozy underneath the Molodo Long Thickened Down Jacket this winter. The jacket is made of duck down, and its length extends to your knee. You can also keep your hands heated in the frigid winter by tucking them in the 2 zippable pockets. Additionally, the jacket also has a removable long fur hood for extra warmth and an elegant look. The jacket's exterior is made of polyester that accentuates the fluffy down texture, whereas the knit cuffs keep the wind from entering into the coat. With the slim waist Molodo down jacket, you can present your fashion even in the coldest winter.
Pros
Made of 90% duck down
Extends to the knees
Knit cuffs
Available in other colors
Cons
Some may find the coat heavy.
Price at the time of publication: $129.99
Marmot Down Puffer Coat is soft to touch but has minimal weight. This machine-washable jacket features pure polyester on the exterior. The garment goes through moisture-resistant treatment that helps eliminate the down from clumping and preserves the jacket's loft to maximize comfort. The pockets are lined with microfleece, and the cuffs ensure additional comfort for the frigid fingers.
Pros
Torso lined with fleece
Machine-washable
Moisture-resistant treatment
Pockets lined with microfleece
Cons
Can be tight around the chest area
Price at the time of publication: $94.86
Merence down jackets provide versatility for various activities at different temperatures. The down insulates the coat, and the nylon exterior provides weather-protection to keep you warm. It has an ergonomic 3-structured cutting, packed with ultra-light down, that is ideal for outdoor activities. Take this on your hike, or travel excursions, or use it as everyday casual wear; this jacket provides warmth and comfort. Further, you can pack the down jacket into a carry pouch as its layers are easy to compress.
Pros
Ergonomic 3-structured cutting
Has ultra-light down
Portable and ideal for outdoor activities
Breathable nylon shell fabric
Wind-resistant
Cons
The jacket may take a long time to dry.
Price at the time of publication: $39.98
Messy jackets can be a pain to wash. Not only are they heavy, but the inner fabric can give off band smell after wash. With the Camel Crown Hooded Down Jacket, you do not need to worry about the regular wash. This jacket is water and stain repellent and has a soft down filling. It is made of light material and can be easily packed in your backpack to warm yourself in the chilly night weather. The breathable, lightweight fabrics in the jacket keep you warm and dry and avoid unnecessary weights and the bulkiness.
Pros
Water-repellent
Stain-repellent
Lightweight
Windproof hood
Cons
Not ideal for freezing temperatures
Price at the time of publication: $53.99
Aria hoody has 650-fill down insulation, which is lightweight and compressible. Nonetheless, the jacket is comfortable for a walk in the park, temperatures down to about 20°F, or a trip to the coffee shop in the cold winter. To further seal in the warmth, it has dual hem drawcord and elastic cuffs. Moreover, this jacket is specially designed for women's wear and features zippered hand-warmer pockets. It also has an internal security pocket that comes with a headphone cord port.
Pros
Dual hem drawcord
Elastic cuffs
Internal security pocket
Headphone cord port
Cons
The sleeve cuts may be wide
Price at the time of publication: $235.0
PUREMSX Women's Down Parka allows you to walk in style even in winter. This slim-fit jacket comes with a fixed hood with its frame surrounded with removable fur. Including the chic style, it ensures ultimate protection against cold with its zipper and button closure design. Additionally, it has an appropriate length extending below the waist, making the coat an ideal fit for most figures. The jacket is excellent outdoor wear. It is windproof and fit for skiing, hiking, fishing, climbing, and other activities.
Pros
Ideal for outdoor adventures
Appropriate length fit for women of different and sizes
Has a zipper and button closure
High-tech polyester keeps your body dry and warm
Available in other colors
Cons
Not suitable for temperatures below 30°F.
Price at the time of publication: $179.99
Marc New York Medina is a classic straight fit down jacket made in matte satin fabric. It features rib knit cuffs and metal trim and has a removable luxe faux fur strip on the hood. The body is made of 100% polyester while the interior houses down at a 60-40% ratio. This 36-inch long jacket helps scallop quilting and welt waist-pocket, which keeps the body and hands warm and cozy. The hidden snap-zip closure in its facade further helps to make this jacket wind resistant.
Pros
Snap-zip closure
Made with 100% polyester
Scallop quilting and welt waist pocket
Machine-washable
Cons
Does not have inside pockets
Price at the time of publication: $64.99
No matter how cold the weather is outside, the Omni-heat reflective technology used in the Molemsx down jacket reflects your body heat, with embedded silver dots, to keep you warm. It has a wind-resistant and breathable exterior, which keeps the coat insulated and avoids humidity. Furthermore, this mid-length jacket suits every body shape and gives you a chic and modern look whether you wear it on your casual excursions or outdoor trips.
Pros
Has Omni-heat reflective technology
Embedded with silver dots to retain body heat
Wind-resistant
Breathable exterior
Suits every body shape
Cons
Some may find the collar too constricting.
Price at the time of publication: $159.99
Ilishop Women's Thickened Maxi Down Jacket is a simple yet stylish look to your winter wardrobe. It uses high-grade fabric that is ultra soft and durable. It has a double zipper design, which is convenient for use and helps you adjust the jacket to your size or per your requirement. Furthermore, the waist tightening design uses the golden ratio to create a perfect harmony between your body with the jacket. This jacket is highly recommended for shorter girls as its slim-fit design gives them a taller and more slender look.
Pros
Zipper closure
90% white duck down
Detachable hood
Smooth fur collar
Cons
Price at the time of publication: $88.99
A little too much to choose from? Here's our buying guide that will help you find a fitting down jacket.
How To Pick The Best Down Jacket – A Buying Guide
Types Of Down Jackets For Women
There are 2 types of down jackets:
Sewn-through jackets are the most common down coats you can find. They are simple, don't take much time to produce, and are made of less material. They are also cheaper to make.
Box baffle down jackets maximize loft and warmth. The coat has separate baffles. Each section is stuffed individually with down. They are generally thicker and require more material to make, and more expensive than sewn-through down jackets.
How To Choose The Best Down Jacket For Yourself
Warmth
Down fill power helps determine the jacket's warmth. It indicates the measure of the loft and insulation. Higher fill power means there are more air pockets in the down and better insulation. Fill power starts from 400 and exceeds 900.
Compressibility
Look for a down jacket with good compressibility. Down jackets should be portable and easily compressible into a tiny carry bag.
Hood
Hoods add extra warmth but can be bulky. So, if your hood is detachable and you're wearing the down jacket as a mid-layer — under a waterproof coat — you may remove the hood.
The length of women's down jackets vary. You will mostly find 4 length variants:
Waist
Hip
Thigh
Knee
Try to find added lined pockets to keep your hands warm in the winter.
If you wear your down jackets regularly, try to wash them once or twice a year. Jackets designs for everyday use can be washed more often. However, if you notice dirt and grime build-up, uneven feather clusters, or odor, consider cleaning it immediately. It is also advisable to wash the coat at the end of the winter before storing them away.
Why Trust Stylecraze?
Priyam Gupta is a fashion enthusiast who uses her impeccable writing and research skills to curate product lists. Here, she lists the best down jackets for women that will keep you warm and cozy, regardless of how chilly it is outside. She considers factors such as material, comfort, and style and gives extensive descriptions of each product to help you make a hassle-free purchase. The pros and cons and the informative buying guide section will also come in handy in your search for the perfect down jacket.
Frequently Asked Questions
What type of down do down jackets for women contain?
You can find a goose down, or duck down in women's down jackets. Goose down provides better warmth and thus is considered superior in quality. It is also more expensive compared to duck down.
In what way down is superior to synthetic insulation materials?
Synthetic insulation needs to be heavier to provide the same warmth as down. However, synthetic insulation is more resistant to moisture and dries faster after wash.
Are DWR and waterproofing the same?
DWR stands for Durable Water Repellency and is not waterproof. However, it reduces condensation build-up aiding breathability. DWR ensures less moisture reaches your skin.
Why are the hardware, zippers, closure system important?
Hardware, zippers, and closure system is necessary to keep the jacket insulated and ensure weather-protection even in the harshest conditions.