The 7 Best Downdraft Cooktops Of 2022 + Buying Guide
Add to your kitchen's aesthetics with good-looking, modern, and intelligent devices.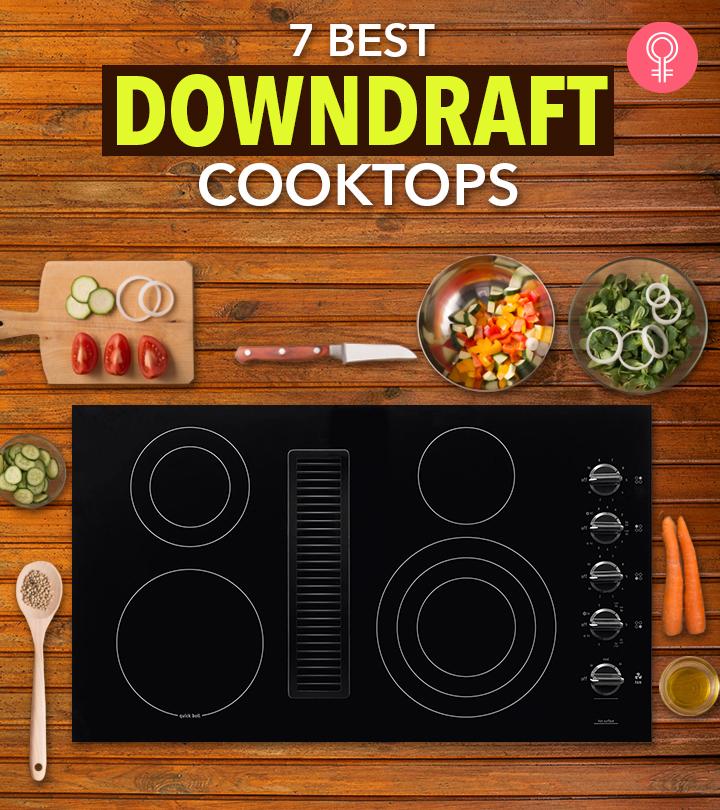 A cooktop is essential in every household. Furthermore, a larger cooktop helps you cook more food at once. The best downdraft kitchen top will make your cooking experience much more enjoyable and easier.
Given the wide range of benefits that these cooktops offer, there is no reason why you would not want to get one. Downdraft cooktops save a lot of power and effort and change your kitchen's entire appearance. They fit comfortably on the countertop and have an inbuilt vent, making them great for ventilation.
Hence, you should invest in an overdraft cooktop to make the most out of your cooking skills. Take a look at our list of the best downdraft cooktops. Keep scrolling!
What Is A Downdraft Cooktop?
A downdraft cooktop is a cooktop designed with inbuilt features for handling smoke and odor in the kitchen. It comes with a pre-installed ventilation system with a pipe and a fan that sucks in the smoke and fumes. This system is installed underneath the cooktop.
Let's now take a look at the top 7 downdraft cooktops you can buy.
7 Best Downdraft Cooktops
The GE PP9830DJBB Electric Cooktop is impressively designed and features a powerful exhaust system that efficiently pulls steam and smoke out of the kitchen. You can use different sized pans on its 3,000-watt and 9″/6″ flexible and power boil element that produces quick heat. It comes with a control lock feature that offers protection against unintended activation and a bridge element that combines various cooking elements into a cooking area for convenient cooking. The hot surface indicator lights let you know when the elements are hot to touch.
Features
Dimensions:87 x 29.75 x 2.18 inches
Weight: 45 lbs
Burners: 4
Heating Capacity: 11,500 BTU
Pros
Sleek design
ON indicator
Consistent heating
Easy to clean
Low maintenance
Cons
Bosch is one of the leading producers of top-notch cooktops, and the Bosch Stainless Steel Sealed Cooktop is no exception. It has removable stainless steel grates and five well-spaced burners for optimal cooking. This 36″ stainless steel cooktop features centralized controls for style and convenience.  It also comes with heavy-duty knobs for effortless cooking. The cooktop's design easily coordinates with Bosch ventilation and ovens.
Features
Dimensions: 3 13/16 x 37 x 21 1/4 inches
Weight: 46 lbs
Burners: 5
Heating Capacity: 16,000 BTU
Pros
Instant start
Push-to-turn knobs
Easy to clean
Easy to install
Cons
The regulator might get in the way.
If you are looking for a heavy-duty and durable stovetop, the Empava Single Oven Gas Range is a great pick. The slide-in glass range features premium-grade cast iron grates and four versatile burners for fast and efficient cooking. It features two single 18,000 BTU burners, one single 12,000 BTU burner, and one dual ring 15,000 BTU burners that offer consistent and even heating for steaming, melting, stir-frying, and simmering different food items. It also comes with zinc alloy control knobs with a blue LED reflecting if the cooktop is on from a distance. You can adjust the temperature between 150°F and 500°F to preheat, bake, broil, defrost, and dehydrate foods. The gas oven comes with a baking tray, two removable oven racks, and five adjustable rack positions to accommodate food items of various sizes. The unit has a convection fan that circulates the heated air and promotes uniform cooking and two halogen oven lights that enable you to see your food while it is being cooked without having to open the door.
Features
Dimensions:30 x 29. 54 x 39. 37 inches
Weight: 30lbs
Burners: 4
Heating Capacity: 18,000 BTUs + 18,000 BTUs + 15,000 BTUs + 12,000 BTUs
Pros
Automatic reignition
Quick preheating
Eyecatching interior and exterior
Adjustable temperature
Durable
Cons
Price at the time of publication: $1992.0
When you have a minimalist kitchen, you need elegant-looking appliances and cookware to add to your kitchen's aesthetics. The KitchenAid Stainless Steel Cooktop features an integrated ventilation system that does not require a separate hood and is built for a seamless cooking experience. It has full-width cast-iron grates for safety and even cooking. The 17,000 BTU powerful burner is designed to cook the food at high heat and for low simmering, while the 5,000 BTU burners are designed for precise simmering and melting. The convertible duct-free ventilation system circulates and filters the air in the kitchen.
Features
Dimensions:22 x 30 x 19 inches
Weight: 66lbs
Burners: 4
Heating Capacity: 5,000-17,000 BTUs
Pros
Automatic reignition
Powerful vent
Central control knobs
3-speed fan controls
Sturdy
Cons
Scratches easily
The finish chips off easily.
The Frigidaire RC36DG60PS Downdraft Gas Cooktop combines function and style with its unique design and high-heat burners. The four burners offer 5,000 BTUs to 21,000 BTUs of heat for boiling, simmering, melting, and cooking different foods. The heavy-duty stainless steel construction ensures durability and easy cleaning. It comes with five control knobs and heavy-duty, continuous cast-iron grates that make it easy to move around different-sized pans between the burners without lifting. This 36" cooktop features a quiet fan for noiseless operation.
Features
Dimensions:36 x 21.41 x 17.85 inches
Weight: 89lbs
Burners: 4
Heating Capacity: 5,000-21,000 BTUs
Pros
Consistent heating
Low maintenance
Easy to install
Quiet fan
Cons
Doesn't come with a conversion kit
The DCS Stainless Steel Cooktop looks exceptional and is designed to provide a leisurely cooking experience. It comes with four sealed high-heat burners and ergonomically designed metal control knobs for temperature management. Although the cooktop is encapsulated, its stainless steel finish and seamless design make it easy to clean and maintain. The 21-inch stovetop comfortably sits on any kitchen counter surface. Its high heat 15,500 BTU burner boils food quickly while the 3,000 BTU burners can be used for simmering and melting foods.
Features
Dimensions:30 x 21 x 5.1 inches
Weight: 80lbs
Burners: 4
Heating Capacity: 3,000-15,500 BTUs
Pros
Auto-ignite feature
Consistent heating
Ergonomically designed control knobs
Scratch and chip-resistant
Cons
Doesn't come with an indicator light
The Frigidaire RC36DE60PB Downdraft Cooktop has an electric built-in downdraft system and comes with four burners and a bridge element. The smartly placed SpaceWise elements accommodate expanding cooking needs and help you cook conveniently. Its Power Plus technology boils water quickly, so you don't have to wait to heat your meals. The black ceramic finish looks chic and adds to the aesthetics of any kitchen. Its powerful downdraft system quickly whisks away smoke and odor from the kitchen without any overhead ventilation.
Features
Dimensions:06 x 36.75 x 23.38 inches
Weight: 7lbs
Burners: 4
Heating Capacity: 5,000-21,000 BTUs
Pros
Easy to clean
3 ducting options
Even heat distribution
Economical
Noise-free 500 CFM fan
Hot surface indicators
Cons
These 7 superbly designed downdraft cooktops will seamlessly fit in your kitchen and make cooking more fun. If you are confused about which one you should buy, go through our buying guide below to make a decision.
What To Consider When Buying A Downdraft Cooktop
Here are some essential factors you need to consider before buying a downdraft cooktop:
Complex cooktop models are challenging to clean. If cleaning is a high priority for you, pick a system that comes with removable parts and is easy to clean. Most downdraft induction and glass cooktops are easy to clean while the gasoline grills are difficult to clean. Some cooktops come with sealed grates, and it becomes difficult to clean some hard-to-reach areas. Figure out the ways you can clean such areas.
If you frequently use the downdraft cooktop for cooking different dishes, you need one with a high BTU. Cooktops with high BTU rating heat up quickly and cook the food efficiently. Most downdraft cooktops come with 10,000-20,000 BTU ratings, which are adjustable.
Size And Number Of Burners
Most downdraft cooktops come with four burners with different BTUs. These units are helpful if you cook multiple dishes simultaneously. Ensure that the size of the burners complements the size of your cookware, and there is a proper gap between the burners.
Cooktops with glass, ceramic, or stainless steel finish look appealing on any countertop and add to the beauty of the kitchen. Remember, downdraft cooktops are not for small and compact spaces, so make sure that you consider the size of your kitchen and countertop. Measure the dimensions of the cooktop and see if it fits comfortably on your countertop.
Stainless steel downdraft cooktops are the best if you are looking for a highly durable option. These cooktops are long-lasting, scratch-resistant, and easy to clean.
Some downdraft cooktops come with touch controls, while some offer knobs for temperature control. The selection depends on your taste.
A downdraft cooktop offers plenty of benefits compared to the standard cooktops. A few of the benefits are listed below.
Advantages Of Downdraft Cooktop
Unlike the standard cooktops with hooded fans, the fan in a downdraft cooktop is easy to reach. Hence, you can clean the fan and internal part of the unit easily.
You can place the entire unit under a wall cabinet and free up some space on the kitchen counter. Thus, a downdraft cooktop is space-saving and compact.
These units look incredibly stylish and attractive compared to the overhead cooktops.
Since the downdraft cooktops come with a pre-installed ventilation system, they are reasonably priced and cheaper than other alternatives.
Mentioned below are a few precautions to take while using downdraft cooktops.
Precautions Need To Be Taken While Using A Downdraft Cooktop
Before cleaning the unit, always switch off the power from the service panel and lock the auto-igniting feature or service.
If you find faulty wires or are having trouble with installation or using the cooktop, call a qualified professional to fix it.
Downdraft cooktops need sufficient space and air for proper ventilation and exhausting gas. Follow the safety instructions given in the manual while placing and using the cooktop.
The ducted fans should always be vented to the outdoors.
Use metal ductwork to prevent fire.
Ensure that the unit is appropriately grounded before use.
Why Trust StyleCraze?
The author of this article, Pratyasha Ray, loves reviewing home appliances and devices. She keeps a constant check on the latest advancements to minimize the stress of household management. Our list of best downdraft cooktops is compiled by her after thorough research and reading many customer reviews online. She says that downdraft cooktops are an excellent addition to your kitchen as they are very convenient, and the cooktop base absorbs the contaminants, fumes, and smoke.
Frequently Asked Questions
How do downdraft cooktops work?
Unlike the standard cooktops, downdraft cooktops come with an inbuilt fan and a pipe that sucks the smoke and fumes. The exhaust fan is not mounted overhead but installed underneath the cooktop. The fan sucks the smoke when you start cooking and exhausts it out through the pipe that runs under the kitchen floor and towards the door.
Can you use a downdraft vent with a gas cooktop?
Yes. You can use a downward vent with a gas cooktop. Make sure that the downdraft unit properly vents to the outdoors as a malfunctioning unit can cause accidents. A spacious, airy, and ventilated space is required to use a downdraft vent with gas cooktops safely.
Do downdraft ranges need to be vented?
The downdraft cooktops have built-in vents. The smoke and fumes are sucked in by an exhaust pipe-filtration system. Hence, you don't need to attach any vent hood to the unit. Ensure that the pipe vents outdoors.
Can you install a downdraft vent behind a range?
It is not suitable to install a downward vent behind the range as it can reverse the heat and grease, and the ventilation system will not work effectively. The smoke and odor of the food will remain in the kitchen.
Is a downdraft cooktop hard to clean?
The ease of cleaning depends on the model of the cooktop. Some systems have removable parts that make cleaning easy, while some models have sealed parts like sealed grates that make cleaning a bit tricky. However, the downdraft unit is easy to clean as the pipes and fan are installed underneath the cooktop.
Recommended Articles