10 Best Dr. Barbara Sturm Skincare Products To Try In 2023
Reduce aging signs and mature skin issues with these chemical-free skin care products.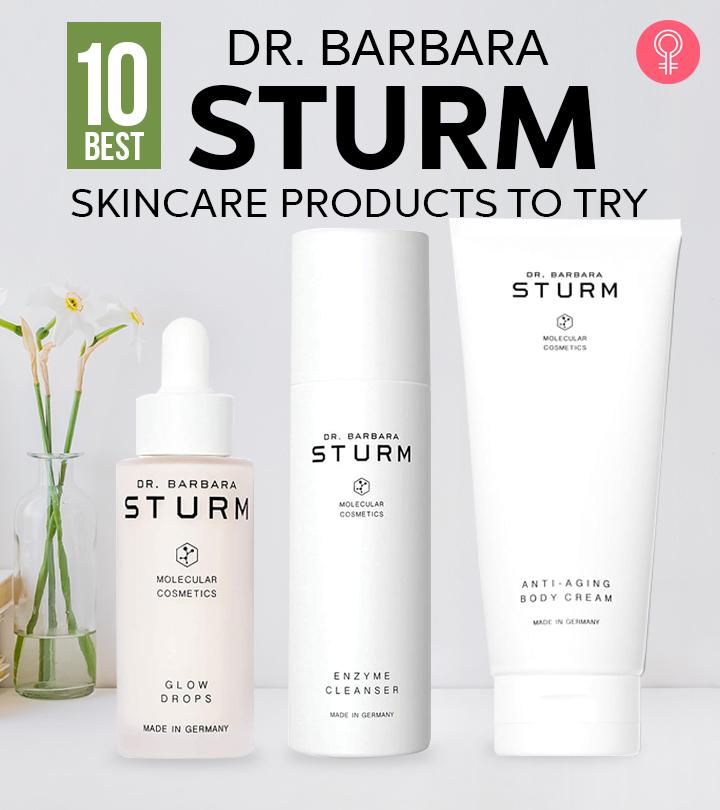 Acne, wrinkles, dry skin, breakouts, inflammation, and fine lines are major worries that make us run after many skin care products. Stop right there. Instead, go for the best Dr. Barbara Sturm skin care products that tackle all these issues effectively. These products are made with ingredients that are backed by science and help in combating many skin issues to provide visible results. In this article, we have compiled a list of the 10 best Dr. Barbara Sturm skin care products. Scroll down to check them out!

Top Picks
Top 10 Bestselling Dr. Barbara Sturm Skin Care Products – 2023
Transform and rejuvenate your dry skin and replenish the lost radiance with just a couple of drops of Dr. Barbara Sturm Glow Drops. This illuminating serum is packed with polygonum bistorta root extracts that have anti-aging effects and even out the skin tone. The extracts of wild rose to refine the skin pores.
Purslane, a signature ingredient in Dr. Barbara products, contains vitamins and omega-3 fatty acids that nourish and soothe the skin. The low weight and high weight hyaluronic acid molecules hydrate and plump your skin and strengthen its barrier function. The light-reflecting pigments give your skin a natural, dewy, and fresh glow.
Put a dropper's length of the serum in your palm and spread it all over your face, neck, and eye area, patting it in lightly. You can apply it after moisturizer or over makeup for a radiant glow.
Key Ingredients:
Polygonum bistorta root
Wild rose extract
Purslane
Light-reflecting pigments
Pros
Paraben-free
Sulfate-free
Gluten-free
Cruelty-free
Reduces signs of irritation
Imparts glow
Can be applied over makeup
Cons
Limited quantity
May cause breakouts
Price at the time of publication: $119.89
Dr. Barbara Sturm Hyaluronic Serum contains a blend of short and long-chain hyaluronic acid molecules that provide deep hydration and plump your skin. The short-chain hyaluronic molecules deeply penetrate your skin to replenish its moisture reservoirs. The long-chain hyaluronic molecules provide instant hydration to the skin surface to make it firm and radiant.
This product also contains purslane, a super plant active that offers antioxidant and anti-inflammatory benefits, protecting and nurturing your skin in the process. You can use the serum regularly to make your skin plump and prevent dryness and wrinkles when you age. Squeeze a full dropper into your palm, apply the serum uniformly to your face, and pat it lightly. The Dr. Barbara Sturm Hyaluronic Serum can work wonders on your skin. To know more, click here.
Key Ingredients:
Custom-blended hyaluronic acid
Purslane
Pros
Suitable for all skin types
Paraben-free
Silicone-free
Mineral oil-free
Fragrance-free
Cruelty-free
Quickly absorbed
Makes the skin radiant and smooth
Cons
Expensive for the quantity
Price at the time of publication: $294.0
Dr. Barbara Sturm Eye Cream treats dark shadows, eye bags, and swelling that make the area around your eyes look and fatigued. This product is packed with potent natural ingredients and active molecular compounds to give your skin the optimum protection against untimely aging and assist in skin cell regeneration.
The eye cream contains a special complex of yeast, golden root, and sugar beet the soothes and depuffs your eyes. Macadamia oil contains active omega lipids that help the eye area retain moisture, giving you a fresh, youthful look. Vitamin E has antioxidant properties that protect your skin from free radical damage. If you are still unsure about Dr. Barbara Sturm Eye Cream, click on this video for more information.
Apply the eye cream after cleansing your face. Pat it gently around the delicate eye area. Use it 1-2 times daily.
Key Ingredients:
Complex of yeast
golden root
sugar beet
Macadamia oil
Vitamin E
Pros
Non-greasy
Lightweight
Hydrates the under-eye skin
Depuffs the eyes
A little goes a long way
Cons
Does not lighten dark circles
Price at the time of publication: $144.0
Dr. Barbara Sturm Enzyme Cleanser is a two-in-one cleaning solution that deeply exfoliates and gently cleanses your skin. It contains potent enzymes that help to get rid of dead, dry skin, pollutants, makeup, and other impurities from the pores. Vitamin C has an antioxidant effect on the skin. It hydrates and refreshes the skin and visibly firms it up. With regular use, your skin will feel rejuvenated and smooth.
This cleanser is suitable for combination and oily skin types. When you mix it with water, the finely-grained powder will change into soft foam. Use the cleanser twice or thrice a week as part of your everyday skin care regimen. Put a coin-sized volume of the powder on your palm and add some lukewarm water to form a smooth foam. Apply it lightly to your face, add water to lather up, and rinse with water. Check out the review of the Dr. Barbara Sturm Enzyme Cleanser for more information.
Key Ingredients:
Maltodextrin
Vitamin C
Subtilisin
Lipase
Cellulose peeling particles
Pros
Paraben-free
Cruelty-free
GMO-free
PEG-free
Fragrance-free
Refreshes the skin
Makes the skin smooth
Cons
May cause breakouts
Not for redness-prone skin
Price at the time of publication: $75.0
Dr. Barbara Sturm Face Mask contains powerful natural ingredients that keep your skin deeply moisturized, protected, and detoxified. It contains chamomile and aloe vera that soothe and hydrate the skin. Purslane is rich in antioxidants that protect the skin from free radicals. It also supports skin generation. Kaolin clay draws out impurities and makes your skin soft and supple.
This deeply hydrating mask has a calming and stress-relieving effect on your skin. Use it on your skin 2-3 times every week after cleaning your face. Leave it on for around 10-15 minutes and rinse your face with lukewarm water. Follow up with a moisturizer.
Pros
Paraben-free
Mineral oil-free
Silicone-free
Fragrance-free
Soothes the skin
Suitable for dry skin
Absorbed quickly
Cons
May cause tingling in sensitive skin
Price at the time of publication: $111.0
Dr. Barbara Sturm Anti-Pollution Drops meant to defend your skin from particulate pollution as well as the blue light emitted from electronic devices like computers and smartphones. The high energy visible (HEV) rays, a form of digital pollution, create unsteady molecules known as free radicals that harm your skin's natural protective barrier. This results in skin irritation, dehydration, and loss of skin elasticity.
This serum features a Skin Protect Complex with marine microorganism extracts to strengthen the skin's defensive mechanism against urban pollution and skin aging due to atmospheric pollutants. It contains cocoa seed extracts that create a shield over your skin so that the HEV rays cannot penetrate it. The disodium EDTA deactivates the heavy metal ions. Use this serum daily to improve your skin's defense.
Apply it in the last stage of your skin care routine. Squeeze a complete pipette on your palm and apply it to your face, neck, and the areas around your eyes. You can use it with Dr. Barbara Sturm Face Cream or apply it undiluted.
Key Ingredients:
Hyaluronic acid
Exopolysaccharide
Cocoa seed extract
Purslane extract
Betaine
Pros
Lightweight
Gentle
Non-greasy
Fights digital aging
Does not clog the pores
Cons
Price at the time of publication: $129.0
This 'liquid sun umbrella' protects your skin from the sun while you are out. It contains SPF 50 to protect your skin from UVA and UVB rays to prevent photoaging and sunburns. Dr. Barbara Sturm Sun Drops contain an active complex of the cassia extract, beta-glucan, and vitamin E that prevent premature aging of the skin and support damaged cell regeneration.
This serum also contains hyaluronic acid that replenishes skin moisture and plumps it and green tea extract that protects the skin from free radical damage. Purslane calms the skin and soothes irritation. The broad-spectrum protective formula is a combination of four stable, highly effective, and non-penetrating sunscreens.
You can use this versatile serum undiluted or with Dr. Barbara Sturm Face Cream. Apply the sun drops liberally before going out. Reapply often to ensure continuous protection from the sun, especially after swimming, sweating, and when drying perspiration with a towel.
Key Ingredients:
Complex of cassia extract
beta glucan
vitamin E
Hyaluronic acid
Green tea leaf extract
Chemical UV filters
Pros
Has SPF 50
Lightweight
Gentle
Suitable for sensitive skin
Cons
Contains parabens
Pills under makeup
Price at the time of publication: $145.0
Dr. Barbara Sturm Face Cream is an anti-aging face moisturizer that keeps your skin hydrated for 24 hours. It contains purslane and skullcap that calm the skin, reduce the signs of irritation, and support skin cell renewal. Shea butter moisturizes and firms the skin. This lightweight moisturizer is fast-absorbing, and it penetrates deep into the skin layers to infuse them with moisture.
This face cream strengthens the skin barrier function and reduces the appearance of the signs of aging. Use the cream every morning on your face and neck after cleansing your face. You can also use it as a night cream to rejuvenate and refresh your skin.
Key Ingredients:
Purslane extract
Skullcap
Shea butter
Vitamin E
Panthenol
Squalane
Corn Oil
Glycerin
Pros
Paraben-free
Fragrance-free
Mineral oil-free
Suitable for sensitive skin
Hydrates the skin
Fast-absorbing
Cons
Price at the time of publication: $196.98
This refining facial scrub helps you get rid of dry, flaky skin. It contains purslane and vitamin A that soothe the skin, support skin cell regeneration, and control the keratinization process. It also contains horse chestnut that strengthens the skin matrix and silk extracts that moisturize your skin and make it smooth. This scrub stimulates microcirculation to boost cell renewal, minimize fine lines, and enhance the overall look and feel of your skin.
Use the scrub for 1-2 times each week after cleansing your face. Apply on your neck, face, and décolletage. Rub it in circular motions and rinse with lukewarm water.
Key Ingredients:
Purslane extract
Vitamin A
Horse chestnut extract
Silk extract
Cellulose peeling particles
Panthenol
Jojoba oil
Shea butter
Sweet almond oil
Pros
Gentle
Makes the skin smooth
Paraben-free
Fragrance-free
Cruelty-free
Cons
Hard to rinse off
Leaves a film-like residue
Price at the time of publication: $70.0
Dr. Barbara Sturm Anti-Aging Body Cream replenishes your skin with moisture. It is infused with pure glacial water and is absorbed easily to make your skin super smooth, hydrated, and supple. It contains white almond and elderberry blossom extracts that tighten the skin. The nutrient-rich oils restore the skin's elasticity, making it firmer.
Purslane has anti-aging properties that minimize the visible signs of skin irritation, while the active compounds reduce the visible signs of aging, leaving your skin feeling firm and smooth. You can massage this body cream on your skin in circular motions until it is fully absorbed.
Key Ingredients:
Pure glacier water
Purslane Extract
Black elderflower
Indian almond
Glycerin
Meadowfoam seed oil
Olive oil
Vitamin E
Panthenol
Edelweiss
Chickpea seed extract
Squalane
Grape seed oil
Shea butter
Pros
Lightweight
Non-greasy
Absorbed fast
Fragrance-free
Dye-free
Cons
May not work on oily skin
May cause breakouts
Price at the time of publication: $117.99
From dry to oily skin, Sturm has suitable skin care products for all. With so many options available online, use this guide to get the best Dr. Barbara Sturm skin care product according to your skin type and needs.
What To Consider While Choosing Dr. Barbara Sturm Skin Care Products – Buying Guide
Skin Type: A good product for your skin might not be good for another person's skin. Always select products that suit your skin type and needs. Selecting the right product for your skin type helps you achieve a better result. Products that hydrate and control excess sebum production are great for oily skin. Look for products with nourishing ingredients for dry skin. For sensitive skin, look for hypoallergenic and mild products.
Ingredients: Choose a product with all-natural ingredients. Natural ingredients are safe, non-irritating, and gentle on the skin. Look for products containing aloe vera, oatmeal, and shea butter for moisturization. Ingredients like glycolic and lactic acids are ideal for hydration and mild exfoliation. Also, opt for products with SPF to prevent sun damage and oxidative stress. Avoid products with sulfates and parabens, as they may cause allergies and irritations.
Why Trust StyleCraze?
The author, Shiboli Chakraborti, is a certified skin care coach who loves reviewing skin care products that her readers can easily incorporate into their routines. She curated this list of the best Dr. Barbara Sturm skincare products after extensively reviewing the product formulations on the brand's website and going through numerous user reviews online. The shortlisted products are suitable for all skin types and are safe.
Frequently Asked Questions
Is Dr. Barbara Sturm Hyaluronic Serum worth it?
Yes, the product is worth it if you would like to pamper yourself with luxe skin care products. Dr. Barbara Sturm's Hyaluronic Serum seems to work wonders in the long term and is worth the splurge if you want to pamper your skin and look youthful.
What kind of doctor is Barbara Sturm?
Dr. Barbara Sturm is an aesthetics doctor from Germany, and she is extremely popular for her ideas on anti-inflammatory products, philosophy, and non-invasive anti-aging skin treatments that help in reversing the age clock. Dr. Barbara Sturm started her medical profession in orthopedics. She, as part of a team, developed advanced treatments for inflammatory conditions, such as osteoarthritis.
Are Dr. Barbara Sturm products clean?
Yes, Dr. Barbara Sturm products are clean, non-toxic, and safe due to the doctor's unique approach to skin care formulas. She avoids the ingredients that result in inflammation – from extremely toxic artificial chemicals to deep, skin-scraping elements that are unsafe for healthy skin.
Are Barbara Sturm products worth it?
Yes, Barbara Sturm products are worth it if you want to treat yourself with salon-quality, luxurious formulas.
Is Dr. Barbara Sturm a real doctor?
Yes. German aesthetician Dr. Barbara Sturm is well known for her anti-inflammatory and non-surgical anti-aging skin treatments.
Is Dr. Barbara Sturm a dermatologist?
Yes, Dr. Barbara Sturm is a dermatologist in Indianapolis.
What celebrities use Dr. Sturm?
Celebrities like Hailey Bieber and Rosie Huntington-Whiteley use Dr. Strum products.
Is Barbara Sturm board certified?
Yes, Barbara Sturm is board certified to practice dermatology.
Recommended Articles