17 Best Selling Dr. Brandt Skincare Products Of 2022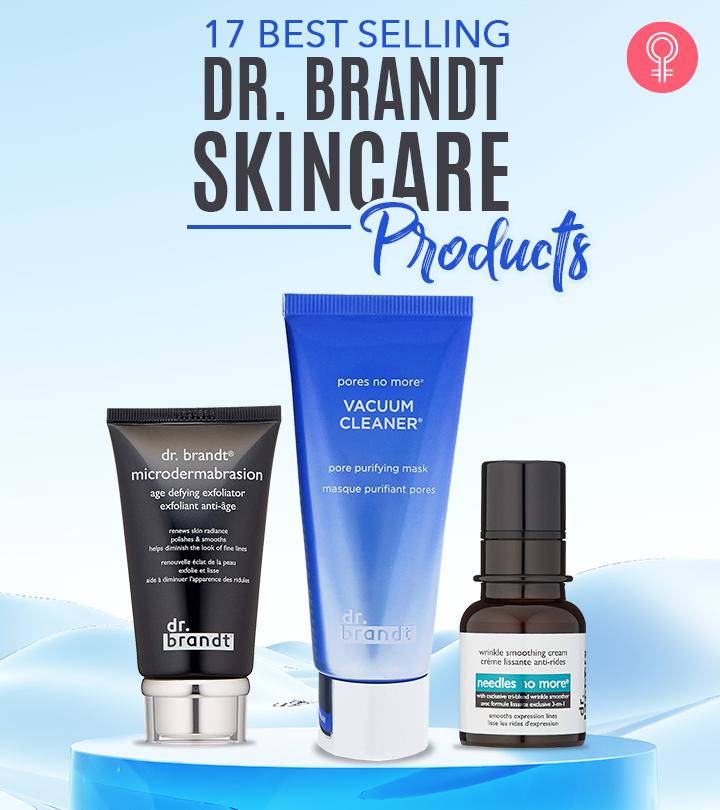 Skincare takes time and looking for suitable skincare products, even more so. To make things easier, we have listed some of the best Dr. Brandt skincare products from their versatile options. With expert clinical exploration and dermatology practices, they are known for offering effective results. Well, these are the products, people who believe in quality prefer. So check out our list and choose the ones that suits your skin type.
17 Best Dr. Brandt Skincare Products Of 2022
The Dr. Brandt Microdermabrasion Age Defying Exfoliator comes with a revolutionary formula designed to transform your face instantly. This amazing exfoliator brightens and smoothens your face. It offers you a treatment similar to a professional microdermabrasion right from the comfort of your home. The formula in this age-defying exfoliator contains pharmaceutical-grade crystals that reduce fine lines and wrinkles. You can use this cream by gently massaging it into the skin for 1 to 2 minutes. It polishes your skin and diminishing blemishes. You can use the age-defying exfoliator 1 to 2 times per week (with a gap of 3 days in between) for the best results.
Key Ingredients:
Water
Alumina
Capric triglycerides
Glycerin
Ceytl alcohol
Pros
Pleasing fragrance
Fast-absorbing
Reduces fine lines
Reduces wrinkles
Pharmaceutical-grade crystals
Cons
The Dr. Brandt Skincare Needles No More Baggage Eye Puffing Gel is made of green algae and plant extracts. It comes with Filmatrix Technology that frames an invisible second skin film and helps lighten your dark circles and reduces puffiness. It contours your eye shape in minutes for a visually smooth look. This anti-aging eye gel cream also contains caffeine and botanical extracts like Centella Asiatica, birch bark, green tea, and white tea that reduce puffiness and help diminish the intensity of your dark circles. The peptides light up the under-eye region and restore your skin elasticity.
Key Ingredients:
Caffeine
Botanical extracts
Peptides
Pros
Fragrance-free
Anti-puffiness
Reduces dark circles
Dermatologist-tested
Ophthalmologist-tested
Hypoallergenic
Suits all skin types
Lightweight
Cons
None
The Dr. Brandt Pores No More Pore Refiner Primer is a lightweight formula. It instantly minimizes the appearance of pores, fine lines, and any skin imperfections. The pore-refining primer not only gives you a perfect matte finish but also absorbs excess oil from the skin. It also gives you a flawless finish without any makeup. The Dr. Brandt primer contains oil-absorbing spheres and red clover extracts that help rebalance your skin condition. Its derivatives of salicylic acid gently exfoliate skin. The primer also reduces the oil build-up in your pores. It is said to diminish pores with regular use. It also calms any skin irritation. This primer has won the "Best Shine Stopper" in the Brides Magazine Beauty Award.
Key Ingredients:
Tea tree
Lavandula oil
Flower extracts
Iron oxide
Pros
Reduces fine lines
Reduces the appearance of pores
Absorbs excess oil
Dermatologist-tested
Non-comedogenic
Lightweight
Fragrance-free
Hypoallergenic
Shrinks pores
Cons
The Dr. Brandt Needles No More Wrinkle Smoothing Cream is formulated with the revolutionary tri-blend wrinkle-smoothing complex that helps reduce fine lines and wrinkles. It also fades the frown lines with prolonged use. The neuropeptides in this cream deliver skin-relaxing ingredients where they are most needed. The magnesium and adenosine help soften the appearance of lines and wrinkles.
This cream has won the Prevention Beauty Award and also has been mentioned in the OK! Magazine "40 Products We Love". The Dr. Brandt's wrinkle-smoothing cream does its job without the need for a painful dermatological needle.
Key Ingredients:
Lavendula flower extracts
Neuropeptides
Magnesium
Adenosine
Pros
Paraben-free
Sulphate-free
Phthalate-free
Lightweight
Fragrance-free
Hypoallergenic
Ophthalmologist-tested
Safe for contact lens wearers
Cons
The Dr. Brandt PoreDermabrasion Pore Perfecting Exfoliator is a professional grade treatment that uses both physical and chemical exfoliation. This instant exfoliating cream targets impurities in your skin with extreme precision and deep cleanses clogged pores. This magical exfoliator refines your pores and leaves your skin feeling smooth and supple.
The main ingredients are a unique combination of micro-sized aluminum oxide crystals that deep cleanse skin, and salicylic acid for that smoothens and brightens skin. The exfoliator is topped with lentil seed extract that offers a matte, shine-free look. It not only removes dead skin cells but also improves your skin complexion.
Key Ingredients:
Alumina
Water
Glycerin
Papaya
Lactobacillus
Pros
Fragrance-free
Dermatologist-tested
Hypoallergenic
Improves skin complexion
Minimizes pores
Cons
The Dr. Brandt Triple Peptide Eye Cream is a deeply hydrating cream that helps diminish the signs of aging around the delicate eye area. The powerful peptide formula helps reduce eye puffiness, fine lines, wrinkles, and dark circles. The lightweight formula promotes smooth skin and moisturizes your eye area. The triple peptide complex comprising palmitoyl oligopeptides, Argireline, and vitamin C polypeptides reduces under-eye discoloration. The phospholipids, ceramide 3, and shea butter help replenish moisture levels in the skin. The caffeine in the eye cream also reduces eye puffiness.
Key Ingredients:
Water
Shea butter
Lecithin
Lavender oil
Flower extracts.
Pros
Dermatologist-tested
Ophthalmologist-tested
Hypoallergenic
Fragrance-free
Deep hydration
Cons
The Dr. Brandt Pores No More Pore Purifying Cleanser is a non-drying, pore-refining formula. It deeply cleanses your pores and removes makeup, residue, and dead skin. It also helps banish the sebum and decongests skin pores. The gel-based purifying cleanser simply dissolves impurities and washes away skin debris. It reveals clear-looking, shiny skin. It also contains salicylic acid that keeps pores from getting clogged.
The essential oils and tree extracts like tea tree oil and white willow bark extracts purify your skin. Unlike other cleansers, the Dr. Brandt cleanser ensures your skin does not dry out.
Key Ingredients:
Salicylic acid
Tea tree oil
White willow bark
Pros
Formaldehyde-free
Paraben-free
Phthalates-free
No synthetic fragrances
No mineral oil
Non-drying formula
Cons
The Dr. Brandt Hydro Biotic Recovery Sleeping Mask has a heavy hydration formula that works as an overnight remedy for your skin. The mask works during your sleep to balance your skin's natural flora. It reduces skin redness and irritation. It restores and replenishes skin moisture by offering 24-hour hydration. Its unique formula also seals moisture for up to 72 hours. The biotic-balancing complex in this mask strengthens your skin barrier.
The mask's unique delivery matrix, a combination of soothing peptides with honey, Boswellia, and tea extracts, helps reduce redness. Its restorative blend of ceramides, fatty acids, and tamarindo extract provides deep hydration, improves skin elasticity, and reduces water loss.
Key Ingredients:
Water
Glycerin
Sodium chloride
Grape seed extracts
Honey
Pros
Alcohol-free
Paraben-free
Sulfate-free
Fragrance-free
Phthalate-free
Overnight hydration
72-hour moisture lock
Lightweight
Cons
This cooling pore purifying mask by Dr. Brandt breaks down stubborn dirt and oil and unclogs pores. It exfoliates the skin and shrinks enlarged pores. The salicylic acid and iris extract formula in the mask exfoliate skin. They also help loosen and remove blackheads. It keeps pores clean and prevents them from clogging. The glycolic acid and alpha hydroxy acid in the mask soften skin texture.
The mask also contains beads and mineral powder that absorb dirt and excess skin oils. The Eijitsu rose extract helps tighten skin pores.
Key Ingredients:
Water
Rose fruit extracts
Salicylic acid
Iris extract
Pros
Dermatologist-tested
Fragrance-free
Removes dead skin cells
Cons
The Dr. Brandt Clean Biotic Balancing Complex is a multitasking formula that instantly melts away pollution, makeup, and excess oil from the skin. Its moisturizing formula cleanses your skin without stripping off its natural oils. The complex also retains skin moisture and soothes redness and irritation caused due to dryness.
The main ingredient in the product is chlorophyll, which gently cleanses your skin and retains its flora. Its hyaluronic acid, the power humectant, helps retain skin moisture. The biotic balancing complex found in the cleanser strengthens the skin barrier. Its yogurt helps maintain a healthy pH balance. It is not harsh on your skin and suits all skin types.
Key Ingredients:
Chlorophyll
Hyaluronic acid
Yogurt
Pros
No formaldehyde
Paraben-free
Phthalate-free
Fragrance-free
Sulfate-free
No mineral oil
Dermatologist-tested
Hypoallergenic
Ophthalmologist-tested
Cons
Dr. Brandt Do Not Age Time Defying Cream is an anti-wrinkle, skin-smoothening product. It restores skin shape and vitality. Its anti-aging formula visibly corrects the signs of aging and makes your face look more sculpted. Its juvenescence+ complex fuels skin with vital energy, and the biometric tri-amino acid peptides help skin look younger.
The flaxseed extracts help highlight the facial contours and smoothen fine lines and wrinkles. This age-defying cream by Dr. Brandt will leave your skin hydrated, moisturized, tightened, and nourished.
Key Ingredients:
Peptides
Tri-amino acids
Flaxseeds
Pros
Paraben-free
Sulfate-free
Phthalate-free
Fragrance-free
Non-GMO
Aluminum-free
No mineral oil
Dermatologist-tested
Ophthalmologist-tested
Hypoallergenic
Cons
The Dr. Brandt Oxygen Facial Flash Recovery Mask is an instant mask that helps absorb oxygen, releases toxins, and protects skin against environmental aggressors. The facial mask revitalizes and invigorates the skin appearance by restoring luminosity. The formula contains oxygen spheres (liposome-encapsulated oxygen) that work like magnets to attract oxygen from the atmosphere into the skin for improved clarity and radiance.
Moringa seed extracts in the mask contain purifying peptides that detoxify and protect your skin against environmental pollution. This 10-minute mask diminishes the appearance of lines and wrinkles with regular use. It also makes the skin look plump, smooth, and glowing.
Key Ingredients:
Moringa seeds
Capric triglycerides
Grape seed oil
Sinensis leaf extracts
Pros
Dermatologist-tested
Hypoallergenic
Fragrance-free
Lightweight
Cons
The gentle yet potent light-reflecting, age-fighting Dr. Brandt Retinol Eye Cream is formulated with time-release retinol. Its another unique ingredient is the Ruby Crystal complex. It contains micro ruby crystals, optical diffusers, and skin illuminators. These work in synergy to soften the appearance of fine lines. They also brighten the eye contour.
Retinol is released immediately, and it strengthens the skin. The olive fruit pulp in the cream helps reduce redness and protects your skin against environmental stress. Further, the 24/7 eye cream is powered with nourishing antioxidants that replenish your skin and illuminate your eye contour. The moisturizing properties of this lightweight eye cream keep the skin around your eyes soft and wrinkle-free.
Key Ingredients:
Retinol
Hydraulic acid
Glycerin
Ruby powder
Pros
Dermatologist-tested
Hypoallergenic
Fragrance-free
Lightweight
Moisture lock formula
Cons
Expensive
Minimal product
The Dr. Brandt 2 % Retinol Complex Serum is a nighttime skin renewal formula. This overnight serum harnesses the power of a time-released 2% retinol complex that improves skin firmness, texture, and tone. You can visibly see the reduction in the appearance of fine lines with regular use. This unique yellow color serum improves skin firmness as well.
Key Ingredients:
Glycerin
Soya bean
Sunflower seed oil
Pros
Fragrance-free
Dermatologist-tested
Hypoallergenic
Lightweight
Suitable for all skin types
Clears blemishes
Reduces pores
Improves skin firmness
Cons
The Dr. Brandt Power Dose C is an age-defying elixir. It supercharges your skin with a newfound youthfulness and vitality. This vitamin C serum contains a whopping 20 percent vitamin C that helps protect collagen and lightens dark spots. It also reduces fine lines and wrinkles.
It optimizes resistance against free radicals and helps improve skin clarity. The ascorbosilane C, silicium, and kakadu plum serve as natural sources of vitamin C. This serum is ideal for all skin types.
Key Ingredients:
Ethyl ascorbic acid
Ascorbosilane C
Silicium
Kakadu plum
Pros
Dermatologist-tested
Paraben-free
Sulfate-free
Hypoallergenic
Phthalate-free
Lightweight
Fragrance-free
Cons
Minimal product
Expensive
The Dr. Brandt Radiance Resurfacing Foam is made of alpha-hydroxy acids that scrape away dead skin cells, smoothen skin surface, and hydrate skin within 60 seconds. The naturally-derived fruit alpha hydroxy acids, including glycolic acid from sugarcane, lactic acid from bilberry, citric acid from orange and lemon, and malic and tartaric acids from sugar maple, smoothen rough skin texture and erase dullness. The pentavitin is another ingredient that prevents water loss by creating a moisture reservoir that keeps skin hydrated for up to 72 hours. The lily extracts present in the foam create an even skin tone and brighten the skin. They also prevent skin irritation.
Key Ingredients:
Bilberry
Citric acid
Malic acid
Pros
Dermatologist-tested
Ophthalmologist-tested
Hypoallergenic
Non-comedogenic
Lightweight formula
Fragrance-free
72-hour hydration
60-minute radiance
Cons
The Dr. Brandt Antioxidant Water Booster consists of green tea, white tea, and grape seed extract with concentrated polyphenols. This combination infused with goji and maqui berries help delay premature signs of skin aging. You can add this dietary supplement to your favorite beverages. This antioxidant water booster also helps the body fight the effects of free radicals.
Key Ingredients:
Pros
Fights free radical damage
Cons
These are the top 17 Dr. Brandt skincare products. There is a reason this brand is quite popular – it contains effective ingredients that deliver results. We have briefly discussed these ingredients in the following section.
What Are The Key Ingredients In Dr. Brandt Skincare Products?
Dr. Brandt skincare products are made from combinations of active botanical ingredients. The key ingredients include green tea, white tea, and grape seed extracts.

Conclusion
Dr. Brandt skincare products include a variety of beneficial ingredients combined with unique technologies. They could be ideal for those needing quick results. We hope this article has helped you make an informed decision. Pick your favorite Dr. Brandt skincare product today.
Why Trust StyleCraze?
Shiboli Chakraborti is a certified skin care coach. She has used her experience and expertise in curating a list of the best-selling Dr. Brandt skincare products. You may often find it difficult to identify the ideal product for your skin type. Here, our writer has discussed the useful features, benefits, and drawbacks of each product to help you make the best purchase. She has also provided a buying guide to assist you in procuring the most suitable product for your skin.
Frequently Asked Questions
Are Dr. Brandt skincare products cruelty-free?
Yes, the products are cruelty-free.
Who owns Dr. Brandt Skincare?
Dr. Brandt Skincare was founded by dermatologist Dr. Fredric Brandt.
Recommended Articles