14 Best Dr. Jart Products To Include In Your Beauty Routine
For products that are unparalleled in their power to manage both dry and oily skin.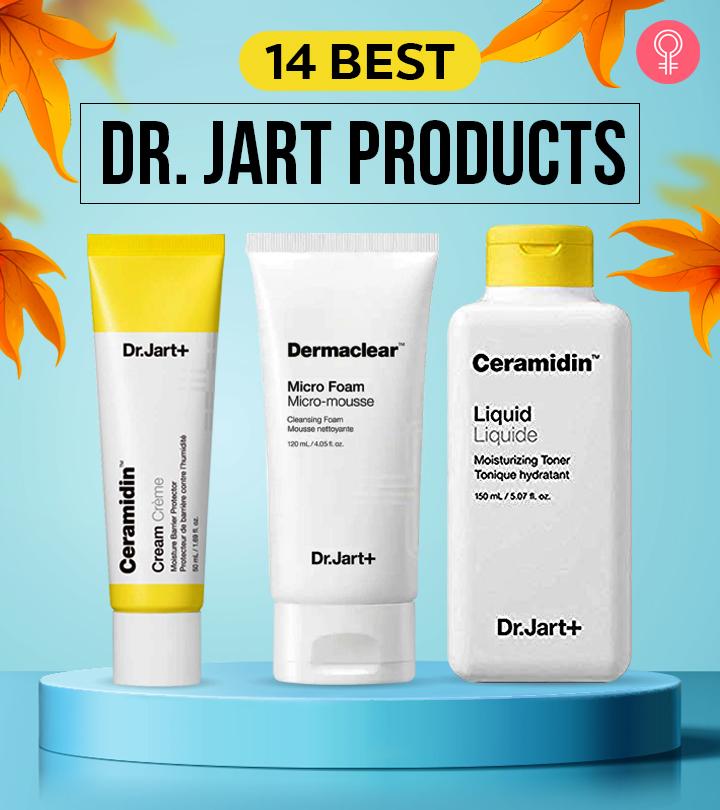 Korean skincare products are famous for their cute packaging and innovative branding. However, not all of those products could be ideal for people with severely dry/oily skin or some skin condition. This is where Dr. Jartcomes into the picture. It is one brand that caters to people even with sensitive and troublesome skin.
This brand works with a team of dermatologists throughout South Korea to provide you with the products that cater to various skin needs. Check out the list below to find the top 14 Dr.Jart products.
14 Best Dr. Jart Products To Include In Your Beauty Routine
Pros
Lightweight
Absorbs easily
Pleasant fragrance
Cons
Can make skin look tooshiny
Price at the time of publication: $28.49
Pros
Suitable for all skin types
Keeps skin moisturized
Even skin tone
Little goes a long way
Cons
Price at the time of publication: $69.94
Pros
Lightweight
Calms your skin
Long-lasting effects
Cons
Price at the time of publication: $29.59
The Deep Hydration Sheet Dermask is created with fine cellulose fiber that allows pores to absorb the mask's essential nutrients and moisturizing ingredients. This sheet mask contains patented ingredients derived from plant glucose and xylitol that will replenish the skin's moisture balance. It also offers long-lasting hydrating effects. The mask's botanical extracts like aloe vera and phytoncides provide an instant cooling effect to dull and irritated skin. They also reduce chronic dryness or flaking.
Key ingredients: Aloe Barbadensisleaf extract, GlycyrrhizaGlabra (Licorice) root extract, ZingiberOfficinale (Ginger) root extract, phytoncides, xylitol, and Citrus Grandis (Grapefruit) seed extract
Pros
Minimizes pores
Plumps up your skin
Economical
Long-lasting effect
Cons
Price at the time of publication: $13.99
The Dermaclear Micro Foam is a hypoallergenic foaming power cleanser that has a very creamy consistency. Its patented hydrogen bio water draws out impurities while deeply cleansing your pores and removing makeup residue. This cleanser also contains dead sea salt with 21 different minerals that offer a strong antibacterial and disinfectant effect to your skin. The coconut water gently softens and lightly moisturizes the skin.
Key ingredients: Hydrogen bio water and coconut water
Pros
Revitalizes your skin
Foams well
No residue
Little goes a long way
Cons
Price at the time of publication: $17.2
The Shake &Shot Rubber Luminous Mask is quite popular because of its DIY formula mix and trendy packaging. This cream-to-sheet formula penetrates your skin and delivers highly potent ingredients. It contains vitamin C (ascorbic acid) that gives your skin an even tone and texture. It also has sea buckthorn fruit extract that brightens your skin. Its grapefruit extract energizes dull skin and reduces dark spots.
Key ingredients: Vitamin C, sea buckthorn fruit extract, and grapefruit extract
Pros
Soothes irritated skin
Economical
Interactive packaging
Long-lasting effects
Pleasant fragrance
Cons
None
Price at the time of publication: $12.72
Pros
Soothes irritated skin
Lightweight
Fast-absorbing
Long-lasting results
Pleasant fragrance
Cons
Price at the time of publication: $33.99
The Every Sun Day Sun Fluid is a powerful yet weightless SPF liquid that protects your skin from sun damage and pollution. It also moisturizes and cools your skin down. This product contains vitamin E that improves your skin's moisture retention capability. It also hydrates skin and reduces the visible signs of aging. This sunscreen formula does not leave a white cast on your skin. It protects against the harmful UVA and UVB rays and other environmental aggressors.
Key ingredients: Vitamin E
Pros
Invisible formula
Lightweight
Non-sticky
Non-greasy
No white cast
Easy to clean
Suits all skin types
Cons
Not waterproof
May irritate the eyes
The Dermaclear Micro Water is a versatile product that is perfect to use when you are in a rush. This cleansing water can be used to remove excess dirt, oil, and makeup and other product residues that sit on top of your skin. This slightly acidic formula helps balance your skin's pH levels and maintains a youthful glow.
This product is dermatologically-tested. It contains the patented hydrogen bio water that draws out all the impurities from your skin. The dead sea salt disinfects the skin, and the coconut water keeps your skin moisturized and soft.
Key ingredients: Hydrogen bio water, dead seasalt, coconut water
Pros
Simple to use
Effective results
Lightweight
Suits dry, normal, or oily skin
Non-greasy
Cons
Not ideal for sensitive skin
Price at the time of publication: $27.0
The Hydration Lover Rubber Mask consists of a concentrated ampoule serum and a rubber mask. These seal the serum's goodness in the ampoule and keep the active ingredients of the serum from evaporating. These also ensure complete absorption of the nutrients into the skin.
This product contains lipophilic and hydrophilic actives that provide moisture and reduce dryness. The rubber mask is derived from algae that provides a cool and calm effect to your skin. It also contains a botanical protein called phyto keratin complex that improves the skin's water retention capabilities. Its green seaweed extract is rich in vitamin C and minerals and helps maintain skin hydration. If you need further convincing, check this YouTuber's review out.
Key ingredients: Phytokeratin complex, green seaweed extract, plant-based proteins, and algae
Pros
Reduces fine lines and pores
Ideal for dry skin
Simple to use
Fast-absorbing
Cons
Price at the time of publication: $19.87
The Dermaclear Micro Milk peel is an at-home skin peel treatment that gives you glowing skin with every use. This double-layered formula is filled with powerful exfoliating acids and nourishing ingredients that dissolve dead skin cells. They also promote a healthy and glowing complexion. This milk peel is powered by Dr. Jart's special hydrogen bio water that draws out all skin impurities. While the dead seasalt creates the much needed disinfecting effect, the coconut water intensely softens and lightly moisturizes your skin. The peel is recommended to be used once a week for impressive results.
Key ingredients: Hydrogen bio water, dead sea salt, and coconut water
Pros
Removes blackheads and whiteheads
Removes flaky and dead skin
Gentle functioning
Evens out the skin tone
Reduces fine lines and wrinkles
Cons
Pros
Fast-absorbing
Non-sticky
Good spreadability
Suits all skin types
Soothes skin
Cons
Price at the time of publication: $27.0
Pros
Suitable for oily and combination skin
Evens out skin tone
Lightweight
Non-greasy
Absorbs well
Cons
May feel sticky in certain weather conditions
Unpleasant fragrance
Price at the time of publication: $34.99
Pros
Fast-absorbing
Pleasant fragrance
Soothes irritated skin
Makes skin plump
Supports collagen synthesis
Ideal for all skin types
Cons
Every Dr. Jart skincare product is formulated to deliver a specific type of skincare solution. Therefore, you must select the products according to your skin type and needs. Before including them in your regime, go through the buying guide mentioned below.
Things To Consider Before Including Any Dr. Jart Skin Care Product In Your Routine
Your skin is precious, do not put it at risk by using products with harsh chemicals. You must choose Dr. Jart skin care products that are made with skin-friendly ingredients. The best ingredients to look for in skincare products are vitamins C and E, hyaluronic acid, niacinamide, caffeine, tea tree oil, green tea extract, aloe vera, and exfoliating acids (lactic, glycolic, and salicylic). Avoid using products that include harmful ingredients such as paraben, phthalate, mineral oil, gluten, artificial fragrances, sulfate, and other harsh chemicals.
While selecting skin care products, keep your skin type as a priority. For oily skin, choose oil-free products to avoid breakouts. You can select foaming cleansers, ultra-clarifying serums, lightweight or dry moisturizers, and exfoliating scrubs. For dry skin, always go for moisturizing-rich products such as creamy face washes, hydrating serums, and creams that include shea butter. If you have sensitive skin, then choose products made with natural ingredients such as chamomile, aloe, green tea polyphenols, and oats. For combination skin, go with balanced formulas that are not too dry or too oily.
Choose beauty products that fulfill the requirements of your skin. For aging signs, choose products that have anti-aging properties. If you have acne-prone skin, apply Dr. Jart products that contain cleansing ingredients. For dry skin, you should include hydrating serums in your skin care routine.
Go for dermatologist-tested Dr. Jart products as far as possible. If you have some skin care issues such as acne-prone skin, dark spots, and blemishes, it would be a great idea to consult your dermatologist before committing to any Dr. Jart product.
Why Trust StyleCraze?
Shiboli Chakraborti is a certified skin care coach who loves experimenting with different skin care products. She recommends the best Dr. Jart products for people dealing with sensitive skin problems. She has made a comprehensive list of well-researched and reviewed products to help her readers pick the best ones. These products recognize your skin issues and help you achieve a flawless skin care routine without experiencing any rashes or breakouts.
Frequently Asked Questions
Is Dr.Jart a Korean brand?
Yes. Dr. Jart is a South Korean brand that was established in 2004.
Are Dr.Jartproducts good for acne?
As a brand, Dr. Jarttargets different skin problems with its extensive product line. It also has specific products that help treat acne.
Are Dr. Jart masks good?
Dr. Jart offers a variety of masks that contain different formulas to achieve different results. They have been quite useful and effective.
Do I use Cicapair before or after moisturizer?
Use the Cicapair serum before moisturizing your face and after cleansing and toning.
Is Dr. Jart good for redness?
Yes, the Jart+ Cicapair Tiger Grass Re.Pair Serum calms redness and irritation and soothes the skin.
Can I use Dr. Jart products at night?
Yes, you can use Dr. Jart's serums and masks at night.
Are Dr. Jart products pregnancy-safe?
Yes, Dr. Jart products are clinically tested and safe for use during pregnancy.