12 Best Drugstore Anti-Aging Eye Creams That Actually Work
Fight premature aging, wrinkles, and dark circles around the eye with luxurious formulas.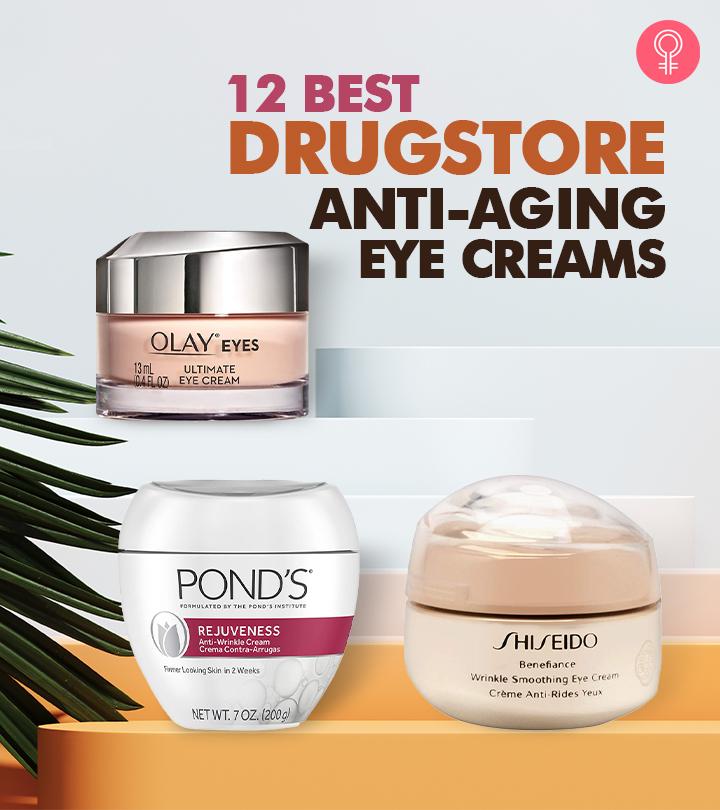 The skin around your eyes is fragile and requires consistent care to stay healthy. Because this skin is thin, it is prone to damage and aging easily. Using only the best anti-aging eye creams can protect your eyes from wrinkles, saggy skin, and fine lines. Your skin becomes more vulnerable to aging caused by unhealthy diet habits, busy lifestyle, pollution, and UV rays as you grow. These factors cause the skin around the eyes to age prematurely.
Anti-aging eye creams are made with exclusive formulas that protect the skin around your eyes from premature aging. These formulas are made with healthy ingredients filled with antioxidants, moisturizers, vitamins, minerals, and other nutrients that replenish your skin. But with such a large variety of brands available on the market, picking the right one can be a challenge. Fret not – as we have you covered. Keep reading to check out our coveted list of the best drugstore anti-aging eye creams, curated after careful analysis of formulations, reviews, and ratings, that will not only keep your skin healthy around the eyes but also soft and radiant.
12 Best Drugstore Anti-Aging Eye Cream
Pros
Fragrance-free
Suitable for all skin tones
Blends seamlessly
Instant results
Lightweight
Cons
Pure Research Caffeine Eye Cream has an advanced repairing and moisturizing formula that fades wrinkles and tightens the saggy skin around the eyes. Its natural and gentle formula rejuvenates the skin under the eyes while restoring moisture and reducing dark circles, puffiness, and wrinkles. The formula supplies nutrients to boost nourishment and hydrate the skin. It contains natural ingredients such as vitamin C, caffeine, and avocado oil.
Key Ingredients: Vitamin C, Caffeine, and Avocado oil
Pros
Non-sticky
Fragrance-free
Gentle formula
Lightweight
Suitable for all skin types
No paraben-based preservatives
Clinically-tested
Cons
Need to apply a large amount of the product
Pros
Instant effect
Suitable for all skin types
Gentle formula
Suitable for all skin types
A little bit goes a long way
Cons
Pros
Dermatologist-recommended ingredients
Visible results in 1 week
Non-greasy formula
Paraben-free
Fragrance-free
Long-lasting hydration
Paraben-free
Mineral oil-free
Allergy tested
Cons
None

Pros
Vegan
Fragrance-free
Unisex
Paraben-free
Phthalate-free
Petrolatum-free
Contains natural ingredients
Clinically proven to reduce fine lines and wrinkles
Suitable for sensitive skin
Cons
May not get absorbed completely
The Healthy Skin Eye Cream from Neutrogena features an ophthalmologist-tested formula to visibly reduce wrinkles and fine lines while tightening the delicate under-eye skin. It contains skin-friendly ingredients that enhance moisture levels and reveal smoother and firmer skin. The nourishing blend of vitamins tones the skin and leaves an illuminating effect on the skin.. Vitamin A lightens dark circles, reduces puffiness, and soothes the skin. It also contains retinol that penetrates deep into the skin to fade wrinkles and alpha hydroxy acid reduces the appearance of fine lines.
Key Ingredients: Pro-vitamin B5, Vitamin A, Vitamin E, AHA, and Retinol
Pros
Ophthalmologist-tested
Suitable for contact lens wearers
Hypoallergenic
Fragrance-free
Dermatologist-recommended brand
Cons
Revive Science Wake Up Eye Cream has a potent and dependable formula for wrinkles, fine lines, dark circles, and puffiness around the eyes. It rejects animal testing and contains a rejuvenating blend of ingredients like collagen, probiotics, niacinamide, and vitamin C to lift and repair the skin. Its clinically approved formula is suitable for sensitive skin and provides instant results. This under-eye treatment corrects color, brightens the skin, and de-puff eyes. It is also rich in green tea, pomegranate, and ceramides that fade the signs of aging and tighten and hydrate the skin.
Key Ingredients: Collagen, Probiotics, Niacinamide, Green tea, Pomegranate, Ceramides, and Vitamin C
Pros
Fragrance-free
Instant results
Non-clogging
Paraben-free
No animal testing
Suitable for all skin types
Cons
Not suitable for sensitive skin
Mizon's Snail Repair Eye Cream has an effective formula to brighten the delicate under-eye skin, increase elasticity, and reduce wrinkles and fine lines. Its skin-rejuvenating formula is infused with an 80% snail secretion filtrate that promotes skin regeneration. The peptides and adenosine fade wrinkles, while niacinamide helps lightens dark circles. This repairing and tightening eye cream is suitable for sensitive skin and delivers enough moisture to keep the skin hydrated. If you like to go through thorough reviews before a purchase, have a look at this YouTuber's video.
Key Ingredients: Snail secretion filtrate
Pros
Hypoallergenic
A little bit goes a long way
Non-greasy
Gets absorbed quickly
Suitable for men and women
Dermatologist tested
Paraben-free
Free of artificial color and fragrance
Cons
Some users experience a tingling sensation
Pros
Clinically proven
Artificial color-free
Paraben-free
Gluten-free
Fast-absorbing
BPA-free
All-natural ingredients
Vegan
Dermatologist-recommended ingredients
Cons
Pros
Visible results in 1 week
Long-lasting hydration
Mild pleasant scent
Non-irritating
Value for money
Dermatologically tested
Clinically tested
Cons
None

The Pond's Rejuveness Anti-Wrinkle Cream brightens the soft and delicate under-eye skin. Its strengthening formula features retinol and vitamin B3 to reduce wrinkles and improve skin elasticity. The age-defying retinol complex works by smoothing out the wrinkles and providing lifting and tightening benefits. Vitamin B3 restores the moisture barrier. This rejuvenating cream uses Blur Technology to diminish fine lines by hydrating the skin.
Key Ingredients: Retinol complex and Vitamin B3
Pros
Instant results
Affordable price
Visible results in 2 weeks
Cons
Pros
Suitable for daily use
Unisex
Instant skin smoothening
Hypoallergenic
Suits all skin types
Clinically proven results
Cons
Why Trust StyleCraze?
The author of this article, Shiboli Chakraborti, is a certified skin care coach. She recommends using anti-aging eye creams to prevent the skin around the eyes from premature aging. Keeping the affordability of products in mind, she extensively researched drugstore anti-aging creams, analyzed their ingredients to ensure that they are gentle on the skin, and considered user reviews for shortlisting the top products on the market. The listed eye creams are made with exclusive formulas that can nourish the thin skin under the eyes, repair the damage, and remove signs of aging.
Frequently Asked Questions
What is the right age to use under-eye cream?
Your mid-20s is the perfect time to start using an eye cream with anti-aging benefits.
Can you use too much eye cream?
Yes, too much eye cream can clog pores and lead to milia around the eyes.
Can drinking water reverse wrinkles?
No. Drinking water can help treat dehydrated skin and improve its elasticity, but it is not enough to reverse wrinkles.
How can I make my eyes look younger?
Apply anti-aging eye cream, regularly massage the skin around the eyes, limit screen exposure, and invest in good eye makeup products to keep your eyes looking younger.
Can you use eye serum and eye cream together?
Yes. Apply the serum first and wait for it to absorb before applying your eye cream.