11 Best Drugstore Black Lipsticks Of 2023 That Scream Confidence
Stand out from the crowd and mouth your individuality with the lips of an (gothic) angel!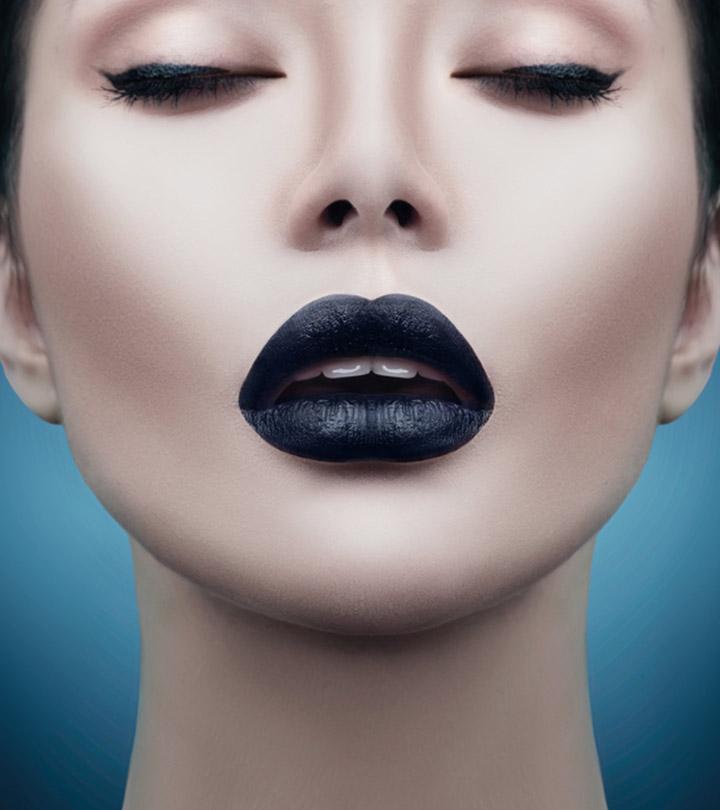 Ever thought of buying the best drugstore black lipstick? Well, we will help you choose the correct one right away. Black lipstick is as bold as it can get, and once you get accustomed to the goth style, there is no going back! It may be offbeat, but honestly, if you ever see someone pull off a black lip look, you are bound to be super impressed with the person. Many celebrities have popularized this look, and the best part is that there is no age restriction! From teenage to too adult to care, you can pull off this look whenever you want. Now for the part where you want to make sure your lipstick does not give you allergies! Since black lipstick is not something everyone carries in their pocket, it is rare to find it anywhere. The rareness makes it difficult for you to know if the available one is of the perfect quality or not. To keep all such problems away, we have a list of 11 lipsticks that will help you flaunt the gorgeous look without hurting your lips. No matter what kind you choose- matte, liquid, or gloss, we have one for every kind!
11 Best Drugstore Black Lipsticks Of 2023 To Make A Statement
It's time to look sensational and sensuous! This velvety and hydrating matte formula is formulated with honey nectar and delivers bold, intense, long lasting color in just one swipe. This hyperpigmented, long-lasting black lipstick offers your lips crisp, vibrant lip color and soft, supple lips. Enriched with a caring oil, it leaves your lips with an opaque creamy-matte finish that is warm, rich, and flattering. Besides the black shade, these bullet lipsticks are available in 30 different shades, so choose your look and take your pick for everyday wear. Check out the detailed review of the product in this video.
Pros
Hypoallergenic
Velvet texture
Hyperpigmented
Creamy matte finish
Dermatologist-tested
Cons
Contains fragrance
May not be vegan
Price at the time of publication: $7.49
Add zing to your lips with this plush and vibrant liquid lipstick. This rock-inspired, long lasting, hyperpigmented, opaque lipstick keeps your lips velvety soft without any flaking. It is infused with vitamin E and avocado oil so that it glides on smoothly and gives your lips a velvety matte finish that never looks or feels dry. Available in a plethora of shades, this waterproof, matte liquid lipstick does wonders for your lips in a single swipe. This cruelty-free black lipstick is just what you are looking for to make a statement.
Pros
Cruelty-free
Long lasting
Hyperpigmented
Velvety matte finish
Contains vitamin E
Cons
Price at the time of publication: $9.97
Good news— you can now wear matte lip color, with rich, vibrant color without the annoying drag. This lightweight, non-drying matte lipstick feels velvety because of its smooth application on your lips. Extremely moisturizing, this matte black lipstick is enriched with a luxurious blend of moringa oil, agave, and cupuacu butter to smooth and hydrate your lips in a jiffy. All it requires is one swipe of its creamy formula for full color on your lips. To top it, this non-toxic black lipstick comes encased in a matte black tube with sleek gold accents and a chic embossed bullet. There are 24 other bold, subtle, and luscious shades to choose from depending on your mood or occasion. Be careful, this lipstick might actually become addictive with all its goodness and comfort!
Pros
Lightweight
Rich color
Moisturizing
Enriched with botanical ingredients
Cons
Price at the time of publication: $17.95
Redefine the rules with this drugstore black liquid lipstick that will make you look breathtaking. This all-natural black lipstick gives you full coverage with a single swipe and its soft and silky texture and matte color is just awesome. Made with high quality mineral ingredients, this highly pigmented lipstick hydrates your lips and it stays on all day without drying your lips, giving you long hours of wear. Infused with vitamin E and with a sweet vanilla scent, this vegan and cruelty-free lipstick is available in a variety of shades. Its non-transferable bold colors dry fast with no sticky opaque finish and require minimal touchups. This no-smudge black lipstick is safe to use on all skin types, after all, who doesn't want to look irresistible!
Pros
Cruelty-free
Vegan
GMP-certified
Mineral-based ingredients
Long lasting
Waterproof
Smudge-proof
Transfer-resistant
Paraben-free
Safe for all skin types
Cons
Price at the time of publication: $12.99
Elevate your staple matte lipstick with this ultra-long lasting, velvet, drugstore black liquid lipstick. It stays on for hours after it dries, as long as you avoid extremely oily foods. The uniqueness of this product is that it is hyperpigmented and is designed such that a single, light, thin layer will suffice. However, it's a good idea to allow the formula to fully set for 1 to 2 minutes before eating, drinking, or pressing your lips together, for long-lasting staying power. Its velvety formula enhances the color and shape of your lips and prevents them from cracking or drying. These highly pigmented black lipsticks are infused with natural oils and vitamin E so that your lips are always supple and soft. It comes with a brush and 2 precision applicators so that your lipstick always looks sharp.
Pros
Vegan
Cruelty-free
Waterproof
Comes with a precise applicator
Long wearing
Lightweight
Contains antioxidants
Recyclable packaging
Cons
The color may be more blue-black than true black.
Price at the time of publication: $18
The Black Radiance Perfect Tone Lipstick in the shade Black Out is a great pick if you are looking for matte black lipstick. The lip shade provides a deep color that lasts from sunrise to sundown. Its buttery and creamy formula allows smooth application without any pulling and tugging on the tips. It is also rich in nourishing ingredients like murumuru seed butter and vitamin E that keep the lips soft and smooth. Along with the shade black-out, this lipstick is available in 13 other stunning shades.
Pros
Gluten-free
Long-lasting
Full-coverage
Hydrating
Cons
Price at the time of publication: $1.74
Are you ready to feel dangerous with the Rimmel black lipstick that takes your lips to the next level with its intense color? Rich in color, extremely comfortable on the lips, and extremely long lasting, it's made of pure pigments which give your lips an intense satin finish. Its lightweight and creamy texture makes this lipstick very comfortable to wear. This soft textured lipstick requires just one swipe for that bold look that lasts up to 10 hours. Do try it if you want to bring out your inner goth.
Pros
Rich color
Long lasting
Lightweight
Creamy texture
Cons
Some may find it too soft.
Price at the time of publication: $6.99
This drugstore black liquid lipstick provides long lasting, waterproof wear with no transfer or fading whatsoever. This highly pigmented lipstick will leave a velvety, matte finish that stays put for as long as you need. It glides on smoothly and dries matte, giving your lips the bold and dramatic look you aim for. This lipstick is so pigmented that it takes a steady hand to apply. MUA Tommy Tafoya has a quick tip to clean up messy lip lines. "I just put a bit of a primer on a Q-Tip and use a dragging motion to sharpen any lines that need tidying." Do remember to moisturize your lips beforehand because when the lipstick dries, it may dry out your lips. This pitch black matte lipstick is ideal if you don't want to try something out of the box.
Pros
Long lasting
Waterproof
Transfer-resistant
Highly pigmented
Cons
Contains parabens and fragrance
Price at the time of publication: $16
The Rimmel London Stay Matte Liquid Lip Color in the shade Pitch Black is a must-have for all black lipstick lovers. A single stroke of this lipstick gives an intense black color that stays on for hours. The lipstick provides a velvety matte finish and is comfortable to wear. For a smoother application, moisturize your lips before using the lipstick. Besides the shade Pitch Black, the lipstick also comes in 26 different colors.
Pros
Long-lasting
Mask-resistant
Waterproof
Touch-proof
Lightweight
Cons
May take some time to dry
Price at the time of publication: $4.29
Pucker up for that 'devil may care' look with this great black lipstick by Clinique. What makes it one of the best drugstore black lipsticks is that it has a transparent pigmentation and combines with the natural tone of your lips to create something that is unique to your identity. This buildable lipstick is extremely glossy, sheer, and lightweight, and makes your pout stand out without being overbearing A perfect lip color for special occasions, this emollient-rich lipstick goes with all skin tones and keeps your lips soft and supple and prevents them from drying out. Your lips are going to thank you for that luscious pout.
Pros
Lightweight
Transparent pigment
Emollient-rich
Glossy
Cons
Some may find the lipstick too sheer
Price at the time of publication: $17.07
The cremesheen formula of this Mac black lipstick makes it quite glossy and sheer. It has medium pigment and works very well if you outline your lips with a black lip liner. Its long lasting formula means you do not have to keep touching it up. This is a limited edition black colored lipstick with no shimmer. It goes on smoothly and, as it is rather transparent, it blends with the natural color of your lips. Its cremesheen finish ensures that your lips are always soft and supple and do not dry out. If you have it, flaunt it— so pucker up for those bold, dramatic lips.
Pros
Cremesheen formula
Budget-friendly
Glossy finish
Long lasting
Cons
May look more brownish-black on lips
Price at the time of publication: $24.95
The Bottom Line
Why Trust StyleCraze?
Srijita De enjoys reviewing and writing about makeup, having an undying passion for lipsticks. In this post, she has compiled a list of the best drugstore black lipsticks that can help you create a style statement. Chaitra has scoured many user reviews and makeup expert recommendations to shortlist lipsticks for this post. She then carefully analyzed and compared products to pick the most moisturizing, hyper-pigmented, long-lasting black lipsticks for this post.
Frequently Asked Questions
What skin tone does black lipstick look good on?
Black lipstick looks good on every skin tone.
Do you need lip liner with black lipstick?
Yes, without a lipliner, black lipstick usually flows outside the lines of your lips, giving you a smudged and sloppy appearance.
What color eyeshadow goes with black lipstick?
Nude and neutral color eyeshadow goes with black lipstick.
Is black lipstick appropriate for work?
Yes, black lipstick is appropriate for work. However, use the right formula of black lipstick and match it with complimentary light makeup or a beige pantsuit for a sophisticated appearance at the workplace.
Can you use eyeliner as black lipstick?
Yes, you can use eyeliner as black lipstick.


Recommended Articles