20 Best Drugstore Blushes For The Perfect Glow – Under $10
Adding a subtle tint to your makeup is the perfect way to look glowing and youthful.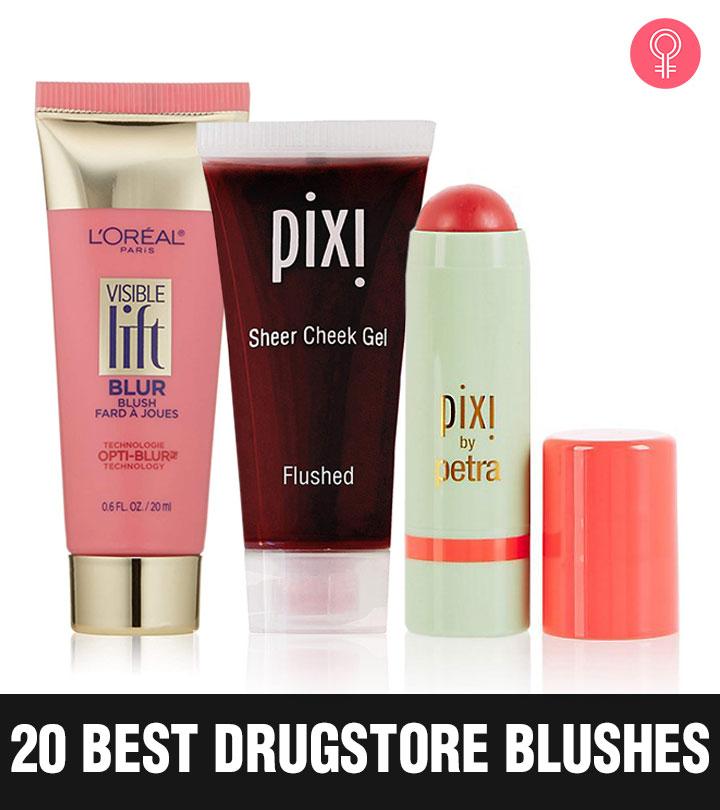 There is nothing quite like using the right blush that will give your face an instant and healthy glow. Blushes are a staple in everyone's makeup routine, and this trend has been there for centuries. If you don't want to spend on high-end brands, you will find the best affordable blushes in this post. Available in the market for under $10. Whether you want a subtle tint or want rosy cheeks, there is an option for everyone here. Ahead, we have rounded up some of the best drugstore blushes that will give you the perfect kind of glow. Keep scrolling to check out the drugstore blush recommendations!
20 Best Drugstore Blushes
Review
Amongst many good blushes that come within the price range, the Neutrogena Healthy Skin Blush is by far the best. It blends easily to create a natural flush and can also be built up for a more dramatic, statement-making look. The brand also vouches for its skin-benefiting formula that is safe for all skin types. The blush is enriched with vitamin C and botanical extracts that not just boost color but also your skin health.
Color: 10 Rosy | Product Dimensions: 0.68 x 2.02 x 2.01 inches | Weight: 1.12 Ounces
Pros
5 shades
Blends easily
Dermatologist tested
Lightweight
Non-greasy
Cons
None
Review
Who does drugstore makeup better than Wet n Wild? Their Color Icon Blush has a cult following for many reasons – it's easy to apply, the formula is incredibly pigmented, and you can get it in under three bucks! You can choose the perfect color for your skin tone from its range of five shades. If you are still unsure about purchasing, you can check out a review of this product in this YouTube video to learn about the reviewer's experience.
Color: Pearlescent Pink | Product Dimensions: 2.84 x 0.48 x 5.55 inches | Weight: 1.44 Ounces.
Pros
Long-wearing
Highly pigmented
Ideal for daily wear
Comes with a brush
Cons
None
Review
These baked blushes from Milani are a sheer joy to apply. Their silky-smooth formula will leave you with an ethereal, warm flush. You can build up color for a more intense and glam look for the evenings. If you like a little bit of shimmer and radiance along with that pop of color, on your luminous skin, you need to try out this statement-making blush. You can choose from its wide range of 11 shades. The shade Luminoso is an exact dupe of the NARS Orgasm blush. The product has also received numerous positive reviews on different e-commerce platforms. You can check out this YouTuber's review of the product if you require more convincing.
Color: LUMINOSO | Product Dimensions: 2.38 x 0.93 x 2.38 inches | Weight: 0.16 Ounces
Pros
Blends beautifully
Buildable color
Long-wearing
Suitable for sensitive skin
Cons
None


Pro Tip
Go for cheek stain, creamy formula blush, and powder blush if you have oily, normal, or dry skin, respectively.