10 Best Drugstore Eyebrow Gels To Get The Perfect Arches – 2023
Try these eyebrow gels to achieve that perfect, naturally-looking, sculpted brows.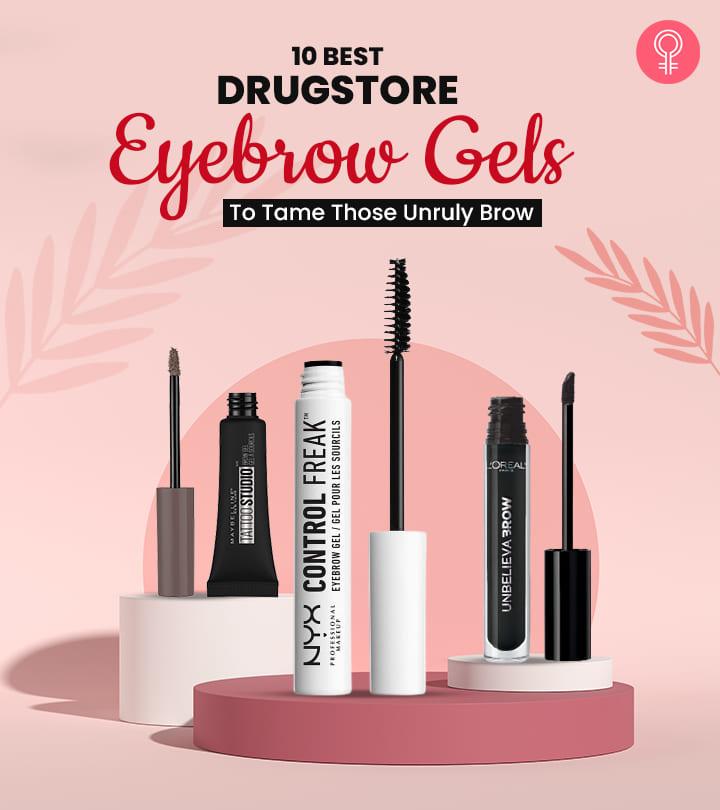 An eyebrow gel enhances your natural brows by adding volume and definition. But fret not – with the best drugstore brow gel, you do not have to burn a hole through your pocket to get the perfect brows. There is no need for expensive high-end products or fake eyebrow extensions to get the perfect arches. Now, your local drugstores can help you get Insta-ready looks in just a few minutes.
Get smudge-free, non-flaky, and sculpted brows with the best drugstore brow gels available on the market. Go ahead and check out our list now.
10 Best Drugstore Eyebrow Gels That You Can Try
The Control Freak Eyebrow Gel from NYX is an ideal product to fill and fix your eyebrows and seal the deal. The tested formula works great with powders and pencils. This unique non-sticky defining formula is comfortable to wear all day. You can also repurpose it as a clear mascara that defines, separates, and enhances the natural curl of your lashes. NYX makeup is certified and acknowledged by PETA as a cruelty-free brand. Check out this video to know more about this product.
Pros
 Non-sticky
 Multipurpose product
 Vegan
 Cruelty-free
 Comfortable
 Long-lasting
 Easy to remove
Cons
 May become flaky after a few hours
Price at the time of publication: $1134.0
This waterproof eyebrow gel from L'Oreal Paris has a no-sweat and no-transfer formula. This long-lasting gel thickens and sculpts your brows to look naturally intense and dream-like. It is formulated with long-wear polymers that create a waterproof film to seal in pigments on brow hair. The spherical silica gives natural-looking color and is sweat-resistant.
Pros
 Waterproof
 Long-lasting
 Smudge-proof
Sweat-resistant
 Transfer-resistant
Cons
Price at the time of publication: $9
Maybelline New York's Tattoo Studio Eyebrow Gel creates intense fuller-looking eyebrows that last very long due to its smudge-proof and waterproof formula. All you have to do is define your brows with the spoolie brush and then use the sculpting tip for fuller-looking brows. The micro eyebrow pencil fills in your eyebrow very precisely with its waterproof quality. It gives your arch definition, and you can create any look with it.
Pros
 Smudge-proof
 Waterproof
 Long-lasting
 Easy to use
 Transfer-free
 Easy to remove
Cons
Price at the time of publication: $9.56
This volumizing brow gel from Covergirl has a long-lasting, water-resistant formula. It is fade-proof and non-transferable and keeps your brows in place all day long. From taming the arches to filling your brows, this gel can do wonders to your look. The formula is infused with argan oil and biotin that nourish your brows while styling them to perfection. It comes with a small applicator for ultimate precision, making you look fabulous.
Pros
 Waterproof
 Volumizes the brows
 Easy to apply
 Cruelty-free
 Long-lasting
Cons
Price at the time of publication: $4.79
With Revlon Brow Fantasy By Color Stay, you can enhance your eyebrows in just two easy steps. The pencil fills in the eyebrows, while the tinted gel sets and shapes them for a natural finish. The ophthalmologist-tested formula is safe for sensitive eyes and contact lens-wearers. This pigmented formula is available in four natural-looking shades.
Pros
 Highly pigmented
 Ophthalmologist-tested
 Easy to apply
 Long-wearing
 Smudge-free
Cons
 Pencil tip chips on sharpening
Price at the time of publication: $41.83
Ardell Brow Sculpting Gel works wonders to keep your brows in place for a polished look. After applying your favorite brow pencil, coat them with this clear formula for a flexible hold without stiffness. The fast-drying formula is infused with castor oil to give natural conditioning to the tiny brow hair. Also, the precision makeup brush allows controlled application and deposits just the ideal amount of product. It is a luxurious non-flaky formula that does not leave any residue.
Pros
 Water-resistant
 Long-lasting
 Easy to apply
 Naturally enhances brows
 Dries fast
 Smudge-free
 Lightweight formula
 Non-sticky
 Non-flaky
 Vegan
 Cruelty-free
 Paraben-free
Phthalate-free
Cons
Price at the time of publication: $5.65
This lightweight, long-lasting Anastasia Beverly Hills Clear Brow Gel is perfect to keep your brows set all day without smudging and feeling stiff. It is a clear and colorless gel that tames and sets even unruly brow hair and gives a neat and polished look. With its precision makeup brush, it deposits the right amount of product and is easy to apply. This formula dries quickly without leaving any residue and lasts all day without needing any touch-ups. You can create any look from natural, fluffy brows to a more defined, sculpted look with this brow gel.
Pros
Long-lasting
Easy to use
Paraben-free
Sulfate-free
Phthalate-free
Gives a natural look
Cons
Price at the time of publication: $22.0
Wet n Wild BrowSessive Brow Shaping Gel is a lightweight formula to let you achieve natural-looking arches while fluffing and grooming them for a defined look. It delivers soft and non-flaky strokes with a comfortable hold. You can apply a coat of this gel over your penciled brows to hold your unruly tiny flecks of hair in place. The perfectly sized mini brush delivers just the perfect amount of buildable product. Mix and match with multiple shades to create the perfect shade matching your brows.
Pros
 Long-lasting
 Does not flake
Lightweight
 Cruelty-free
 Easy to apply
 Buildable
 Non-flaky
Cons
Price at the time of publication: $3.18
The e.l.f Wow Brow gel is a wax-gel hybrid formula that adheres to your brows for a fuller look. The fiber-infused brow gel delivers hair-like fibers to give a buildable effect to your thin, sparsely filled arches. Use it as a wear-alone formula or apply it over your pencil-coated brows to create your desired look. It defines your brows while providing all-day conditioning and holding. The product is 100% cruelty-free and vegan.
Pros
 Volumizes the brows
 Buildable formula
 Vegan
 Cruelty-free
 Paraben-free
 Phthalate-free
 Triclosan-free
 Triclocarban-free
 Nonylphenol-free
 Ethoxylates-free
 Hydroquinone-free
Sulfate-free
Cons
Price at the time of publication: $5
The Milani The Clear Brow enhances your brow style in a few seconds. The colorless formula with a flexible hold offers natural-looking brows. The precision applicator deposits the product firmly without flaking and clumping. This pigment-rich gel is designed with fine fibers that cling to your brows and define their shape. So, this cruelty-free product is ideal whether you want a sculpted or feathery brow.
Pros
Colorless
Easy to apply
Flexible hold
Non-sticky
Clump-free
Leaves no residue
Long-lasting
Cruelty-free
Cons
None
Price at the time of publication: $8.46
Finding the right eyebrow gel can be a much easier job if you know what to look for. Here are a few of the pointers that can help you out.
Things To Consider When Buying A Drugstore Eyebrow Gel
Here are a few tips to consider before you shop for the best drugstore brow gel:
Waxy formulas are a good long-wearing option, and creamy formulas are easy to apply. Some brow gels are infused with fibers that help add volume for a more well-defined look.
Most of these gel tubes are equipped with a spoolie brush that aids in application. Makeup gurus prefer smaller brushes for ease of application and precision.
If you have darker eyebrows, go for a shade lighter than your hair color. This will allow you to attain a natural look.
Why Trust Stylecraze
The author behind this article, Shalini Roy, is a makeup enthusiast who loves staying on top of chic makeup trends. When it comes to eye makeup, she knows that eyebrows are a key factor. She suggests using the above-listed eyebrow gels to get thick, lush, shapely brows. She spent hours researching each of these products along with their benefits and reviews across many forums. These gels were chosen based on their texture, benefits, and more.
Frequently Asked Questions
Should I use clear or tinted brow gel?
A darker brow appears bigger and thicker than a lighter one. So, use a tinted brow gel to instantly add definition and character to a pale set of brows.
Are brow gels worth it?
Yes, brow gel is a great finishing product if you already have dark, well-defined brows. It will keep your brows in place all day without changing the color or shape of your brows.
Can you use Vaseline as eyebrow gel?
Yes, you can use vaseline as an eyebrow gel to make them appear thicker and fuller.
Does brow gel damage brows?
No, but using brow gel daily can be damaging, as it constricts your brows, making them fragile and more likely to break. So, reduce your use of brow gels to prevent brow hair from falling out.
Do you apply brow gel before or after the pencil?
Apply brow gel after filling your brows with a pencil.
Recommended Articles