14 Best Drugstore Cleansing Oils Of 2023 – Reviews & Buying Guide
Eliminate excess oil and retain moisture with these affordable skincare products.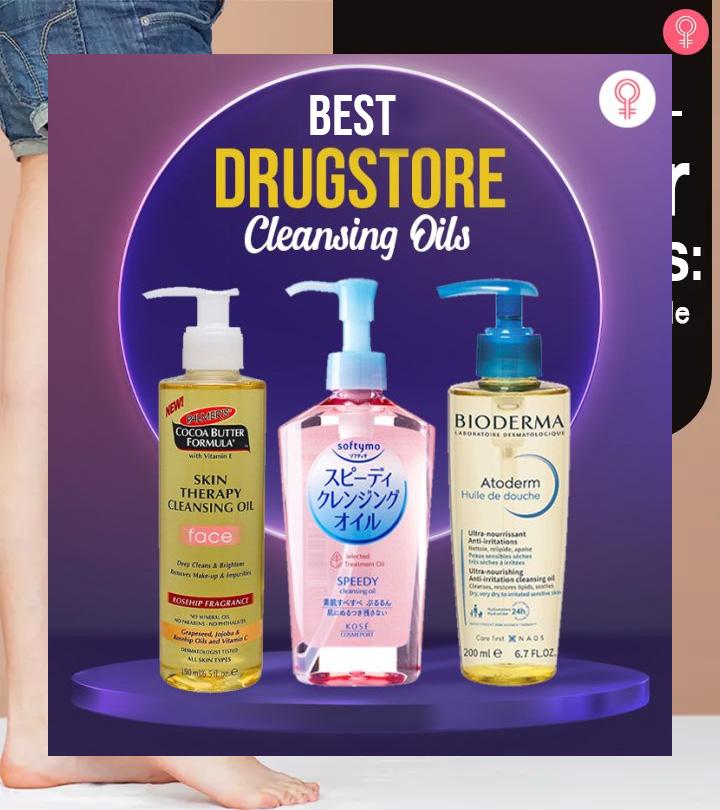 Have you noticed that, after washing your makeup off, you find remnants of it on your towel while wiping your face? That is because a good old cleanser is not enough to get all the gunk out of your skin. This is where the best drugstore oil cleanser comes into play. Affordable and amazing, these cleansers are far more gentle on your skin, prevent your skin from drying up, and may even give you improved skin texture. While the word oil was frowned upon initially due to its greasy nature, now everyone can't get enough of them. The right oil cleaner will thoroughly clean your skin and give it a fresh and hydrated appearance. To ensure that all your makeup is gone and your skin is smooth, remove the makeup using the oil cleanser and follow it up with an old-school cleanser to strip off the remaining grime. We have come up with our list of the top makeup remover oil cleansers for you to choose from!
14 Best Drugstore Cleansing Oils Of 2023
The Palmer's Cocoa Butter Formula is your daily skin therapy session. This dermatologist-recommended skin balm is infused with nourishing emollients, such as cocoa seed butter, cocoa extract, and sunflower seed oil. The fast-absorbing formula provides deep moisturizing that provides hydration for up to 48 hours. It is loaded with antioxidants such as Vitamin E that help reduce scars, blemishes, and stretch marks. The butter is made with high-quality natural ingredients that replenish the skin. This drugstore cleansing balm is ideal for all skin types and can be used for eczema-prone skin as well.
Key Ingredients: Cocoa butter, coconut oil, olive oil, shea butter, vitamin E
Pros
Ideal for sensitive skin
Paraben-free
Phthalate-free
Dermatologist-tested
48-hour moisture
Vegan
Cons
The Cococare 100% Cocoa Butter Stick is made with pure cocoa butter for ultimate hydration. It is rich in vitamins and has natural antioxidants that help prevent signs of aging and reduce the appearance of wrinkles, making the skin firmer. The emollients build a protective wall on the skin to lock in moisture to get that soft supple dreamy skin. You can use this stick for the post-pregnancy belly, fading stretch marks, treating razor burns, moisturizing a fresh tattoo, or just moisturizing skin. This affordable cleansing balm has a sweet warm fragrance and is made with the purest cocoa butter for effective results. It is no less than the expensive cleansing balms available in the market.
Pros
Suitable for the whole body
All-natural ingredients
Travel-friendly packaging
Suitable for sensitive skin
Pleasant scent
Easy to use
Cons
None
The Deep Cleansing Oil by DHC is a godsend for anyone who wants perfectly clean, naturally silky, and extremely soft skin. Whether it is dirt, grime, or makeup that sticks on your face, the botanical extracts in this cleansing oil removes it all without clogging your pores or leaving an oily residue.
The botanical formula of this ultra-nourishing cleansing oil contains 100% organic olive oil that restores the skin's natural moisture barrier and protects it against environmental aggressors. The tocopherol (vitamin E) in the oil naturally conditions the skin, prevents signs of aging, and protects your skin against free radical damage. The antioxidant-rich rosemary leaf oil in the formula tones and calms the skin while imparting a revitalizing scent to the cleansing oil. Go through this video that details a tester's experience with this fragrance-free cleansing product.
Key Ingredients: Organic olive oil, rosemary leaf oil, and tocopherol (Vitamin E)
Suitable For: All skin types
Pros
 Lightweight
 Safe for sensitive skin
 Vegan
 Cruelty-free
 Fragrance-free
 Colorant-free
 Mineral oil-free
Cons
None
This Korean skin care product removes the most stubborn dirt, waterproof mascara, and makeup stuck inside the pores.  It contains sesame oil, olive oil, jojoba oil, safflower oil, and shea butter for a powerful blend that enhances your skin's moisture levels. Its pore-cleansing properties and potent ingredients speed up the makeup removal process while keeping your skin hydrated. The gentle formula helps minimize dryness and brightens the skin tone.
Key Ingredients: Olive oil, Jojoba oil, Sesame oil, Safflower oil, and Shea butter
Suitable For: Dry Skin
Pros
 Lightweight
 Unscented
 Non-comedogenic
 Value for money
Cons
None
The Burt's Bees Cleansing Oil is your answer to beautiful, healthy-looking, and clean skin that feels soft and nourished. It is clinically-proven and infused with vitamin E-enriched coconut oil that protects the skin from damage. It also contains argan oil that is packed with essential vitamins and minerals that moisturize the skin.
Key Ingredients: Coconut oil and Argan oil
Suitable For: Normal to dry skin
Pros
 100% natural
 Dermatologist-tested
 Ophthalmologist tested
Vitamin-infused cleansing oil
 Cruelty-free
 Petrolatum-free
 Paraben-free
 Phthalate-free
 SLS-free
Cons
None
A Japanese skin care staple, the Hada Labo Gokujyun Oil Cleansing effectively cleanses your skin and removes stubborn waterproof makeup without leaving a greasy residue. This water-soluble cleansing oil is formulated with pure olive oil that gently cleanses the skin and two types of hyaluronic acid that moisturize the skin. It leaves your skin supple and soft without irritating it, making it a great drugstore cleansing oil for sensitive skin. Moreover, this product is suitable for both oily and dry skin types.
Key Ingredients: Olive oil and Hyaluronic acid
Suitable For: All skin types
Pros
 Non-greasy
 Fragrance-free
 Color-free
 Mineral oil-free
 Alcohol-free
 Safe for sensitive skin
Cons
None

The Neutrogena Ultra Light Cleansing Oil features a lightweight texture and gentle formula that helps melt away waterproof makeup and dirt without leaving any greasy residue. This clinically-tested emulsifying cleansing oil is infused with a combination of fine oils that effortlessly attract oil, grime, bacteria, and impurities from your skin to make it spotlessly clean and visibly softer.
Suitable For: All skin types
Pros
 Easy to use
 Pleasant fragrance
Non-comedogenic cleansing oil
 Lightweight
 Dermatologist-tested
Cons
None

This deeply soothing and irritant-free cleansing oil by Avène is suitable for atopic eczema-prone skin and proven to deliver visible results. It is enriched with anti-irritating ingredients like the proprietary I-modulia Complex that boosts skin defenses and calms itching and Cer-omega that nourishes the skin while strengthening the barrier function. This facial cleanser also contains Avène thermal spring water that offers a calming effect and helps soothe, soften, and plump the skin, making it the best drugstore cleansing oil for dry skin.
Key Ingredients: Avène thermal spring water, I-modulia complex, and Cer-omega
Suitable For: Very dry skin
Pros
 Gentle
 Suitable for infants and children
 Soap-free
 Hypoallergenic
 Non-irritating
 Fragrance-free
Supported by peer-reviewed studies
Cons
The Caudalíe Vinoclean Makeup Removing Cleansing Oil has a 100% vegan formula that helps get rid of makeup, dirt, and grime while moisturizing your skin. It is enriched with sweet almond oil to soften and smoothen your skin and boost the radiance of dull, tired, and stressed skin. The antioxidant-rich grape seed oil nourishes and repairs the skin. It also contains castor oil for boosting lash growth and sunflower oil for melting makeup and soothing irritated skin. This drugstore cleansing oil also contains linoleic acid that effectively locks in hydration after cleansing.
Key Ingredients: Sweet almond oil, Grapeseed oil, Sunflower oil, and Castor oil
Suitable For: All skin types
Pros
 Gentle
 Pleasant fragrance
 Mineral oil-free
 SLS-free
 Phthalate-free
 Phenoxyethanol-free
 Paraben-free
 Not tested on animals
 Vegan
Cons
None
The Mario Badescu Cleansing Oil is a lightweight formula designed to gently dissolve and remove impurities and pollutants, makeup, and dirt from the skin without stripping its natural moisture. The key ingredients in this cleansing oil include a blend of rice bran oil, evening primrose oil, jojoba oil, and lavender essential oil, which work together to hydrate and soften the skin while protecting it against free radical damage and soothing irritated skin. It is suitable for all skin types, including sensitive skin.
Key Ingredients: Rice bran oil, Evening primrose oil, Jojoba oil, and Lavender essential oil
Suitable For: All skin types
Pros
Lightweight
Safe for sensitive skin
Non-greasy
Provides a dewy finish
Not tested on animals
Paraben-free
Dye-free
Sulfate-free
Cons
None
The Etude House Real Art Moisture Cleansing Oil is a mix of various oils that efficiently cleanses tough waterproof makeup and removes dead skin cells. The gel serum formula is enriched with meadowfoam seed oil, shea butter extracts, and rice bran oil that provides intense hydration and skin barrier therapy to minimize dryness. This affordable cleansing oil has a water-friendly formula that instantly leaves the skin squeaky clean and pores unclogged.
Key Ingredients: Meadow foam seed oil, Shea butter extracts, and Rice bran oil
Suitable For: Skin that is damaged by heavy makeup
Pros
 Mild fragrance
 Gentle
 Non-greasy
 Paraben-free
 Alcohol-free
Cons
None
This cleansing oil from The Face Shop is enriched with the benefits of rice water, which contains vitamins A, B, and E, ceramide, and minerals to nourish dry patches on the skin. It leaves you with a brighter skin. This is a great pick for anyone looking for a mild cleansing product that removes excess oil and makeup residue without causing irritation and takes you one step closer to achieving a glass-like skin. This antioxidant-rich Korean cleansing oil melts away any dirt and impurities on the surface of the skin. The moringa oil in the formula moisturizes the epidermis (skin surface), while soapwort deeply cleanses and clears your skin.
Key Ingredients: Rice water, Soapwort, and Moringa oil
Suitable For: Oily to Combination skin
Pros
 Gentle
 Safe for daily use
 Mineral oil-free
 Sulfate-free
 SLS-free
 SLES-free
Cons
 Not suitable for sensitive skin
The Cocokind Organic Facial Cleansing Oil is one of the most gentle cleansers with no harsh chemicals. It is made with all organic ingredients. It removes dirt, build-up, and impurities without overdrying the skin. It is loaded with fatty acids and antioxidants that hydrate the skin and do not strip natural oils or alter the pH levels of the skin. The formula is infused with organic avocado oil, USDA-certified organic coconut oil, tea tree oil, and lavender oil. It is gentle on all skin types and effectively cleans the skin without stripping it of moisture.
Key Ingredients: Avocado oil, coconut oil, and lavender oil
Suitable for: All skin types
Pros
Toxin-free
Artificial color-free
Artificial fragrance-free
Paraben-free
Phthalate-free
Mineral oil-free
Sulfate-free
Environmental friendly
Cons
The Aura Cacia Gentle Cleansing Oil has a 100% botanical formula that is designed to nourish your skin while ensuring optimal cleaning performance. This gentle drugstore cleansing oil helps break down buildup, dirt, and makeup without stripping your skin of its natural oils. It is infused with the rich aroma of orange and lemon essential oils that gives you a refreshed feel.
Key Ingredients: Orange essential oil and Lemon essential oil
Suitable For: All skin types
Pros
Non-drying formula
 Affordable
 Gentle
 Safe for sensitive skin
 Not tested on animals
 Synthetic-free
 Paraben-free
 Petroleum-free
 Fragrance-free
Cons
None
*The prices provided in this article are based on the latest available information. However, they may vary due to changes in pricing by the seller and/or promotional offers.
A cleansing oil is typically used as the first step in your skin care routine. It works in the same way as a regular cleanser and provides an optimal cleaning performance. Most cleansing oils have the same basic application. However, consult the directions on the product before using. Given below are the common steps for using a cleansing oil.
How To Use A Cleansing Oil
Dampen a microfiber cloth with a few drops of cleansing oil.
Massage the cloth on your skin in circular motions.
Rinse your face with lukewarm water.
Now that you know the best options for cleansing oils available out there and how to use it, let us get into the things you need to keep in mind while buying the best drugstore cleansing oil.
How To Choose The Best Drugstore Cleansing Oil
Ingredients: As basic as it may sound, the ingredients of a cleansing oil determine its texture and feel on your skin. Avoid using cleansing oils that use a blend of essential oils as their base because they may irritate your skin. Instead, choose avocado, coconut, or sunflower oil that impart antioxidant and anti-inflammatory benefits to your skin while nourishing it. Additionally, these oils have a lightweight formula that doesn't clog your pores. You may also look for essential fatty acids that boost cell turnover, such as omega-3, omega-6, or linoleic acid.
Skin Type: Choose a cleansing oil based on your skin type and its requirements, as determined by testing and reviews. People with oily or acne-prone skin can go for rosehip oil or organic tea tree oil that cleanse and purify the skin. People with dry skin may go for ultra-nourishing ingredients like coconut or avocado oil. The soothing effects of rosemary, evening primrose, and camellia oils can be calming for sensitive skin.
Product Label: When it comes to skin care products, checking the product label is important. Perfumed products may end up altering the texture of your skin and cause irritation, so look for a fragrance-free option. Apart from this, look for words like 'non-comedogenic' (does not cause comedones like blackheads, whiteheads, or breakouts) or 'hypoallergenic' (product is formulated without allergens).
Why Trust StyleCraze?
Shiboli Chakraborti is a certified skin care coach, and she finds oil cleansers as the best remedy to remove stubborn makeup and any other residue left on your skin. She has prepared a list of the best drugstore oil cleansers after going through multiple reviews, user feedback, and product-related information on trusted online platforms and brand websites.
Frequently Asked Questions
Is cleansing oil good for combination skin?
Yes, cleansing oils suit combination skin as well, given that they contain emulsifiers to effectively draw out impurities.
Is cleansing oil good for oily skin?
The emulsification of a cleansing oil with water makes it easy to draw out oil-soluble dirt and impurities without stripping the skin of its natural moisture. This, in turn, speeds up the treatment of oily skin concerns while preventing comedones and acne.
Is oil cleansing good for sensitive skin?
Oil cleansing is a gentle way to get rid of makeup, dirt, and residue while also being soothing and healing for sensitive skin.
Should I use a cleansing balm or oil?
Both cleansing balm and oil can be used interchangeably. However, if you have oily skin, you may lean more towards the balm as it is comparatively lighter in texture than a cleansing oil.
How often should you use cleansing oils?
Cleansing oils can be used daily as the first step of your skin care routine. It is recommended to be used at nighttime for completely removing the grime that gets accumulated on your face throughout the day along with makeup residue.
How do cleansing oils work?
Cleansing oils are designed on the principle of "like dissolves like." Most oil-based makeup or skin care like SPF doesn't dissolve with a water-based cleanser, so an oil-based cleanser can prove more effective in such cases.
Is cleansing oil better than cleanser?
Cleansing oils are more hydrating than regular cleansers. This is because cleansing oils are devoid of surfactants that can be harsh to your skin.
What is the best oil to use as a cleanser?
Most DIY skin care recipes contain olive oil and castor oil as natural cleansers. Sunflower oil, coconut oil, argan oil, and grapeseed oil also work wonders.
How long does it take oil cleansing to work?
You may witness visible results after two to three weeks of oil cleansing. While many wait for a month or two to receive the results.
Do I have to wash my face after using cleansing oil?
Yes, cleansing oils can be greasy and clog pores. It is recommended to follow a double cleansing method wherein, you remove dirt, impurities, and makeup remnants once with the oil and then opt for a regular cleanser to remove the oil and excess sebum.
Recommended Articles