11 Best Drugstore Color Correctors That Work Great – 2023
Fulfill you dream of having an even-toned skin without burning a hole in your pocket.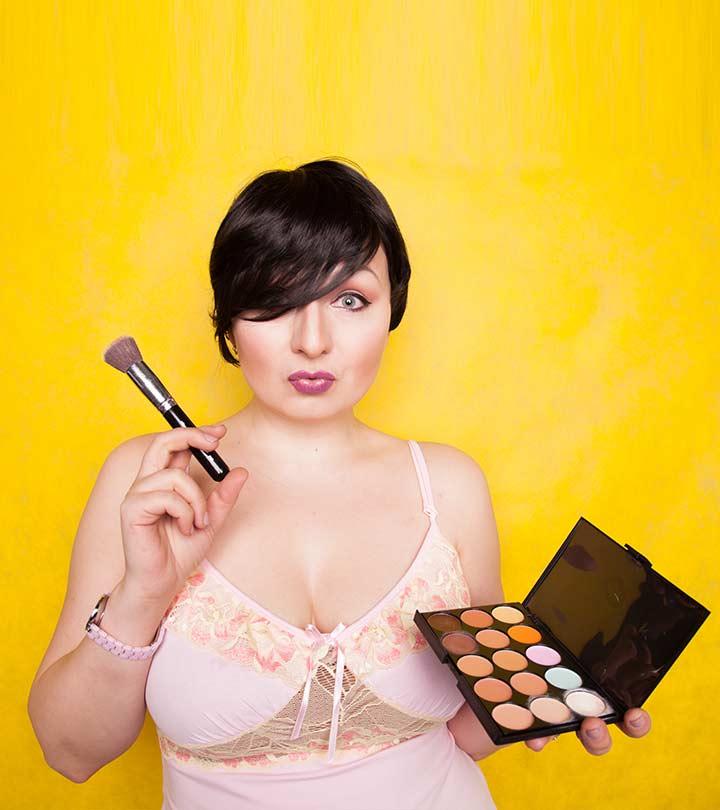 If you are constantly plagued with skin issues like dark circles, acne spots, redness, pimples, or dullness, we have great news for you! Purchasing the best drugstore color corrector and adding it to your makeup collection can help you deal with these problems effortlessly. Even though a good skin care regimen can help reduce and prevent these skin issues with time, color correctors are available as a quick fix. They are a fantastic solution for creating the illusion of flawless skin while correcting and reducing the appearance of discoloration or hyperpigmentation. When looking for an effective drugstore color corrector, it's crucial to find colors that work for your complexion because the main concept is to cancel out unwanted colors. For instance, if you try to hide the redness, you will have to use a green color corrector. Whereas to cover pigmentation, you will need an orange corrector.
Whether you are looking for a color that brightens your complexion, hides dark circles, or neutralizes redness, our list of the 11 best drugstore color correctors has something for everyone. Keep reading to know more about the best and highly rated color correcting products in the market right now. If this is not all, you can also refer to our buying guide to understand the essential features that will help you get drugstore color correctors that suit your needs best.
11 Best Drugstore Color Correctors That Result In The Perfect Makeup Base
This is one of the best drugstore color-correcting palettes available right now, and with good reason! You can choose from 6 unique color-correcting shades at an affordable price, making this palette a great bargain. The beauty of this palette is that you can mix and match the different shades to the point that suits your complexion the best and cancels your skin issues like dark circles, hyperpigmentation, and redness. The lightweight formula provides an easy application that glides across your skin and effortlessly covers any blemishes or acne scars. They can be used on complexions that have cool and warm undertones without looking patchy or uneven. You can use the pink or purple shades to cancel out dark circles and layer your foundation over them for a brighter look. Check out this YouTuber's review of the product if you require more details.
Pros
Creamy formula
Lightweight
Versatile
Palette comes in 6 shades
Cruelty-free
Cancels out dark circles and redness
Cons
May trigger an allergic reaction for people with sensitive skin
Don't gloss over this multi-tasking CC Cream by Physicians Formula when looking for an under-eye color corrector drugstore. The hydrating formula contains micro color-correcting pigments and anti-aging ingredients that help moisturize your skin throughout the day. The gentle formula reduces redness and has SPF, which will protect you from the sun's damaging rays. You can gently wipe the product on the affected areas with your fingers or a brush and blend it until you get the desired result. The formula is perfect for sensitive skin as the CC cream is hypoallergenic and won't trigger any nasty reactions. In addition, the cream has a dewy finish, which enhances your skin's natural glow as the day goes on. We recommend mixing this CC cream with your favorite concealer to get a smooth and even application. You can also check this YouTube video for a complete idea about the product.
Pros
Hypoallergenic
Contains color-correcting pigments and SPF
Cruelty-free
Easy application
Suitable for normal to dry skin
Dewy finish
Cons
May not be suitable for combination and oily skin types
If you are looking for the best drugstore color corrector for dark circles, you must add this one to the cart. The cult-favorite color corrector by Maybelline ensures that your dark circles are sufficiently covered. It is best suited for light to medium skin tones, and the apricot shade will ensure that the dark pigmentation is canceled out. The unique selling point of this product is that it comes in a pen form, which provides an easy application experience. The convenient pen design also makes it super easy to blend and precise, making it ideal for under eyes. If you don't want the apricot shade, the creamy formula is available in 6 shades like pink, yellow, green, and red. Additionally, you can use your fingers to blend the product and make it look natural. If you want to know more about the results, take a look at this review on YouTube.
Pros
Easy to apply
Smooth blending experience
Available in 6 shades
Convenient pen design
Suitable for dark circles
Full coverage
Includes a built-in applicator
Cons
Some may find the formula tacky
Suppose you are looking to minimize your makeup collection and want to purchase multi-tasking products. In that case, we have just the color corrector for you. The Glossiva Color Corrector also works as a primer and a skin brightener; so, you will get the benefits of 3 products all rolled in one bottle. The formula is enriched with 15 types of vitamins, antioxidants, and minerals, which not only cancels out hyperpigmentation but nourishes your skin as well. The gentle formula offers effective color correction in the form of 3 potent shades, lavender, green, and peach; the green shade ensures that redness is canceled out, the lavender shade reduces the appearance of puffiness and inflammation, and the peach shade lessens the appearance of dark circles and blemishes. The primer portion of this formula provides a smooth and moist base for your concealer and foundation. It is also suitable for sensitive skin.
Pros
Hypoallergenic
Suitable for all skin tones
Contains vitamins, minerals, and antioxidants
Offers sun protection
Smooth and even application
Blends easily
Cons
Some may find the fragrance overwhelming
Set your makeup with this versatile and lightweight face powder. The talc-free setting powder is specially formulated to cancel and hide dark circles, blemishes, and acne scars for any complexion. You wouldn't want to spend all your time perfecting your makeup just to have it melt away, right? This setting powder ensures that your makeup stays in place and that it doesn't crease or smudge all through the day. The banana setting powder is popular because it banishes dark circles and hyperpigmentation with just one swipe, resulting in an even complexion. The powder also has a subtle yellow tint that cancels out redness or discoloration and enhances your complexion.
Pros
Lightweight
Talc-free
Smooth and even application
Cancels out dark spots and redness
Gentle formula
Suitable for baking makeup
Light coverage
Cons
This high coverage CC+ cream works like a charm on any skin tone and can be doubled as your foundation too. The lightweight formula is hydrating and offers SPF 50+ protection, perfect for people who live in hot and humid locations. The formula also has micronized light-reflecting pigments that enhance your skin's natural glow. Additionally, it is infused with peptides, collagen, niacin, hyaluronic acid, vitamins, and antioxidants. The color correcting feature reduces the appearance of fine lines, wrinkles, dark under-eye circles, and large pores while keeping your skin soft and supple. It's perfect for acne-prone skin, and you can choose from 11 shades to find one that suits your complexion the best.
Pros
Suitable for acne-prone skin
Blends easily
Smooth application
Contains hyaluronic acid and collagen
Available in 11 shades
SPF 50
Enhances skin's natural glow
Cons
Some may find the consistency too thick
This peach color corrector by Revlon does a great job at camouflaging dark spots and blemishes. The smooth and bendable formula contains 3D color-correcting pigments, which does a great job neutralizing hyperpigmentation, dark spots, and any other color-related imperfections. The pen design comes with a precision brush that easily applies the product, especially around your eyes and nose. The formula also has a high-definition filter technology that captures light and transforms it in a way that blurs any flaws and smoothes your complexion, giving you a filtered look. You can choose from 3 colors, lavender, green, and peach, and each will combat issues like redness, dullness, and dark spots.
Pros
Contains 3D color-correcting pigments
Precision brush provides easy application
Smooth blending
High definition filter technology
Hides dark spots
Cons
This peach color corrector is perfect for medium to deep complexions. The creamy formula settles on your skin without creasing or smudging, and it offers full coverage on any dark spots or under-eye circles. It blends like a dream and provides seamless coverage as well. The color correcting pencil is perfect for people who want to neutralize redness and cancel out color imperfections quickly and with one stroke. A little goes a long way with this color corrector, so we recommend that you start with a small amount, blend it in, and then build from there if you need more coverage. The best part about this product is that even though it is creamy, the formula is lightweight and won't clog your pores, making it ideal to layer different base products like foundation and concealer.
Pros
Lightweight
Highly pigmented
Suitable for medium to deep complexions
Help reduce hyperpigmentation and dark circles
Creamy formula
Non-comedogenic
Cons
The pigment may show up under the base makeup
This drugstore color corrector palette is an excellent choice if you are looking for multiple shades to tackle numerous skin issues. The palette includes 6 shades that come in a creamy formulation, which is easy to blend and doesn't damage the delicate skin around your eyes. The formula is pretty lightweight and provides maximum coverage without clogging your pores and triggering any breakouts. Whether you have intense dark circles due to tiring sleepless nights or blemishes caused by zits, this palette has got you covered, literally! We highly recommend this palette for people who experience hyperpigmentation and cystic acne scars because it blends on your skin easily and goes untraceable under your concealer and foundation.
Pros
Lightweight
Covers hyperpigmentation and acne scars
Easy to blend
Creamy formula
Untraceable under base makeup
Non-comedogenic
Cons
May need a primer to last throughout the day
This easy-to-use drugstore color corrector palette is available in three shades, offering full coverage and a creamy texture. The green, lavender, and peach shades are perfect for canceling any redness and evening out your complexion. The creamy formula is super easy to apply and blended with your fingers or a concealer brush. You don't have to worry about any breakouts or nasty allergic reactions, as it is suitable for sensitive skin. Additionally, this palette applies well on deep complexions with warm undertones without appearing under the base makeup. The green shade does a great job of covering any redness. At the same time, the yellow and lavender can be used to cover any acne scars or blemishes.
Pros
Smooth, creamy texture
Covers redness and blemishes
Lightweight
Suitable for deep complexions with warm undertones
Hypoallergenic formula
Cons
Some may find the finish greasy
Suppose you are looking for a stellar color corrector and concealer combination in one product. In that case, this is the perfect choice for you. It provides amazing coverage while simultaneously being lightweight. Once you apply it, the formula effortlessly blends into your skin and hides any skin issues you want to cover. The formula is quite hydrating, oil-free, and has a unique luxurious texture that suits all skin types from oily to dry. The color corrector goes well on olive and medium skin tones because it won't look patchy or uneven. To create a smooth and even base, all you have to do is apply it to the affected areas and blend it with your favorite makeup brush.
Pros
Lightweight
Easy to apply
Smooth blending
Oil-free
Luxurious texture
Suitable for medium to olive complexions
Cons
The formula may seem cakey when dry
Now that you are aware of the various color correctors available in the market, you need to understand the important factors that make a good color corrector. Keep reading to know which one will suit your needs the best.
Buying Guide To Choosing The Best Drugstore Color Correctors
When picking a color, you need to look for ones that suit your complexion and neutralize discoloration. Remember that complementary colors that are opposite to each other work the best to conceal blemishes. For example, green and yellow can be used to treat redness, bright orange for deeper complexions and hyperpigmentation, peach to cover dark circles, lavender to neutralize yellow tones, and blue to cover discoloration on lighter skin tones.
Choosing the right color corrector usually boils down to what's on the label. Look for drugstore products that are free from parabens, mineral oils, and other harmful chemicals. Also, bonus points if you find hypoallergenic color correctors as they are super safe on sensitive skin. If you have oily skin, then look for oil-free formulas, and if you have dry skin, look for hydrating formulas. You can even find products that have SPF and are great for daily use as well.
The formula is another crucial element to look for when choosing an ideal color corrector. If you want to correct dark circles, then look for cream or gel formula because they are gentle on the skin and easy to blend. You can go for liquid-based formulas for the rest of your face, as they provide a smooth base without looking patchy or uneven.
Why Trust StyleCraze?
Priyam Gupta, the author of this article, has a passion for discovering the best makeup products. If you have dark circles, dark spots, or blemishes, Priyam recommends using these incredible drugstore color correctors that help you even out your skin tone. These products have been highly rated on multiple review forums and selected based on their superior formula, consistency, and color payoff.
Frequently Asked Questions
Which is a better color corrector or concealer?
Concealers and color correctors are two different products. Concealers primarily cover dark circles and color correctors are used when the dark patches and circles are intense and very apparent.
Do you apply a color corrector before or after the foundation?
Color correctors should be applied before the foundation.
Can you use a color corrector without concealer?
Yes, applying a color corrector without concealer is perfectly fine with a full-coverage foundation.
Is concealer and color corrector the same?
No, color corrector and concealer are entirely different products.
How can I prevent a color corrector from blending in with the foundation?
Apply a thin layer of concealer to keep the color corrector from blending with the foundation.
Can you use a color corrector as an all-over face primer?
No, color correctors and primers are two different items with unique uses.