11 Best Drugstore Concealers For Bruises In 2021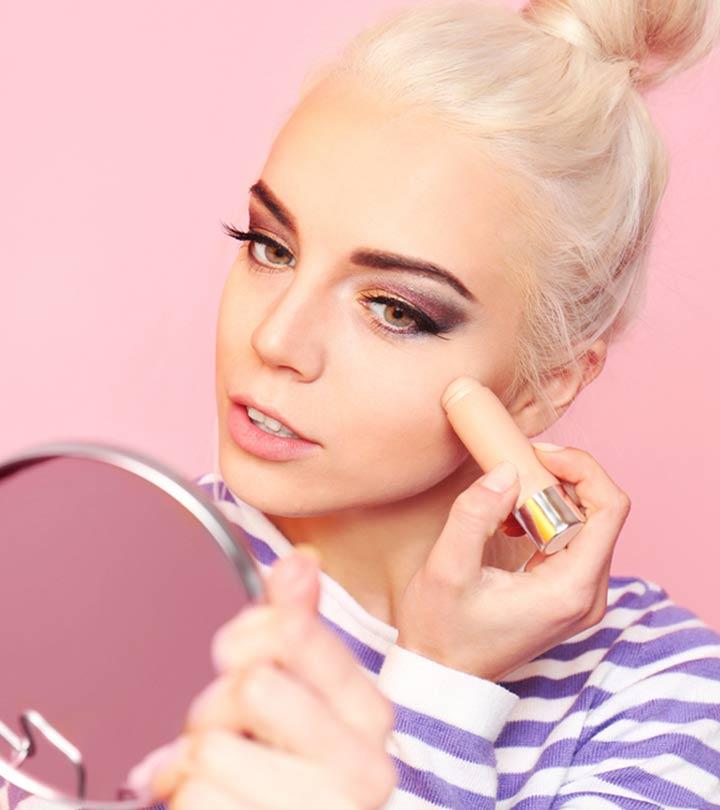 Time heals everything. It has the power to heal all your wounds, and that is an incredible aspect of life. But scars can never be forgotten as they leave a mark on you. Literally. These scars could be on your body, your face, or you could have tattoos, birthmarks, or weird bruises from wounds you acquired as a kid. If you don't want the world to know about these, here's a list of the 11 best drugstore concealers for bruises in 2021.
A good quality concealer hides blemishes, dark spots, pimples, bruises, tattoos, birthmarks, scars, pigmentation, or other skin imperfections. It blends into your skin, making it even-toned and smooth. Let us go through the list so that you can pick the right kind of concealer for bruises, shall we?
11 Top-Rated Drugstore Concealers For Bruises In 2021
Maybelline Instant Age Rewind Eraser Multi-Use Concealer is perhaps the best drugstore concealer for bruises in the market for its price rate. The sponge tip makes it easy to blend and apply the concealer seamlessly. It is a multi-use creamy concealer with anti-aging properties that effectively conceal your dark circles and fine lines. It also works as a highlighter, primer, BB cream, and foundation. The liquid formula leaves you with an au naturel and highly-blended look. You can also use it around your lips before applying your lipstick to lend a fuller look and conceal uneven edges.
Pros
Sponge tip
5-in-1 multi-purpose concealer
Available in many shades
Anti-aging properties
Creaseless formula
Cons
Jolie Cosmetics Pro Palette Correct & Conceal Conceal is one of the best drugstore concealers for bruises and comes in a compact box with 3 different shades. The concealers blend into your skin seamlessly and hide all blemishes and bruises. The hydrating formula keeps the skin radiant and doesn't look cakey or dry. Many amateur makeup users like to use a finger for that stunning finish for a more natural look. The mint shade is good to hide redness, the mauve shade is ideal for hiding the yellowness of the skin, and the yellow color hides dark spots, under-eye circles, veins, and bruises.
Pros
3-in-1 shade palette wheel
Easy-to-use
Hydrating
Conceals bruises, dark spots, and under-eye circles
Cons
Now that you have gone through our list of the best drugstore concealers for bruises, you should also know how to choose one that helps you conceal skin imperfections effectively.
How To Choosing The Best Drugstore Concealer According To Your Skin Type
It is crucial to keep the following points in mind while choosing the right kind of concealer for your skin tone:
1. The shade
If you want to hide pimples, acne, or correct the redness of your skin, you should use a green concealer. If you have yellow patches on your face, stick to a purple shade. A yellow concealer hides bluish bruises, dark circles, and veins. A pink or peach shade will help in brightening the skin tone. An amalgamation of these shades will help you in hiding all kinds of blemishes and skin discoloration flawlessly.
2. The type of concealer
There are primarily 3 types of concealers — liquid, powder, and pencil. The viscosity of the concealer differs from type to type. Liquid concealers are easy to blend and have a creamy texture, whereas powder concealers are light but may not last throughout the day.
3. The type of skin problem
Different concealers cater to specific problem areas. If you want to solely focus on skin discoloration and want an even-toned skin, you should pick a creamy formula. If you want to hide acne, blemishes, and age spots, you can opt for a lightweight formula or a powder concealer. Tattoos need a thick concealer, whereas hiding redness requires a light one.
The Best Tips To Conceal Bruises
 Concealing bruises with the right kind of shade adds a radiant glow to your skin. These tips will help you understand the underlying problem, and you can accordingly choose the right kind of concealer.
Understand your skin tone.
Know which shade works for a specific kind of bruise.
Thick concealers are suited best for dark bruises.
Lightweight concealers are suited best for light scars.
 Bruises on the face or body can make one feel conscious and under-confident. In such cases, a good-quality concealer will blend well with your skin and effectively hide all your scars, pimples, bruises, discoloration, tattoos, and other skin problems. We hope that our curated list of the best drugstore concealers for bruises will help you look stunning and give your face and body a gorgeous glow.
Frequently Asked Questions
What color concealer covers dark bruises?
Bruises that are purple or blue-toned can be hidden with the help of yellow concealers. It lightens up the color of the bruise and conceals it effectively.
If the scar or bruise is deep red, you can use green concealers to hide it or make it appear brighter.
If a bruise is yellow or brown-toned, you should use lavender concealers to cover it.
How can I cover a bruise under my eye?
If you have a bruise under your eye that looks purple or red, you need to hide it with a combination of yellow and green concealers. As the colors keep getting lighter and turn into yellow, shift to a green concealer and blend it accordingly.
Recommended Articles: