15 Best Drugstore Concealers For A Flawless Look – 2023
These affordable concealers can hide your blemishes and fine lines like they were never there.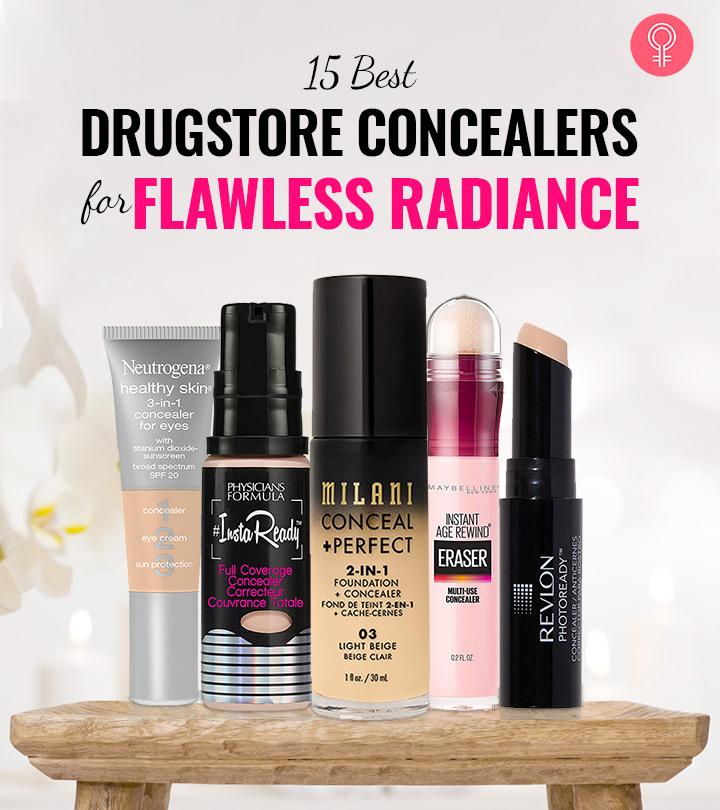 Sometimes all you need in life is a good concealer. While it cannot conceal the pain of dealing with pimples or a headache after a sleepless night, the best drugstore concealers can surely cover up the raccoon eyes and acne scars on your face. Choose the right concealer for your skin and get a stunning, flawless look instantly. Scroll down to pick your favorite from our list and start blending!
15 Best Drugstore Concealers To Try In 2023
Review
A favorite among both makeup vloggers and artists is the Instant Age Rewind Eraser from Maybelline. This concentrated formula features a micro-corrector applicator that helps erase dark circles and minimizes fine lines instantly. It is infused with goji berry and haloxyl that keep you looking fresh and radiant through the day. Find your pick from its range of 11 shades. Check this video to learn more about the product.
Pros
Does not crease
Ideal for mature skin
Does not cause irritation around the eyes
Excellent coverage
Long-staying
Easy to blend
Reduces the appearance of the signs of aging
Covers under-eye circles effectively
Value for money
Cons
None

Price at the time of publication: $7.97
Review
L.A. Girl's Pro Conceal HD Concealer is easily one of the most popular drugstore concealers out there. Besides the fact that its formula is full coverage, it also happens to be extremely lightweight and long-wearing. So, if you are on the hunt for a creamy, affordable concealer, this inexpensive formula will not disappoint. It comes in 30 shades, and you can also choose a color-corrector from its range of 10 shades to use along with it. It can also be used as a nose contour due to the it's brush size. Take a look at this video to get more information on the product.
Pros
Easy-to-use soft and pointed nozzle applicator
Blends well
Does not crease or fade
Available in a wide range of shades
Durable
Value for money
Cons
None
Price at the time of publication: $4.2
Review
NYX's HD Studio Photogenic Concealer effortlessly hides imperfections, discoloration, and under-eye circles without ever looking cakey or obvious. It comes in 23 shades, including 3 color correctors that help you achieve a flawless base. You can always count on this concealer for beautiful, natural-looking coverage. This video offers a more detailed explanation of the product.
Pros
Lightweight
Long-wearing
Suitable for all skin types
Easy to blend
Cons
None
Price at the time of publication: $4.97
Review
This creamy medium-coverage concealer stick doesn't just cover imperfections, it blurs them out beautifully. It is aptly called the PhotoReady Concealer as its HD Filter technology reflects light while disguising dark circles blurring flaws, and minimizing pores. Its angled, lipstick-like tip offers precise application. You can get this high coverage concealer in 6 shades.
Pros
Buildable coverage
Highly pigmented
Covers dark circles effectively
Conceals blemishes
Long-wearing
Photo-friendly
Lightweight
Cons
Available in limited shades
Price at the time of publication: $6.9
Review
The True Match Super-Blendable Concealer by L'Oreal is designed to work with your skin to conceal and correct the under-eye area and blur imperfections. This concealer corrects discoloration and has a soft-touch cushion applicator with a blendable formula to provide a smooth and precise application for a flawless effect. This formula is infused with haloxyl and glycerin to give your skin a more radiant look. You can find your pick from its range of 14 true-to-color shades to match every skin tone and undertone.
Pros
Lightweight and bouncy
Long-wearing
Photo-friendly
Creamy formula
Easy to blend
Natural coverage
Value for money
Cons
None

Price at the time of publication: $7.5
Review
This concealer palette from e.l.f comes in three variations – light, medium, and dark – to match a range of skin tones and complexions. Each palette contains four shades that you can blend and mix to find the perfect shade for you. It conceals dark circles and brightens the under-eye area. It also reduces redness and blemishes on the skin. At its super low price point, this is certainly one of the best drugstore concealer palettes you can find out there.
Pros
Smooth and creamy
High coverage
Lightweight
Versatile
Cons
None

Price at the time of publication: $11.99
Review
If you are looking for a full coverage formula, there is nothing better than Maybelline's Fit Me Concealer. This oil-free formula does an excellent job of hiding acne scars, redness, and blemishes without looking cakey. So, if you are aiming to achieve a more even-toned skin, this liquid concealer is just what you need. It is now available in 12 shades for every skin tone. Dot a small amount onto imperfections and gently blend with your fingers for a fatigue-free look.
Pros
Non-comedogenic
Full coverage
Long-wearing
Fragrance-free
Cons
None
Price at the time of publication: $6.94
Review
This ultra-lightweight, natural matte finish concealer is ideal if you have sensitive skin. It is made with hypoallergenic ingredients, and its gentle, creamy formula glides on smoothly for easy application. The concealer offers an airbrushed effect by hiding skin imperfections, blemishes, and under-eye circles to give you a refined, smooth skin tone. This creamy stick evens the skin tone and covers age spots that have lightened due to pigment loss. Coming to the shade range, its three shades are more suitable for light to pale skin tones.
Pros
Easy to use
Long-staying
Natural finish
Lightweight
Cons
Price at the time of publication: $3.99
Review
Treat your face to the ultimate concealer palette that includes six color-correcting shades. You can blend them to create your ideal shade without buying a bunch of correctors separately. Its lightweight formula glides on for an ultra-smooth finish and leaves your skin feeling soft and supple.
Pros
Versatile
Lightweight and creamy formula
Easy to blend
Ultra-smooth finish
Hides acne scars and blemishes
Long-staying
Value for money
Cruelty-free
Cons
None
Price at the time of publication: $10.28
Review
Whether you need to conceal a little or a lot, this conditioning concealer with Aqua Current Science and botanicals like vitamin E, ginseng, and chamomile will help your skin look and feel radiant. It does not tug at your skin and always looks extremely natural. Choose your hue from its range of 6 shades.
Pros
Hypoallergenic
Budge-resistant formula
Glides on easily
Moisturizes and conditions skin
Suitable for beginners
Cons
Price at the time of publication: $3.49
For people who believe that less is more, Milani Conceal + Perfect 2-in-1 Foundation + Concealer is your best bet. This two-in-one drugstore concealer and foundation prevents redness and under-eye circles. It also corrects other imperfections. This medium-coverage liquid concealer lasts all day with its water-resistant formula. It is available in 45 different shades that deliver a bright, flawless look. The pump dispenser makes it easy to apply on the face and blend for a gorgeous radiance.
Pros
Oil-free
Long-wearing
Waterproof
Medium to full buildable coverage
Wide range of shades
Cruelty-free
Cons
Price at the time of publication: $9.99
Neutrogena Hydro Boost Hydrating Concealer is an extremely moisturizing formula that quenches the thirst of your skin. It is a hydrating concealer formulated with hyaluronic acid that locks the moisture in your skin. This lightweight concealer hides imperfections effortlessly to give you a natural, smooth finish for long hours without looking cakey or dry. This drugstore concealer for dry skin is available in 5 shades.
Pros
Creamy formula
Hydrates skin
Hides age spots and freckles
Non-greasy
Lightweight
Natural coverage
Cons
Not suitable for oily skin
Not long-wearing
Price at the time of publication: $9.29
Neutrogena Radiant Cream Concealer has a lightweight formula that smooths the appearance of your skin flawlessly. It is a hydrating concealer formulated with vitamin E and peptides. This concealer has neutral undertones to give you a natural, wrinkle-free finish for long hours. This drugstore concealer is best for blurring your blemishes and is available in 15 shades.
Pros
Creamy-formula
Transfer-proof
Non-drying
Non-creasing
Non-comedogenic
Lightweight
Wrinkle-free finish
Buildable formula
Cons
Price at the time of publication: $14.14
This Makeup Revolution Conceal and Define Concealer is a full-coverage concealer. It comes with a doe foot applicator that provides the smoothest application. It is easy to blend, helps covers blemishes and dark circles, and evens out the skin tone. The product is free of any animal-derived ingredients and is even PETA-approved for the same.
Pros
Lightweight
Long-lasting
Matt finish
Non-caking
Non-comedogenic
Crease-proof
50 shade ranges
Cons
Price at the time of publication: $7
If you have oily skin, active acne, or break out easily, the Neutrogena Skinclearing Blemish concealer is the solution for all your skin imperfections. The concealer contains salicylic acid, which helps prevent breakouts and fight acne. It fights and covers acne and blemishes while covering them simultaneously. It gives a natural-looking illuminating finish. It is made with microclear technology that helps treat and eliminate blemishes to improve skin appearance in the long run for those with acne-prone skin.
Pros
Oil-free
Non-comedogenic
Available in 4 shades
Natural finish
Suitable for daily use
Cons
None
Price at the time of publication: $7.25
[ Also Try – Too Faced Born This Way Naturally Radiant Concealer ]
Before you jump the gun and buy a random concealer, check out the buying guide below to pick the best concealer for your skin type and needs.
Buying Guide For Drugstore Concealers
How To Choose A Drugstore Concealer?
The misconception that drugstore concealers are not worth the effort needs to be dismantled. Drugstore concealers are inexpensive and good for daily use. If chosen the right way, they can do wonders for your skin. Knowing your correct undertone and the coverage you want are some crucial things to figure out when buying a concealer. Choosing the correct skin texture and testing the drugstore concealer under natural light is necessary to pick the perfect product for you. Lastly, knowing the ingredients of the concealer is essential to avoid any allergic reactions or other undesirable effects.
Can You Use A Drugstore Concealer On Acne-Prone Skin?
If chosen right, a drugstore concealer is ideal for acne-prone skin as well. A green-tinted concealer is great for blurring out redness and blemishes. It is important to find an oil-free drugstore concealer to prevent further breakouts. You can also look for a concealer with benzoyl peroxide in it to fight acne.
Is Drugstore Concealer Good For Your Skin?
Drugstore concealers are a boon for everyone. They hide imperfections, dark circles, and age spots. They also conceal blemishes and redness seamlessly. They help you get even-toned skin with a refined texture. Good-quality drugstore concealers are formulated with gentle ingredients that are hypoallergenic and non-comedogenic. Thus, they are good for your skin.
Why Trust StyleCraze?
Shalini Roy, the author of this article, is a makeup fanatic. She loves to review various products for her readers to help them choose better. After extensive research and considering a vast pool of customer feedback on various trusted platforms, she curated this list of the best drugstore concealers. These long-lasting concealers give you a flawless look and are easy to blend and water-resistant.
Frequently Asked Questions
What is a good drugstore long-lasting concealer suitable for hot weather?
The NYX Color Correcting Concealer Palette is lightweight that stays put for long hours without getting sweaty and cakey. Therefore, it is ideal for hot weather.
What color concealer is best for dark circles?
Yellow and orange concealers work best for dark circles. If you have fair skin, yellow concealers are ideal, and orange shades work great to neutralize dark circles for darker skin tones.
Should drugstore concealers be lighter or darker than foundations?
Drugstore concealers should be one shade lighter than foundation. This will help the concealer to cancel the skin discoloration better. Also, lighter concealers help add natural shine to your face.
Should concealers match skin tone?
No. Concealers should be a shade lighter than your skin tone to cancel the uneven spots. This will make your skin glow under the foundation.
What drugstore concealer has the best coverage?
The Revlon Photo Ready Concealer blurs imperfections and offers the best coverage. The buildable formula conceals blemishes and imparts an air-brushed look.
Recommended Articles
Best Drugstore Concealers For Bruises
Best Non-Comedogenic Concealers For Flawless Skin
Best Drugstore Concealers For Dark Circles
Best Long-Lasting Concealers