The 11 Best Drugstore Conditioners Everyone Can Buy (Every Hair Type)
Manage your manes and control the frizz with lightweight and natural hair care products.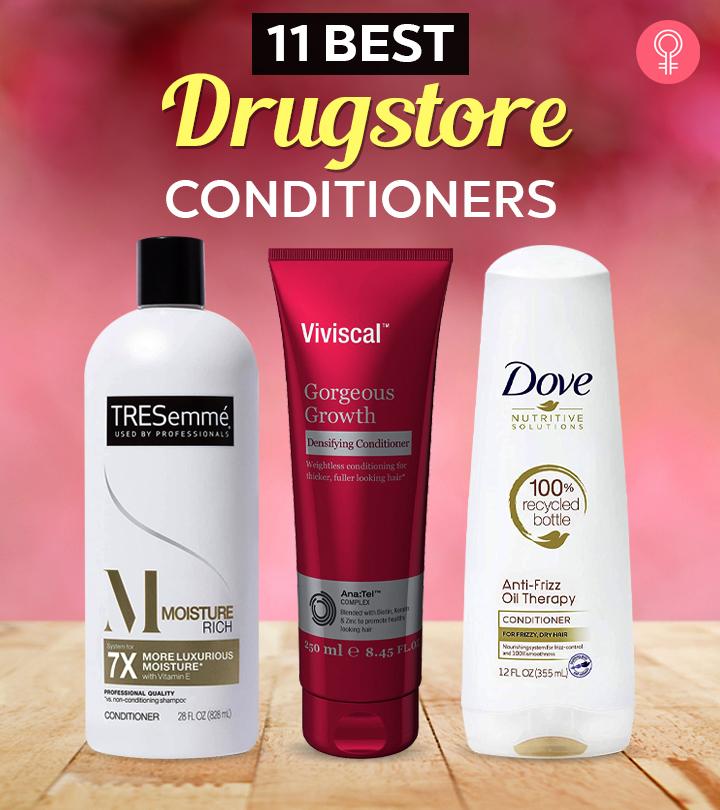 Say goodbye to vulnerable hair prone to breakage with the best drugstore conditioner. Yes, you read it right! We know how you want gorgeous-looking, smooth and shiny tresses, but pollution and stress keep you away. So instead, use a conditioner to reduce friction between strands, make hair manageable, improve overall hair appearance, and prevent further damage.
Beurena Johnson, a certified trichologist and the founder of The Trichology School of Business, says, "If you shampoo your hair, you should condition it. However, the specific conditioner that works best can be different for different hair types. Conditioners work on several levels, pH, chemical interaction, and the perforation of oils, waxes, and proteins, such as keratin. The penetration of the oils and protein is the thing that takes the most time. For a normal conditioner, that's a couple of minutes. For a deep treatment mask, the longer you leave them on, the more beneficial and deeper the penetration of the oils, proteins, and waxes on the hair."
We have listed the 11 best drugstore conditioners for you. Have a look!
The 11 Best Drugstore Conditioners Everyone Can Buy (Every Hair Type)
The TRESemme drugstore hair conditioner is effective and moisture-rich. It turns the dull and dry hair into smooth, shiny tresses. It is rich in vitamin E and biotin that seal hair moisture and leave your hair hydrated for a long time. The conditioner can be applied along with the shampoo and gently rinsed after 2 to 3 minutes.
The product strengthens your hair upon repeated use. It also works wonderfully well on colored and curly hair. It targets the specific dry areas of your hair and offers added moisture.
Key Ingredients: Vitamin E, biotin, ascorbic acid, lactic acid, cetearyl alcohol, panthenol
Pros 
Paraben-free
Suits all hair types
Long-lasting hydration
Safe for colored hair
Cons
Price at the time of publication: $3.89
The Viviscal Conditioner is a mixture of ingredients like biotin, keratin, and zinc. Biotin strengthens hair roots. Keratin makes hair less frizzy, easier to style, and straighter in appearance. Zinc improves hair tissue growth and reduces hair loss. The conditioner's botanical fragrance leaves hair infused with a refreshing scent that lasts long. It is suitable for all hair types, including dry, damaged, color-treated, fine, and thin hair. You will also experience an increase in hair density with a few weeks of use.
Just apply this conditioner after shampoo and feel the difference. Nine out of ten consumers have reported thicker and fuller hair with just one week of use.
Key Ingredients: Hydrolyzed keratin, zinc PCA, fruit extracts, and biotin
Pros
Natural fruit extracts
Increases hair thickness/volume
Pleasant scent
Lightweight
Suitable for everyday use
Cons
Harsh on sensitive scalp
Expensive
Price at the time of publication: $6.69
The Dove Nutritive Solutions Dry Hair Conditioner is among the best drugstore conditioners for your frizzy and curly hair. It is ideal for nourishing your dull hair and giving it a straight, smooth, and shiny look. It is a rich blend of oils such as argan, coconut, and almond that nourishes and treats dry, frizzy hair. It also makes your hair strands more manageable.
The nourishing conditioner has a wonderful anti-frizz therapy. It gives your hair a long-lasting and smooth texture. It reaches deep into the hair roots and also promotes scalp health.
It has a non-greasy formula and is easy to apply. It keeps hair smoother and softer for hours. You just have to apply this conditioner to your hair after shampooing. Concentrate on your mid-lengths and ends and rinse. The product is gentle on your hair and is safe for daily use.
Key Ingredients: Lactic acid, coconut oil, almond oil, argan oil
Pros
Smoothens curly/frizzy hair
Suitable for color-treated hair
Soothing smell
Non-greasy
Nourishing
Cruelty-free
Cons
Price at the time of publication: $7.99
The OGX Biotin and Collagen Conditioner is the best choice for a moisturizing and nourishing treatment. It is infused with highly beneficial ingredients such as pro-vitamin B7 biotin and collagen that ensure quick hair repair. The conditioner acts as an instant therapy to nourish your scalp and strengthens hair roots. It also contains hydrolyzed wheat protein that makes hair thicker.
The bergamot, jasmine, and vanilla scent render an irresistibly good smell to the conditioner. The conditioner suits all hair types, including coarse and curly hair. It leaves hair soft and well-textured. It is free from sulfates. Watch this video to get a detailed review of the product.
Key Ingredients: Hydrolyzed wheat protein, pro-vitamin b7 biotin, and collagen
Pros
Suitable for dry and coarse hair
Increases hair thickness
Sulfate-free
Cons
Fragrance could be overpowering to some
Expensive
Price at the time of publication: $9.84
The L'Oreal Paris EverPure Conditioner is the best choice for color-treated hair. It gives your hair the needed shine and ensures your hair color lasts long. It revives flattened hair and makes it smooth and bouncy. Its sulfate-free formula and lotus flower extracts restore volume to fine, flat hair.
The silicone in the shampoo protects the hair color, and its vitamin E conditions the hair and makes it voluminous. The refreshing rosemary and mint add an aromatic scent, and the botanical extracts ensure your hair becomes thick and voluminous. The EverPure conditioner is easy to apply – just keep it on your hair for 2 minutes with a gentle massage, and then rinse. It is lightweight. It retains color upto four weeks. Here's a video to help you know more about this product.
Key Ingredients: Silicones, polymers, and vitamin E   
Pros
Organic ingredients
Pleasant aromatic smell
Long-lasting results
Sulfate-free
Paraben-free
No harsh salts
Surfactant-free
Cons
May not suit sensitive scalp
Contains silicones
Price at the time of publication: $6.49
The Maui Conditioner has natural ingredients and offers a perfect recipe to replenish your dull hair strands. It has vanilla beans that help soften coarse and frizzy hair and offer the essential nourishment to hair roots. The conditioner is also rich in aloe vera and is free of parabens, sulfates, and silicones. This is an ideal hair repair conditioner that helps soften and smoothen hair. It also keeps your tresses frizz-free.
The Kukui nut oil and creamy cocoa butter in this hydrating conditioner make your hair strong. This product brings style and glow to even the coarsest locks. It is gentle on the scalp. It also boosts hair elasticity and makes the strands resist breakage. It leaves your hair tangle-free. This video takes you through this product's details.
Key Ingredients: Aloe vera, vanilla beans, coconut oil, kukui nut oil, cocoa butter, macadamia oil
Pros
Organic ingredients
Paraben-free
Sulfate-free
Silicone-free
No synthetic dyes
Boosts hair elasticity
Protects from breakage
Cons
Price at the time of publication: $7.09
The Alba Botanica Colorific Conditioner seals hair color and replenishes moisture. It is rich in jojoba, macadamia, and Kukui oils. It also uses virgin, wild harvested marula oil that moisturizes hair. Its other botanicals, such as aloe leaf juice, shea butter, and citrus oil, restore hair luster. The conditioner hydrates your hair right to the root and boosts scalp health.
It is free from harsh chemicals like parabens and phthalates. It is perfect for daily use (after shampoo) and also helps increase your hair volume.
Key Ingredients: Aloe vera, jojoba oil, macadamia oil, shea butter, marula oil, and kukui oil
Pros
Paraben-free
Phthalate-free
No synthetic fragrances
No animal testing
Suitable for color-treated hair
Cons
Price at the time of publication: $7.99
The Garnier Hair Care Conditioner strengthens and revitalizes hair. It is a perfect pick for treating frequent hair fall, split ends, and hair breakage. It is enriched with ginger and golden honey that revitalize and repair dull and damaged hair. It is loaded with natural ingredients like aloe vera and glycerine that provide natural nourishment to hair and keep it tangle-free.
The conditioner is free of parabens. Its fragrance is mild yet appealing.
Key Ingredients: Golden honey, ginger, aloe vera juice, and glycerin
Pros
Eliminates hair frizz
Paraben-free
Chemical-free
Mild fragrance
Cons
None
Price at the time of publication: $3.49
The Live Clean Coconut Milk Moisturizing Conditioner contains 100% vegetarian ingredients. It is dermatologist-recommended. It comes with a rich mix of ingredients like vitamins C and E, coconut milk, and rice proteins that nourish your damaged hair. It also leaves your hair feeling soft, silky, and shiny.
The conditioner is free of parabens and sulfates. Its essential vitamins and proteins keep your scalp hydrated and healthy.
Key Ingredients: Coconut milk, apricot oil, rice proteins, and vitamins C and E
Pros
Paraben-free
Sulfate-free
Silicone-free
Cruelty-free
Phosphate-free
DEA-free
Petroleum-free
Phthalate-free
Cons
Price at the time of publication: $11.48
The Pantene Pro-V Hair Conditioner is recommended for color-treated hair. It is rich in proteins and other essential nutrients that help repair damaged hair. It is infused with the scent of wild berries, floral and creamy vanilla, and antioxidants that ensure the scalp is clean and healthy.
This hair conditioner suits all hair types and ensures positive results with regular usage.
Key Ingredients: Benzyl alcohol, citric acid, panthenol, panthenyl, ethyl ether, glycerin, glutamic acid, cetyl alcohol
Pros
Improves hair density/volume
Suits sensitive scalp
Preserves hair color
Lightweight
Cons
Contains parabens
Expensive
Price at the time of publication: $17.0
The Original Silk Conditioner by Royal Silk imparts a smooth and silky touch to your hair. Its silk proteins and sandalwood formula keep your hair hydrated and strong. It also straightens curly and entangled hair. It delivers exceptional results on every user, and you can feel an increase in hair volume and density.
It works wonderfully for people of all ages, genders, and hair types. The conditioner has a soothing fragrance too.
Key Ingredients: Hydrolyzed silk, citric acid, silk amino acids, and sandalwood extract
Pros
Suits all hair types
Treats dandruff
Sulfate-free
Cons
Price at the time of publication: $12.95
Why Trust StyleCraze?
The author, Shiboli Chakraborti, is a hair care enthusiast. She loves trying out products recommended by stylists to review and recommend to her readers. She did extensive research and curated the list of the best drugstore conditioners available on the market. These conditioners help manage your hair, prevent damage, and improve overall hair health and appearance.
Frequently Asked Questions
Does an expensive conditioner make a difference?
There is most often a match between price and quality. This, however, does not mean that all expensive hair conditioners are great for the scalp. You should read the ingredients list and see what suits your hair type the best. Also, avoid cheap conditioners. Draw a balance between price and quality.
Is it better to have a good shampoo or conditioner?
Hair conditioners are generally used after you have shampooed your scalp. They are primarily aimed to strengthen your hair roots, ensure long-lasting hydration, and boost hair shine. Most dermatologists recommend applying a good quality conditioner after your shampoo your hair.
Is a salon conditioner better?
In reality, salon conditioners are not very different from the drugstore variants. Salon conditioners may also contain highly concentrated conditioners that may not always be good for your hair.
Does a conditioner make my hair soft?
Good quality hair conditioners make your hair shiny and soft, and also strengthen it from the roots. They even add moisture to your hair and keep it well-textured for long hours.
What happens if you do not rinse out a conditioner?
Not rinsing out a conditioner can clog the pores in your hair and block the natural scalp oils. This eventually leads to hair breakage. Leaving some part of the conditioner on your scalp can also make your hair heavy and sticky.
Is conditioner good for curls?
If you have curly, frizzy, or wavy hair, a good conditioner can help. It ensures your hair becomes soft, silky, and smooth.
What ingredients should you avoid in a conditioner?
Sulfates, parabens, formaldehyde, glycol, and triclosan are some common ingredients found in conditioners that you can steer clear of. These ingredients can dry your hair and cause scalp issues.
Should you put conditioner on your roots?
Since your scalp produces sebum which moisturizes the roots, they do not need any additional conditioning. Conditioning is more required for the ends of your strands that are more prone to breakage, damage, and dullness.
What does over-conditioned hair look like?
Over-conditioned hair usually loses its volume. Your strands may look thin, sticky, and in some cases, extra dull.
Recommended Articles